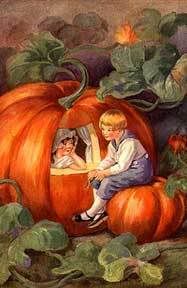 Pumpkin Eater!
Had a wife and could not keep her!
Put her in a pumpkin shell,
And there he kept her very well!
Welcome to
Tuesday's With Dorie
, the November 25th, 2008 edition of that wonderful baking club of fantastic bakers that get together every week and bake one decadently delicious recipe from the splendiferous baking book, Baking, from my home to yours, by the greatest cookbook author of them all,
Ms Dorie Greenspan
! Yes, people, each week the group, which numbers well over 300 bakers, gets together and bakes the same recipe from this book, and then we reveal our results in unison each
Tuesday.

This week Vibi from
La Casserole Carrée
chose the recipe Thanksgiving Twofer Pie, from page 321.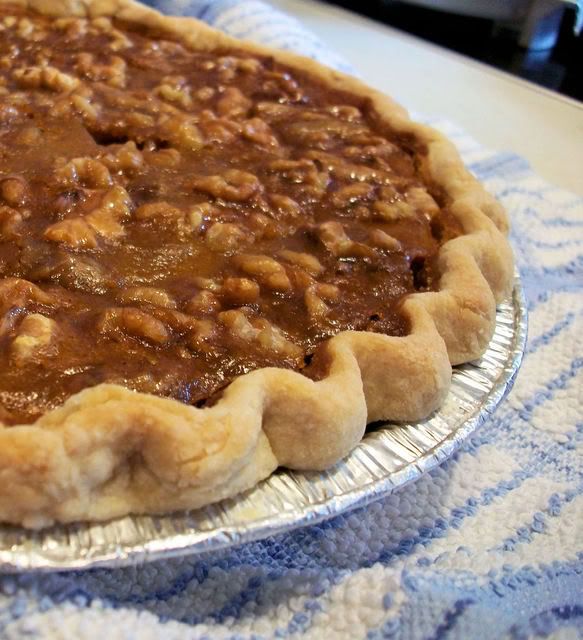 Now, I have to admit upfront I am not a real pumpkin pie lover. When I was a kid this was the kind of pie that I hated most of all. I'm not sure what exactly it was about it that I hated so much, but hate it I did. As an adult I have come to like it somewhat, but it's still not the one pie I would choose given a table full of a variety of pies to choose from!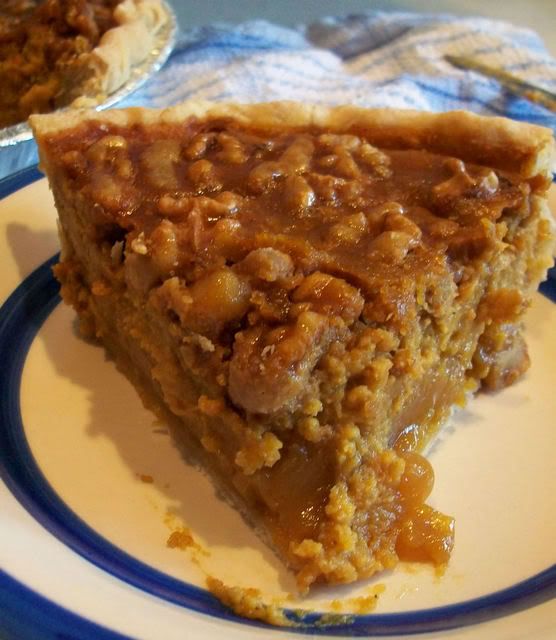 I have to say though that this pie was
S
-
P
-
L
-
E
-
N
-
D
-
I
-
F
-
E
-
R
-
O
-
U
-
S
!!! I think it has made a pumpkin pie convert of me . . . yes . . . I
have
gone over to the pumpkin side! This is not just any old pumpkin pie, but a pumpkin pie mixed up with a pecan pie in a glorious combination that has your fork digging in for more, and your brain thinking about the last piece sitting in the fridge at two 'clock in the morning. In other words . . .
THIS PIE IS TO DIE FOR
! In face I think Dorie should have named it Thanksgiving Diefer Pie!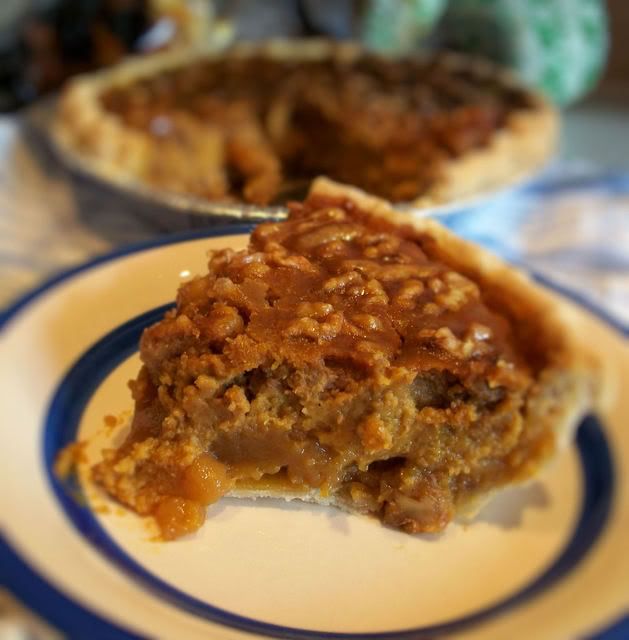 Pecan Pie has always been one of my favourite pies. Back when I was younger and had not yet really honed my baking skills I used to splurge once in a while and buy a
Mrs Smith's Pecan Pie
. I remember buying one when I was pregnant with my eldest daughter. My then husband was away on a course and so there was just myself and my oldest son, who was a toddler of about 18 months at the time, in the house. I remember buying this pie and taking it home. I ate one piece and then was so worried that I'd eat the whole pie I threw it into the garbage . . . and then because I was still worried that I'd be tempted to take it out, I dumped an ash-tray of cigarette butts on top of it. I was uber worried that I would gain too much weight with my pregnancy and Pecan Pie was too much of a
temptation
for me.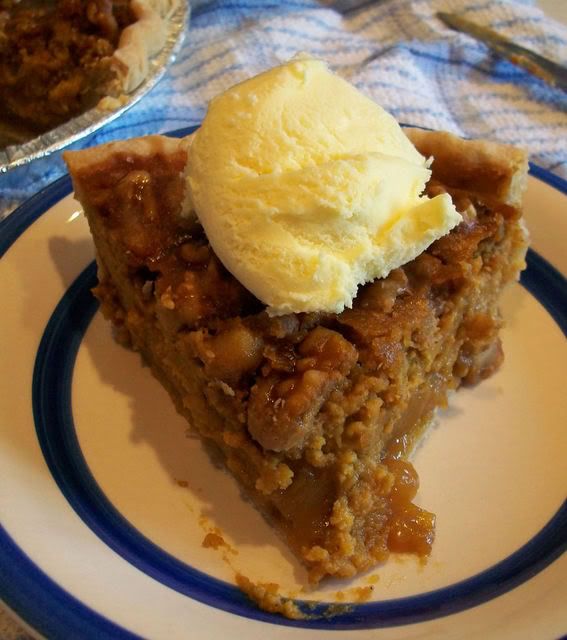 Happy to say . . . I now don't have that problemo. If I had to do that to everything that was a temptation to me, we would have to have the hugest garbage bin in the world and it would always be full. I just love food, but I digress . . .
One of the weird things about England is that they don't really have ordinary pie shaped pie dishes over here. I have two Pyrex ones that I brought over here from Canada, but they were eight inch and ten inches in size. The only nine inch one I have is a stack of aluminum ones I brought back the last time I was in Canada some two years ago. I think I freaked the shop keeper out because I must have bought about 50 of them, not to mention Todd when he saw me coming through the door of my mother's house with them!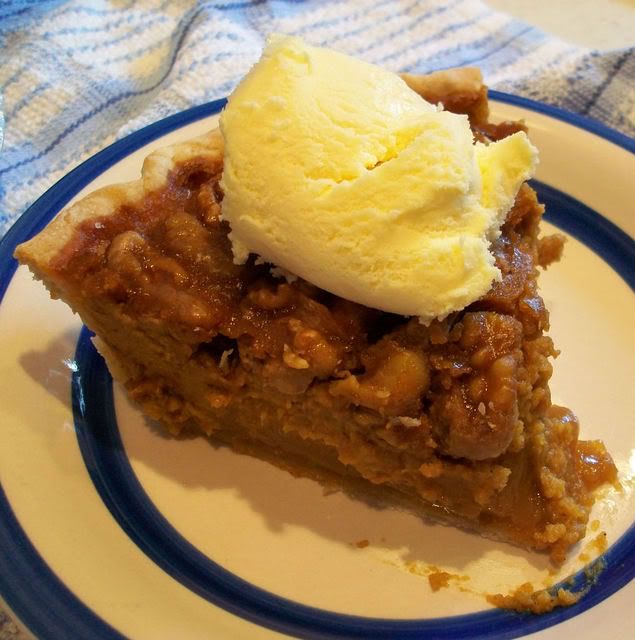 I also didn't have pecans . . . . I have a hubbie I sent to the store for pecans . . . but he brought back walnuts, so my pie was not a pecan pie in every sense, but umm . . . err . . . a walnut pie, but then again this was not a pecan pie at all was it? It was a
Thanksgiving Twofer Pie
!
The recipe called for a pumpkin pie mixture, flavoured with rum, and put into the bottom of the pie shell and then, topped with the nuts, and finally the pecan pie mixture. For some reason I thought that they would lay there in layers, and I admit I panicked a bit when I went to pour the syrup mixture over top and it sunk down into the pumpkin mixture. I thought it was ruined, but I baked it anyways. Rum is not something we have in our home, so I used a tsp of rum extract in the pumpkin filling instead.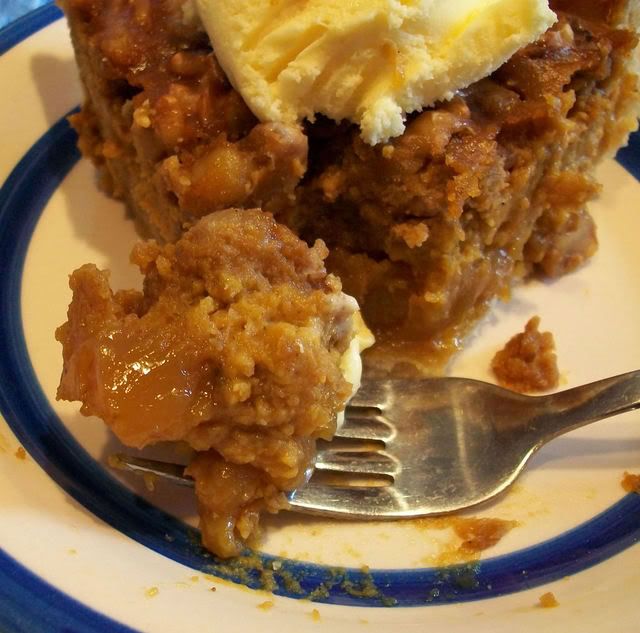 This pie is gorgeous. It called for light or dark corn syrup in the pecan filling, which of course we don't have over here. We do have a glorious thing called Golden Syrup though, which works very well as a replacement, and I used a bottle I have of special Limited Edition Golden Syrup that I have been hoarding for just this type of thing. Lyle's Golden Syrup with Rum and Festive Spice.
Wowser, Wowser!!!
It said on the bottle, Perfect on Christmas pud & Mince Pies. I'm here to tell you that it's
fantastic
in
Thanksgiving Twofer Pie
!!! It imparted a delicate rum taste with just a hint of spice that was just a wonderful combination!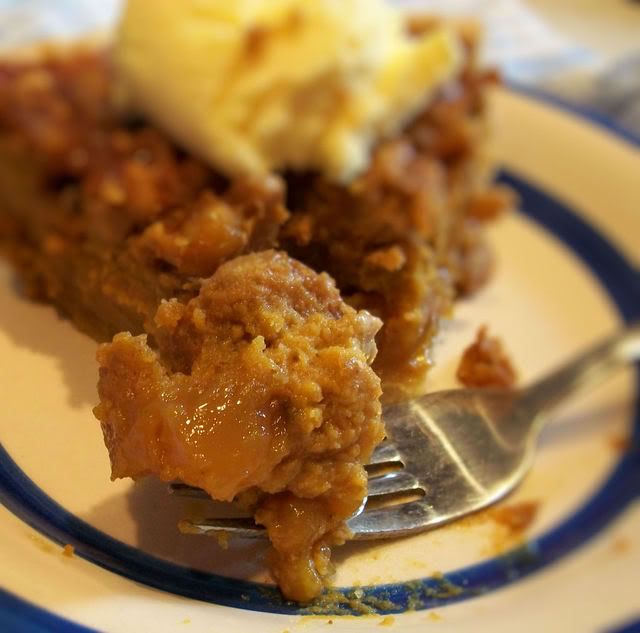 We liked this pie soooooo much that I am going to bake another one tomorrow to take to our Thanksgiving celebrations on Thursday. I just
KNOW
it will wow everyone there!
Run, Run as fast as you can to your local shops and pick up some tinned pumpkin today so that you can make this pie yourself. You will not regret it! If it could make a pumpkin pie lover of me, you just know it has to be one of the best pumpkin pies ever!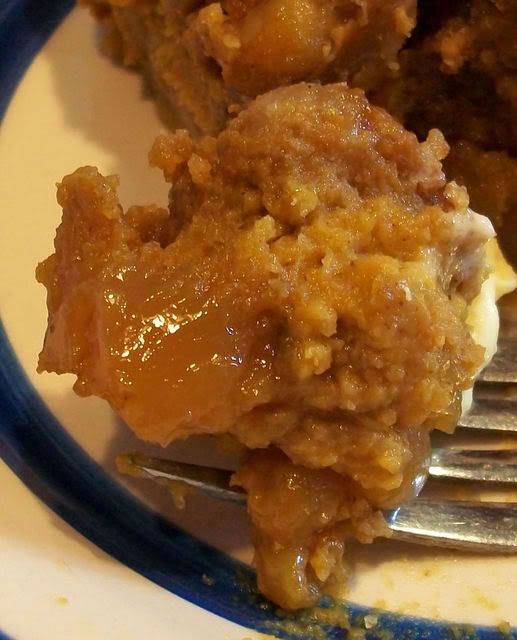 If you would like this delicious recipe pop on over to
Vibi's page
, and make sure you check out some of the other Dorie Bakers as well on the
Tuesdays With Dorie Blog Roll
. There's bound to be some delicious concoctions there to oggle/drool/salivate over! In the meantime I think I'm going to go over to the counter right now and inhale another piece, coz pumpkin is a vegetable and veggies is good for you!
Next week's recipe is
Linzer Sables
on pages 134-135 as chosen by noskos of
Living the Life
. Yummo, that will get us all in a Christmas mood for sure!