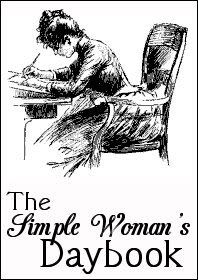 FOR TODAY, November 10, 2008 ...

Outside My Window...
All is quiet and peaceful. Last night when we went to bed the wind was howling and the rain was blowing against the windows and skylight in our bedroom. I expect the gardeners will have a lot to clean up today. Quite a few leaves are probably down as well as broken branches. We shall probably have to go hunt down some garden flower pots as well I expect, the wind was that strong! The heat is on this morning so, for once, it didn't blow out the pilot light on the boiler as is prone to happen!
I am thinking...
About the lovely Remembrance service we had in church yesterday morning. All the hymns were lovely as were the talks. I think it is important that we commemorate days such as this, and remember all those who gave, and who continue to give their lives up for the cause of freedom. We who enjoy all the rights, privileges and freedoms that we do, and so take for granted owe them a huge debt.
I am thankful for...
My Todd who so heroically battles wasps and other nasties for me on an ongoing basis. I don't know why but our bedroom has suddenly been inundated with sleepy late season wasps. Those are the most dangerous ones as they lurk under things just waiting for you to put your hand or foot on them and then they sting you. Last night, I kid you not, we had at least 20 of them in our bedroom. When I first went in to turn down the covers I noticed 7 of them on the floor right next to my side of the bed and another few sitting on the back of the chair, and several by the doorway. Todd got them and we got settled into bed for a good read (rather nervously I'll admit, or at least I was!) It wasn't more than a few minutes when there was another huge one flying at the light over head batting itself about like a lunatic. Todd had to get up and get that one. This happened about 4 more times. By that point I thought to myself, I'll never be able to get asleep in here thinking about them crawling over me in the night and getting under the covers so I bid Todd adieu and abandoned him to them and I went into the spare room to sleep. I just knew I would not be able to settle in our own. Ahhh . . . . the joys of country life!
From the kitchen...
NOT A LOT!!! It's so annoying. My kitchen is still only about half done! I did manage to cook us some egg and chips after church yesterday for dinner, but there has been zip all, nada, zero cooking going on here all week! I do hope that they finish it up today! I am really longing for some normalcy here and for things to get back to normal!
I am wearing...
Some old blue pajamas that are comfy and warm. They have bleach spots on them and are getting a bit tatty, but I love to wear them, especially when it is cold outside and the wind is blowing. They are just like a warm hug. I love it when clothes feel that way, don't you?
I am creating...
I managed to get 30 cards done yesterday afternoon so that I can pop them into the post today. I did them upstairs in our lounge so it wasn't too hard. I am longing to get the kitchen back in order so that I can paint some of the stack of sketches I have waiting for me to get to! My fingers are just itching to get at them! I have not heard back from that card company yet that I sent the samples of my artwork off to. I expect they get loads of submissions so I shall just have to be patient, and if they don't want to use any of it, well so be it. I know it's not because my work isn't any good, I expect it will be just because they don't fit in with the image of their company. We shall just have to be patient and see. (Ohh, I know patience is a virtue and it is clear that I still need to work on it!!!)
I am going...

Other than shopping and work, there's not a lot planned for this week, except for my Seminary Lesson to teach and the Young Women's activity on Thursday evening. We are going to be doing Pilate's exercises so I will have to bring a mat and a pillow. I wonder does that mean we will be able to take a nap? It would be nice. I am usually getting pretty exhausted come Thursday!
I am reading...

"The Almost Moon" by Alice Sebold. This is the same author that wrote, "The Lovely Bones." It's a smaller novel so I am thinking I may get through this one a bit quicker! It has been gripping right from page one! Told over the 24hr period after she murders her mother, we zip backwards and forwards in time, spanning Helen's lifetime and trying to discover how she came to make the decisions she has. It's quite riveting! (if a bit dark!)
I am hoping...
That there is not a repeat of the wasp episode in our bedroom tonight. I really am a person that hates creepie crawlies and most especially flying ones that can sting you! (Oh and stupid flying ones with dangly wiggly legs, like May Flies . . . )
I am hearing...
Jess is laying here by my feet just snoring away. She is having a right good old snooze. Once in a while her feet move as if in a dance and I just know her dreams are carrying her over hill and dale on a doggie adventure of great proportions and wonderful sniffs! Todd and I are always joking that she should have been called sniffer as she does more of that on her walks than she does actually walking! It's so nice that we live out here in the country as, when we take her for walks, she doesn't actually need to be on a lead so she has more freedom to run about and explore. Once she fell into the smelly pond over by the golf course though, so that was a bit of a nuisance as she couldn't get out, and Todd had to rescue her and then we had to give her a big bath because she stunk to high heavens!!! She's never gone near it since though, thank goodness!
Around the house...

Everything is still laying all over the tabletop and on the floor here in the kitchen waiting to be put back into their rightful places. It really is a tip. I know it must be driving " a place for everything and everything in it's place" Todd right up the wall! I just keep telling myself, no pain no gain, no pain . . . no gain!
One of my favorite things...

Is reading my scriptures. I think they are quite marvelous and magical. It's funny that you can read one passage over and over again, and it is just words . . . and then all of a sudden one day those same words will begin to speak to your heart in a completely different way, and they touch the very core of your being. I love how the words are able to reach you at the very place you are exactly when you need them to. When I am upset or down I always go to my scriptures and I always end up feeling better. They never fail me. Ever.
A Few Plans For The Rest Of The Week...
Oh, I do hope that I can begin cooking again tomorrow. It's our anniversary and I really do want to cook a nice dinner to celebrate. We thought about going out, but then we can't really afford to go to restaurants that actually serve food that is worth paying for. The places that are within our budget are always HUGELY disappointing to me! Second rate food and service. We went to this one place once and I ordered fish and chips. It was obvious to me when they came that they had either been someone elses that had changed their mind and they had been re-cooked or they had been sitting under a heat lamp for too long as the fish was all dried out and like leather. Todd had a shepherd's pie that had no shepherd in it!!! It was just a mass of gravy with some potato slopped on top! You get what you pay for. So we would rather eat at home and know that at least the food is good! Perhaps one day we will come in to a windfall and be able to go to a really good restaurant, but for now . . . we eat at "Maries!"
Here is picture thought I am sharing...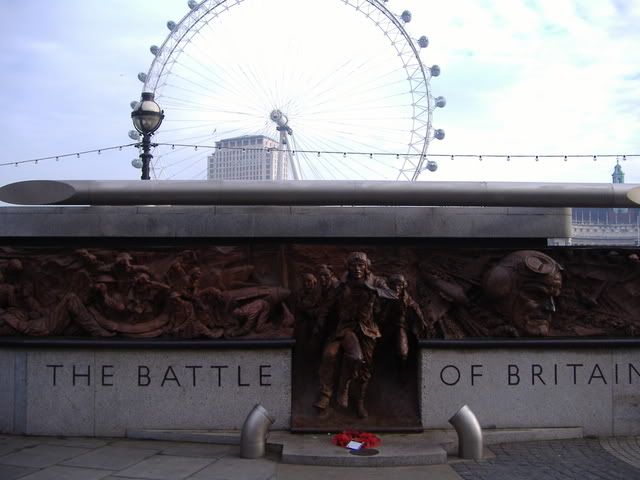 This is the amazing sculpture/wall in London that commemorates the Battle of Britain. It's a picture I took last December when we had gone into London for the day with our missionary friends, The McDonalds. (I sure miss them!! They are wonderful people and back in America now!) This sculpture is so amazing to look at. There is an incredible amount of detail in it. I thought it very fitting to show on the eve of Remembrance Day here in the UK and Canada. We must never forget . . .
Cold and dismal days call for extreme measures and comforting soups and stews! This is a delicious one that will really warm your innards and fill you up. With some crusty bread for dipping, it makes a mighty fine meal!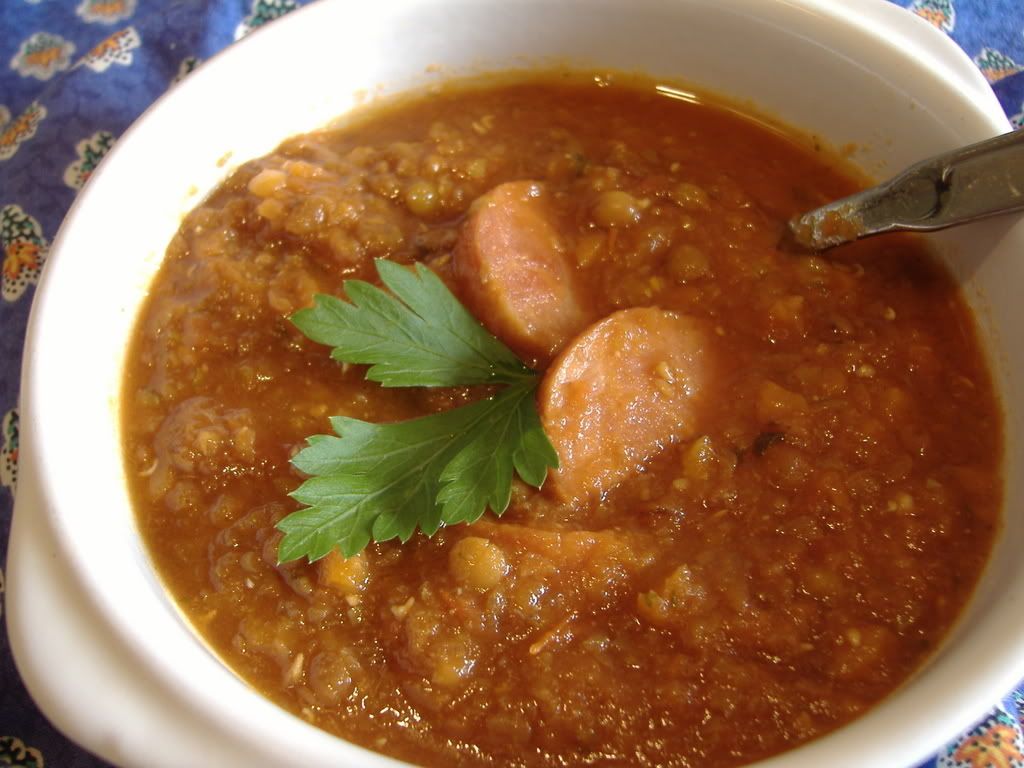 *Lentil and Smoked Sausage Soup*
Serves 3-4
This delicious soup lends itself to anything you have on hand…that's the one thing about lentils…they are very forgiving and accommodating and taste great no matter what you put with them. This soup is fragrant and slightly spicy , tasty and very filling. Just the ticket you need on a cold and blustery day!
1 to 2 Tablespoons olive oil
1/2 lb. (8 ounces) kielbasa or other smoked sausage,
sliced into 1/2-inch thick rounds
1 large onion (about 12 ounces), chopped
3 medium carrots (about 12 ounces), chopped
4 to 6 cloves garlic, chopped
4 cups water
1 cup lentils, rinsed
3 cups canned tomatoes, along with their juice
1/2 cup chopped fresh parsley, plus additional for garnish
2 teaspoons ground cumin
1 TBS paprika
1-1/2 teaspoons salt
1 teaspoon red pepper flakes (optional)
Heat 1 Tablespoon of the olive oil in a medium pot. Add the kielbasa and cook over medium heat until nicely browned, about 2 to 3 minutes per side. This smells heavenly when it's cooking. Remove from pot and set aside. When cool, slice rounds in half and set aside.
Add the onion and carrots to the pot, adding up to 1 Tablespoon of olive oil if necessary to prevent sticking. Cook 5 minutes over medium heat, stirring so that the vegetables are coated with the caramelised bits left in the pot from cooking the sausage. Add the garlic and cook 1 to 2 minutes longer.
Add the water, lentils, and tomatoes and bring to a boil. Reduce heat and simmer, with the lid cracked, 20 minutes, stirring occasionally. Stir in the parsley, cumin, paprika, salt, and red pepper flakes if desired. Simmer, with the lid cracked, for an additional 30 minutes, stirring occasionally.
Carefully puree about half of the soup in a blender on low speed until still slightly chunky, then return to the pot. I'm rather lazy and like to use my stick blender to do this. I just do it in the pot I have cooked it in, which means I don't have to dirty up a blender or anything. Stir in sausage. Cook over medium heat 5 minutes longer. Serve hot, garnished with chopped fresh parsley if desired, and with plenty of crusty bread.
PSSST!!
Don't forget to hop on over to
The Simple Woman
to see all the other day book entries for today!