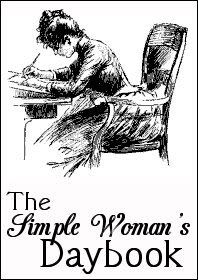 FOR TODAY, November 17, 2008 ...

Outside My Window...
The sky is crystal clear. I can see the moon shining through the tops of the trees. It reminds me of when I was a young girl and we were living in a small town on the banks of Lake Winnipeg. The nighttime sky would be cool and clear and the stars would shine so brightly. I could name all the constellations back then. I probably couldn't name you any of them except for the major ones now. The knowledge is probably stuck there somewhere in my brain but has been hidden for far too long to be got at easily!
I am thinking...
About when I was a child and the things I used to dream of being when I grew up. I wanted to be a mom and a wife and have a home and I also wanted to be an artist and writer. I figured you could do all of those things together. I can remember trying to write my first novel when I was around 8 or 9. I borrowed a friends typewriter. It was one of those little plastic things with a dial knob on the front where you dialed up the letter you wanted to use and then punched it in. It was very laborious . . . I don't know that I got more than a few pages done and those took a long time. I had to give the typewriter back. I really would have loved to have one of my own. I did write little plays longhand as well. A few friends and I used to put them on in Janice Crowston's garage . . . our curtain an old blanket hung over a skipping rope across the width of the garage . . . our seating, old plastic lawn chairs. Oh what fun we had! I was always drawing and colouring as well. I had a vast collection of paper dolls and the outfits they came with were never good enough. I always had to make them new ones. Oh what fun I had!
I am thankful for...
I am thankful for a Heavenly Father who is always mindful of me and who takes care of me and my loved ones so very wonderfully. I had a short message from my son last night to say that they had a few scary moments on Saturday when Kayla experienced some contractions, but they were able to stop them and she remains resting quietly at this point. They must be so frightened and worried. As a parent I just want to hold them in my arms and tell them everything will be ok, and I want everything to be ok. Life has a way of just happening and what will be will be. In the meantime we just wait and try to squeeze as much joy out of each day that we can. I am so thankful for having the Gospel in my life and the understanding that it brings to me, the joy and the peace . . .
From the kitchen...
Yesterday morning I made a wonderful Lamb Tagine with Prunes and stuck it in the slow cooker. I turned the knob to high and went upstairs to get dressed for church. I turned it back to low just before we went out the door, or at least I thought I had! W-r-o-n-g! When we arrived back home in mid afternoon there was no lovely smell to greet us when we came through the door . . . just a lonely dog wagging her tail! Yes . . . I had actually turned it off. blah . . . we had some sandwiches instead and I stuck the tagine into the oven so that we could have it later on . . .
I am wearing...
what else but my pink pajamas! I wish I could wear them all day, every day. Pajamas are so comfy! Maybe I should start a new fad at work . . . pajama day Mondays. What do you think?
I am creating...
I have a stack of cards sitting on my table to be posted out today to my lovely friend Duckie. Now that my kitchen is all finished for the most part I hope to be able to paint a few more pictures this week. I have to clean up my mess in the spare bedroom as well. I think I am going to use that for my art room, when nobody is visiting us. I had Todd put my sewing machine away at the weekend. I use it so seldom these days, and it is just taking up space on the table in there. I'll move all my paints and doodads into there and it can become my studio! I love that idea!
I am going...

Not a lot of plans this week to go anywhere, except to work and to the usual Thursday night Seminary and Mutual activities. We are having a literature appreciation night at Young Women's Mutual this week. We've told the girls to bring in their favourite books and be prepared to share a little something about them and why they enjoy them. It should be fun!
I am reading...

Speaking of books . . . "The Almost Moon" by Alice Sebold. I am about halfway through the book. There is some bad language in there and I am having to skip over that. Not that I am a goodie two shoes or anything but I just don't like it. I find it really offensive and don't know why it has to be there. You wouldn't have seen it in most books 20 or 30 years ago. Am I just old fashioned? It's like the "F" word has become everyday and commonplace. I really don't like it anymore than I like to hear the Lord's name taken in vain, which is quite commonplace as well . . . sigh . . . My ex brother in law used to do that a lot, and yet he claimed to be an atheist. One day I said to him, boy oh boy, for a person who doesn't believe in Jesus Christ you sure like to throw His name around a lot . . .
I am hoping...
That I hear something from the card company soon. It's been two weeks. I know they must get lots of art sent to them, so no news is probably good news, but I can't help wondering. It's a human condition . . . this lack of patience . . . and something I continuously have to work at!!! Be still and know that
I am God . . . I'm-a-tryin!!!
I am hearing...
the hum of the electric fire and the clock ticking on the wall. I love these quiet hours first thing in the morning. It is still quite dark and so the birds haven't started their morning chorus yet, and Jess is resting quietly here by my feet. She was snoring quite a bit a few minutes ago, but that has stopped . . . for now anyways . . . I expect it will start off again soon. It's quite a comforting sound . . . the sound of a snoring dog.
Around the house...

I am still loving my kitchen so very much. It's actually stayed neat and tidy all weekend! Ok, so there is a bit of my card mess on the table, but I'm going to put that away today, I promise! I notice that Todd has his running shoes laying on top of the radiator trying to dry them out. He put them through the washing machine yesterday. What a racket they made! They came out nice and clean though! I think I remember seeing something back home that was a rack you put inside the washer to keep your shoes and such from making so much noise when you washed them, or was that for in the drier?
One of my favorite things...

Is cooking and eating. Sometimes I wish it wasn't. Especially when I look in the mirror, and see all those extra pounds. My gran was a large woman, as was my Aunt Freda. My dad struggles with his weight as does my son Doug. I know it's unhealthy and that I shouldn't be so weak and my intentions always start off good each day . . . but then . . . you know how it goes. I will have to bake cookies up at work, or a cake . . . my husband needs to be fed and he hates salad . . . a little taste here, a little taste there. It's hard to diet when you work with food. I wonder about all these skinny chef's . . . how do they do it?
A Few Plans For The Rest Of The Week...
To try to make some headway in the spare bedroom and to get a few paintings painted. I have them all sketched onto my watercolour paper, just sitting there waiting for me to ink them in and start painting away. I can't wait! I have a stack of Christmas presents that I need to be wrapping so that I can send them over to Canada as well. If I don't do it this week, it will soon be too late! (we can't have that!!!)
Here is picture thought I am sharing...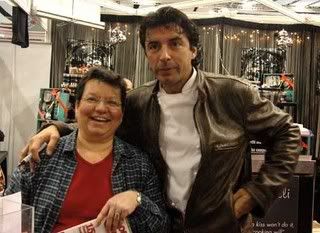 This is a picture of me that I just love. It was taken with that celebrity chef, Jean Christophe Novelli a couple of years ago at the BBC Good Food Show in London. I look pretty happy don't I? I was! He is so incredibly handsome and he kissed me on the cheek. I remember texting Todd afterwards . . . "I just got snogged by Jean Christophe Novelli." He texted me back . . . "You're dead." and I texted him back . . . "I know, coz I'm in heaven!" haha Happy days!
I made some of my mother's baking powder biscuits yesterday, just for a treat. This is the best recipe ever and makes the fluffiest most delicious biscuits every time. I think people would be most disappointed if they came over for supper now and I didn't have a basket of these waiting on the table for them to dig in to. Fresh out of the oven and slathered in cold butter, these are heaven on earth . . . the butter melting into the crumb . . . mmm . . . mmm . . . good.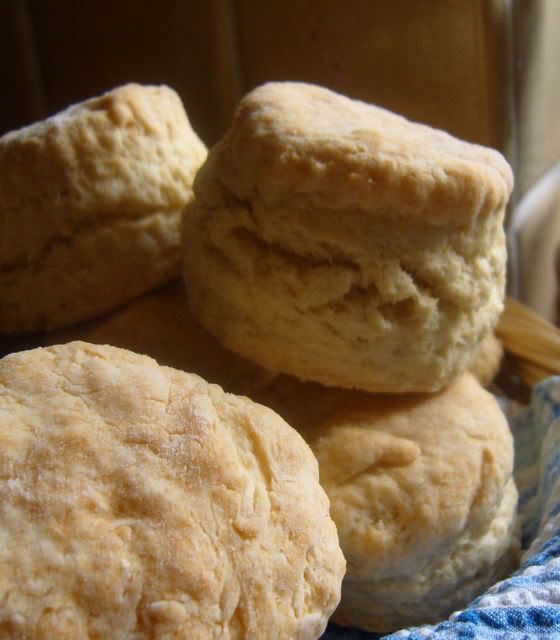 *Mom's Baking Powder Biscuits*

Makes 3 dozen
These biscuits are legendary! Crisp and brown on the outside with a soft tender crumb interior they made every meal special! Delicious split and spread with cold butter and honey. Leftovers are good warmed up and served with breakfast the next morning. The dough might seem a bit sticky, but don't worry about that. Just pat them out on a well floured counter top and cut them out with a well floured cutter.
4 cups flour
8 tsp baking powder
1 tsp salt
1 cup vegetable shortening (Crisco, Trex or White Flora)
2 TBS sugar
2 beaten eggs
1 ½ cups milk
Sift together into a large bowl the flour, baking powder, sugar and salt. Cut the shortening into the flour with two round bladed knives, or a pastry blender, until mixtures resembles small peas.
Mix together in a measuring jug the milk and eggs.
Make a well in the middle of the crumb mixture and pour in the wet ingredients. Mix thoroughly, then turn out onto a floured board and knead lightly about 12 times until smooth. Don't work the dough too much.
Pat out until about ½ inch thick on a well floured surface. Cut into rounds with a sharp round biscuit cutter, that you have also dipped into flour. Try not to twist the cutter when you are doing this. Just give the cutter a sharp tap straight down and lift it back up straight as you can. Twisting results in lop sided biscuits.
Place on un-greased cookie sheets and bake in a preheated 350*F/180*C oven for 20 to 25 minutes until lightly browned.
Serve warm.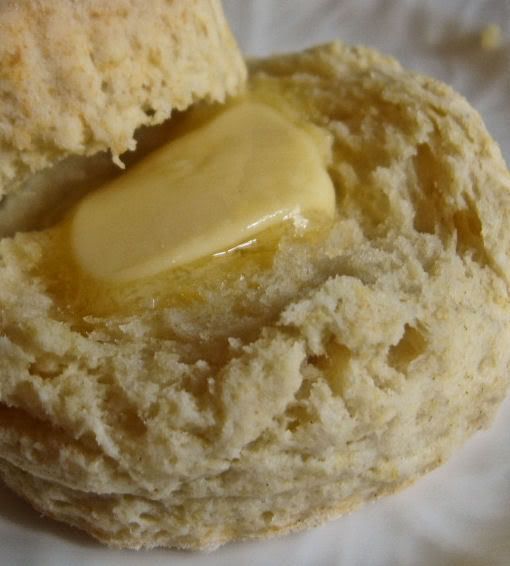 PSSST!! Don't forget to hop on over to
The Simple Woman
to see all the other day book entries for today!