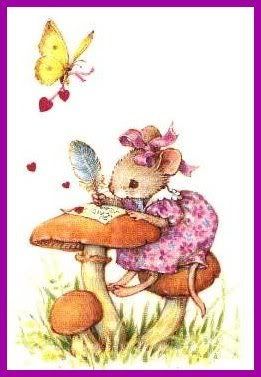 I got one of my mother's bi-weekly letters yesterday morning in the post. I can depend on receiving a letter from her every second week, come hell or high water! I'm always really excited to get it, just like a child really, and I suppose I am . . . her child, that is! It's very rare nowadays to get a handwritten letter from anyone. I mostly get e-mails, and I am very grateful for them. A handwritten letter though, that's something special indeed. My mother doesn't have a computer and won't have one either. She prefers to do things the old fashioned way . . . so her stubbornness is our blessing, as we, each one of us three children, can rely on receiving a letter from her every two weeks. I am saving them, as does my sister. I have a special box that I put them in and someday when the letters stop . . . as I know they one day will . . . I will still have a letter from my mom every two weeks. I plan on pulling one out every second week just to read and treasure . . .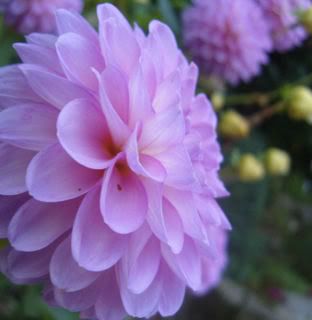 Todd can't understand how she finds so much to write about, but that is a man for you! I, myself, could write for England! A letter is like a conversation and my mother's are always interesting and witty, even if they are about the little goings on in her day. Perhaps a stranger might not find any worth in reading about those types of things, but I sure do. To be able to put them down on paper in such an interesting and entertaining manner is an art form . . . and one my mother has perfected!
One hardly has occasion to write letters anymore and receiving a personal one in the mail . . . something other than a bill or advertisement . . . is something precious indeed. As a child, I was taught how to write a letter. We learned how in English class at school. There were correct formats to follow for every kind, and there were several kinds. There were thank you letters, invitation letters, chatty letters, love letters (*giggle), letters of introduction, letters of regret, letters of condolence, resignation letters . . . I could go on and on, as there were letters to fit just about every situation one had to face in life . . . and we practiced the art of writing them all. It was good to learn those things, and I have no idea if children today learn this or not. I can't remember my own children learning how to write a letter at school, but I could be wrong. (It's been known to happen on several occasions you know!)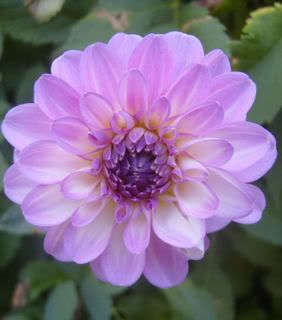 When I was a child, I never received a gift from anyone,without having to write a thank you letter in return afterwards. (A practice I still follow I might add.) In school, awards were given out monthly for the student who had done the best work for that month, and had gotten the most gold stars and stickers on their chart. More often than not, the award was a lovely box of writing papers. I was never disappointed in receiving this . . . for one thing, it was an award . . . and two it was nice writing paper and now I had something that I could write someone a letter on, something other than lined A-4! and three . . . I had occasion to write a thank you letter to my teacher for the award! It was a win/win/win situation! Just yesterday, I was searching online for some nice stationary that I could write some letters on, but alas . . . I could not find any.
I do love pretty writing papers, although I don't often have occasion to write letters these days. I, like most people, generally send e-mails. Letter writing is becoming a lost art form. The last time I sat down to write a letter, my hand ended up all cramped and sore afterwards, so seldom do I use it in this exercise . . . and, I am ashamed to say, my mother rarely gets a written letter from me, except for possibly once or twice a year. I just pick up the telephone and call her instead, preferring to hear her voice. I'm lucky that I live in an era when a telephone call, internationally, is not an awfully big expense. But even if it were, I'd still call anyways. My mother always "tut tut's" about the price . . . but I just tell her, mom . . . someday it won't matter how much money I have as I won't be able to call you anymore . . . so, for now, I call . . . regardless of the expense. It's a gift to me, and quite selfish really.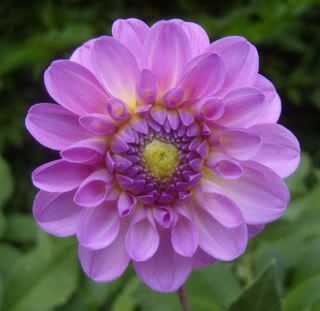 When I was ten years old and in Grade five at school, my teacher, Mrs. Folk, had my parents in for an interview. She told them that I had deplorable handwriting and she refused to mark any more of my work, as it was too messy and difficult to read. That did it!!! My mother wasn't having a child of hers with messy and difficult to read handwriting!!! She went out and bought several exercise books entitled, "The MacLean Method of Hand Writing." They were little books the size of a music exercise book and full of pages and pages of writing and practice writing exercises. I remember having to sit for hours practicing the art until I had it honed and perfected. My hand would be so sore afterwards. I am quite sure that I whined quite a lot in the process, and a great deal of tears were shed, although I have now blocked that part out of my mind! (Selective memory is a wonderful thing!) Whatever . . . the end result was that I ended up with lovely handwriting, all swirls and curls and quite legible! (Todd wouldn't agree though . . . it looks foreign to him and he has a difficult time reading both mine, and my mother's writing) It was not a wasted exercise though, and I am grateful to have had a teacher who cared enough to complain and for a mother who cared enough to take me to task, and stuck with it until I learned properly. Sometimes stubbornness is a blessing . . .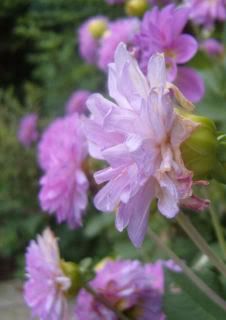 I really do need to write more letters, and I think I will. I think that this year I will try to write at least one a month so I don't lose the art, and so I keep my fingers and hand in practice . . . not to mention my mind and my heart . . . as letter writing comes from the heart you know . . . and we need to use our hearts more often . . . at least that's what I think!
I had a bit of leftover ham in my freezer that I decided to use up last week. I made this lovely casserole. It's a very old recipe of mine from that Big Blue Binder, that my family always loved when they were growing up. I believe this was the first time I had made it for Todd. He is not overly fond of Pasta . . . or that "Italian" food as he calls it. He prefers meat and two veg . . . (Like he's always gonna get THAT from me!) Every once in awhile I torture him with pasta in one shape or another, (no pun intended) because it is something I love. He always ends up liking it anyways . . . even if he won't admit it. The plate always comes back well and truly cleaned! This recipe is easy to cut in half if you want to serve it to a smaller group and if anything, the leftovers taste even better warmed up the next day!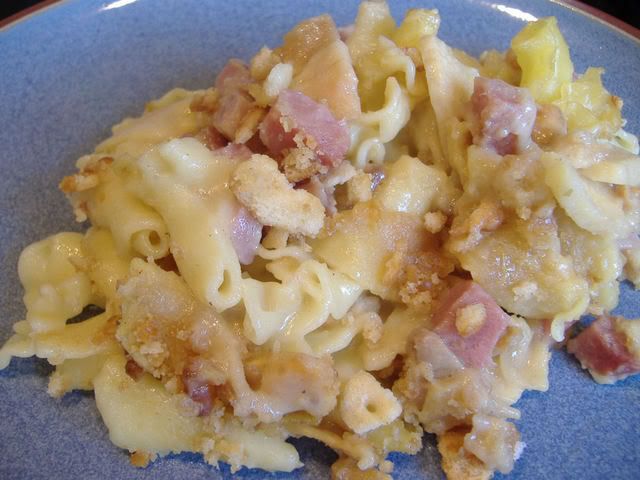 *Ham and Mac Bake*
Serves 8
This is a wonderful casserole that is not only mighty taste but mighty easy on the budget as well. My kids loved this when they were growing up and it was always something different to do with that ham that was leftover after New Years and Easter. Mind you, it's so good it's worth buying some ham just to make it.
½ pound macaroni (1 2/3 cups)
¼ cup butter
¼ cup plain flour
2 TBS Dijon mustard
¼ tsp pepper
2 cups milk
2 TBS light soft brown sugar
2 cups cubed, fully cooked ham
2 medium eating apples, peeled and thinly sliced (2 cups)
1 cup soft bread crumbs (1 ¼ slices of bread)
2 TBS butter, melted
Cook the macaroni in boiling salted water according to the package instructions. Drain well, rinse with cold water and set aside until needed.
Pre-heat the oven to 180*C/350*F. Melt the ¼ cup butter in a saucepan. Whisk in the flour and cook for one minute over low heat. Blend in mustard , salt and pepper. Stir in the sugar. In the meantime bring the milk to a simmer, then whisk in slowly to the flour mixture. Cook and stir until thickened and bubbly. Stir in the macaroni, ham and sliced apples. Turn into a greased 2 litre casserole dish.
Toss the bread crumbs with the 2 TBS melted butter. Sprinkle evenly over top of the casserole. Bake for 30 to 35 minutes or until bubbly and lightly browned on top.