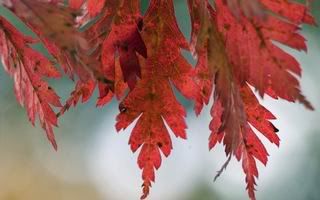 Todd and I don't always see eye to eye. Like most couples, we each have our own way of doing things, and that may sometimes cause friction from time to time. Todd is a very tidy and neat person . . . there is a place for everything and everything is in it's place. He takes things out as he needs to use them and then puts them away directly afterwards.
Me, on the other hand . . . I'm a little bit like that pigpen character from the Charlie Brown cartoons. I like to be surrounded by my favourite things, where I can see them and touch them. A little cloud of dust follows me wherever I go. If I am working on a project, that may take several days to finish, (and they quite often do!) I just can't put my supplies away right away. They will often lay on a corner of the table for days (Todd says weeks, lol) until I am finished. I know this drives him up the wall, and I could try harder to put things away . . . my brain just doesn't operate in the same way.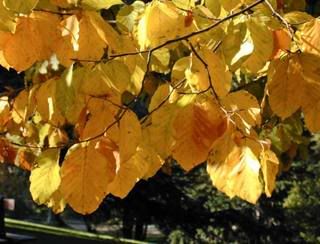 He sees a mess and I see a pile of opportunity and a string of new tomorrows! It's all in how you look at it!
We have different ways of doing things and seeing things and we might not always see things eye to eye . . . but, with a little effort, we can try to see things
"heart to heart,"
and I think that we do most of the time.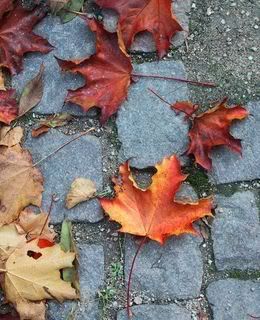 I think that being able to see things
"heart to heart"
is one of the major factors in a happy marriage and indeed, in all relationships. When we look at the heart of the other . . . it is not hard to be more understanding and accepting and forgiving. I am always saying to my Todd . . .
"I may not be perfect . . . but I'm perfect for you!"
I know this is true and I think he's perfect for me also!! .
Can you imagine what a wonderful world we would and could live in if we all saw each other
"heart to heart?"
What a more loving, and understanding, not to mention forgiving, world this would be!!!
The scriptures tell us that God looks at the heart of man and judges him by what he finds there.
"But the LORD said unto Samuel, Look not on his countenance, or on the height of his stature; because I have refused him: for the LORD seeth not as man seeth; for man looketh on the outward appearance, but the LORD looketh on the heart." ~1 Samuel 16:7
How can we do anything less? Let's try today to see each other,
"heart to heart,"
to look at each other with the eyes of the heart. Therein lies life's true treasure, and the real measure of man's worth.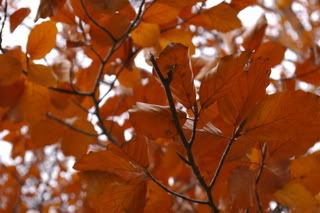 We had a lovely day yesterday, despite the rather dismal weather. We went out and did our weekly shop in the morning. I picked up all that I need to make my Christmas Cake so I must get cracking on that. Then in the afternoon I had occasion to talk to a dear old friend that I had not spoken to in years, Leona. Leona and I have been friends since just before my middle son was born and he will be 27 the end of this month, so that is a very long time. These past 10 years or so now, we've only really contacted each other via our yearly Christmas Cards. We got back in touch with each other yesterday via the facebook site and then spent an hour on the telephone chatting afterwards. The years just fell away right from the first word spoken, and it was like it had always been, but then that is the way it always is with kindred spirit friends. It doesn't matter how often you get to speak to each other, or how far away you are from each other, it's a bond that never breaks or lessens with time or distance. It really made my day to be back in touch in such a personal way!!!
Last night we had our monthly scripture study group and that was pretty special as usual. It is so lovely to be able to meet together like that with friends and like minded souls and discuss the things that are so very important to each of us. I always come away with a deeper understanding of the principles of the Gospel and also with a warm feeling in my heart knowing that my eyes and heart are not the only ones who see these precious truths the way that I do . . . that it is a shared love and understanding, and when it is shared with people you care about, well . . . that just makes it all the more precious!
I made Todd a good old fashioned meat and potatoes meal for our tea last night. Swiss Steak and mashed potatoes. He is a meat and potatoes kind of guy. During the week I don't have occasion to do much in the way of really serious cooking so on the weekends I like to spoil him a bit . . . this always goes down a real treat.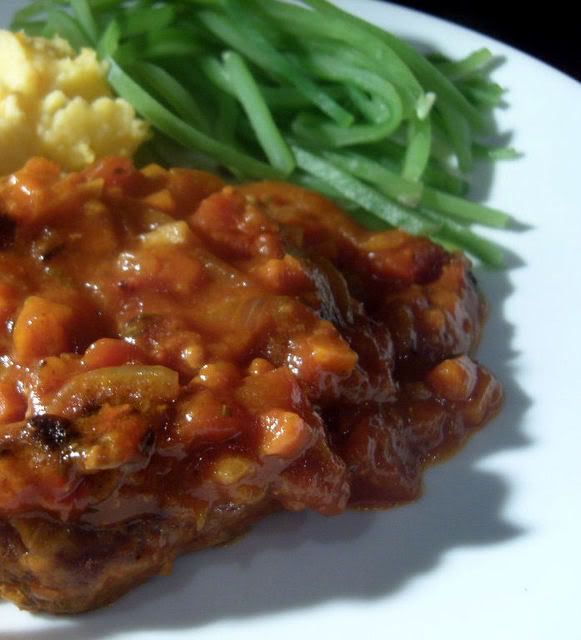 *Swiss Steak*
Serves 4
I don't think I ever actually do this the same way twice. It's a very forgiving recipe that lends itself to individual interpretation and just what you happen to have on hand at the time. As long as the basics stay the same, you just can't go wrong!
4 serving size pieces of braising steak, about 1 inch thick
1 - 1 1/2 cups of flour
salt and black pepper to taste
garlic powder to taste
1 TBS oil
1 large onion, peeled and thinly sliced
1 medium carrot, peeled and diced
1/2 of a small green pepper, thinly sliced
1 - 14 1/2 ounce tin of chopped tomatoes, undrained
1/2 cup beef stock (if needed. The tomatoes over here are in a lovely thick tomato
juice, so I always add the stock to help thin the sauce a bit)
1 tsp of dried summer savoury or a mixture of dried thyme and marjoram
Heat the oven to 180*C/350*F. Trim any visible fat off of your meat. Season generously with salt, pepper and garlic powder on both sides. Dredge each piece in the flour and then using a meat pounder, or the dull edge of a heavy knife, pound the flour into the meat on both sides adding flour and pounding until no more flour can be absorbed into the meat. (Thorough pounding will make the meat very tender and shorten the baking time.)
Heat the oil in a heavy skillet on top of the stove over medium heat. Brown the steak slowly on both sides, turning it only once. Remove to a casserole dish with a tight cover.
Add the carrots and onions to the pan drippings and cook them over medium heat, stirring from time to time, until the onions are slightly browned and softened. Add the tin of tomatoes, beef broth if using and the herbs. Season to taste with some salt and pepper. Bring to the boil and then pour this mixture over the steak in the casserole dish.
Place the lid on top and then bake for about 2 hours, or until very tender. Check from time to time to make sure the liquid is not cooking dry, and add a bit more beef broth as needed.
Serve hot, with mashed potatoes and a green vegetable.
Variation:
*Sour Cream Steak*
- Omit the carrots, green pepper and tomatoes. Brown the onions and put them on top of the browned steak, returning it to the skillet. Pour one cup of boiling water over top, place a lid on top and then simmer over low heat, until the water is nearly absorbed. Add one to 1 1/2 cups of sour cream, stir, and then continue to simmer until quite tender. You can make a thinner gravy, if desired, by adding water or milk to the pan gravy.