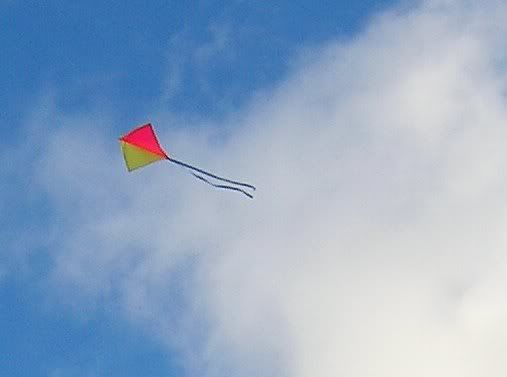 When I was a child I dreamed of being able to fly a kite and have it soar through the air like a bird on the wing. I can remember many Saturday mornings spent with tree branches, scraps of yarn and string, and old brown paper grocery sacks . . . cutting, colouring, taping and tying all the parts together, and creating what looked to be a beautiful kite. It would be all I could do to get through lunch so that we could go outdoors and try to fly it.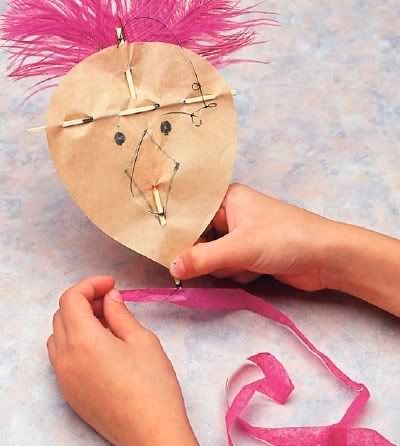 I would have such lofty dreams pinned on those few branches and bits of paper and colour and . . . whilst it may have held itself aloft for a few minutes, it never stayed up for very long, or achieved the promise of my dreams.
One time I saved all my pennies and purchased a real kite. I had been admiring one for weeks in the local Rexall Drug store. I did not have many pennies, so, as you can imagine, it was not a very good kite . . . only a few bits of plastic tubing and some very flimsy coloured plastic for the body of the kite. It did hold aloft for a bit longer than those paper and stick ones I had made though, so was well worth my tiny investment.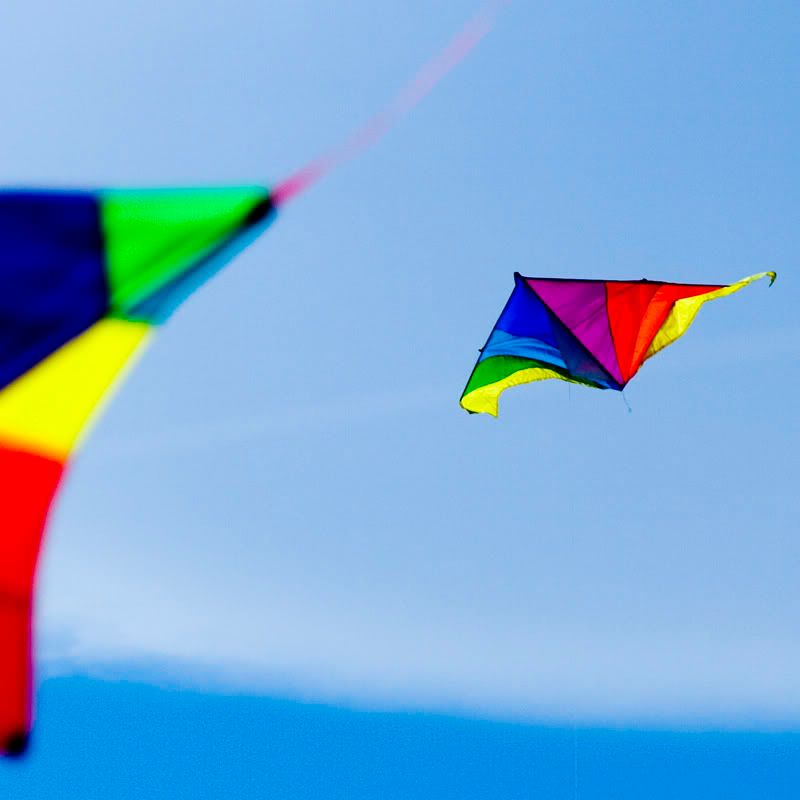 Truth is though, a kite is really only as good as the person who is flying it . . . and I was not very good.
One could quite well imagine the kite up there in the air having a conversation with itself and saying . . . "I'm up here flying high and gracefully, despite that horrible child down there hanging on to my string. Were it not for her . . . I could float off into the air and perhaps even visit the moon . . . sigh."
I wonder though if it would . . . it seemed that whenever I lost touch with the string, the kite would crash or become entangled in a tree or some such. Without me to tether it, it never stayed up long or had any direction or sense of purpose . . .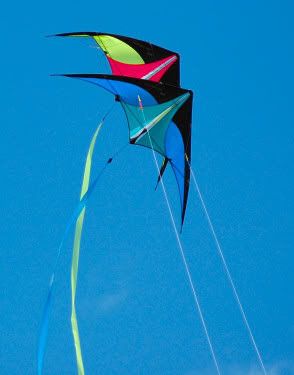 The thought occurs to me this morning that we, ourselves, are a bit like kites. Oh how we love to soar and raise our eyes from our earthbound realm from time to time . . . but just like the kite, we need a tether to help keep us sensibly grounded, so that we don't crash into trees or become entangled in power lines. Spirits were made for soaring after all, but we do need inspirational and loving guidance from time to time . . . the touch of the Master's hands.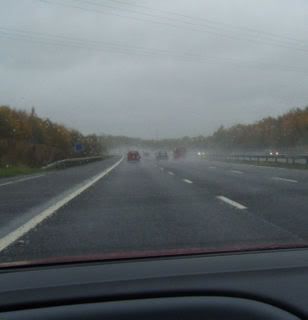 We had a lovely day in Romford yesterday. It was really lousy weather to drive in by. Rain and wind and we did pass one accident on the way which really kept the traffic on the A21 snarled up for a time, but we, thankfully, got there in one piece. It was lovely to see Todd's brother and sister in law and niece and spend some time with them. They are such lovely people and it really does my heart good to see Todd enjoying time with his family. There are so very few of them around, we really should get together more often.
I still have no counter tops in my kitchen. Actually I lied. I do have one over by the window but it has the sink in it. Perhaps on Monday I shall get the rest. I do have some lovely white ceramic knobs on the cupboards. They look lovely against the oak, and the counter top that is there looks like white granite. I will be sure to take some pictures when it is all done to share with you.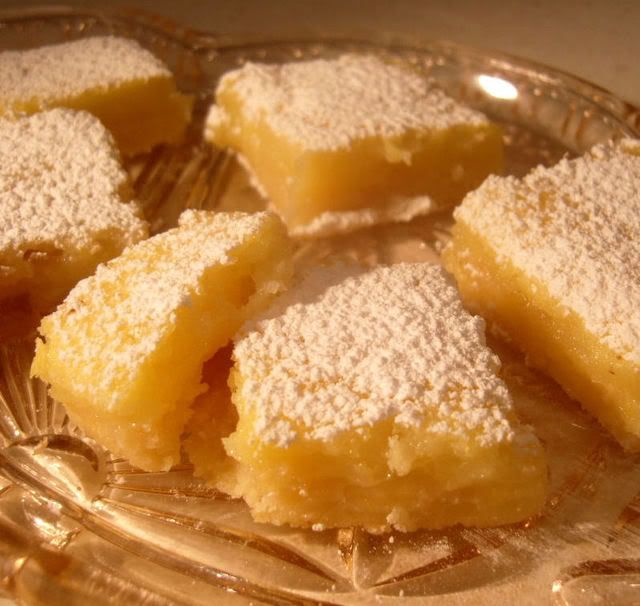 I have a lovely Lemon Square recipe to share with you all this morning. I just love Lemon anything. Not Todd's favourite cup of tea unless it is quite sweet really, he doesn't like sour things, but I adore them. You have a lovely buttery crust topped with a tangy, yet sweet lemon curd topping. These have long been my favourites!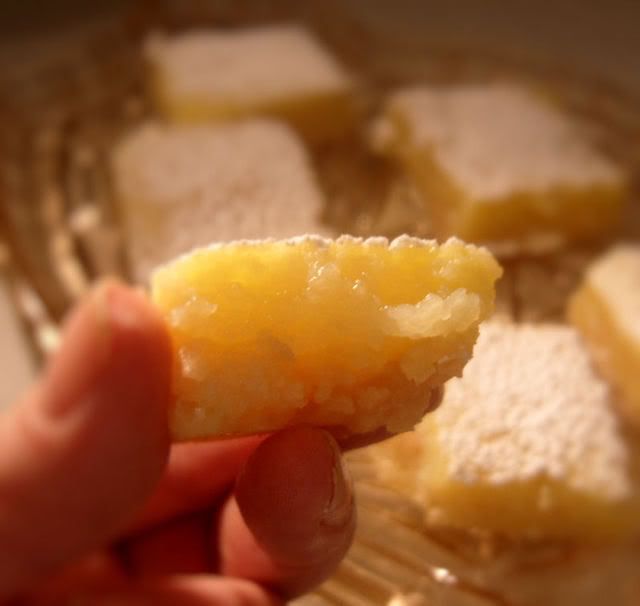 *Tangy Lemon Bars*
Makes 16
These bars are perfect for an afternoon tea or special occasion. They have a delicious buttery shortbread type of crust and a wonderfully tangy sweet topping. It's a compilation of several different similar recipes that I have used through the years. I took the best bits of each and combined them to make what I think are the absolute best!
For the crust:
3/4 cup plain flour
1/4 cup cornflour (cornstarch)
1/3 cup sifted icing sugar
pinch of salt
1/2 cup ice cold butter, cut into bits
For the filling:
4 large eggs
1 1/2 cups sugar
1/4 cup plain flour
1/2 tsp salt
1/2 tsp baking powder
2/3 cup of fresh lemon juice
the finely grated zest of one lemon
For topping:
1/4 - 1/2 cup of icing sugar, sifted
Pre-heat the oven to 180*C/350*F. Lightly butter a nine inch square baking pan and line it with parchment paper. Butter it again. (I use two pieces criss crossed with at least a 2 inch overhang on each side so that when the squares are completely cooled I can just lift them out using the sides as handles. It's very easy to cut them into perfect squares then.)
Put the flour, cornflour and icing sugar into the bowl of a food processor along with a pinch of salt. Blitz it once or twice to mix. Add the cold butter and pulse a few times until the mixture forms coarse crumbs.
Dump the crumbs into the prepared pan and press them out evenly with your fingertips, creating a little bit of an edge on the sides. Chill for 15 minutes.
Bake in the heated oven for 20 minutes, until set and beginning to lightly brown. Remove from the oven and set aside. Reduce the oven temperature to 160*C/325*F.
Whisk the flour, sugar, baking powder, salt and lemon zest together in a bowl. Beat together the eggs and lemon juice and whisk this mixture into the dry mixture, making sure all are well incorporated. Pour this mixture over the partially baked crust.
Place back in the oven and bake for a further 20 to 25 minutes. Check at 20 minutes. The filling should be completely set and lightly browned. Remove from the oven to a wire rack to cool completely.
Once cooled sift the icing sugar evenly over the top, coating it well. Remove from the pan and then cut into even squares with a sharp knife.
Put your feet up and enjoy!