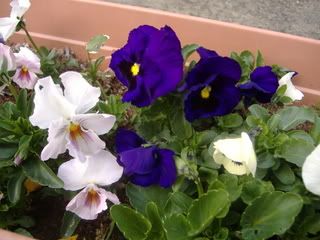 "Smell is a potent wizard that transports you across thousands of miles and all the years you have lived." ~Helen Keller
There is something really special about smells. They have the power to grasp your mind and instantly take you back to any memory in your experience . . . to make you feel really safe, or afraid, or comfortable or sad.
My mother's old wooden cooking spoon has absorbed the smell of many a year . . . and many a pot!! No matter how many times it has been washed and scrubbed, time's compelling odour abounds. The smell of garlic, onion and tomato paste permeates it and whispers golden memories of evenings shared with loved ones . . . now miles apart.
The smell of molasses cookies always takes me back to my grandmother's ample lap and the feeling of warmth and love as I cuddled there . . . the creak of her rocking chair as she held me close, and her soft voice singing "you are my sunshine" . . .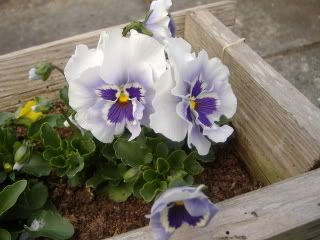 One time, when my own children were babies, I opened a bottle of gripe water and was instantly transported back to a time that was long hidden in the recesses of my mind. I can't describe the sensation, but I felt instantly comforted and safe . . .
Occasionally when I am in a chemists, I will encounter a smell that in my memory reminds me of being a teenage girl and getting ready for Saturday night . . . washing my hair and rinsing it with this pink hair conditioner . . . Lady Patricia's I believe it was called . . . it's a smell that makes me feel 16 again and full of excitement and anticipation . . . and very nostalgic.
The smell of Ma Griffe perfume always takes me back to my mother's bosom and the memory of watching her as she got gussied up to go out for a night on the tiles with my dad. She always looked so pretty and my dad looked so handsome and I knew we children would have to be extra quiet the next morning as they recovered in bed . . .
The top dresser drawer of the old white dresser in the spare room at my mom's still smells like a combination of leather, tobacco, cork grease and butterscotch wafers, or, in other words . . . my dad. He was a consummate clarinetist and used to keep a hidden stash of butterscotch wafers in that drawer along with his cork grease and wallet. He's not been there in that room for a very long time, but the smell lingers on and makes me think of my secret forays into his forbidden stash of buttery sweetness . . .
Holidays have certain smells . . . Hallowe-en smells like a combination of rotting leaves, frost and burnt pumpkin . . . Christmas, it is the smell of pine mixed with ginger, cinnamon and log fires . . . Thanksgiving smells like roasting turkeys and the spice of pumpkin pies . . . Easter smells like chocolate, lilies, and ham and eggs . . . as for your birthday, well . . . that smells like excitement, cake and melting wax candles!!!
Evening in Paris, burning leaves, a freshly sharpened pencil, a wood fire, musty moth balls, dusty attics . . . these smells and others all hold the keys to magical moments in time, known only to me. Little treasures and gems hidden in my mind just waiting for me to take them out and hold them in my hands again, if only for a moment . . .
I must offer my heartfelt thanks for all your lovely comments yesterday and your encouragement, and e-mails. They all meant the world to me and brought a little pitty pat to my heart . . . speaking of which I am pretty certain now that my heart's in quite good condition for just when I sat down to write this morning the tell tale black shadow and silent swoop of a bat's wings brushed over my head and let me tell you this ample figure hasn't moved so quickly in a long time. My heart raced, as I crawled across the kitchen floor to turn on all the lights and I am now sitting in bright daylight as every single light is on here downstairs, and they're going to stay that way until we find the offending creature . . . I confess . . . there may have been a bit of squealing involved as well . . . poor Jess did not know what was going on . . .
Speaking of making your heart go pitty pat . . . here's some lovely squares that also do it to my heart . . . not to mention making my taste bud's tingle!
*Chocolate Tiffin Squares*
Makes 15 to 24 pieces, depending on how greedy you are. :-)
4 oz butter
1 tablespoon sugar
2 tablespoons drinking chocolate
5 ounces good quality milk chocolate (I like Green and Black's organic)
1 tablespoon golden syrup
2 tablespoons sultana raisins
1 TBS glace cherries, halved
8oz Rich Tea or shortcake biscuits
Line a 7 X 11 inch shallow Swiss Roll tin with some parchment paper, lightly grease the paper, and set the pan aside.
Melt the butter and sugar with the syrup in a large pan over medium heat. Add the sultanas, cherries and the drinking chocolate. Bring to the boil. Allow to bubble gently, over low heat, for two to three minutes to thicken the mixture up a little. Stir in the milk chocolate and let it melt, mixing it in thoroughly.
Meanwhile,crush the biscuits with a rolling pin. Alternatively, you can grind them in a food processor to give crumbs, depending on whether you prefer a smooth or chunky effect. I like a mixture of both. Try not to leave the crumbs too large though or the cake won't hold together very well.
Mix the crumbs well into the chocolate mixture, coating them thoroughly. Press the mixture evenly into the prepared tin and level it out, pushing down the mixture well. Leave to set in a cool place. Once solid, lift out the parchment paper and cut into 14 to 24 pieces with a sharp knife.