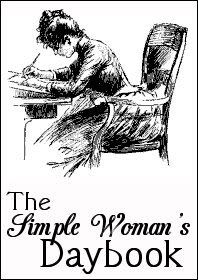 FOR TODAY, November 1st, 2011...

Outside My Window...
It is getting light out and it has been raining through the night. I overslept this morning. It is almost 7 am and most days I have already been up for about 2 hours already, instead of just beginning my day. What am I like!!
I am thinking...
I was given my hospital appointment yesterday. I go this Friday morning. Of course that is uppermost in my mind, but I am trying to be optimistically positive about it. In truth it is not the thought of having cancer that scares me the most . . . it is the thought of having to be put to sleep for an operation. How silly is that.

I am thankful for...
Do you all remember that little painting I did entitled "Forget Me Not?" Here is a reminder: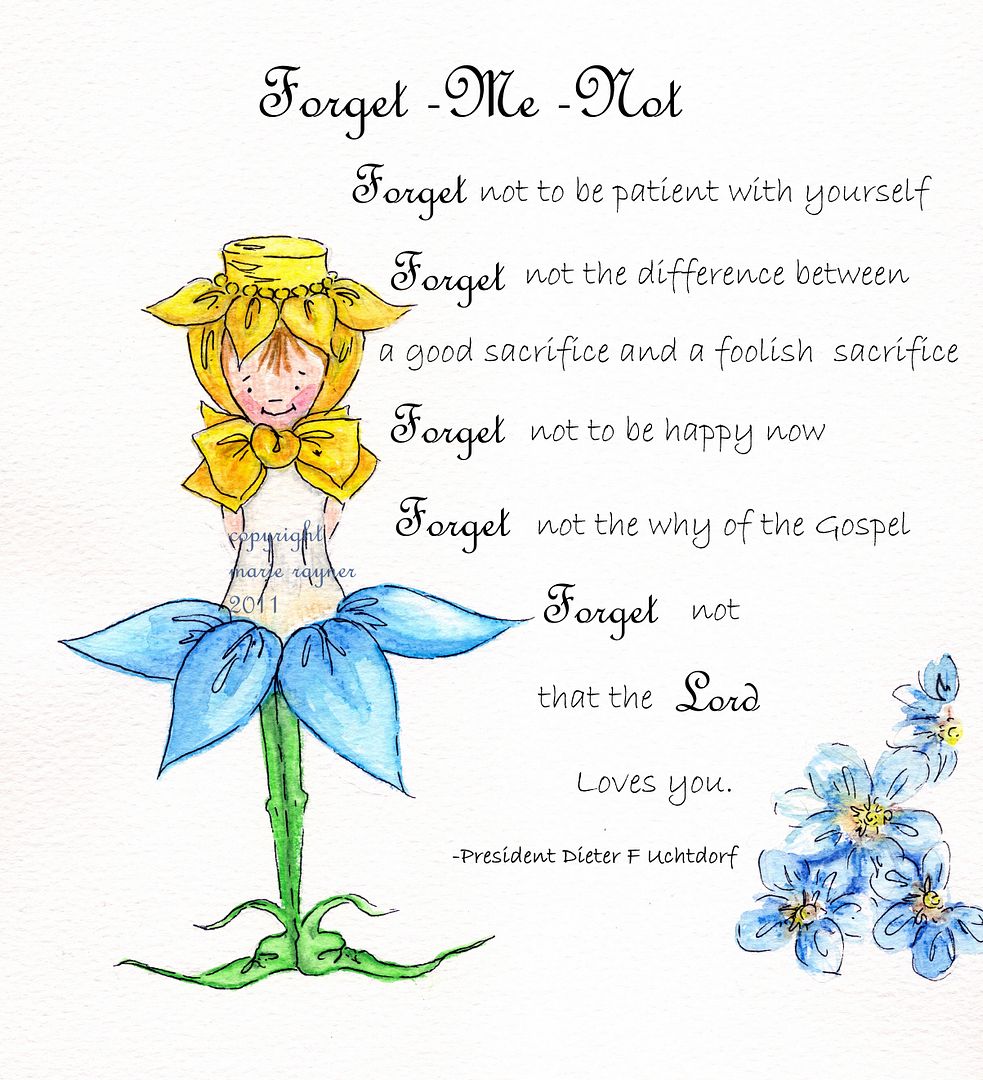 After I did it, I was impressed to send a copy of it to President Uchtdorf. I bought a nice frame for it and I wrapped it up in bubblewrap and then I posted it to the church headquarters in Salt Lake City. Yesterday in the post I received a thankyou letter from him. Call me gobsmacked! I was so pleased and amazed that he would take the time to write to me. It is precious and so special to me, especially at this time. The very last sentence in his letter reads . . . "God has blessed you and He is mindful of the desires of your heart." This is to me . . . words from an Apostle of the Lord, Jesus Christ, coming at a time when I need them most of all. Talk about Divine Signatures. I stand all amazed and humbled to my very core . . .

From the kitchen...
See below . . .

I am wearing...
A blue nightie, some pajama bottoms and my robe and slippers . . .I am wrapping up for sure. It's a sign of the cooler weather and our stubborness as far as putting the heat on goes!

I am creating...
I was busy these past couple of days doing up some card orders that I have had. I truly appreciate them. The extra money always comes in handy and it amazingly always comes at a time when we need it most. Thank you Lord!


I am going...
Each autumn the ladies of my Ward get together in November for a special meal together. It does not fall under the auspices of the Relief Society or the church . . . but is simply a bunch of sisters getting together to have a time of good food and fellowship together. I did not go last year because I could not really afford it at the time. I saved up for it this year so I could go and so I am going! It is tonight and I am really looking forward to it!

Of course there is my hospital appointment on Friday morning, but I also have an appointment to have my hair cut this afternoon and I think I want to go to the Temple on Thursday if I can. I think I need to be there on Thursday.


I am reading...




Alice I have Been, by Melanie Benjamin

Oxford, England, 1859 and Alice Liddell is the nine year old daughter of the Dean of the college. Living a pampered life with her brother and sisters in the midst of the hustle and bustle of college life she is anxious for experiences beyond what her family expects. Nothing too drastic, she would just like to be able to roll in the dirt and play without being reprimanded for getting dirty. She and her sisters are befriended by Mr Dodgson (pen name Lewis Carroll), a maths professor at the college. An unusual man, he seems to find the company of children more to his liking than most adults and spends many an afternoon entertaining the young Liddell girls.

Whilst on one of their outings he recounts a tale to the three girls, Alice's story, it is the tale that we have all come to know and love. For several years afterwards Alice Liddell begs him to write the story down for her, without knowing that once he does it will change her life forever.

Whilst Melanie Benjamin's novel is based on fact, much of the tale of Lewis Carroll and the young Alice remains unknown. What is known is that Lewis Carroll preferred the company of little girls to adults, he liked to photograph them (including Alice Liddell) in revealing poses and entranced them with his fanciful tales. But whether there was anything more sinister than that in his behaviour is unclear. It is a story that is at once fascinating and at the same time disarming . . . nevertheless I am enjoying it thus far. It's an "I can't put down" kind of book.


I am hoping...
Just for peace of mind . . .

I am hearing...
Early morning sounds as the world
wakes up around me. Every day sounds. Peaceable and comforting.
Around the house...





I would love this look in my kitchen with the stone floor and the ruffled curtain beneath a deep sink like that. I also love open cupboards, although in fact it means that you have to keep them really neat and tidy! (not my strong suit I'm afraid!) I just like the down home feel of it all. It's country and I love country style.


I am looking forward to...


I am really looking forward to tonight and being with the sisters in an informal social setting . . . not church . . . not meetings . . . just a group of ladies having a good time together. I don't really have any close friends right here where I live. All my friends are pretty much invisible ones, so this is really special for me!



I am pondering...


I am always pondering one thing or another. I am a thinker and always have been. It is just me. The wheels are always turning.


One of my favourite things...
I do have to say that one of my favourite things is being able to create something from nothing. It always amazes me totally! I suppose a writer must feel the same way after they have filled a page that was once empty with words . . . that is how I feel when I fill a page that was once blank with pictures.



A few plans for the rest of the week...


The Lord is

my

Shepherd, I shall not want.
He maketh me to lie down in green pastures.
He leadeth me beside the still waters.
He restoreth my soul.

He leadeth me in paths of righteousness for His name's sake.
Yea, though I walk through the valley of the shadow of death,
I will fear no evil,
For Thou

art

with me.
Thy rod and thy staff they comfort me.
Thou preparest a table before me in the presence of mine enemies,
Thou annointeth my head with oil,
My cup runneth over.
Surely goodness and mercy shall follow me all the days of my life,
And I will dwell in the house of the Lord forever.

Here is picture thought I am sharing...


How very true is that? We

are

our own worst enemies.

As a closing thought I would like to leave you with this:

"Resolve to be tender with the young, compassionate with the aged, sympathetic with the striving, and tolerant with the weak and the wrong. Sometime in life you will have been all of these."


~Lloyd Shearer



What a perfect way to live your life. Oh if only we could always remember these words and put them into practice. I think the Saviour put it in a slightly different way . . .



"Love One Another."



And there you have it . . . my day book for this week. Don't forget to hop on over to the Simple Woman

to check out the other day book entries! (Or better yet, do a simple day book entry yourself! It's not that hard and I am betting you would enjoy it!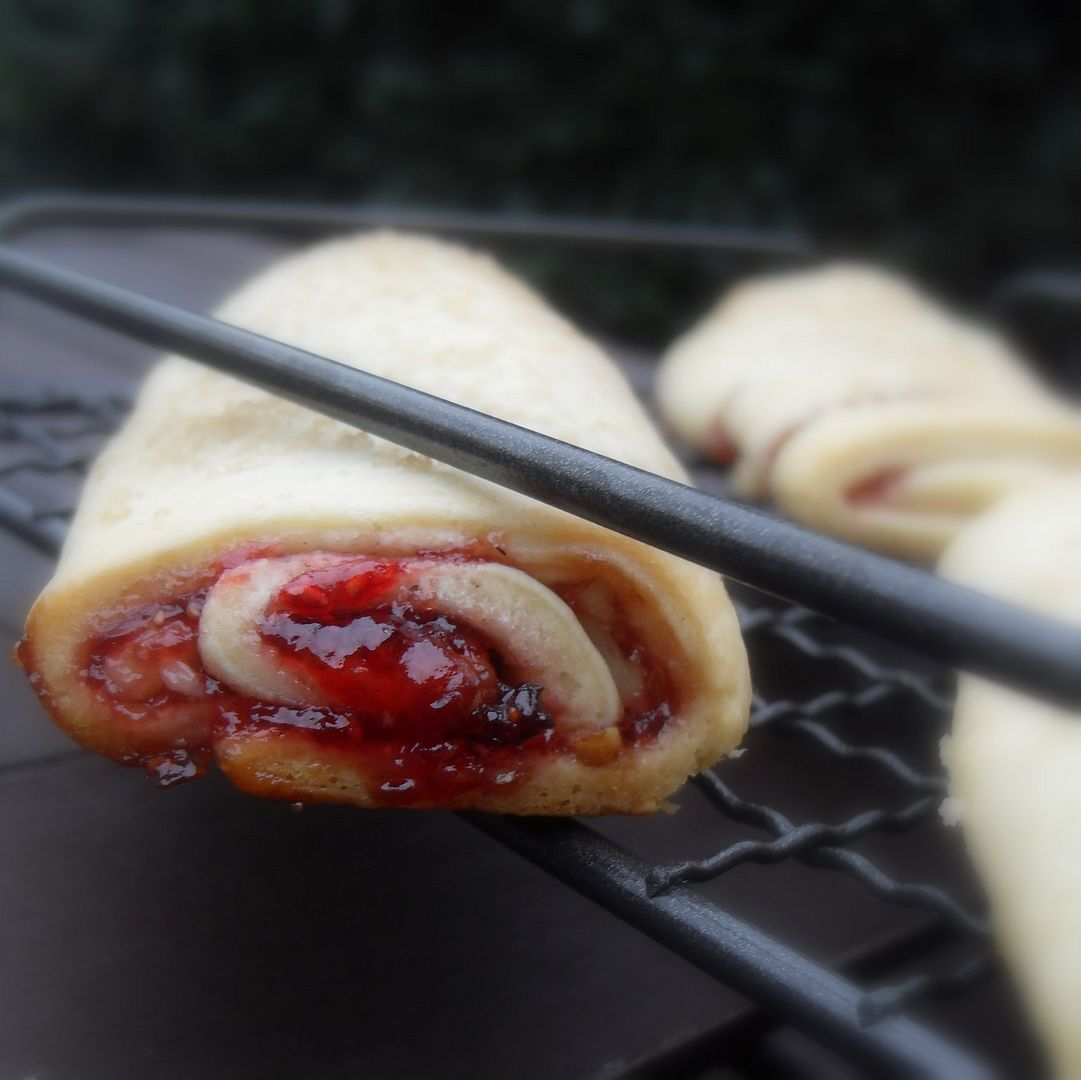 No recipe here today, but there are some very scrummy looking Flakey Jam Rolls baking in
The English Kitchen
this morning.