God
hath
not
promised
Skies
always
blue,
Flower
strewn
pathways
All our
lives
through . . .
God
hath
not
promised
Sun
without
rain,
Joy
without
sorrow,
Peace
without
pain.
But
God
hath
promised
Strength
for the day,
Rest
for the
labor,
Light
for the way.
Grace
for the
trials,
Help
from
above,
Unfailing
sympathy,
Undying
love.
~Annie Johnson Flint
A delightful poem this morning from the book that Lura sent me for my Birthday last August. She could not have sent a nicer gift. I read it often. It's so very uplifting and inspiring. "Best Loved Poems of the LDS People." But . . . you don't have to be LDS to appreciate the beauty in it's pages, trust me!
We had a really nice anniversary yesterday, if a bit odd. First Todd couldn't find his socks. Then he couldn't find his car keys. We took the wrong turnoff when we got to the Temple and ended up going back down the motorway towards home and had to drive until we found an exit where we could turn off and get back on again going back in the right direction. Then there was a mixup in the Temple with one of my cards that I couldn't get printed, and still haven't been able to. Todd couldn't do what he went to do because there were no Priesthood available at all . . . so he had to do Temple File . . . and finally our session was stalled because of a problem with the sound system halfway through . . . which they ended up having to move us to another room . . . but other than that it was a beautiful day! There were only six people in our session and so it was a lot more intimate, which was nice. And being able to sit in the Celestial Room together at the end of our day was so lovely . . . it is so beautiful in there and there is nothing that beats sitting in the Celestial Room at the temple with your beloved!
Then when I got home there were two letters for me from the National Health. One, which was a copy of a letter to my GP from the Consultant at the hospital. The other was stating that the Head Consultant didn't feel that I needed any more imaging at this time and reiterated the time of my appointment on the 18th . . . so I felt a bit encouraged by that. Please do still keep me in your prayers though. Thanks!
The dining room at the temple was closed by the time we finished all our work yesterday and we were starving as we had not eaten since breakfast. We ended up stopping at a Motorway Services and grabbing a bite to eat. There was only Burger King and KFC to choose from. We choose KFC . . . probably because we never, ever go to KFC and well, it
was
our anniversary! I don't know what it is about KFC . . . you really enjoy it while you are eating it . . . but then afterwards, you wish you hadn't eaten it, and you feel all blah! Probably because it's so bad for you! Here's an Oven Fried Chicken recipe which, while not entirely good for you, is a lot better for you than deep fried and a great once in a blue moon treat! There's no skin on the chicken and it doesn't involve hot fat!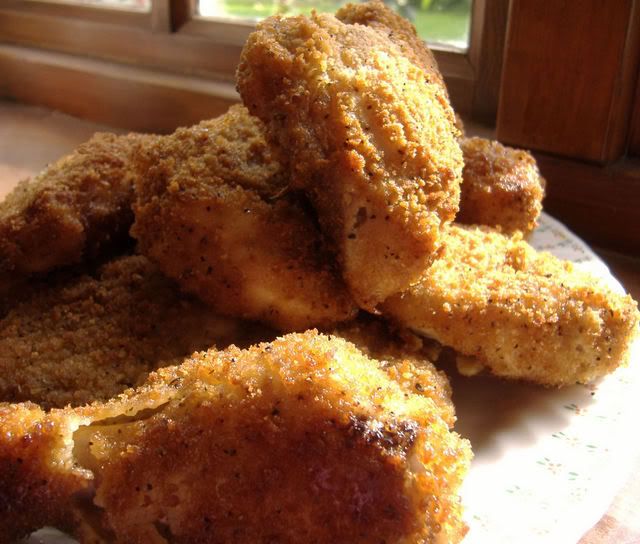 *Oven Fried Chicken*
Serves 6
Printable Recipe
This chicken is delicious, tender and moist. It's not as high in calories or fat content than regular fried chicken, although I still would reserve it for an occasional treat.
2 1/2 lbs skinless chicken pieces
3/4 cup mayonnaise, can use lowfat
1 tablespoon lemon juice
1/4-1/2 teaspoon salt, to taste
1 teaspoon Worcestershire sauce
1/8-1/4 teaspoon hot sauce, to taste
1/2 teaspoon garlic powder
1/2 teaspoon celery salt
1/2 teaspoon dry mustard
1/4 teaspoon freshly ground black pepper
1/4 teaspoon sweet paprika
1 1/2 cups dry bread crumbs
2 tablespoons chopped flat leaf parsley
Combine the mayonnaise, lemon juice, salt, Worcestershire sauce, hot sauce, garlic powder, celery salt, dry mustard, pepper and paprika in a large glass bowl and mix well. Add chicken pieces and toss to coat. Cover andrefrigerate for at least 4 hours (or up to 24 hours, if you plan ahead).
After marinating, remove the chicken from the refrigerator and toss around in the mixture once again (to make sure pieces are well-coated). Preheat your oven to 180*C/350*F. Place the breadcrumbs and parsley in a shallow dish, mixing together well. Roll the marinated chicken pieces in crumb mixture to coat on all sides. Place in a single layer in a large baking pan.
Bake, uncovered, for about 45 to 55 minutes, depending on the size of the chicken pieces you are using, turning gently halfway through or until the juices run clear when tested with a fork. Remove to a warm platter and serve. We like to have this with mashed potatoes and gravy as a once in a blue moon treat! (In for a penny, in for a pound!)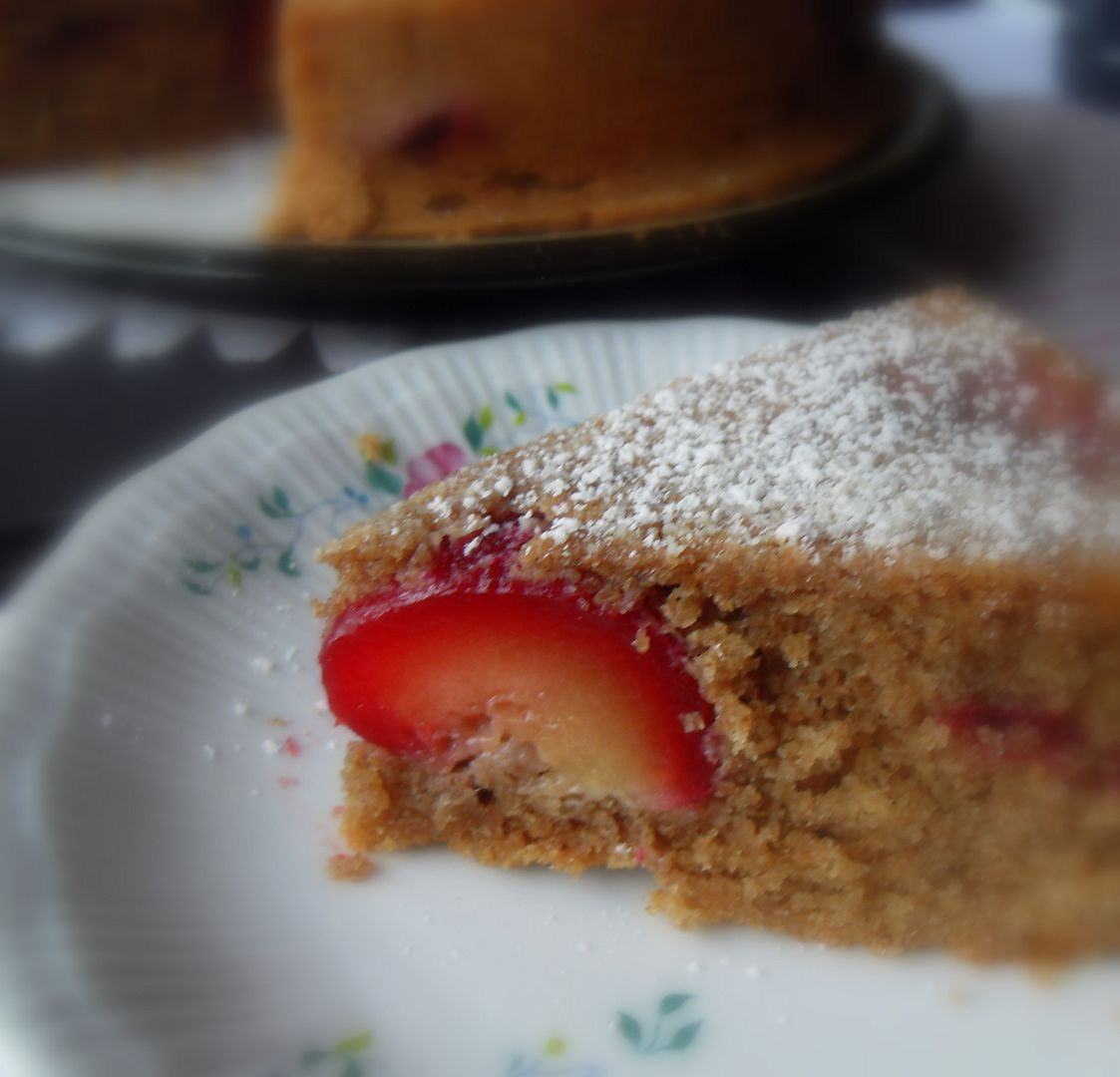 Baking in
The English Kitchen
today, a delicious Whole Wheat Plum Cake.

"As we lose ourselves in the service of others, we discover our own lives and our own happiness."
~Dieter F. Uchtdorf