Whose
woods
these
are
I think I know,
His
house
is in the
village
though;
He will not see me
stopping
here
To
watch
his woods fill up with
snow
.
My
little
horse must think it
queer
To stop
without
a
farmhouse
near
Between the
woods
and frozen lake
The
darkest
evening of the year.
He gives his
harness
bells a
shake
To ask if
there
is some
mistake
,
The only
other
sound's the sweep
Of
easy
wind and
downy
flake.
The
woods
are
lovely
, dark and
deep
,
But
I
have
promises
to keep.
And
miles
to go
before
I sleep.
And
miles
to go
before
I sleep.
~Robert Frost
You know the last few stanzas of that poem are so familiar to me. I've heard them many times . . . but I've never known where they came from until today! I love it! It got it from a little book I picked up one time called "Best Loved Poems." Edited by Neil Philip and Illustrated by Isabelle Brent.
I love the way the earth feels when the snow has been falling fast and deep. It is like a wonderland . . . silent, mysterious. You can hear the snow falling, but nothing else. All larger sound appears muffled. It's quite beautiful really. I don't do much walking in the snow over here though . . . not that we get it in any huge quantities very often. I just don't have the boots or other things to wear in the snow. I think if we ever travelled home to Canada in the Winter we would both be ill equipped to deal with either the temperatures or the terrain!
This is one of my favourite Winter/Holiday songs. It's Believe by Josh Groban. It's the theme song from Polar Express and is quite, quite beautiful. That Josh Groban can really sing. His voice is just gorgeous.
I went to the Doctors yesterday and I am on anti-biotics now, so that's a good thing. I think I can feel a difference already! Fingers crossed that this knocks this chest infection on the head for good!
This is a delicious smoked salmon appetizer that I often made when I worked in the Manor House. It's quite elegant and would be great for a holiday meal. It doesn't have to cost a bomb either as you can use the packets of smoked salmon bits that you can buy instead of the slices. They're always a lot cheaper, and work just as well!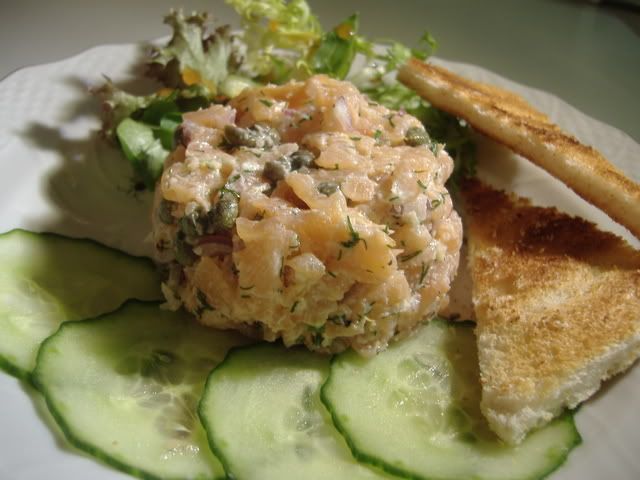 *Smoked Salmon Tartar with Horseradish and Dill*
Serves 4
Printable Recipe
Serve this delicious tartar with crisp slices of grilled bread and thin slices of cucumber.
8 ounces cold smoked salmon
2 TBS minced red onion
1 TBS nonpareille capers, drained and rinsed
1 TBS coarsely chopped fresh dillweed
1 1/2 tsp prepared horseradish
1/8 tsp grated lemon zest
1 tsp lemon juice
2 TBS sour cream
1/4 tsp Tabasco sauce
1/8 tsp freshly ground black pepper
thinly sliced English cucumber
Frisee salad leaves for garnish
Tomato vinegar to drizzle on the salad leaves
thinly sliced bread, grilled
Cut the salmon into small dice. Combine with the onion, capes, dill weed and horseradish in a medium bowl. Stir in the lemon zest, lemon juice and the sour cream. Add the Tabasco sauce and pepper. Fold all together gently, taking care not to over mix it.
Cover and chill in the refrigerator until ready to serve.
When ready to serve pack into individual molds. Place some of the thinly sliced cucumber on the edge of a chilled salad plate. Unmold the salmon just slightly overlapping the cucumber and arrange some frissee salad on the other side. Drizzle the salad leaves with a little tomato vinegar and serve with a few slices of the grilled bread on the side.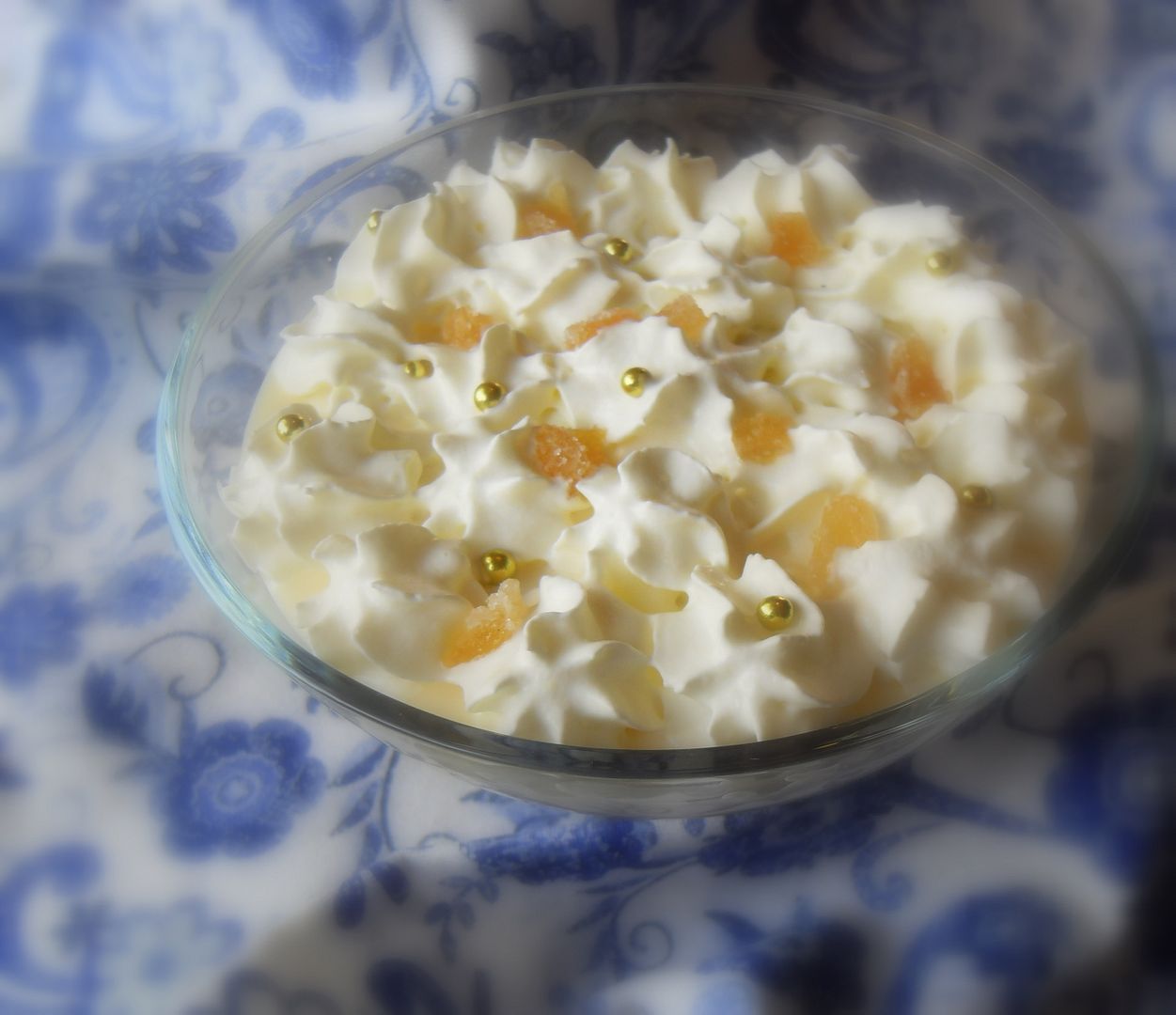 Over in
The English Kitchen
today there's a delicious Pear and Ginger Trifle!
"When our wagon gets stuck in the mud, God is much more likely to assist the man who gets out to push than the man who merely raises his voice in prayer—no matter how eloquent the oration."
~Dieter F. Uchtdorf