I care
not
that the
storm
sways
all
the trees,
And
floods
the plain and
blinds
my trusting sight;
I only care that
o'er
the land and seas
Comes somewhere
Love's
perpetual
peace
and light.
I care not that
sharp
thorms grow
thick
below,
And
wound
my hands and
scar
my anxious feet;
I
only
care to know
God's
roses grow,
And I may
somewhere
find their
odor
sweet.
I care
not
if they be not
white,
but
red,
Red as the blood-
drops
from a wounded heart;
I only
care
to ease my
aching
head
With
faith
that somewhere
God
hath done
His
part.
I care not
if
, in
years
of such
despair
,
I reach in
vain
and
seize
no purpose vast;
I only
care
that I
sometime
, somewhere,
May find a
meaning
, shining at
last
.
~Frank Wakely Gunsaulus
I have decided I am going to crochet myself a blanket. I haven't done any crocheting in years, but I have noticed that most evenings when we sit down to watch the telly, I find myself jumping up and down every few minutes like a Jack in the Box to do this . . . or to do that. Perhaps having something to do with my hands will help to keep me in my seat. What do you think? I used to crochet a lot, and it's something you can easily do whilst watching the telly. I think I'll look for a ripple pattern and do it in shades of brown, cream and white. Sounds good to me!
Many thanks for your continuing prayers and happy thoughts. My mother use a few today. She had to put down her beloved companion Ginger yesterday. I have not spoken to her, but my brother sent me a message. I know she will be devastated. Ginger has been her sole companion for a very long time now. She will really miss him. My mother's name is Mary.
Here is a simple chicken dish that tastes fabulous. I am sure you could also do chicken breasts like this, but I have always just used thighs. If you do use the breasts cut the cooking time down by 1o to 15 minutes. You won't want them to dry out!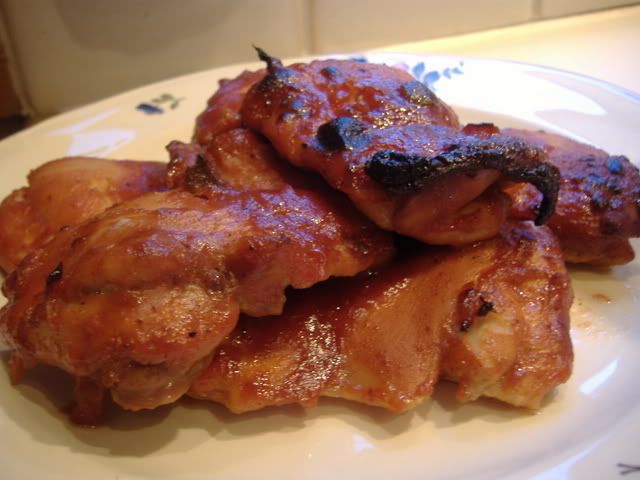 *Spicy Chicken Thighs*
Serves 6
Printable Recipe
This is not only delicious but it's low fat as well. Quick to do and very easily thrown together I am sure this will become a fast favourite in your household! Another tasty dish that uses up store cupboard ingredients!
12 boneless skinless chicken thighs, any visible fat picked off and discarded
¾ cup tomato ketchup
½ cup prepared tomato salsa (as hot or as mild as you like it)
¼ cup runny honey
1 TBS Dijon mustard
1 tsp chili powder (as mild or as hot as you like it)
½ tsp ground cumin
Mix together the ketchup, salsa, honey, mustard and spices in a non-reactive bowl. Add the chicken thighs and give them a good stir to coat them evenly all over. Cover and refrigerate until you want to cook them. (anywhere's up to 4 hours or so)
When you are ready to cook them, remove them from the fridge. Pre-heat the oven to 200*C/400*F. Line a large baking dish with foil. Place the chicken thighs in a single layer in the pan giving them lots of room around each one. Pour the remaining sauce over top and bake them, uncovered, for 45 minutes or until the sauce has gotten quite thick and bubbly around them and the juices run clear when you pierce the meat with a fork.
Serve. We like to have these with a green vegetable and steamed rice. Deeeeelicious!!!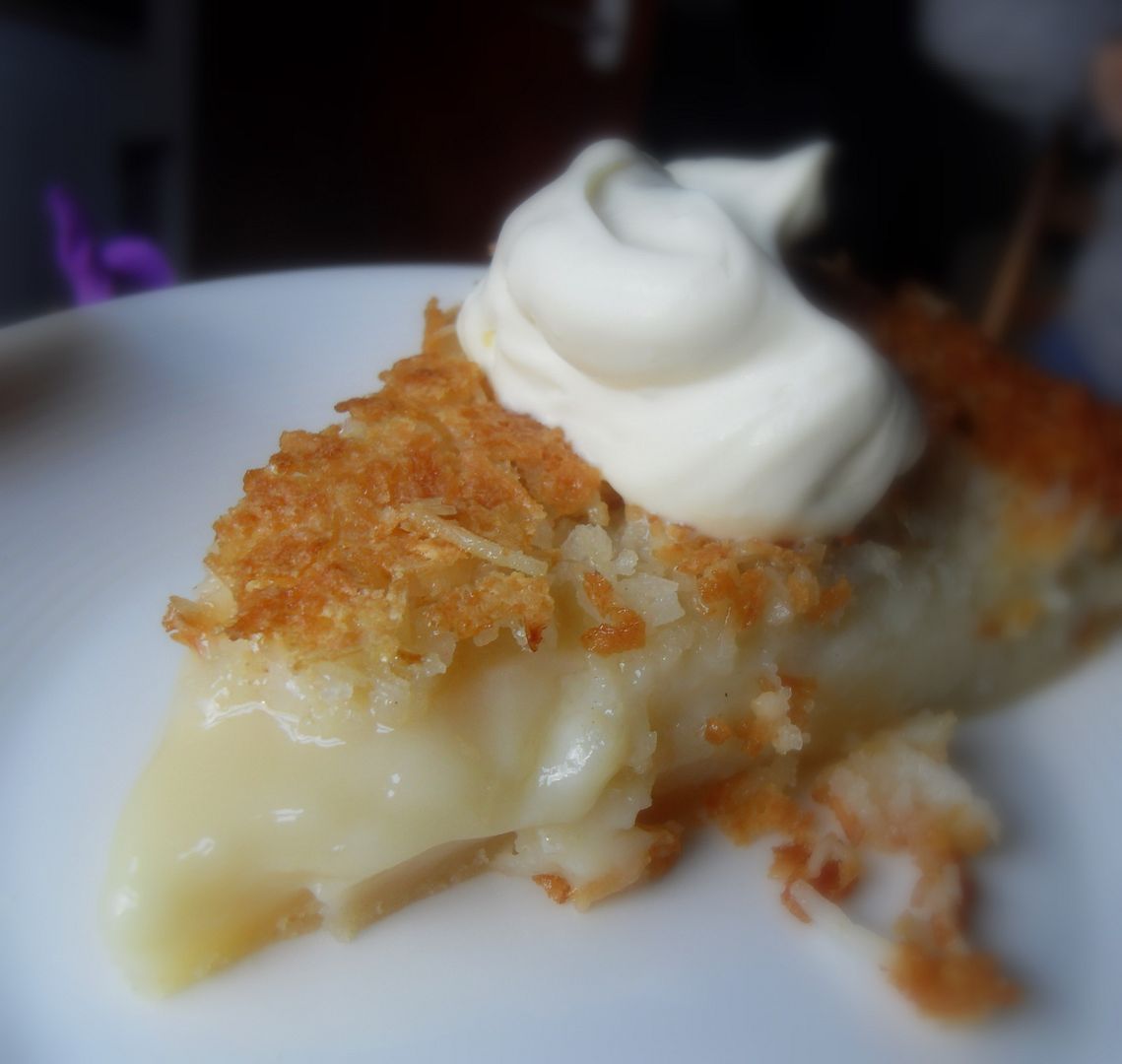 Cooking in
The English Kitchen
today, a delicious Baked Coconut Custard!
He who dwells in the shelter of the Most High will rest in the shadow of the Almighty.
~Psalm 91:1