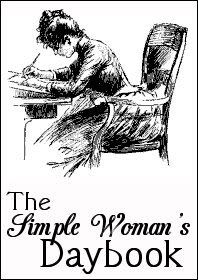 FOR TODAY, November 2nd, 2010...

Outside My Window...
It is dark and cold and wet. Typical November weather!!
I am thinking...
On Sunday it was my tenth anniversary of having moved over here to the UK. The time has gone past very quickly. It doesn't seem like that long really. I am happy to say that I love it here and feel quite at home. The only thing that I would change if I could would be to have my family living closer.

I am thankful for...
My family. I may have to live far way from them. They may all be very poor communicators (except for my mom!), but they are always in my heart. I carry them with me like a turtle carry's his house upon his back. Physically they may be thousands of miles away, but spiritually they are only a thought away . . .

From the kitchen...
Not a lot!! I must be slipping! I am cooking up something exciting today though. I was given a Jamie Oliver Kit to try out for free, and so I thought a good way to test it would be to execute one of his menu's from his newest cookery book, 30 Minutes Meals. That way, I can use his utentils and see if you

really

can make a whole meal from scratch to finish in only 30 minutes! Sounds like fun!

I am wearing...


A blue nightie with pretty little pearl buttons down it's pin tucked bodice and a ribbon rose decoration. I do love pretty night things . . .



I am creating...
I have all sorts on the drawing board at the moment. Nothing I can speak about just yet, but when the time is right I'll be shouting it from the rooftops! Let's just say it's very exciting.

I am going...
I have a Primary Presidency meeting scheduled for tomorrow night and I think we are going to try to do something for the kiddies in Primary for BonFire night, but am not totally sure yet.

I am reading...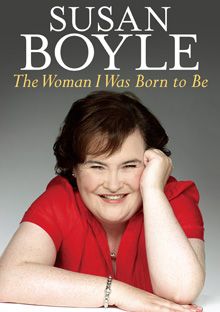 Susan Boyle, The Woman I was Born to Be





"My name is Susan Boyle. A year and a half ago, if you weren't from Blackburn, the village in West Lothian, Scotland, where I have lived all my life, you would almost certainly never have heard of me. Today you've probably heard all sorts about me, some fact, some speculation, some pure invention, so I'm writing this book to tell my story from my point of view, and I hope you'll enjoy reading it."



She inspired the world a few years ago when she was on Britain's Got Talent, now she has written her autobiography and has a new album coming out as well. I am still reading this book as it is a very large book. I love all the pictures in it and also getting to know Susan better. She reminds me a lot of my daughter Eileen.

I am hoping...
That I will soon be able to tell you what I've been up to creatively. It's hard for me to keep secrets that are so exciting, but I must!!
I am hearing...
One of my favourite singers is Mindy Gledhill and I am listening to her Anchor Album right now. It's beautiful. I also have Mitzie snozzling next to me here on the sofa. It's just a special time . . . you, beautiful music, and my Mitzie.

Around the house...
I need to hoover and dust, and do a general tidy up. Todd's niece and her boyfriend are coming up from Essex for the weekend, so I want things just right as you do!

One of my favorite things...
is cook, Cook, COOKING!! NO surprise there eh?

A Few Plans For The Rest Of The Week...
Not a lot really. I am going to try to pop into town today and then get back in time to do my Jamie Oliver thing, and then of course I have a Primary Presidency meeting tomorrow night. Todd's niece coming so I will try to get some things cooked ahead for their visit, etc. Just ordinary every day stuff, nothing too exciting!

Here is picture thought I am sharing...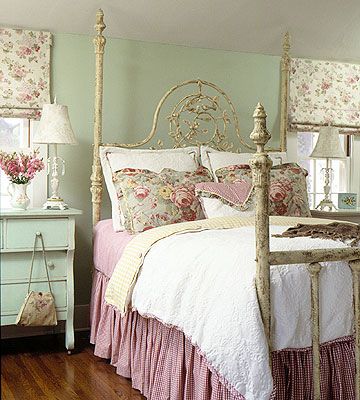 Isn't this just the cosiest looking bedroom ever??? If I could have any bedroom in the world that I wanted, I would want one like this one. I love all the colours and the fabrics and that bed . . . I just adore that bed and the chest of drawers and the lamps and . . . well, I am sure you get the picture! I just love it all!!

And just as a closing thought for today . . .



"Happiness consists not in possessing much, but in being content with what we now possess. He who wants little always has enough"



A wise and inspirational thought from the book, Apples of Gold. I just love this book. I gave it to Todd for his birthday the first year we were together! I think if you give people gifts of things that you would love to have yourself, you have given them a gift they will love too!

And there you have it . . . my day book for this week. Don't forget to hop on over to the Simple Woman

to check out the other day book entries! (Or better yet, do a simple day book entry yourself! It's not that hard and I am betting you would enjoy it!)

I made Todd a tasty Apple Brown Betty yesterday. He does LOVE his apple desserts!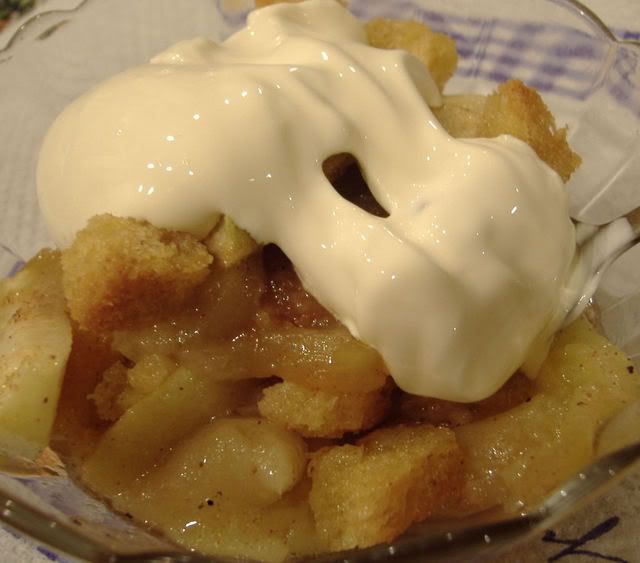 *Apple Brown Betty*


Serves 4 to 6


Printable Recipe

A favourite dessert of many. This makes good use of stale bread. Who knew that with such simple ingredients as bread, apples, butter, and sugar, you could make something so delicious and magnificent! It's magic! When rhubarb replaces the apples, it is known as Blushing Betty! Another fine example of North American Colonial thrift!

3 cups soft bread cubes (remove crusts)
7 TBS melted butter
3 cups sliced, peeled tart apples (I used Granny Smith)
1 cup castor sugar
1 tsp ground cinnamon
½ tsp fresh ground nutmeg
½ cup water
Grated zest of 1 lemon
3 TBS lemon juice
Light cream or vanilla ice cream for serving

Pre-heat oven to 180*C/375*F. Butter a shallow 1 ½ litre baking dish.

Place half the bread cubes in the prepared baking dish. Mix the remaining cubes with 2 TBS of melted butter and set aside.

Spread the apple slices over the bread cubes in the baking dish. Stir together the sugar, cinnamon, nutmeg, water, lemon juice, lemon rind and the remaining5 TBS of butter. Stir until sugar is dissolved. Pour evenly over the apples, then top with the reserved bread cubes.

Bake in the pre-heated oven for 30 to 40 minutes, or until the apples are tender and the bread is well browned. If it is browning too quickly, cover lightly with foil. Serve warm or cold with cream or ice cream.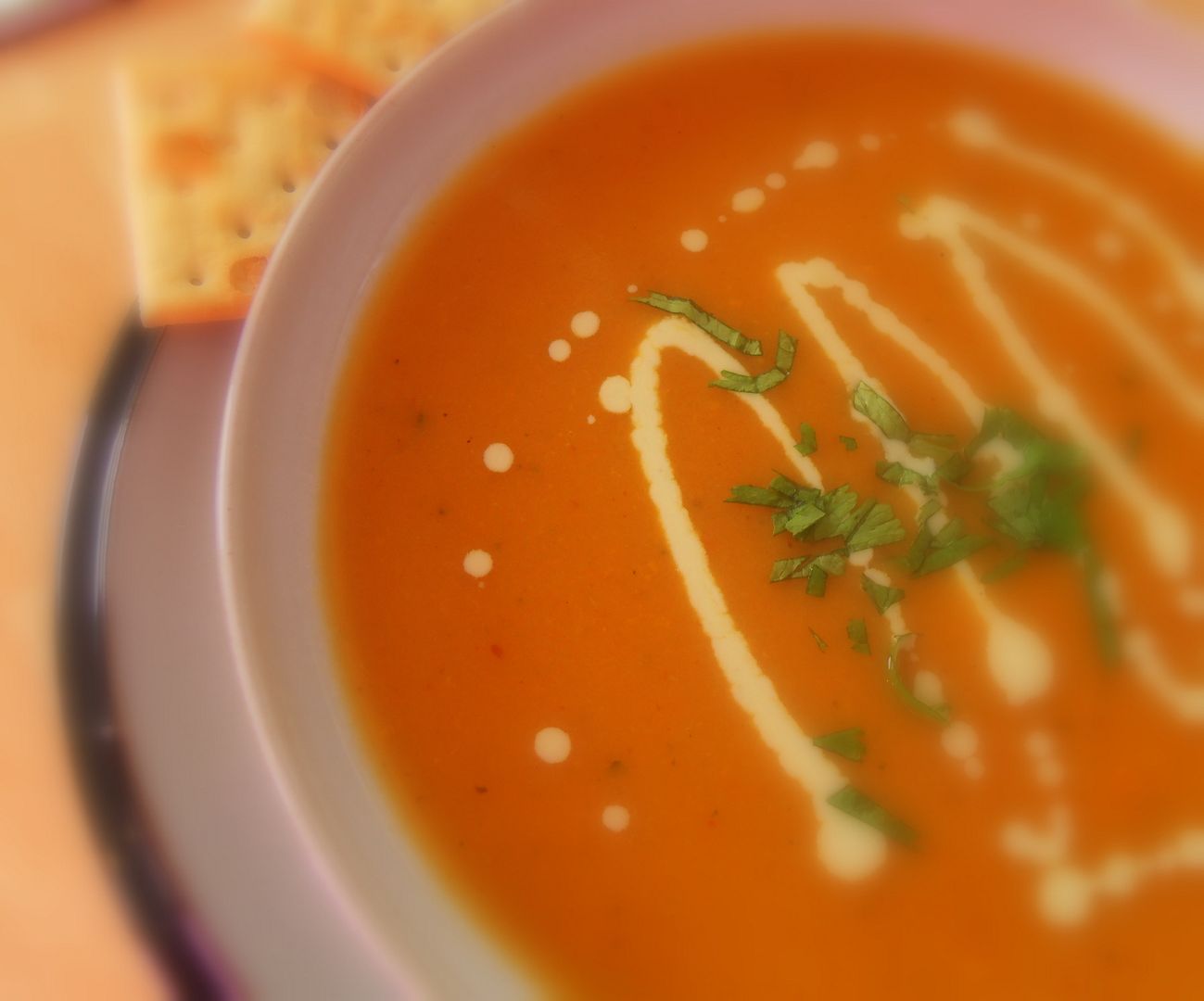 Cooking in The English Kitchen today, a delicious Sweet Potato, Blue Cheese and Chipolte Chillie Soup!