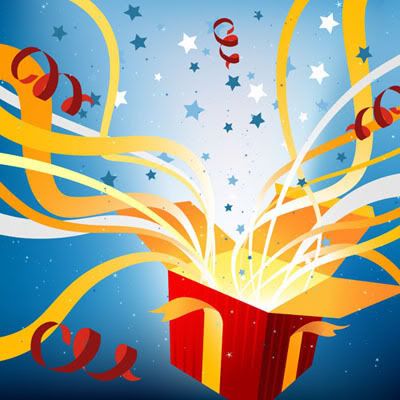 What is round on the outside, covered with whipped cream, topped with luscious berries and filled with a wonderful surprise of a deliciously whipped cream cheese filling and more berries?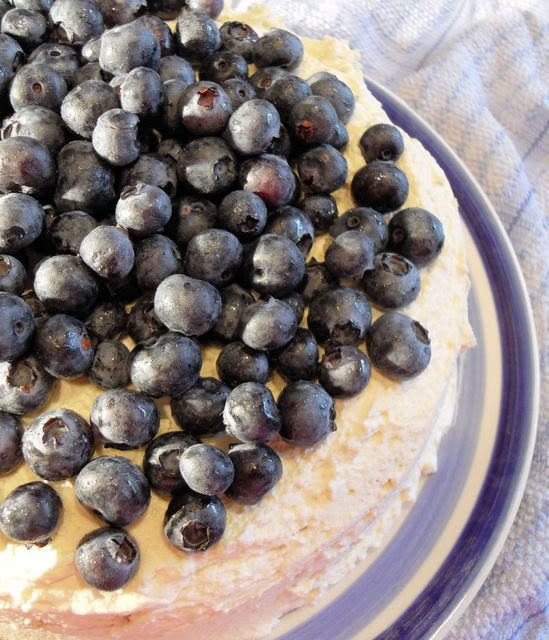 Surprise! It's
Dorie Greenspan's
lovely Berry Surprise Cake, the recipe chosen for this week's
Tuesdays With Dorie baking group
by the lovely Mary Ann of
Meet Me In The Kitchen.
It can be found on pages 273 to 275 of that beautiful baking book,
Baking, from my home to yours
, by the equally as beautiful, Ms Dorie Greenspan.
Oh my goodness Mary Ann! I was so thrilled when you picked this recipe! It looked most delicious and was one that I had been eyeing up for quite some time. I had been hoping that someone would pick this one for us to bake and I was so happy when you did! Thankfully I was able to get it baked before my oven conked out too!! So I was doubly lucky!!!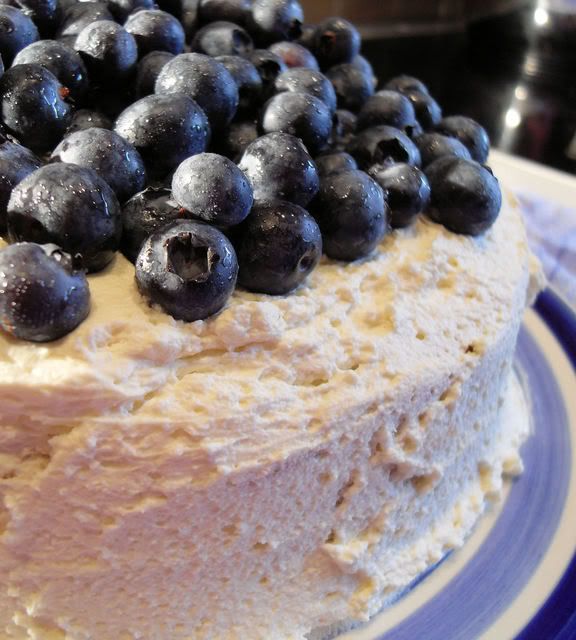 We were having guests over on Saturday evening and so I had decided earlier in the week that I would make this for Saturday night. I now want a kitchen aid mixer more than ever. Do you know how long it takes to beat eggs and sugar to a ribbon consistency with a cheap hand mixer???
Too long
is the answer!! Your arms will feel like they are going to fall off in fact! But I did it anyways . . . because I love this baking group, I love Mary Ann and most of all I love cake!
I don't have an 8 inch spring form pan, so I just baked it in a deep 8 inch cake tin that I had buttered and floured really well, and I had no problem whatsoever getting my cake out of the tin. Thankfully nothing untoward happened when I was baking the cake with my stove. ( It was only afterwards when I went to bake my cheese scones for the evening's get-together that it really started to act up and thankfully I was able to get it working for them as well.)
I had gone to the shops on Friday in pursuit of raspberries for the cake, but at over £3 a small punnet I decided I wasn't going to be able to use them. I'm not overly fond of raspberries in their raw state anyways. Back when I was a girl, my sister and I gorged ourselves eating raspberries stolen from a neighbours bush . . . so much so that I was sick later on . . . my dad was hoovering raspberry seeds from out of our cars carpet for years afterwards . . . but . . . I digress.
I decided to use blueberries.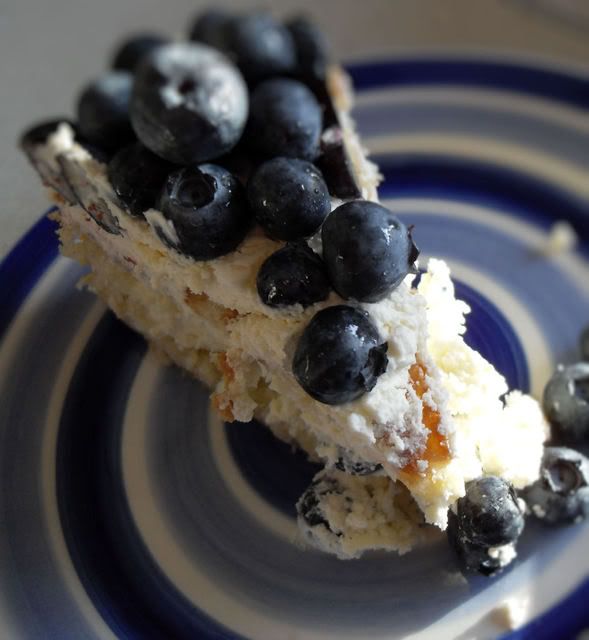 Once the cake cooled we had to slice an even slice from off of the top and hollow the cake out, leaving a basket of cake to fill with the luscious filling. First though we had to brush the interior of the cake basket with a lovely sugar syrup. It had suggested using some framboise in the syrup to flavour it, but since I wasn't using raspberries I decided to use lime! I grated the zest of one lime into the syrup and then squeezed in some of it's juice.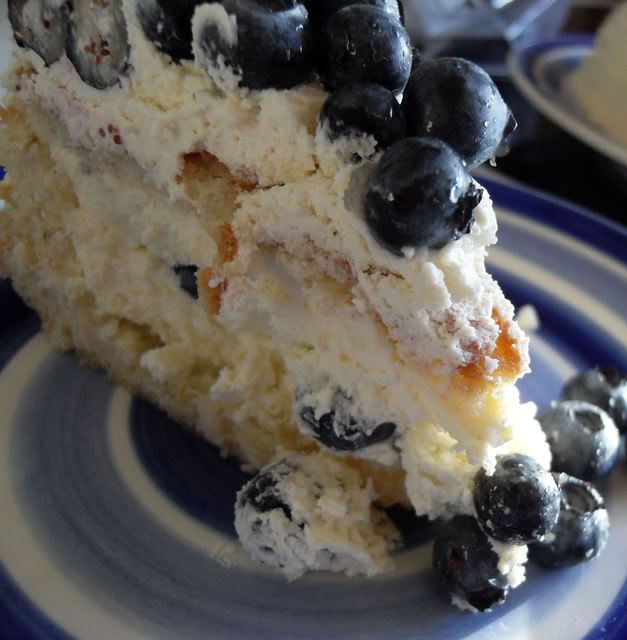 D
-
E
-
L
-
I
-
C
-
I
-
O
-
U
-
S
So delicious in fact that I ended up dipping some of the torn out cake bits into the leftovers and eating them as I stood there, in ecstasy I might add.
The filling went together very easily and I added a bit of lime juice and zest to that as well. Mmmmmm . . . cream cheese, cream, fresh blueberries, sugar and lime . . . wonderful combination!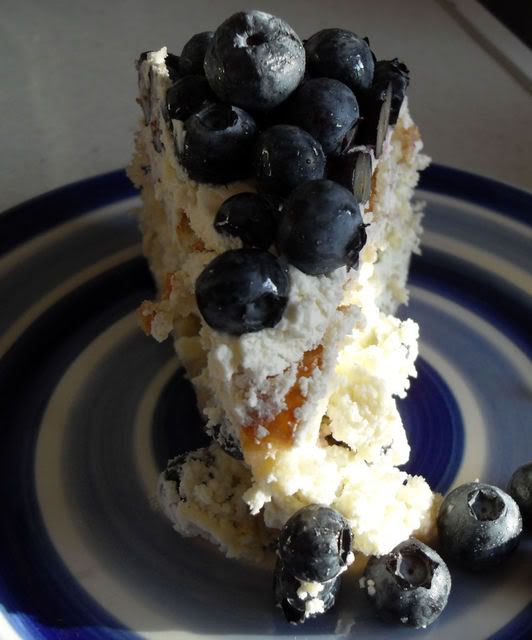 My only mistake was in over whipping the cream for the frosting. It said in the recipe to whip it until firm peaks formed, and my peaks were a bit too firm. However this can be fixed by stirring a little additional cream into the mix. Problem solved!
Can you believe that after all that I forgot to take it out of the fridge to serve my guests? I know, what am I like???? Oh well . . . Todd and I enjoyed it very much after we got home from church the next day. So much so that in fact, I ate my cake first and my dinner afterwards . . . again . . . what am i like??? (Shhh . . . don't answer that!)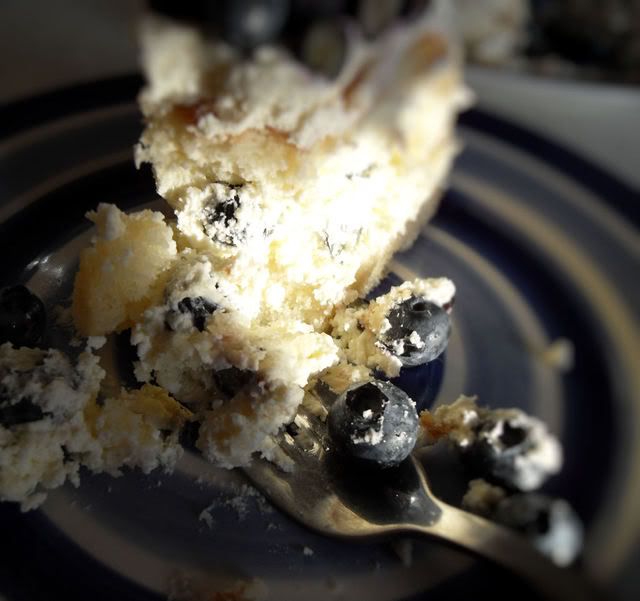 All in all this cake was lovely and a cake that I can't wait to make again. I can see all kinds of fruit being delicious in it . . . peaches, nectarines, mango . . . I can clearly see I shall have to make it again soon! If you would like the recipe, pop on over to
Mary Ann's page
where it will be posted at some point today.
In the meantime feel free to check out the
blog roll
and see what all the other ladies have concocted. There are sure to be some really beautiful versions! Next week's recipe will be Fresh Ginger and Chocolate Gingerbread on page 212, as chosen by Heather of
Sherry Trifle.
On a side note, my new stove arrives sometime this morning, so I'll be back in the saddle again before the end of the day!!! Whew! Thank goodness! I have been really missing it! You know . . . it's disgusting when it is cheaper to buy a new stove than it is to have someone in to repair the old one . . . sad, but true . . .