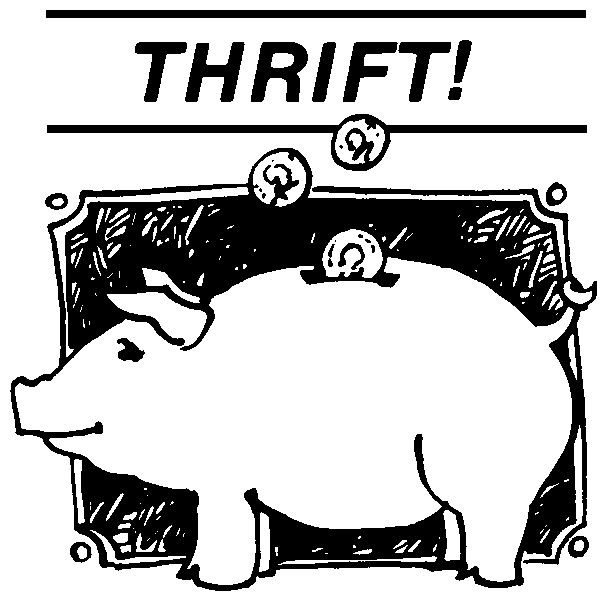 Welcome to my Thrifty Thursday post for this week, January 29
th
, 2009. We've almost finished the first month of a new year. I am sure that there are not too many of us that are not feeling the pinch of the credit crunch, as they are calling it. I know that groceries seem to have gone up radically over what they were costing me only a year ago at this time. For myself, I have been trying to shop for bargains wherever possible, and cheaper cuts of meat when ever I can. Today I want to talk about the thrift of buying a larger piece of meat or poultry and getting as much as you can from it.
Sometimes it is very tempting to balk at the price of say, a large chicken, or roast, or even turkey. For instance, earlier this week I purchased a large organic roast chicken, for which I paid almost £12. (I am sure I could have gotten a cheaper one had I gone for the every day battery chicken, but I made a decision quite some time ago to each chicken less often and only buy free range.) This was quite a hefty chicken and weighed in about 4 pounds, with a nice plump breast and meaty looking legs and thighs.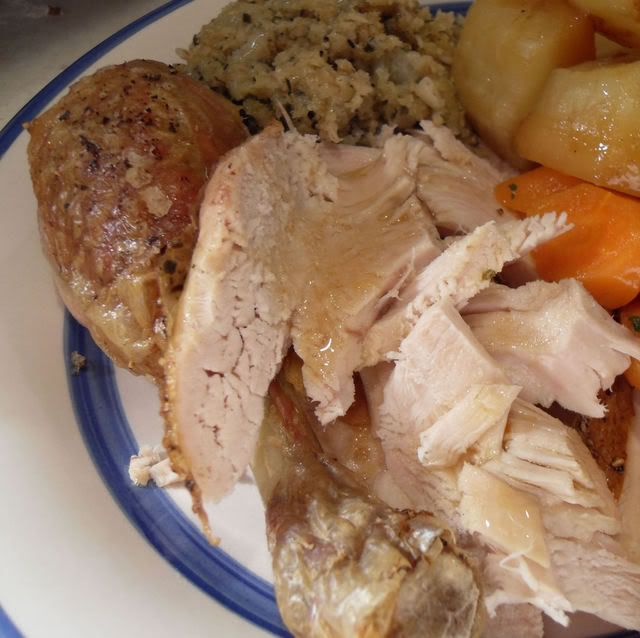 We had it the first day, roasted and stuffed, the recipe of which you can find
here.
My goodness, but it was delicious. You just can't beat a tasty roast chicken for a meal that will please everyone in the family. After we had eaten it that one time as a roast, I picked off all the meat from the bones and then froze the bones in a zip lock bag. I then divided the meat into amounts for two other meals. Because there are only two of us, the leftover meat will go a lot further than it would were there a
passel
of children to feed as well. But even with a houseful of children, you will find that a large roast chicken will yield at least two meals for the family, counting the roast day as the first, which really makes sense economically.
The second day we had it as a lovely Chicken and Dumpling Casserole.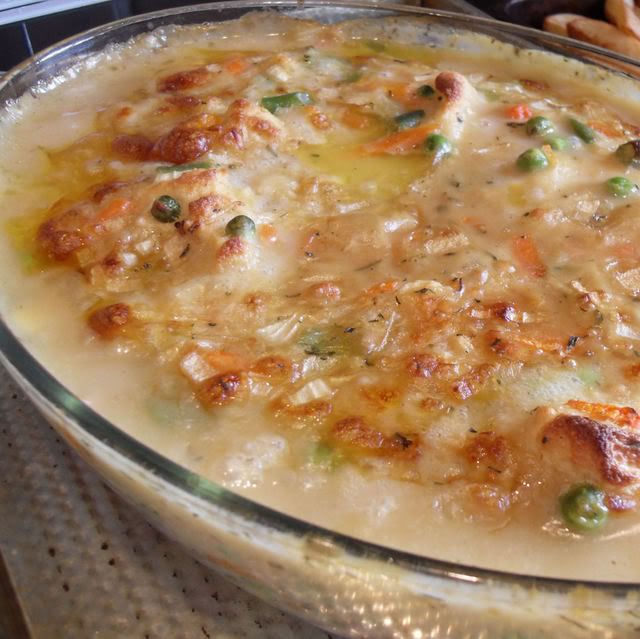 *Crazy Chicken Dumplings*

Serves 4 to 6
This tasty casserole is baked in a 9 by 13 inch casserole. The dumplings kind of make themselves, with very little or no effort from you.
2 cups cooked chicken, cut into dice
1/4 cup butter, melted
2 cups chicken broth
1 cup frozen mixed vegetables, thawed
1 small onion, peeled and chopped
1 cup milk
1 cup self rising flour
1 (10 1/2 ounce) tin of cream of chicken soup
salt and black pepper to taste
1/2 tsp summer savoury (optional)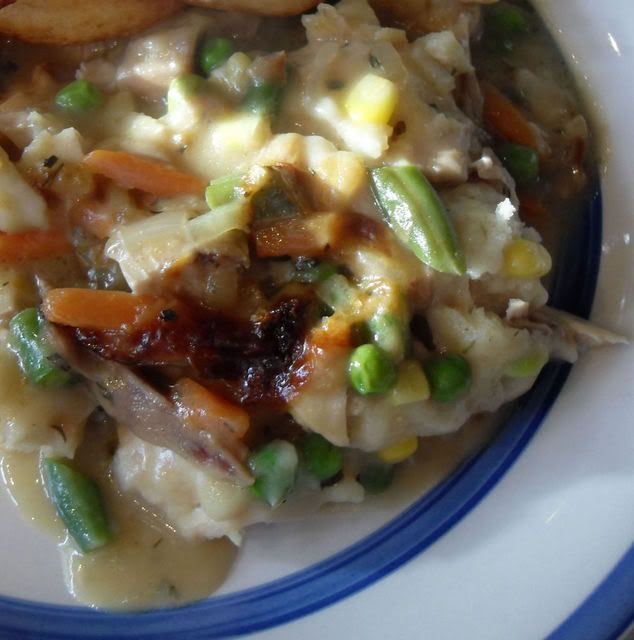 Pre
-heat the oven to 200*C/400*F. Pour the melted butter into the bottom of a 9 by 13 inch baking dish. Cover with the chicken meat.
Whisk together the flour and the milk until smooth and pour this mixture over top of the chicken. Sprinkle with a little salt and pepper.
Stir together the summer savoury, chicken stock, chopped onion, cream of chicken soup and the mixed vegetables. Pour this mixture over top of the batter mixture. DO NOT STIR.
Place onto a baking sheet and slide the whole thing into your heated oven. Bake for 30 to 35 minutes until the top is browned and bubbly. Remove from the oven and let sit for a few minutes before spooning out to serve.
The next meal we had was a delicious one called Chicken Hash. You can make hash out of just about anything. Hash is pretty much a combination of cooked potato, onion and meat, all browned up together in a skillet. This is the way I like to make my chicken hash.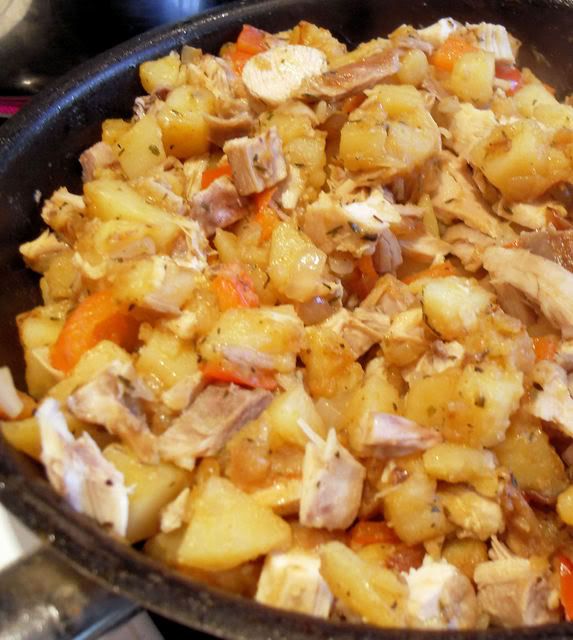 *Chicken Hash a la Marie*
Serves 4
Tasty chicken and caramelized onions and potatoes make for a delicious leftover meal. You could use leftover turkey for this as well if you liked.
4 large potatoes, peeled and cut into 1/2 inch dice
1 medium onion, peeled and chopped
1 clove of garlic, peeled and minced or crushed
2 cups chopped cooked chicken
1 small red bell pepper, chopped
1/2 tsp dried thyme leaves
1/2 tsp paprika
salt and black pepper to taste
3 TBS olive oil
Heat a large skillet over medium high heat. Add the oil and once it begins to shimmer, add the potato, onions and garlic. Season to taste with salt and pepper. Reduce the heat to medium. Cook and stir until the potatoes are done, about 15 minutes in time. I cover it with a lid and then stir it every five minutes.
Once the potatoes are tender, stir in the red pepper, thyme, paprika and chicken. Cook over medium heat, stirring from time to time, until the potatoes begin to brown and the peppers caramelize a bit, about 10 to 15 minutes. Serve hot.
My final meal was a delicious homemade chicken soup made with the bones, which I had frozen. My mother was always making soup. She really didn't have a recipe for it. It was just something she did. If you have a roast, you have a delicious soup waiting to be made, be it ham, beef, pork or chicken. Here's my chicken version.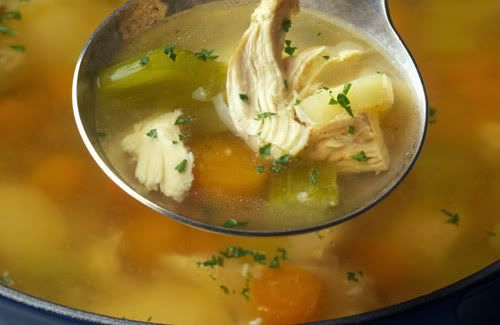 *Chicken Soup*
Serves 4
Got a chicken carcass? You have the makings of a delicious soup. They don't call this Jewish
penicillin
for nothing! I swear it has healing properties! Mostly for the soul, but shh . . . don't tell anyone!
the bones leftover from a roasted chicken
(Preferably with some meat clinging to them)
1 small onion, peeled and cut in half
the middle part of a stalk of celery, with the leaves
1 medium carrot, broken in half (no need to peel)
1 tsp peppercorns
1 bay leaf
1 tsp mixed herbs (parsley, thyme, sage, marjoram)
1 TBS salt
To finish:
2 carrots, peeled and sliced
2 stalks celery, sliced
1 large potato, peeled and diced
(if you want a chicken with rice soup, add a handful of rice instead of the potato,
likewise noodles if you want a chicken noodle soup)
1 small onion, chopped
salt and black pepper to taste
Place the chicken
carcass
into a large pot. Cover with boiling water and add the middle stalk of celery, carrot, halved onion, peppercorns, mixed herbs and salt. Bring to the boil, then reduce the heat to a simmer, cover and allow to simmer away for an hour to an hour and a half. The longer that you simmer it, the more flavourful your broth will be.
At the end of that time strain the broth into a clean pot. Do not discard the bones. Allow them to cool and then strip off any meat that you can find on it and add that to the broth in the pot.
Bring to the boil and then add the celery, carrots, onion and potato. Cook and simmer until all the vegetables are tender. Add the chicken meat and taste for seasoning, and adjust as necessary. Sometimes it may be necessary to add a couple of chicken
bullion
cubes if your broth is not very flavourful.
Serve hot and ladled into heated bowls with crusty bread or crackers. Enjoy!
So there you have it. A small investment, a very delicious chicken, four tasty meals.
Every body's
happy.