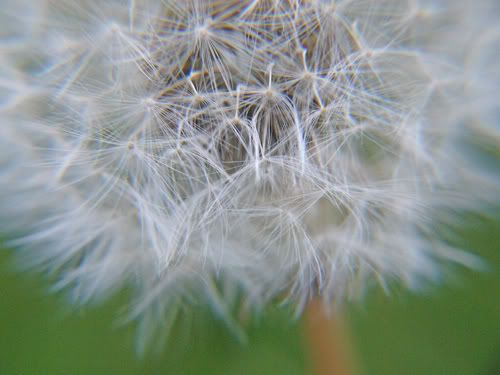 "Make a wish, then close your eyes,Forget all the lows, just go for the highs.Dance to the moon, yes, climb to the top,Dance to the stars, with a spring and a hop.But if that star fades and you think it has gone,I'll always be there - to switch it back on."~unknown
Most people have friends. When I think back through the years, I have always had a lot of what I would call acquaintances, but very few true friends. I can count the true ones on my fingers. You know the type of people I mean . . . I mean the type of people that you can tell your deepest, darkest thoughts to and you know they will understand, and they will keep them to themselves. They might not always agree with you, but they will respect your right to think what you think or to do the things you might do . . .
When I think about it, in my whole adult life I have never, up until these past few years, had a friend that I could tell all my thoughts to, except for possibly my sister. When you are living in an abusive situation you just can't reveal those types of things to people. Saying it out loud makes it real. Telling someone, means you might have to do something about it, and doing something about it is not always an option . . . especially if you think you might lose your children. Saying it out loud gives a voice to the feelings you might be having . . . like maybe you really are stupid, or useless . . . or unlovable . . . or, God forbid, unwanted . . .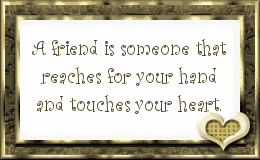 I'm happy to say that I have lots of friends now . . . people I can trust with my darkest voices, and my deepest secrets. Some of them may live on the other side of the world and I might never have touched their hands in person, but our hearts have touched. Just knowing that they think of me daily means the world to me. I am so grateful for this Internet thing, for it has opened my heart to possibilities and dreams . . . and it has brought a lot of very wonderful people in to my life . . . my invisible friends. Invisible, but no less important than the ones I can see and touch, and in some ways even more important than the ones that are tangible. I have never been very good with the spoken word. I get all tongue tied and words just don't come out the way I want them to . . . but with the written (typed) word I come alive. Words and thoughts spring from the tips of my fingers with abandon and freedom, unfettered by my natural shyness.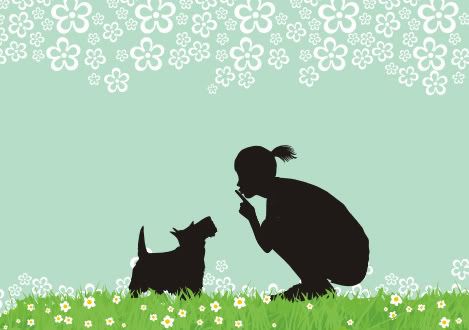 I have a little day calender for this year, 2009. It has on it the artwork of Mary Englebreit, and each day has a lovely thought. Monday's thought was
"Friends are the family you choose for yourself." (Edna Buchanan)
Underneath the words there is a picture of these little girls sitting around a tiny table and having a tea party together with their teddies.
I like that thought. It warms and touches my heart and when I think about it, each and every time I sit down to write here at Oak Cottage, it is like a little tea party I am having with my friends, and I feel like I am with family. I'm so grateful for that, and for you . . .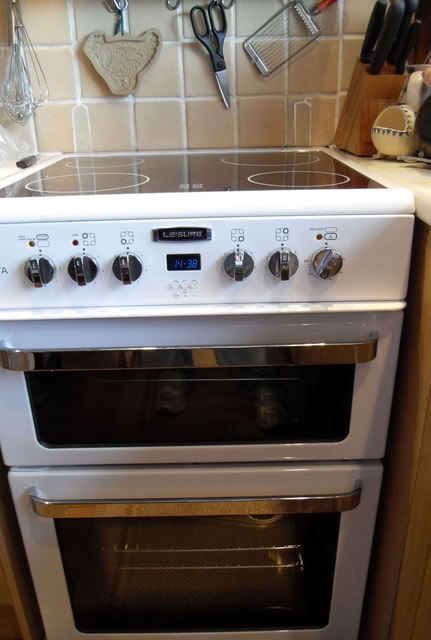 I bet you are all wondering what my new stove looks like! Here's a picture of it, all shiny and new, and filled with possibility! It has a ceramic top, like my old one. I love ceramic hobs. They are so easy to keep clean and I find they work quite well. I have two ovens. A upper grill oven and a lower bake oven, which is also a fan oven. With my old stove I had the choice of using either a fan or a regular oven, so I will have to get used to this fan oven. I think they cook quicker and at lower temperatures. That is something I will have to study and play with a bit. I think Todd did quite well picking this out by himself! I cooked him a nice supper in it last night and then for dessert . . . why . . . I made Lemon Meringue Cupcakes!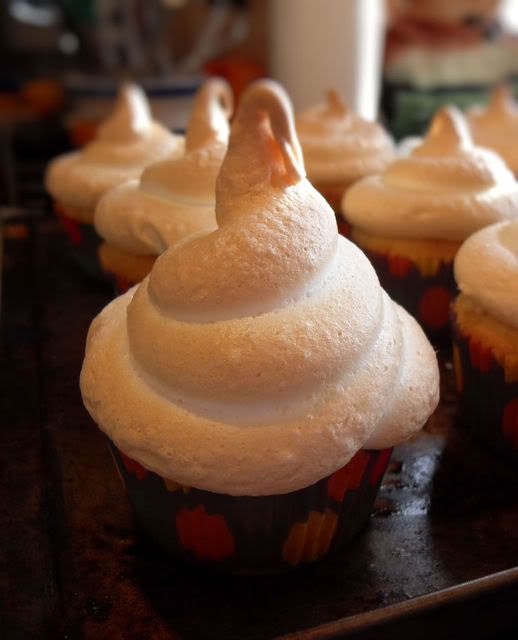 *Lemon Meringue Cupcakes*
Makes about 9
Imagine your favourite pie in a lovely little cake that you can hold in your hand, and that is just the perfect size for . . . you! Golden and buttery with a gooey lemon centre and topped with luscious meringue. It's all good.
115g butter, softened
100g white sugar
2 large eggs
115g self raising flour
the grated zest and juice of one lemon
3 TBS good quality lemon curd
To finish:
150g sugar
3 egg whites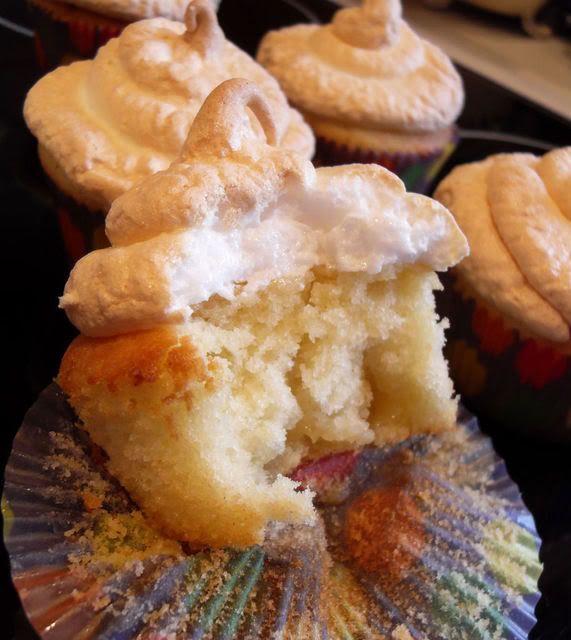 Pre-heat the oven to 180*C/350*F. Line a muffin tin with paper muffin cases, or butter it really well and dust with flour, tapping out any excess. Set aside.
Beat the butter and sugar together in a bowl until pale and fluffy. Beat in the eggs, one at a time. Sift the flour over top and then fold it in. Stir in the lemon zest and the lemon juice.
Using a dessert spoon, spoon a dollop into each muffin cup. Make a tiny indentation into each dollop with the back of a teaspoon. Drop a tiny dollop of lemon curd into each indent. Top with the remaining cake batter.
Bake for about 17 minutes, until well risen and golden, and a toothpick inserted into the centre of one comes out clean. Remove from the oven. Let cool for a few minutes before removing completely from the tin and on to a wire rack.
Place the egg whites into a bowl. Beat until soft peaks form, then continue to beat while slowly adding the sugar. Beat until they are stiff and shiny. Using a piping bag (if desired) pipe a whirl on top of each cake. Place the meringue topped cakes onto a baking sheet and pop them back into the oven. Bake for a few minutes longer until they brown slightly.
**Alternately you can make an Italian Meringue frosting. TO do so place 2 egg whites and the sugar into a bowl. Set the bowl over a saucepan of simmering water. Beat constantly with an electric mixer until the mixture is thick and glossy and stands in peaks. Pipe this mixture on top of the cupcakes and let set for at least 30 minutes before eating, for a soft meringue, or for at least 3 hours for a firm meringue.