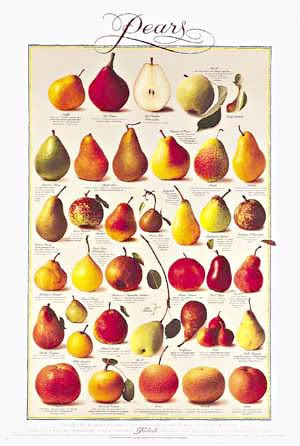 Bonjours Mes Amis!!! Do you know what today is? Of course you do!!! It's Tuesday and anyone who reads my blog regularly knows that Tuesdays means
Tuesdays With Dorie Day
! That one day of the week when I get together with a lot of other baking sisters all over the globe, and we all bake the same recipe from that fabulous baking book,
Baking, from my home to yours
, by the wonderful
Dorie Greenspan
. This week is a very special week though, for . . . not only are we celebrating the
one year anniversary
of this lovely baking group, but as an extra special treat, this week's recipe was picked by none other than Ms Greenspan herself, and she will be baking right along with us!!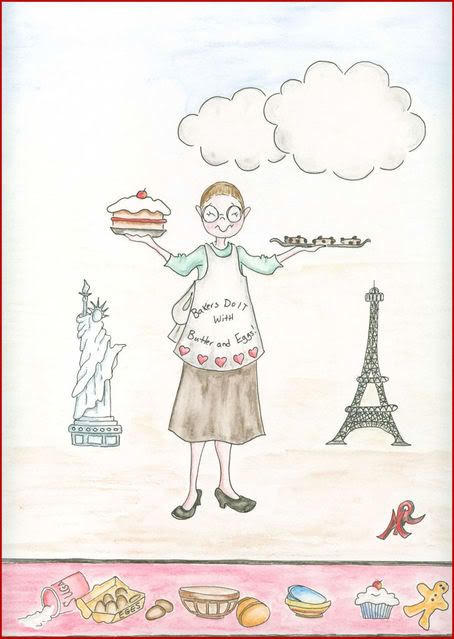 Can you spell
T
-
H
-
R
-
I
-
L
-
L
-
E
-
D
???
Colour me twice thrilled, coz not only am I baking with the wonderful
Dorie herself
, but she chose a recipe that I knew I would love from the get go,
French Pear Tart
on pages 368 and 369.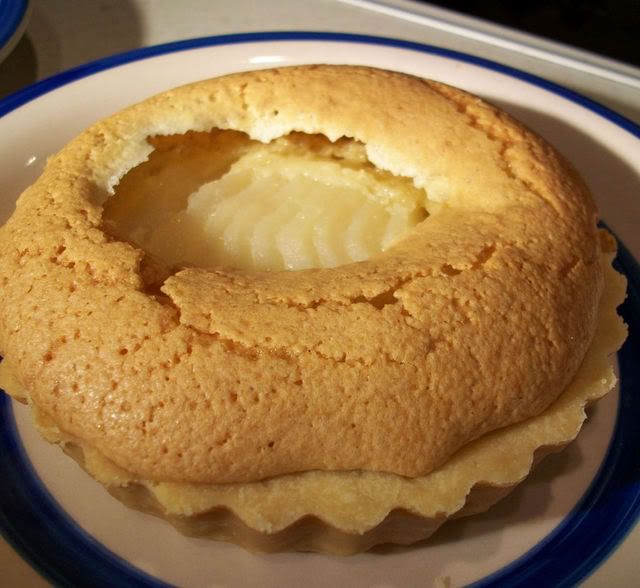 I LOVE PEARS!
I love them fresh from off of the tree, all crunchy and sweet. I love them all soft,warm, juicy and ripe when they've been sitting on my counter for a few days and have become so fragrantly ripe that you need two handful's of paper towels to eat one coz the juice is running down your chin. I love them fresh out of the tin and eaten with a spoon, all tender and sweet.
I LOVE PEARS!!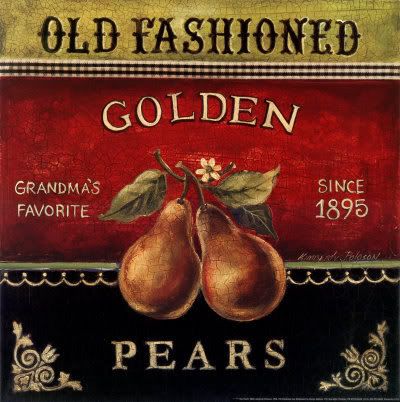 To me the best dinner in the world is to take a sleeve of saltine crackers, a dish of butter and a tin of pears and sit down and eat. If you have never eaten buttered saltines with soft and juicy tinned pears you just have not lived . . . end of story! If I had to choose a last meal ever I would choose this, so you can imagine how thrilled I was to be baking a pear tart!!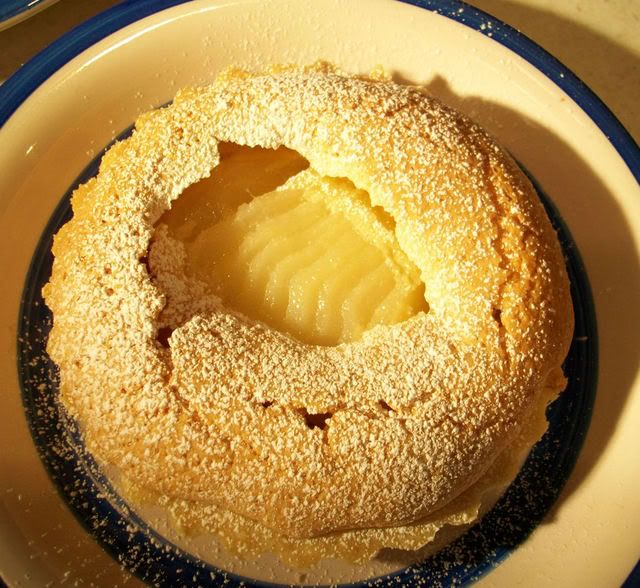 I could tell you how wonderfully the frangipane filling went together and how delicious it smelled even before it went into the oven . . . probably because I decided to add some ground cardamom.
(
Cardomom

+

Pears

=

Marriage

Made

In

H

e

a

v

e

n
)
I could tell you about the umpteen tinned pears I ate before I even started, so much so that I had to open another tin . . .
I could tell you about the wonderfully crisp edges that I got to trim off of the pastry and savour because I decided to do the overhang, partially bake, and trim by rolling a rolling pin over the edge method of crustery trimming and baking . . .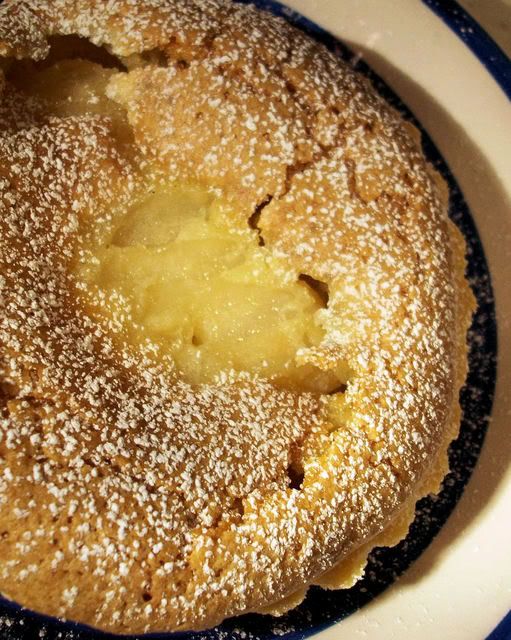 I could tell you about how the filling baked up all puffy and nicely browned around the pears in the oven . . .
I could tell you about how wonderfully crisp the pastry turned out and how deliciously golden the filling . . .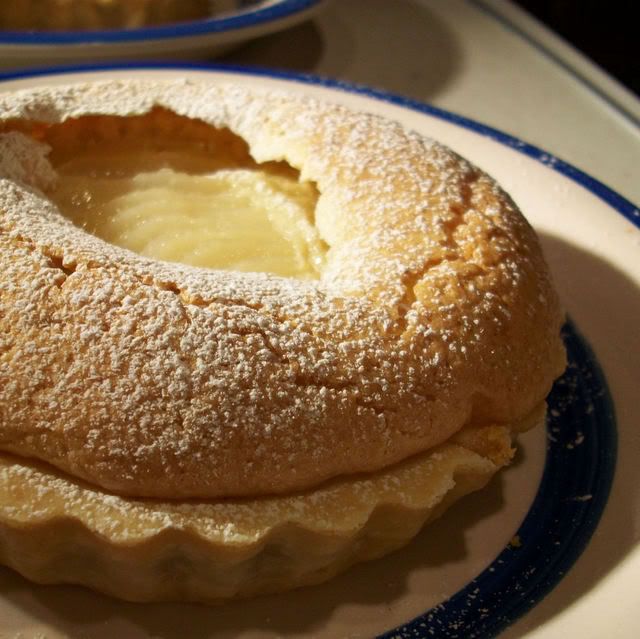 I could tell you about how I decided to make a bunch of smaller individual ones instead of one large one . . .
I could tell you all these things, but . . . I think I'll just show you instead.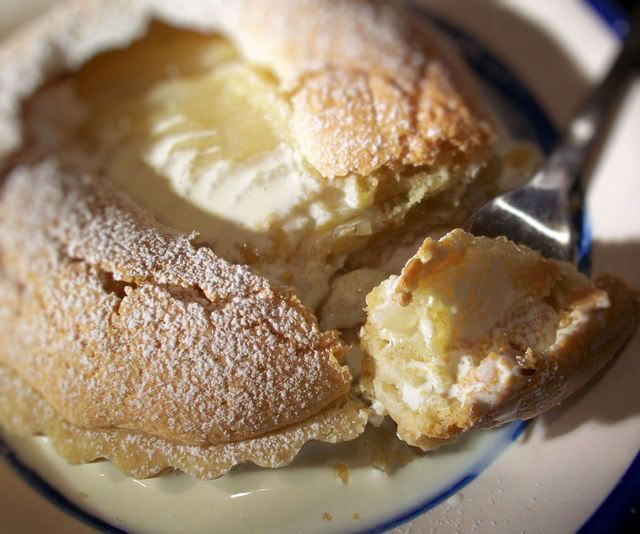 Dorie, this tart is Da Bomb! We loved it. I think this has become my favourite recipe in the book and not just because you chose it, but because it is spectacularly delicious and because it is easy and because
I LOVE PEARS
!
There you have it.
Dorie's French Pear Tart
. Hop on over to her
page
and scoop the recipe and
MAKE IT
! You won't regret it. While we're at it why not just buy the
book
. You won't regret it. Not a dud in the bunch, and worth every penny. Money well invested.
You know this lovely fluffy figure I enjoy? Well, half of it is due to this book and to devouring all the food pictures taken by all the lovely members of this group, and the other half, well . . . they do say confession is good for the soul . . . Hop on over to the
Blog Roll
and take a gander at all the other entries for this week. Ok, so I confess, the ample poundage is not only due to looking at pictures, but hey . . . you got to go some way, and what a way to go . . .
Now pass me that fork, I have a date with a Pear Tart, and a French one at that! Ohh La La!!
Next week's recipe will be Savory Corn and Pepper Muffins on page 6, as chosen by Rebecca of
Ezra Pound Cake
.