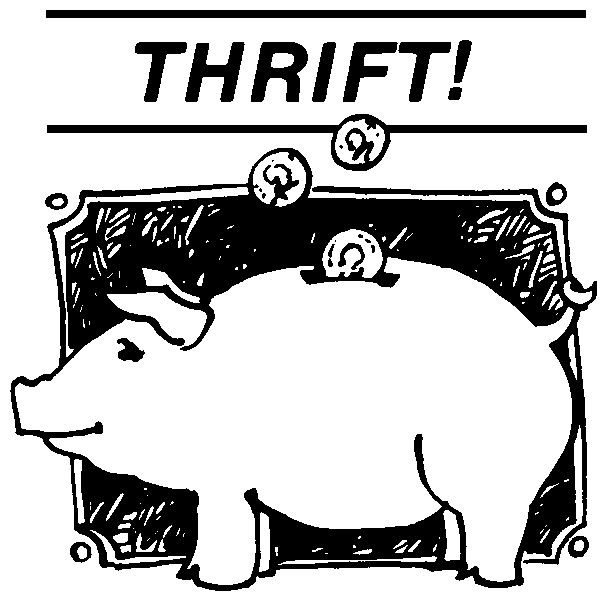 Welcome to Thrifty Thursday, except it's Friday. But we don't care, do we? Thrift is good any day of the week!
Today I thought I would share some food shopping tips with you. Some of them you may already be familiar with and practicing, but others might be completely new and something that you wouldn't mind adapting to your use. With the cost of food escalating it is something we can all use a little help with! Back home we used to get a packet of flyers in the post every week. There would always be several grocery store flyers amongst the bunch and we could compare costs between the stores easily and pick and choose which offers we wanted to take. Here that doesn't happen, at least not where I live at any rate! If you do live in an area where this is possible the grocery flyers should be your first stop in determining what you are going to buy for your weeks meals.
1. Keep a week-to-week price list until you become familiar with regular food prices. Then you will be able to decide which "specials" are actually good buys.
2. Keep abreast of the monthly "plentiful foods" list supplied by the Department of Agriculture. Communications media such as newspapers, magazines and radio and television stations may also publicize these lists.
3. Shop seasonally, and plan your meals accordingly. It goes without saying that in a country such as ours that strawberries in January are going to be much more expensive than strawberries in June will be. Buy fresh fruits and vegetables during the season when the abundance is greatest and the price lowest.
4. Compare the cost of various forms of food - fresh, frozen, canned and dried - using cost per serving. This is the most accurate comparison method because it takes inedible losses into account.
5. Read labels carefully, picking out the form, amount, grade and ingredient listing as well as the price and net weight. Remember ingredients are listed in descending order by weight, so you can afford to pay a little more for chicken with rice than for rice with chicken.
6. Try when possible to use goods packed under the store brand label, or the store economy label. If they meed your quality needs you can save money by using them, and quite often they are just as good as the more expensive better known labels. Ex. Tesco brand baked beans versus Heinz baked beans. (You may often find that they are the exact same beans with a different label on them and are actually packaged in the same factories)
7. Choose the grade and quality that fits your use. For example, when shape, uniformity of size, and colour are not important, use the thriftiest form. You get equally good flavour and nutritive value.
8. Select foods that are traditionally or simply packages. Fancy or extra packaging is generally more costly.
9. Select large in preference to small packages of staple foods if you use them often or in large quantities. You usually pay less per ounce, pound, or pint for the food in the larger containers.
10. Take advantage of special sales by buying extras if you have the storage space.
11. Make use of "cents off " coupons for items that you normally buy, or the two for one deals. However, keep in mind that buying an item you don't need just because you have a coupon or it's two for one is no bargain.
12. For storing foods, choose the best low cost wrapping material. Waxed paper often performs the same function at less cost than foil or plastic wrap. Save your empty plastic ice cream, margarine etc. containers for storing foods in the refrigerator and freezer.
13. Avoid luxury foods such as snacks, convenience items, soft drinks, ready meals and ready to eat bakery products. Home made is often cheaper and infinitely better for you and in most cases much tastier.
15. Buy foods that look fresh and are in good condition. It's a waste of time and money to have to cut away bad spots or throw away food that's gone off.
16. Find out what time of day your local shops mark down the prices of goods that are nearing their sell by dates and shop then. You quite often have a few days grace before fruits and vegetables are unusable anyways, and if we are talking about meat and poultry then it is very easy to freeze them for future use.
17. (and this is a biggie) Make as few trips to the store as possible. Each trip means money spent for gasoline and another opportunity to buy un-necessary items that you may see.
18. Plan menus for the week ahead and make out a shopping list accordingly. Only buy the things on your list. Try not to be tempted by the looks of things or "special" offers for things you were not going to buy anyways.
I hope that you have been able to find some things in this list that may be helpful to you. If you can think of any other things I may have missed, please feel free to leave a comment to share them with us!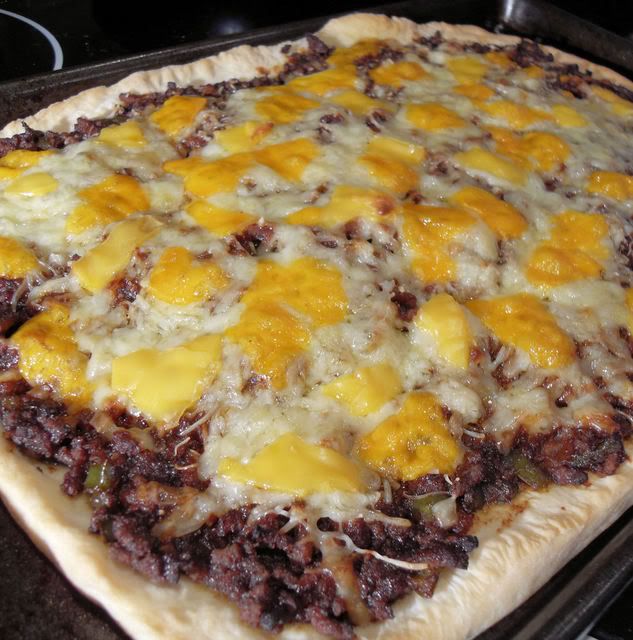 Yesterday I made Todd and I a delicious pizza for our supper. I have a super crust recipe
HERE
. It makes either two lovely thin crusts or, an extra large thick one! I topped ours with a delicious barbecue ground beef mixture. Pizza is quite an economical way of using up leftovers or stretching a small amount of meat further, and as any parent knows, Kids (small and large!) always love pizzas!
*Cowboy Pizza*
Serves 6 small eaters, or 4 large eaters.
Easy to make and sure to be a hit with the whole family! All you need to make the meal complete is a tasty tossed salad on the side.
Your favourite recipe for pizza dough,
enough to cover a jelly roll pan
1 pound lean ground beef
1 onion, peeled and minced
2 cloves garlic, peeled and minced
1 small green pepper, finely chopped
salt and pepper
1 cup prepared barbecue sauce, divided
1 cup shredded mozzarella cheese
1 cup shredded cheddar cheese
Pre-heat the oven to 200*C/400*F. Grease your pan lightly with some vegetable shortening. Spread your dough out onto the pan to the edges, and create a little lip all the way around to help prevent the filling from escaping. Prick it all over with a fork and then pre-bake it in the heated oven for about 10 minutes.
Place the beef, onion, garlic and green pepper into a large skillet. Cook, stirring frequently, until nicely browned and the vegetables are soft. Season to taste with a bit of salt and black pepper. Stir in 3/4 cup of the barbecue sauce. Spread this mixture evenly over the partially baked crust. Sprinkle both cheeses evenly over top. Drizzle with the remaining 1/4 cup of barbecue sauce.
Bake for 15 to 20 minutes, until heated through and the crust is nicely browned on the edges and the bottom, and the cheese is melted and bubbly. Cut into quarters to serve