These are a few of my favourite things . . .the art of talented women . . .
The Art of Danielle Donaldson. I have her Creative Girl book and it is fabulous. I have not had time to play with it for a long time. Once I finish the cookbook, I am looking forward to getting down and creative again. If you are a budding artist, the
Creative Girl book
is amazing. Trust me.
The Embroidery Art of
Michelle Holmes
. This one is entitled Betty Feeds the Chickens. I know it is done by machine, but I think it is amazing.
The Textile Art of
Maria Walker
. Her work is amazing I got to see her exhibition "The Lightfoot Letters" a few years ago, which was inspired by a bundle of letters she found in Widnes, written by a working class family. I also took a craft class from her, on button bracelets. She is an amazingly talented creative woman and such a nice person.
The art of
Sam Cannon
. Her work is wonderful. Truly. She incorporates words and quote into some of it, and not into others. I love her style. Her animals and birds are amazing. I am in awe of what she does.
The art of Hannah Dale,
Wrendale Designs
. I have one of the Wrendale Design mugs with a pretty robin on it. Its gorgeous. All of her work is gorgeous. Another very talented woman.
The watercolours of
Kaye Parmenter
. I love her loose style. It has an ethereal quality.
The art of
Tascha Parkinson
. Tascha is a Toronto Artist. I love her work too. I have taken several of her classes and have learned a lot from them.
Russian Artist
Maria Pavlova
. Her work is gorgeous. Very vibrant. A lot of cats and flowers. I love it.
The art of
Angela Morgan
. Angela is an artist from British Columbia. She does a lot of women in hats. I love her style of painting. It has texture. It's bright and colourful.
The Illustrations of
Bonnie Leick
. Her work is also inspiring.
All different styles. All different artists. All inspiring and so very talented. All so very much younger than I am. In a multitude of mediums. I am in awe of each of them. they are just the tip of the beautiful creative iceberg composed of talented female artists. I have so many, many more artists whose work I love and whose work inspires me. Susan Branch. Mary Englebreit. Diane Duda. Stephanie Fizer Coleman. Just to name a few. My work pales in comparison, and I know that as good as my family might think it is, it really isn't art when I place it next to the many talented people I see out there in the world, but that's okay because being able to create brings me joy unimaginable. It is days like this that I wish I had been allowed to go to Art School back when it might have counted or helped me to be a better artist!! No, this is not a plea for attention, simply a rude awakening and perhaps a wake up call for myself, a poke to move myself back from La La Land and into reality.
7 days of Radiation done now, only thirteen left to go. Still waiting for the side effects to kick in, so far so good. Yesterday the transport was an hour early arriving, so it was a bit of a rush for Todd to get out the door, no time for a proper goodbye, but it also meant that he got it over with earlier and was back early, with no wait on the other end. We were able to pop out and visit our friend Doreen who we had not seen in quite a while so that was nice. I am hoping that he slept better last night. He was awake most of the night before. He seems to have to go to the bathroom every five minutes. Perhaps that is a side effect. I don't know . . . Thanks very much for your continued prayers and happy thoughts. They mean the world to us. They strengthen us and uphold us. We appreciate them so very much.
I have had to remove no less than six HUGE snails from our acquarium this morning already, and I think I took about that many out yesterday. Those little blighters are a real pest. Once you get them in your tank, they are almost impossible to get rid of We tried getting a new tank completely. Boiling our tank decorations to kill any eggs, etc. And still they come. They told us in the petstore to put in a slice of cucumber. What a waste of a good cucumber because they totally ignore it. Sigh . . . most annoying.
A thought to carry with you . . .
.
° * 。 • ˚ ˚ ˛ ˚ ˛ •
•。★★ 。* 。
° 。 ° ˛˚˛ * _Π_____*。*˚
˚ ˛ •˛•˚ */______/~\。˚ ˚ ˛
˚ ˛ •˛• ˚ | 田田 |門 ★
*.˛.° ˛°. .
˛
"
A woman is the full circle.
Within her is the power to create,
nurture and transform."
~ Diane Mariechild
.
° * 。 • ˚ ˚ ˛ ˚ ˛ •
Spiritual Enlightenment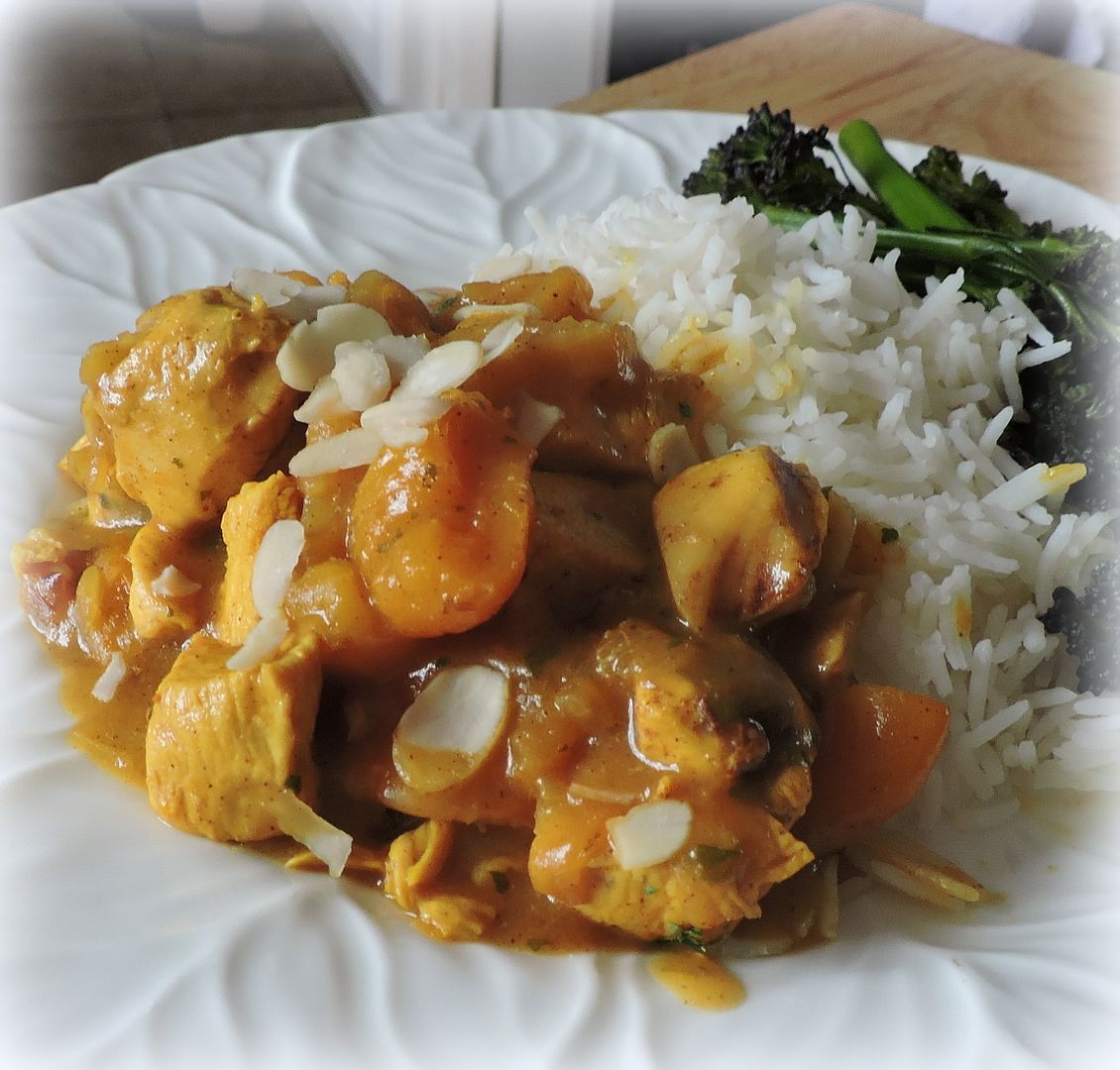 In The English Kitchen today . . . Chicken with Apricots and Almonds.
Have a great Thursday! Spare a kind thought to our friend Pam who is moving house. A stressful occasion for sure! Bless you all! Don't forget!
═══════════ ღೋƸ̵̡Ӝ̵̨̄Ʒღೋ ═══════════ ⊰✿░G░O░D⊰✿⊰L░O░V░E░S⊰✿⊰░Y░O░U░⊰✿
═══════════ ღೋƸ̵̡Ӝ̵̨̄Ʒღೋ ═══════════
And I do too!