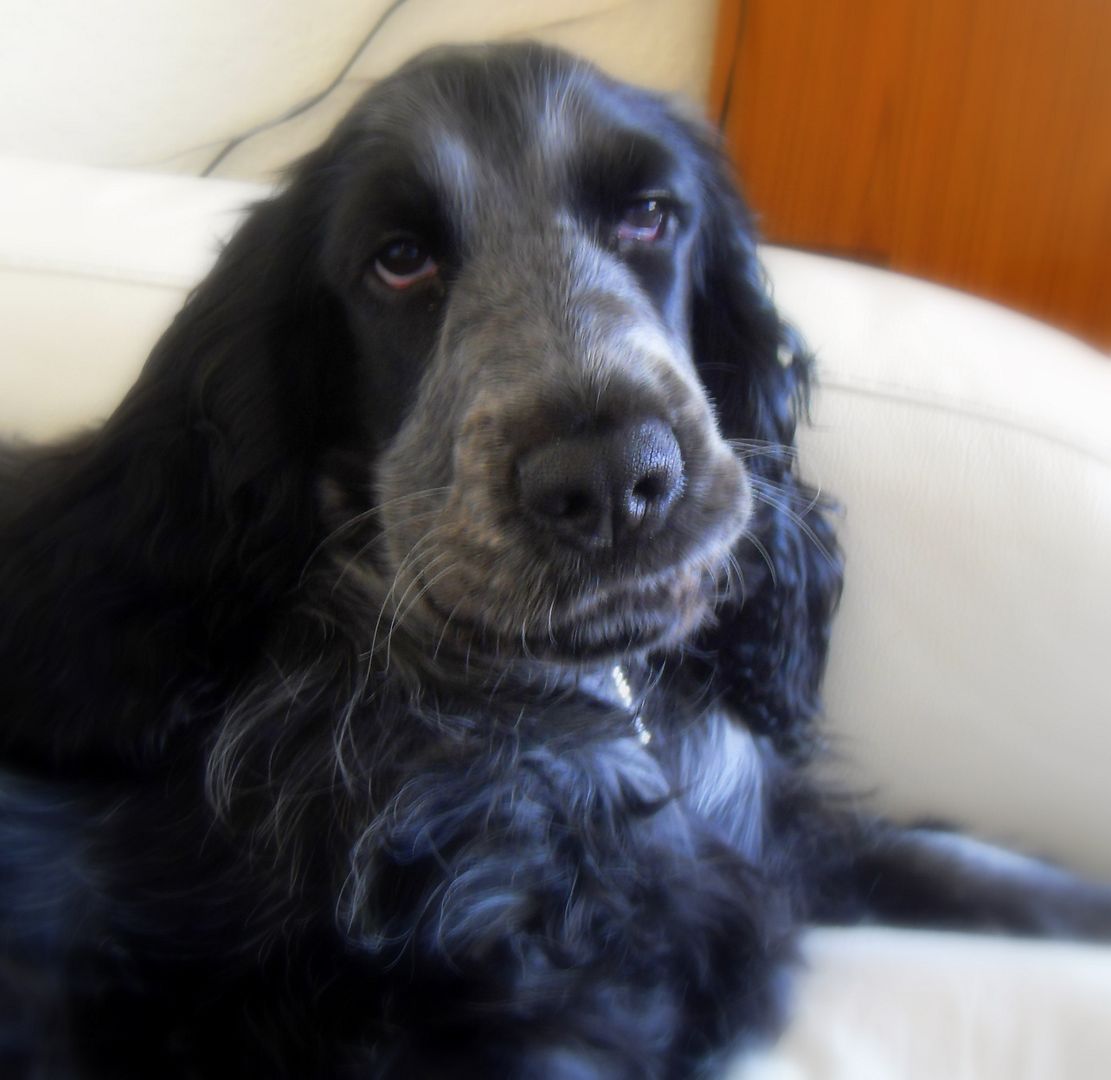 (Mitzie in happier times.)
I don't have a lot of time to write this morning, but I thought you may all be wanting to know how Mitzie is. She came through everything alright but is not a very happy puppy at the moment. Her incision looks great, clean and not swollen, but they have put one of those large plastic collars on her and it is really distressing her. I did get her to eat some chicken last night. but Chicken is one of her absolute favourite things and pretty hard for her to resist. Getting her to drink some water was another story! We finally spoonfed her some as I was so concerned that she hadn't had anything to drink. She would not go wee at all, and it was the same this morning. That awful plastic collar is driving her to distraction. It is so large that she cannot move without knocking it into something and this is upsetting her a great deal. She can't sniff the floor or anything. All she is doing is looking very, very sad and whining.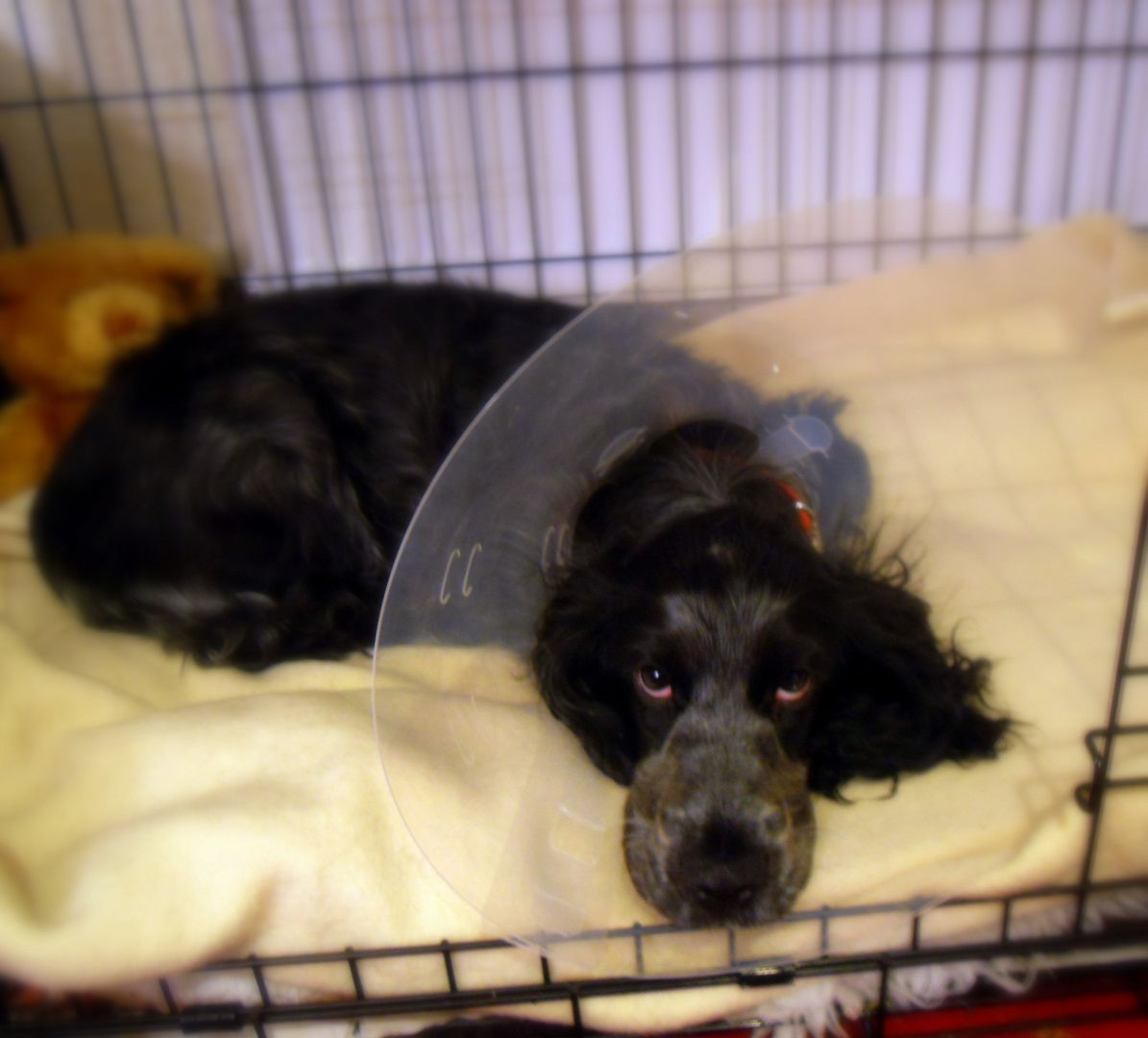 (Mitzie this morning, not a happy camper.)
I know that they have to have the collar on so that they leave their stitches alone . . . but this one is ridiculously HUGE. When Todd gets up I am going to have him call and see if she can't get a smaller one, or if we can cut it down. She won't go to the bathroom because she cannot sniff the ground, and she is very much a sniffer. It just seems quite cruel to me, but then I am the undulgent owner. I am sure this is a lot harder on me than it is being on her . . . I cannot imagine 10 more days of this though!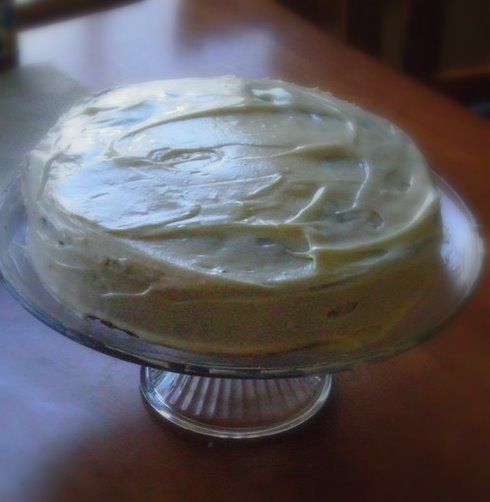 On a lighter note here is a picture of the "test"cake my son baked for Grandson's Joshua's second birthday on Sunday. (I scooped it off of facebook) It is a carrot cake recipe I sent to him yesterday and I think he did a fabulous job with it, don't you? It is hard to believe that little Joshua will be 2 already! The time sure has gone quickly.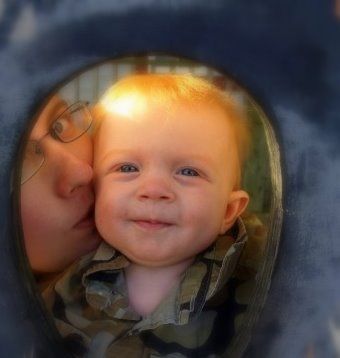 He is such a little cutie pie. I sure wish I could be there to share some of that delicious Birthday Cake with him!
Speaking of Birthday's, today is our Eileen's Birthday as well. I am going to call her a bit later on this morning and try to catch her before she leaves for work to wish her a happy day!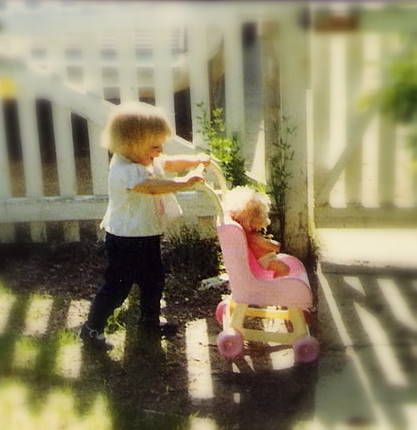 This is a picture of her with her dolly in it's pram when she was about three years old. She was always such a good little mum. It is hard to believe that she is 33 years old today! Where has the time gone! If my baby's are those types of ages then I must be getting old myself!
And finally after all that drivel here is the recipe for today. You probably thought I'd never get to it. A tasty Steak Sandwich that will drive the honey in your life wild! At least it drives my man wild at any rate. He loves them!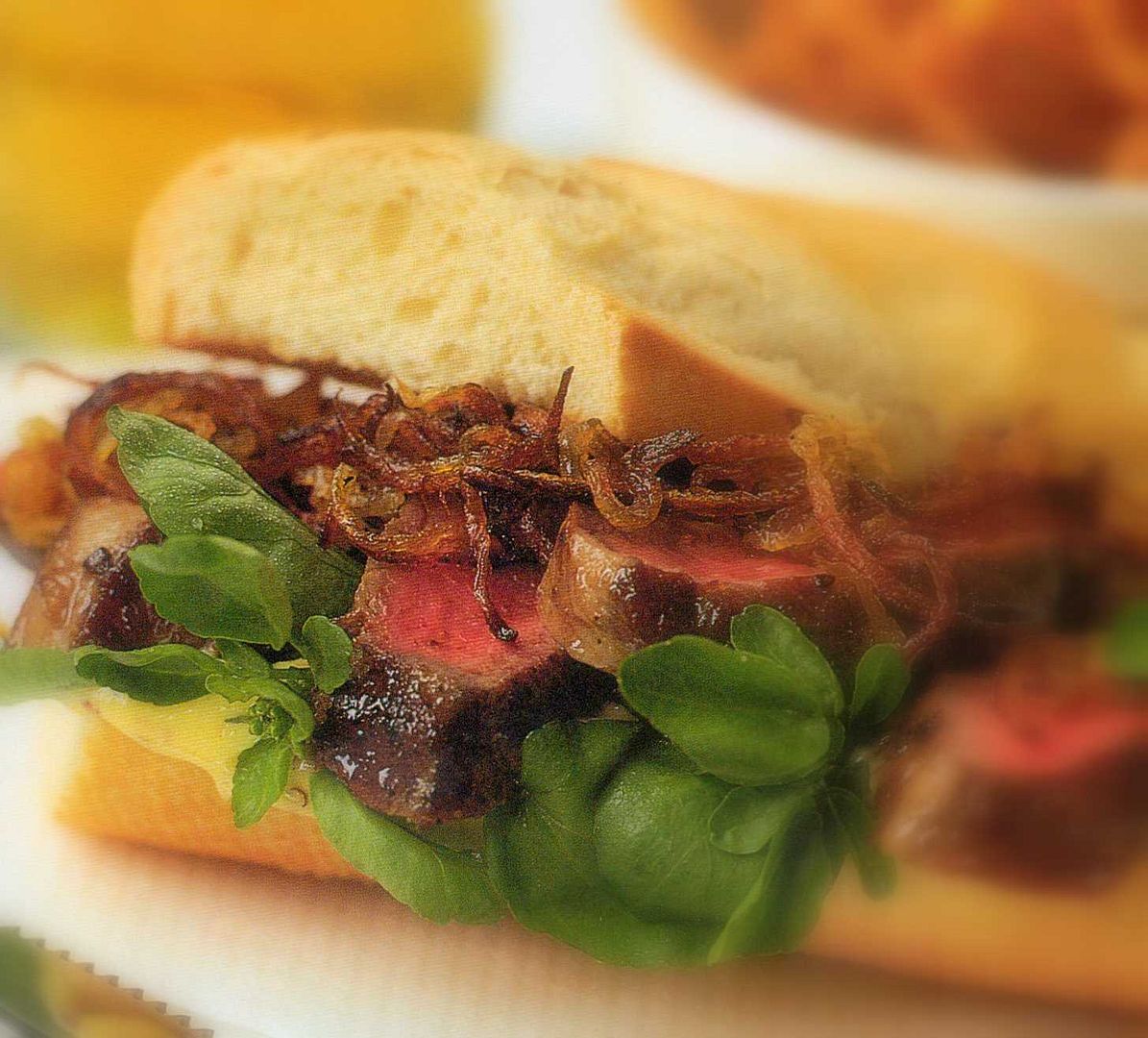 *Steak Sandwiches*
Serves 4
Printable Recipe
A delicious hot sandwich which is sure to be popular with anyone who enjoys a good steak. The homemade mustard mayonnaise sauce is the perfect condiment!
4 TBS olive oil, plus extra for brushing
2 onions, peeled and thinly sliced
1 pound of sirloin steaks
4 small baguettes, halved lengthwise
a large handful of watercress leaves
sea salt and freshly ground black pepper
for the Mustard Mayonnaise:
3 fresh free range egg yolks
2 tsp Dijon mustard
2 TBS white wine vinegar or freshly squeezed lemon juice
1 1/4 cups exta virgin olive oil
sea salt to taste
First make the mustard mayonnaise. Put the egg yolks, dijon mustard and vinegar (or lemon juice) into the bowl of a food processor. Blend briefly until it is foamy. With the motor running, slowly drizzle in th eolive oil through the feeder tube, until the mixture is thick and glossy. Season to taste with sea salt. Transfer to a bowl, cover and chill until needed. It will keep refrigerated for up to 3 days.
Heat the oil in a large frying pan. Add the onions, season with some salt and black pepper and fry over medium heat for 20 to 15 minutes until golden and caramelized. Set aside and keep warm. Brush the steaks with some oil and season liberally with salt and black pepper. Preheat a heavy skillet until hot and pan fry the steaks for 3 minutes per side (rare), 4 minutes per side (medium) or 5 minutes per side (well done). Remove from the pan and then leave to rest for 5 minutes. Slice thickly.
Lightly toast the baguettes. Spread the bottom halves liberally with the mustard mayonnaise. Layer on the watercress leaves and the sliced meat with all it's juices, dividing it equally amongst the four baguettes. Cover with the caramelized onions and baguette tops. Serve hot with french fries if desired.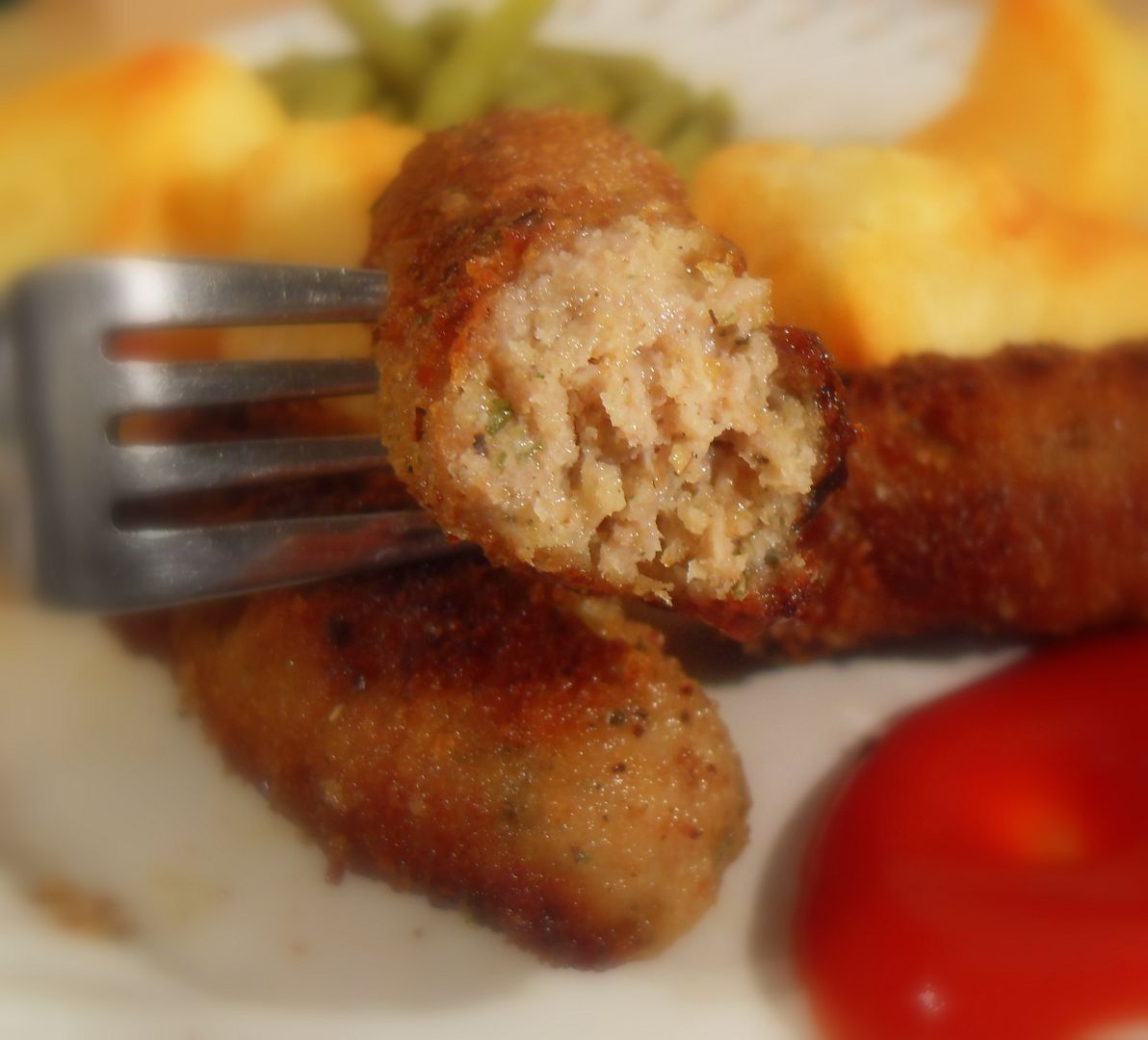 Cooking in
The English Kitchen
today, some delicious Oxford Sausages.