Todd and I popped into town yesterday morning as we had a few bills to pay, and neither of us had been into town for a while. After a few hours of hobbling about on the cobbles, and picking up the few bits we needed, we stepped into the Chester Market to have some lunch at the cafe there. I have always loved the Chester Market Cafe. It looks a bit like a greasy spoon, but the food is good, simple and honest. We had egg and chips. Naughty . . . but very nice.
As a result though, we did not want much for supper last night. Todd simply had a grilled cheese sandwich, and I had a bowl of cheerios cereal. As we were sat there eating, I was reminded of a lovely memory from when I was a child. It made me feel all warm and lovely inside and so I thought I would share it with you this morning.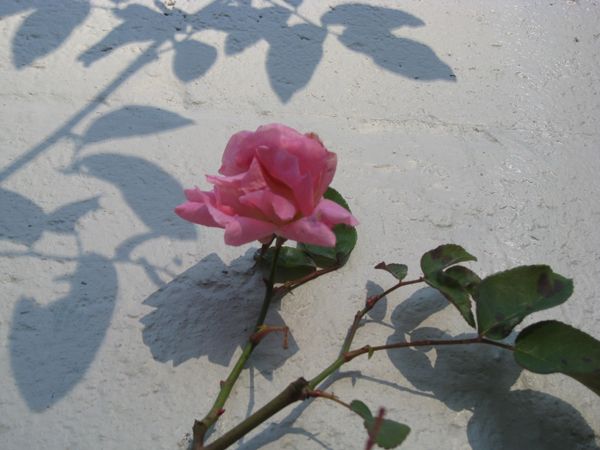 Because I was the eldest child in my family, I was often up after my younger brother and sister had long been put to bed. My father used to work a lot of shift work at his job as an aircraft electrician for the RCAF. (Royal Canadian Air Force) That meant that on many evenings my mother and I would be alone together.
My mother often spent the evenings puttering, getting chores done that she hadn't had time to get done during the day, or that were just easier or more practical for her to do at night. With three young children around, it just wasn't a simple thing do certain things during the day. Things like washing and waxing the floors for instance. This was a chore that needed to be done when there was nobody around to walk all over them . . . and I can tell you my mother's floors gleamed! She was always an imaculate housekeeper.
The floors in our post war Armed Forces home were the old dark tile floors which needed waxing with paste wax, along with a good buffing afterwards. It would take my mother hours and hours, working on her hands and knees as she did so, to get them looking as beautiful as they did . . .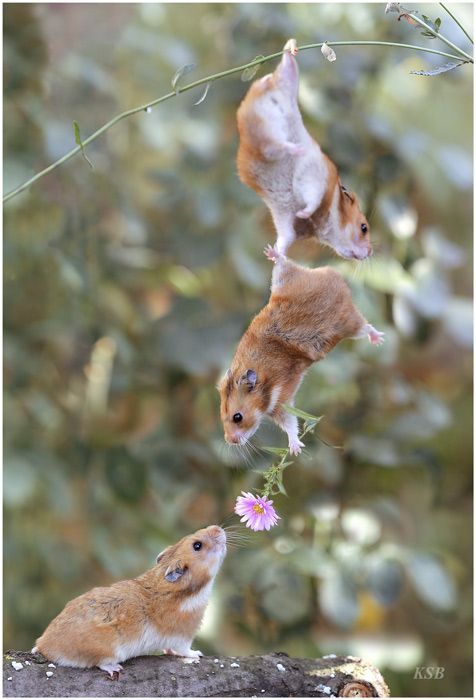 Here is where the cereal memory comes in.
On this one particular night, I can remember my mother sitting me up in the highchair, off the floor, and turning on the television for me to watch. Then she gave me a nice bowl of cereal to eat, and rolled up the carpet in our living room so that she could wash the floor. I can remember sitting there eating the cereal in a chair that I was normally never allowed to sit in , the sound of the television playing in the background, as I watched my mother work around me . . . our time together spent in a cosy quiet companionship . . .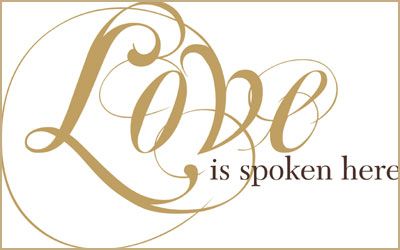 It seems such a simple thing, but it surely left a big impression on me as, here . . . some fifty years later, I am still remembering this occasion with a heart filled with warmth and love for my mother and a deep appreciation of all that she did for us.
Too often it is the big things that we remember others for and are grateful for, but we must remember too, that our lives are built from thousands of tiny and simple things which are just as sweet, and often have even more import . . .
A blind child guided by his mother admires the cherry blossoms.
~kikakou
Here's something that is small, yet impressive also. If you like Nutella you are going to love this. Todd is not overly fond of chocolate so I always make his with an equal amount of peanut butter. After his intitial remarks about how us North Americans have wierd tastes, he always eats it quite happily. I haven't quite been able to get him to cotton on to Peanut Butter and Jam yet . . . but I'm working on it!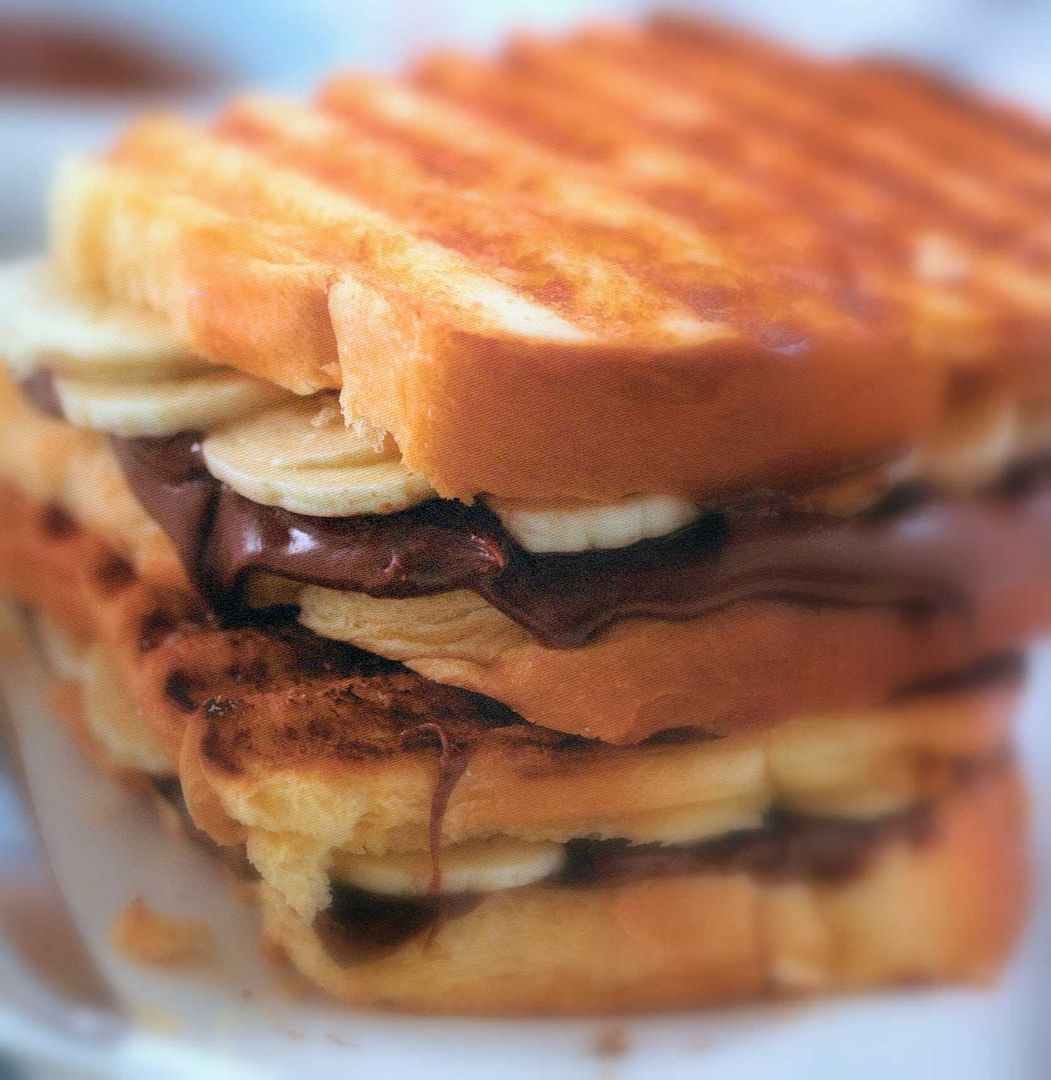 *Nutella Banana Panini*
Serves 2
Printable Recipe
The title says it all. Mmm . . .
4 thick slices of brioche bread
4 TBS Nutella or other chocolate spread
1 small banana, thinly sliced
a big of vegetable oil for brushing
a panini or sandwich grill, grill pan or skillet if that's all you have
Preheat your chosen method of cooking the sandwich.
Spread two slices of brioche with the Nutella. Divide the sliced banana between the two, and then top each with the other slice of brioche, pressing down lightly. Brush each side lightly with a little oil and toast until the bread is lightly golden brown and the filling warmed through.
Variation: Peanut butter instead of Nutella. 'Nuff said. mmm . . .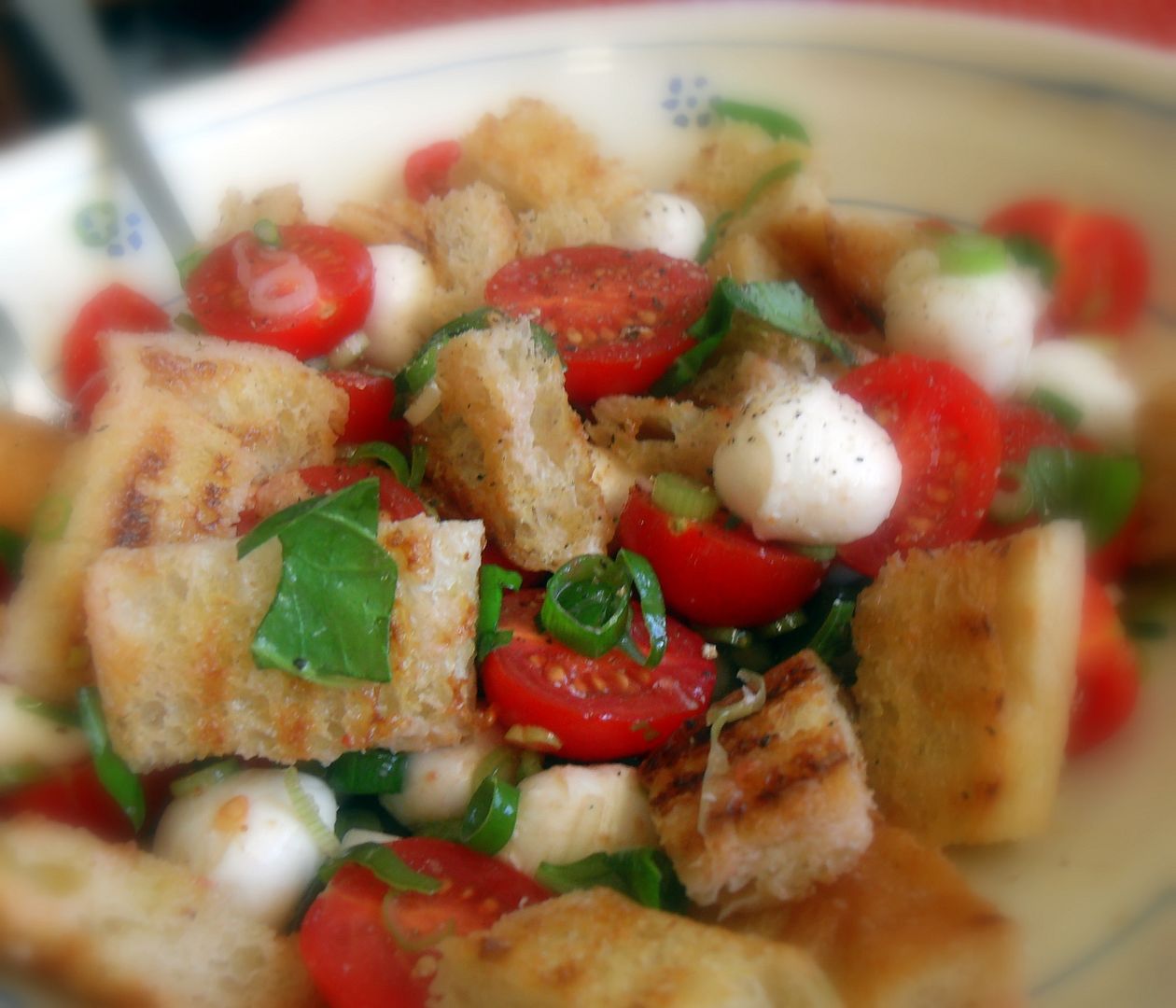 In
The English Kitchen
today a lovely Grilled Bread Salad, with Basil and Cherry Tomatoes.