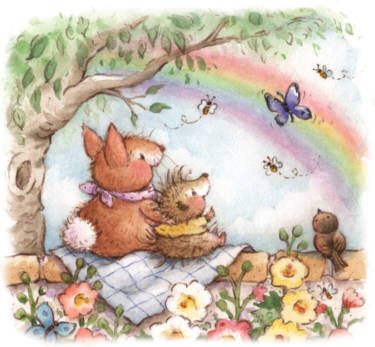 I think we often forget to give enough thanks for the sudden appearance of a rainbow in the sky. Hard to believe, but they are often taken for granted, and I don't know why.
Breathtaking in appearance and seen after a storm, this wonder of nature and God's promise surely add a sparkle to any day.
It wasn't too long ago that Todd and I were driving back into the Blacon Estate where we live and I noticed a big beautiful rainbow arching across the sky, seemingly to end in Blacon. Oh, it was so bright and colourful . . . red, yellow, blue, green, indigo . . . purple . . . so wonderful.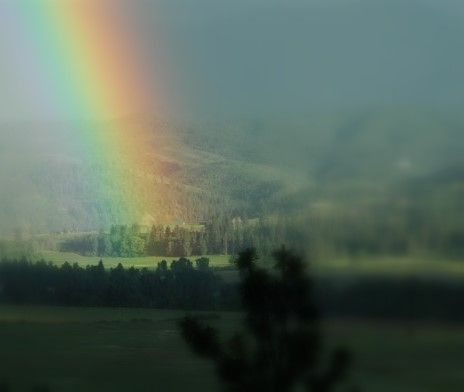 I remember turning to Todd and saying . . . "Who'd a thunk we'd find the rainbow's end in Blacon." . . . and then I felt all warm inside, thinking I already had the pot of Gold, for despite all the seemingly horrible things that happened to us in the past year, I have come to find the blessing in each one.
Rainbows are so special. Set into the sky as a reminder of a special promise from our Heavenly Father, I do believe I can remember each and every one I've ever seen, even the double ones, which are especially spectacular to view. I have even, once . . . seen a triple one!
"May we never miss a sunset or a rainbow because we are looking down."
~unknown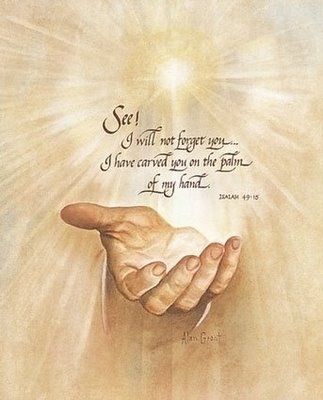 Well, I got my appointment for the specialist. It will be on the 29th of the month and will last approximately 4 to 5 hours. Quite long, but at the same time I feel like they are going to be very thorough, which is good. I looked up knee replacements on the www yesterday and scared myself. I absolutely loathe the thought of being put to sleep. They did say you could have an epidural so hopefully I'll opt for that, although Todd says he cannot think of anything worse than being awake when it's being done. It will be a 5 day hospital stay according to what I read, which also sounds blah . . . boring. Oh how will I ever cope. I will miss you all for sure. I am hoping Todd would come to see me each day, although with the price of Petrol who knows!
Poor Mitzie is going in for her op this morning. She is already wondering I know . . . just why didn't she get her special treat after I let her out this morning . . . hmmm . . . I will be on pins and needles until we have her safely back home and recovering. Then the fun will start. Just how are we going to keep that satellite dish on that little tornado's head for ten days??? ☺
I am trying to eat somewhat healthier these days, or at least half of these days at any rate! These delicious fish cakes fit the bill perfectly with the addition of whole wheat flour and some tasty green beans on the side. So much tastier than those bread crumbed frozen ones you can buy in the shops!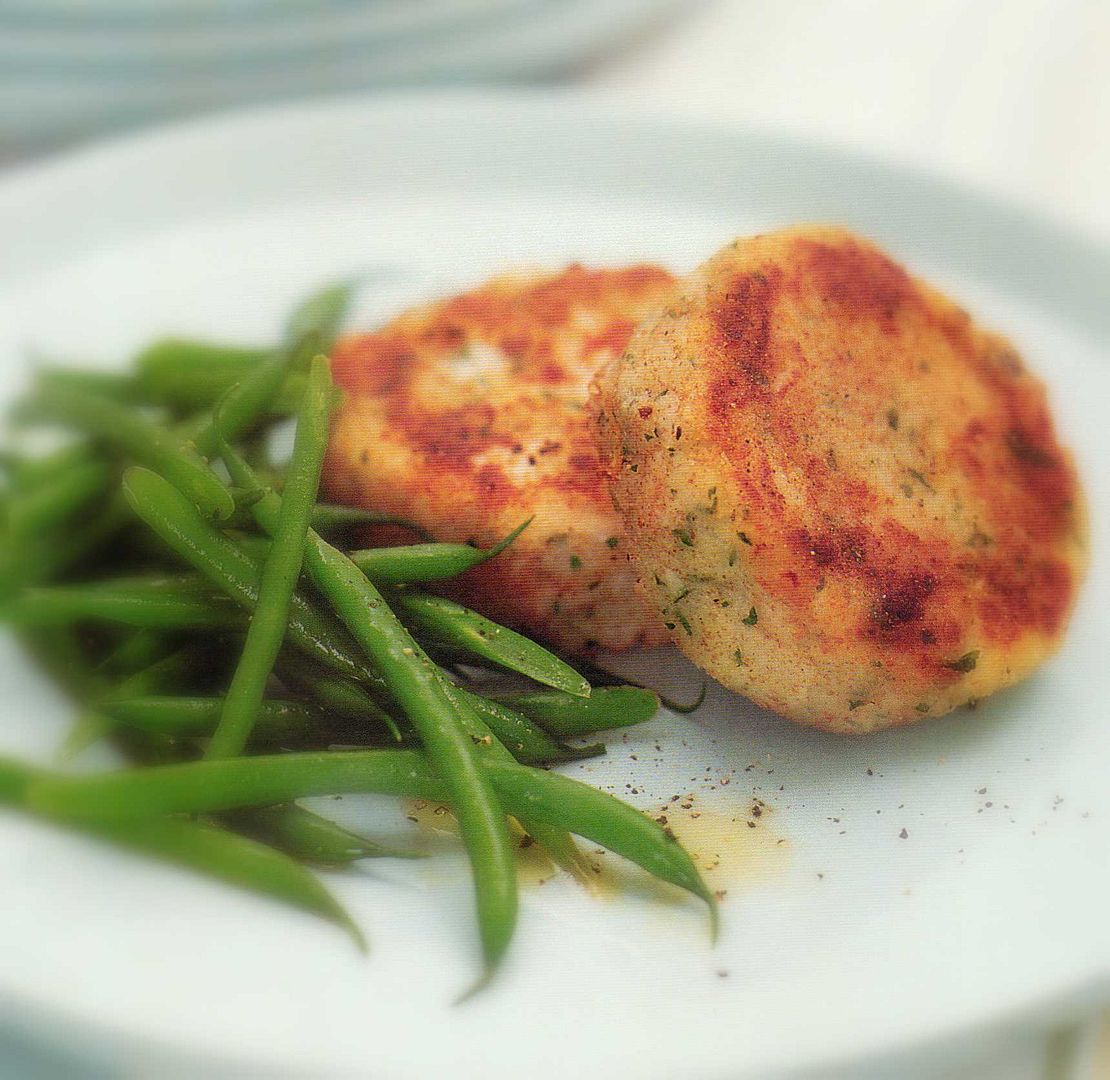 *Fish Cakes and Beans*
Serves 4
Printable Recipe
So much better for you than any that you can buy premade! A lot tastier too!
3/4 pound of floury type potatoes, peeled and cut into large chunks
1 pound of white fish fillets, such as cod or haddock (You can also use Salmon, which is very good)
1 1/4 cup milk
a handful of fresh flat leaf parsley
1 bay leaf
1 TBS finely grated lemon zest (use unwaxed lemons, or scrub your lemons really well)
2 TBS chopped fresh herbs (dill, parsley, cilantro)
2 to 3 TBS wholewheat flour
2 to 3 TBS sunfllower oil
fine sea salt and freshly ground black pepper
For the beans:
1/4 pound green beans
1 TBS fresh lemon juice
1 TBS extra virgin olive oil
Place the potatoes into a pan of lightly salted water to cover. Bring to the boil and cook for 15 minutes until tender. Drain well, then return to the pot. Give them a shake over the residual heat on the burner to dry them out further, then mash.
Rinse the fish and put it in a frying pan along with the milk, parsley sprigs and bay leaf. Bring to the bol, then cover and simmer until the fish is cooked through and flakes easily with a fork. Remove the fish and discard the cooking liquid. When the fish is cool enough to handle, remove any skin and bone and flake the fish completely.
Place the mashed potato, flaked fish, lemon zest and chopped herbs in a bowl. Season to taste with salt and pepper. Shape into 8 small fish cakes. Place the flour on a plate and coat the fish cakes in it. Transfer to aplate, cover with plastic wrap and chill in the refrigerator for at least half an hour.
To make the beans, lightly steam them for about 5 minutes, until crispy tender. Drain well and then toss them in a warm serving bowl along with the lemon juice and olive oil. Season to taste with some salt and pepper.
To cook the fish cakes, heat the sunflower oil in a large nonstick skillet. Add the fish cakes and cook for 4 to 5 minutes on each side, until golden brown, crisp and piping hot through. Serve immediately along with the beans.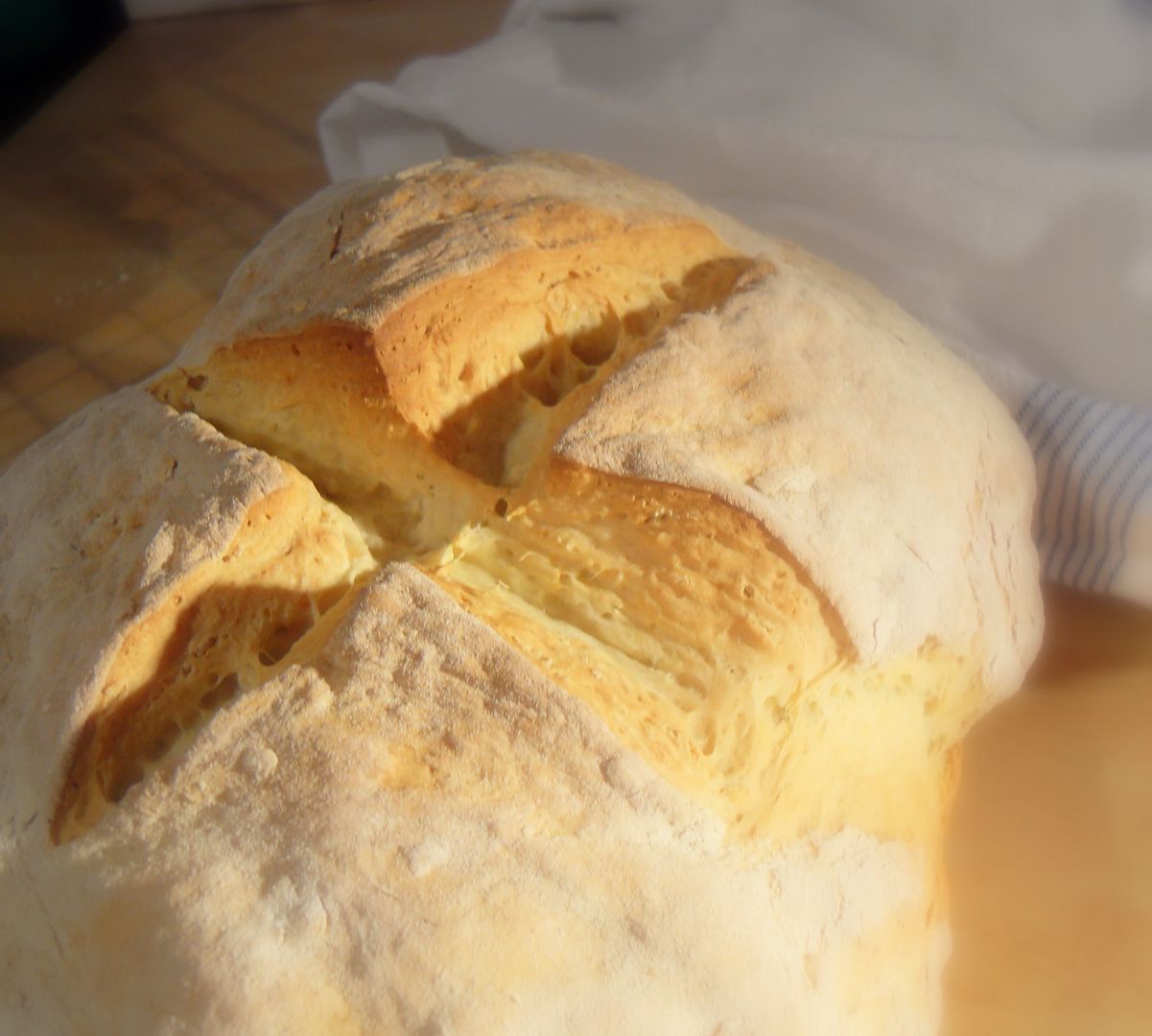 Baking over in
The English Kitchen
today, a delicious Irish Soda Bread!