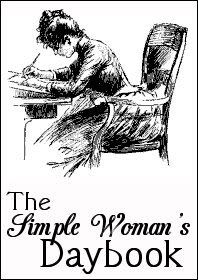 FOR TODAY, December 20th, 2011...

Outside My Window...
It is cold, dark and damp. That is winter in the UK. Only rarely do we have snow . . . but we always have wet. ☺
I am thinking...
I have decided to attend my children's weddings irregardless of what a certain person may wish. I know that it is really "them" who don't want me to go, but I am just going to have to put on my thick skin and go. My mom talked to my daughter and she really wants me there and so I will not disappoint her, no matter how uncomfortable or unwanted certain other people may try to make me feel. My daughter's feelings are the most important feelings. I am her mother and nobody can change that no matter how much they may want to do so.

I am thankful for...
The love and support of my oldest son. He has always been there for me, even when he may have thought I was making poor choices or he didn't agree with my actions. He has never judged me or found me wanting. He has always only ever loved me and always will. That means the world to me.

From the kitchen...
ohhhh . . . there's those three little elves . . . naughty, Naughty and Naughtier!

I am wearing...
Pink nightie (M&S), Pink jim jam bottoms, pink slippers, aqua robe. Layering for warmth and comfort . . . again! Hmmm . . . I seem to always be wearing those on Wednesday's . . . perhaps next week I will surprise you and be wearing something different!!

I am creating...
I might as well show you this. The person it was intended for is obviously not interested now.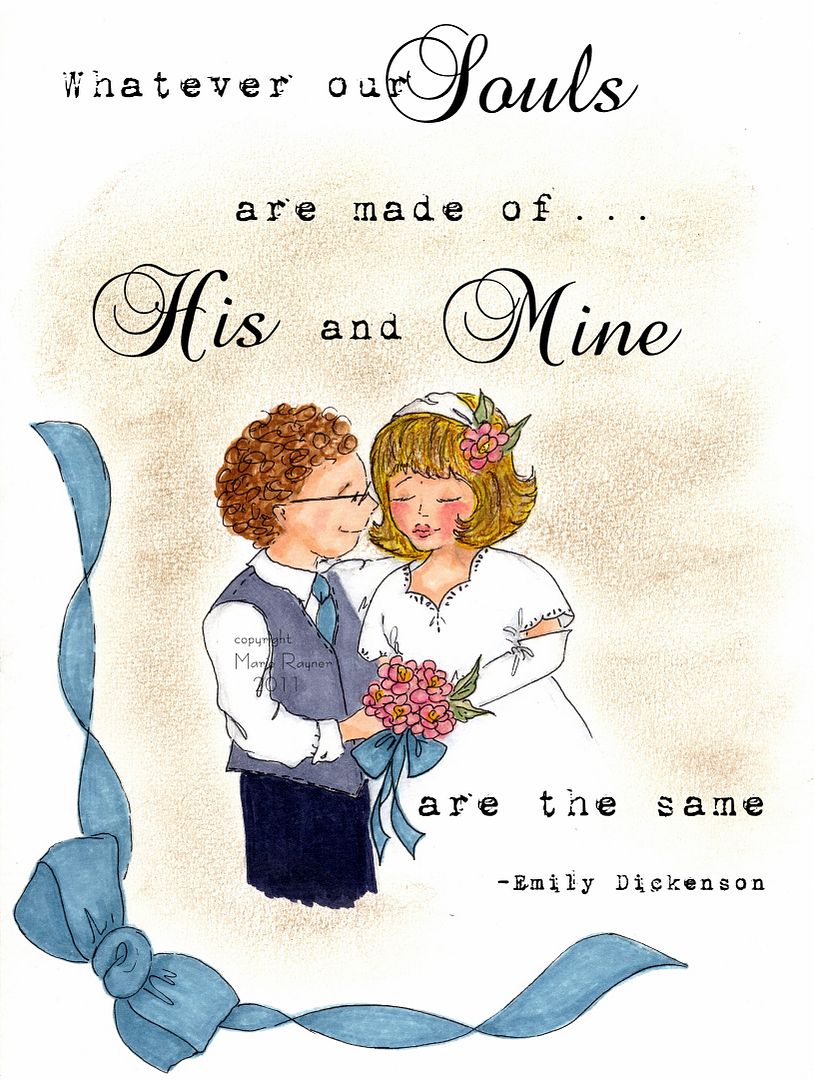 I had done this for someone by request, but they have not answered any of my e-mails so I offer it up to you now. I thought it turned out quite nice. What do you think?


I am going...
Not a lot on this week, thank goodness! I have one more sister to Visit Teach. She has children so I want to make some cookies to bring to her. I will get Todd to go with me if I can. My regular partner has had a fall and hurt her arm so she cannot drive. I might try to get into town one more time before Christmas and bring my camera this time because I want to show you the Christmas Village outside the town hall and the Chester Wheel is back again this year, but in a much nicer place.


I am reading...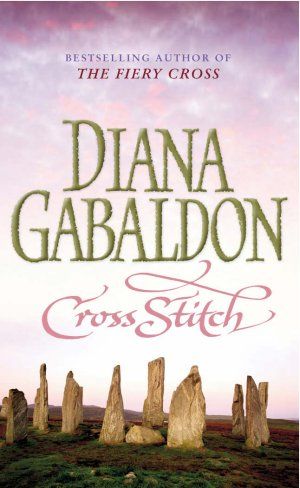 Cross Stitch, by Diane Gabaldon (first in the Outlander series)


It has been a very long time since I have read anything deemed to be historical romance, although at one time I read a lot of them. I was particularly drawn to stories with either vikings or scotsmen wearing kilts in them.

The novel is not easily classified by a single genre. On one level, the work is a romance novel with a focus on the romantic relationship between the two main characters. The book could be described as a work of historical fiction with a detailed account of 18th century Scottish clan life. The novel could also be considered fantasy with a plot propelled by magical time travel as the main character, a woman named Claire, journeys from 1945 to the 18th century.

Cross Stitch(published in the US as Outlander) is the first novel in a series of seven by Diana Gabaldon. The book focuses on two main characters, Claire Randall (née Beauchamp) and James Alexander Malcolm MacKenzie Fraser, and takes place in 18th- and 20th-century Scotland. It was awarded the RITA Award for "Best romance novel" of 1992, so it's not a really recent novel.

So far, whilst it isn't what I would consider to be "great" literature, I am finding it to be somewhat of a page turner and quite entertaining. I think we all need to read something light once in a while. I just skim over the mushy parts . . . where they would have held my interest when I was younger, I just find them boring now. Funny how that goes . . .


I am hoping...
That Todd feels completely better by Christmas. He hasn't been very well for about a week now. I've had him on a strict diet of applesauce, poached chicken, rice and flat gingerale. He felt better yesterday finally and I am hoping that continues. It has been such a worry for me. We found each other so late in life I don't want to lose him now!

I am hearing...
Early morning sounds as the world
wakes up around me. Every day sounds. Peaceable and comforting.
The odd
sound of a car as it passes . . . the clock ticking . . . Mitzie chewing on her bone . . . the keys tap-tapping. Home

Sweet Home.
I also have Michael Buble's Christmas album playing in the background. Did any of you watch his Christmas special?? I really enjoyed it. He is quite a character!
Around the house...



I just think this is soooooo cute!! I couldn't do it on my stairs of course, as they are carpeted, but what a fabulously unique idea! Not that I want real mice in my house . . . or course!!! Little paper ones would be ok though. I've always wanted a mice hole though, in one wall. A little door that you can open and then when you peer inside you see a perfect little mouse house, with furniture and everything. I think it would be quite wonderful. Yes . . . I love little doors in garden hedges or on tree stumps too. They make my imagination tick!


I am looking forward to...


The Carol Service at our church on Christmas Eve. It is one of my favourite services of the year. I love the special feeling that is present, the music, the excitement of the children . . . tis one of the things that helps to make Christmas spiritual and precious.



If I could change one thing it would be ...


Everyone would follow the Saviour. I mean

really

follow the Saviour and truly exemplify his teachings, love the word of God, love their neighbour . . . try always to do as Jesus would do. If that was the case, there wouldn't be too much in the world that was unpleasant would there?


One of my favourite things...
Is writing this daybook. I look forward to it every week. I hope that you look forward to reading it as much as I look forward to writing it!



A few plans for the rest of the week...


A bit of work . . . a bit of play . . . and everything in between!!

Here is picture thought I am sharing...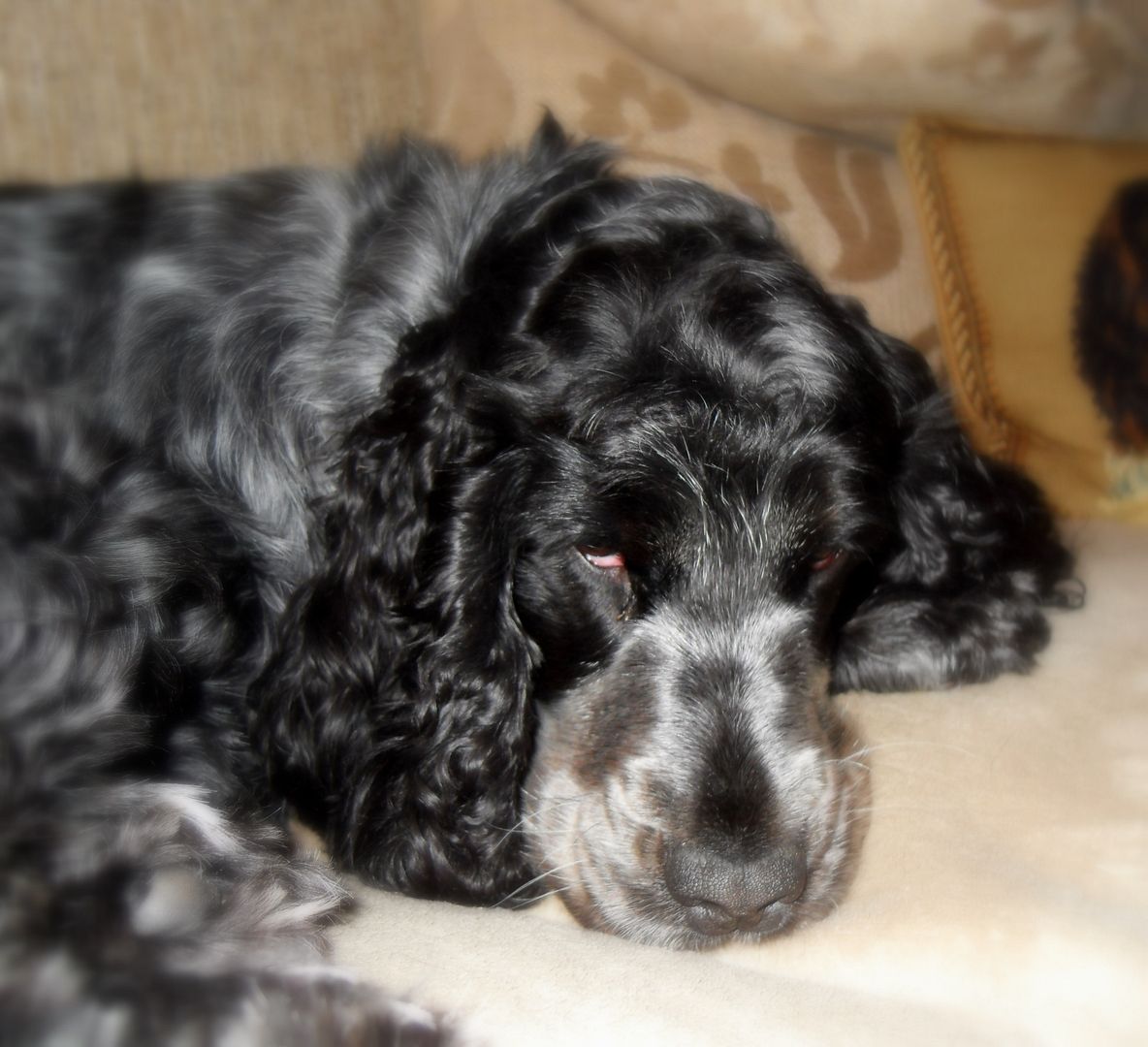 This is our little fur baby before her grooming session last week. She looked like a little furry Yeti! I must say she isn't all that impressed with my picture taking is she?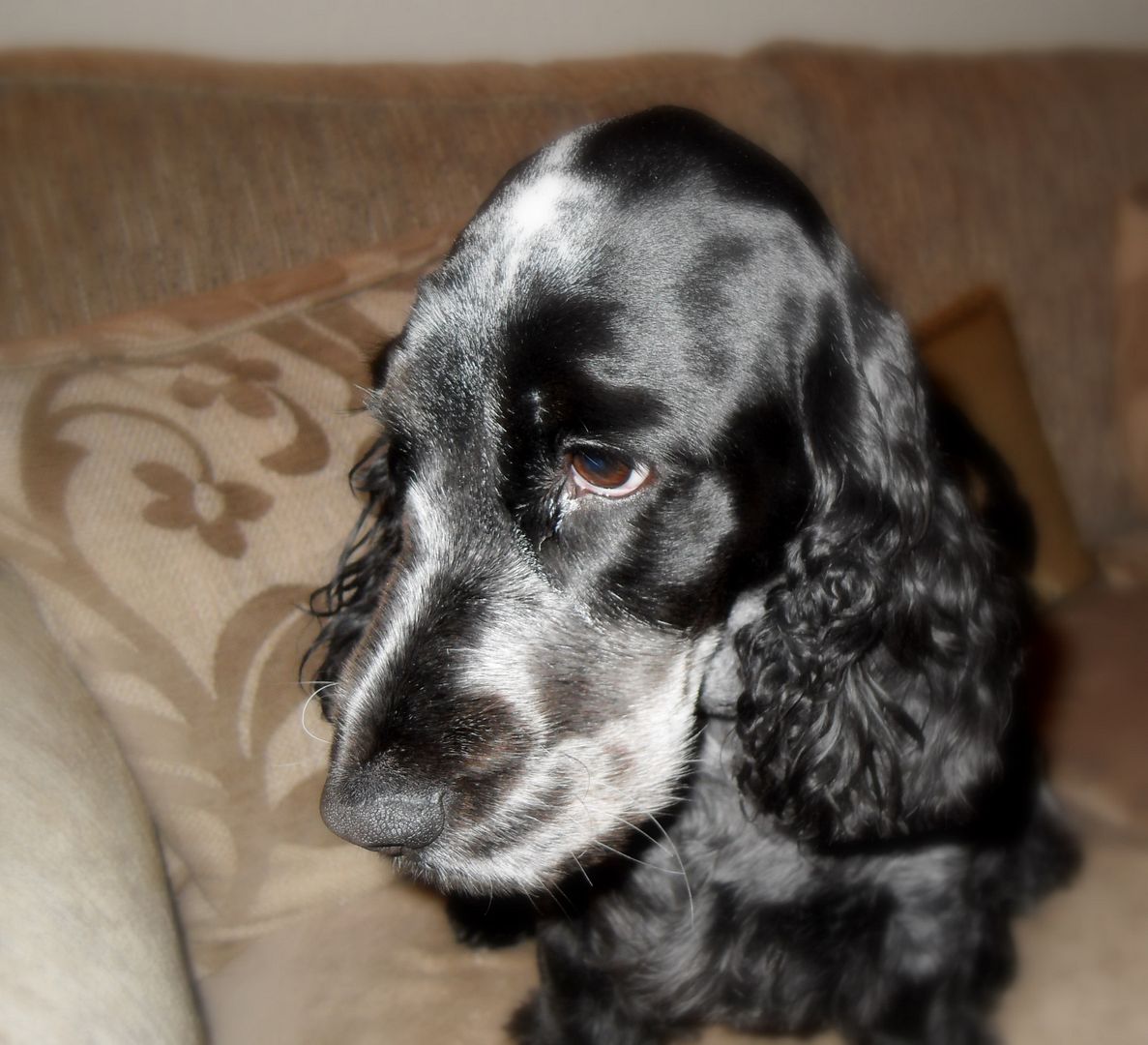 This is her after the grooming session. She always looks like a different dog! The white in her coat is always more noticeable, especially the white on top of her head. I like having her all bathed and sweetly groomed for Christmas. I had wanted to get her some reindeer antlers for Christmas but was not able to find any and so . . . she is antlerless. I don't think she minds, do you???



As a closing thought I would like to leave you with this:



"When we keep the spirit of Christmas, we keep the Spirit of Christ, for the Christmas spirit is the Christ Spirit. It will block out all the distractions around us which can diminish Christmas and swallow up its true meaning.





There is no better time than now, this very Christmas season, for all of us to rededicate ourselves to the principles taught by Jesus Christ.



Because He came to earth, we have a perfect example to follow. As we strive to become more like Him, we will have joy and happiness in our lives and peace each day of the year. It is His example which, if followed, stirs within us more kindness and love, more respect and concern for others."
~President Thomas S Monson, (First Presidency Christmas Devotional 2011, Because He Came)

And there you have it . . . my day book for this week. Don't forget to hop on over to the Simple Woman

to check out the other day book entries! (Or better yet, do a simple day book entry yourself! It's not that hard and I am betting you would enjoy it!
Here's a delightfully delicious cake that originates in Nova Scotia. I believe the recipe came from a Community Cookbook at one time. It's been in my Big Blue Binder for years. It would be great for Christmas sprinkled with Christmas Sprinkles I think!
*Sour Cream Cake*
Serves 10 - 12
Printable Recipe
This is an old recipe which hails from the southern shores of Nova Scotia where I am from. Dense and moist is falls somewhere between a pound cake and an ordinary layer cake. The Lemon glaze is it's crowning glory.
1 cup unsalted butter, softened
3 cups caster sugar
6 large eggs
3 cups plain flour, sifted
1/4 tsp baking powder
1/4 tsp baking soda
pinch of salt
2 tsp pure vanilla extract
1 cup dairy sour cream
GLAZE:
1 1/2 cups icing sugar
the juice of 2 lemons
Pre-heat the oven to 180*C/350*F. Butter a 10 inch tube pan and lightly dust with flour, shaking out any excess.
Put the butter into a large bowl and cream it with an electric mixer until light and fluffy. Continue to beat it as you gradually add the sugar, beating it all in well. Beat in the eggs one at a time.
Sift together the flour, baking powder, baking soda and a pinch of salt. Stir together the sour cream and the vanilla.
Add the flour to the creamed mixture in thirds, alternating with the sour cream mixture, beginning and ending with the dry ingredients. Do not over beat, or the cake will be tough.
Spoon the batter into the prepared pan and bake for 1 hour and 30 minutes. Do not open the oven door while it is baking. The cake is done when it is lightly browned and a toothpick inserted in the centre comes out clean. If the cake is not done at the end of the hour and a half, bake for an additional 15 minutes before testing again.
Remove from the oven to a wire rack and let cool in the pan for 15 minutes before removing from the pan onto the wire rack. Let cool completely before glazing.
To glaze combine the icing sugar and the lemon juice until smooth. Spoon over the cake and allow it to drizzle down the sides.
If you are like me and like a bit of magic, sprinkle fairy dust and magic over the top before the glaze sets.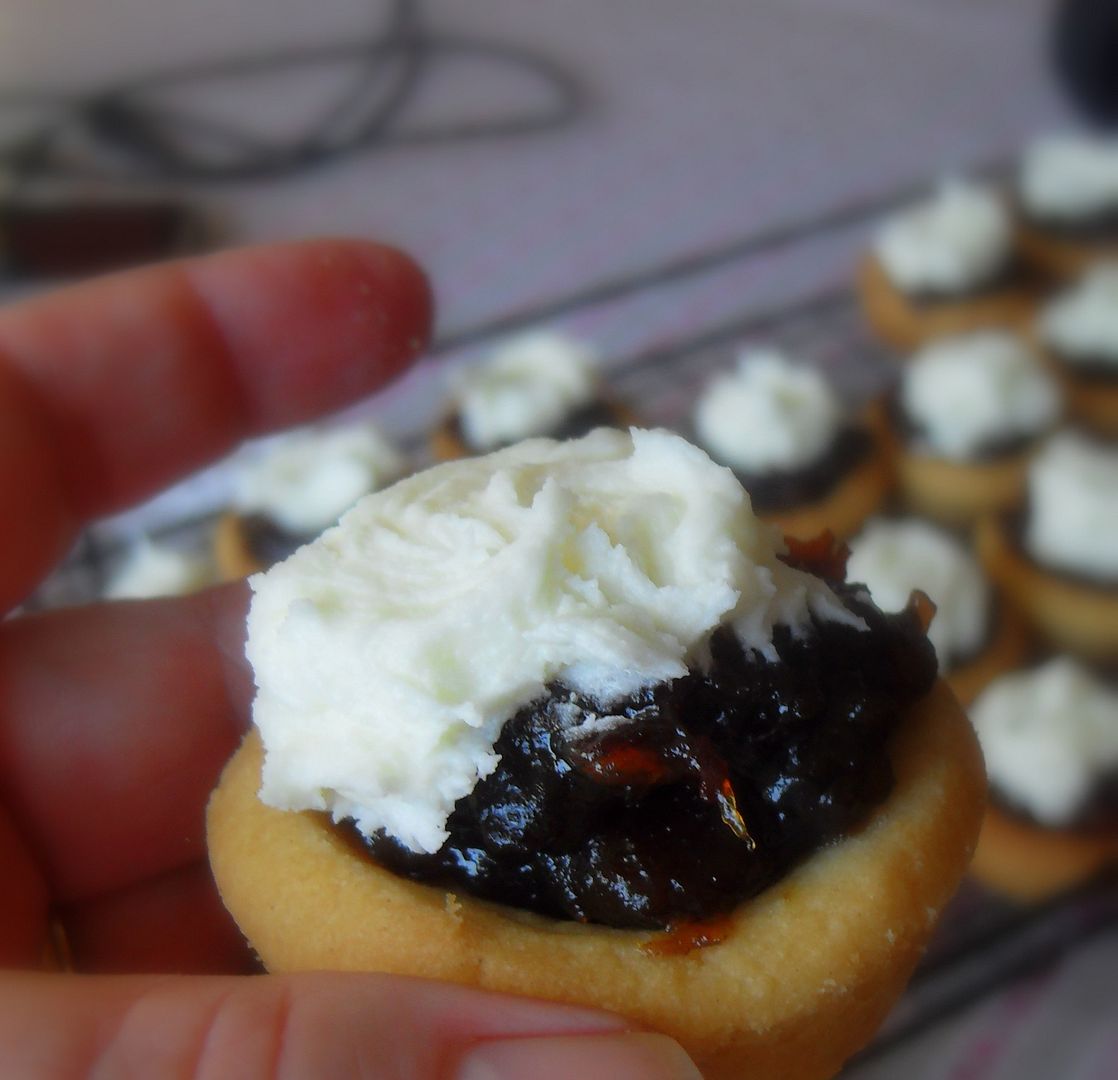 In
The English Kitchen
today, some delicious Porkie Pies . . . delightfully tasty littel butter cream topped date tartlettes!