They called it The Cottage of Content.
I knocked to find out what it meant,
For all my life I'd sought to find
The secret of a quiet mind.
"Come in", the owner said, "Come in.
The things you seek are here within.
Love tends the hearth and keeps the blaze
To warm the heart on bitter days.
Hope trims the lamps and makes them bright
To give a good and kindly light.
Faith keeps her watch in every room
To banish doubt and fear and gloom."
I turned away and homeward went
To build MY cottage of content.
~Patience Strong
Well, here we are, it's the first of December! However did that happen? I don't know. It seems to have crept up on us awfully quickly though! I did a bit of Christmas Decorating here yesterday. I will have to take a picture to show you what I have done so far. Then last night Todd and I watched a few of our Christmas dvd's. Charlie Brown's Christmas. It just wouldn't be the Christmas Season in my house without watching Charlie Brown's Christmas at least once during December! And for the main feature we watched the first Home Alone. I don't know how many times I have watched that movie, about a bazillion I think . . . but I always laugh my head off when I am watching it. I've seen it all before . . . yes, a bazillion times . . . and I know what's coming, but still I laugh . . . ceptin' now I actually start to laugh before it happens! So much fun!
I thought it would be fun this morning to share a few cheap and cheerful craft ideas for Christmas that I have found on the www. I am always looking for something crafty to do that doesn't cost a bomb and makes good use of some of the things I collect like old jars, toilet roll holders and used disposable pie tins . . . just so I can prove that they will come in real handy one day like . . . you know how it goes!
The sweetest Hot Snowman Chocolate, just perfect to gift a friend with. I found it here on
For What It's Worth.
Isn't it adorable! Of course if you are like me, you already have lots of empty jars saved. I never throw a jar away and our shed has several boxes full of them just waiting for me to make a good use of them!
The most adorable snowman ornament made from an old lightbulb! I've seen lots of these through the years, but this is the cutest yet. You can find out how to do this, plus 9 other ideas for making ornaments out of recycled things over on
Our Everyday Earth.
How's this for an utterly adorable decoration! I think they're just sweet. Santa Suit Cones! You can find out how to make them yourself over on
Thrifty Decor Chick!
Ho! Ho! Ho!
I love this idea, which once again uses empty recycled jars. Make your own snowglobes! Again, so pretty and just adorable! You can find directions on
My Black Book.
How about an Advent Calendar Pine Tree Forest! A bit late now to make one for an Advent Calendar, but these little trees would be cute anywhere. I always have lots of felt in my craft dresser and buttons too! You can find the patterns on the
Women's Day
site.
How about making your own stars from old tin baking plates and dishes. You know, the kind that ready made pies and dinners come in. You can find an excellent tutorial here on the
Choose to Thrive
blog! Aren't they gorgeous!
How about this adorable bauble made from Acorn Caps? Isn't it pretty! The directions for this can be found on
Sweet Something Designs
. She also has a lot of other really pretty ideas on her page.
How about holiday hand sanitizer in a cute bottle that you dress up yourself. I found the directions on
Crafts and Crap.
(I know, naughty name, but nice crafts!)
How about a Holiday Whisk? Isn't this just darling?? You can find this and a bazillion other cheap gift ideas on
Today's Fabulous Finds.
Candy Cane Fudge anyone? You can find out how to make these over on
Not So Idle Hands.
She's got a lot of other great ideas too!
Who says money can't grow on trees??? For some great Gift Card Ideas, using money, check out
Hero Arts
!
How about some really adorable gift tags you can print out yourself? I think these are really cute and they're free. You can find them over on
Poppies at Play.
I hope that these ideas whet your whistle just a little bit and get you to thinking all crafty about Christmas. There are just tons of talented people out there with lots of wonderful ideas. Just google Christmas Crafts. You'll be amazed at what comes up! So many smartie pants in the world! It's just wonderful!
Here's a little treat that I like to make for neighbours and friends during the holidays. I've never had anyone refuse one yet. Honestly!
*Holiday Fudge Wreath*
Makes 1
Printable Recipe
This is a real holiday treat that is not only very easily put together but impressive to look at when it's finished. To give as a gift just wrap it in plastic cling film and tie with a gaily coloured bow!
12 ounces semi sweet chocolate chips
1 cup butterscotch chips (if you can get them, if not just use more chocolate chips)
1 (405g) tin of sweetened condensed milk
(save the tin)
1 tsp pure vanilla essence
1 cup nutmeats, chopped coarsely, plus more whole ones for decoration
½ cup sultanas
Candied red and green cherries for decoration if desired
Butter an 8 inch round cake tin with softened butter. Cover the empty condensed milk tin with plastic cling film and set in the centre of the cake tin.
Combine chocolate chips, vanilla and condensed milk in a saucepan over low heat. Stir until they melt together, about 3 minutes. (Make sure it is warm and smooth and shiny, so that it doesn't instantly set up when you stir in the nuts and sultanas) Stir in the nuts and sultanas and quickly scoop into the prepared pan around the plastic wrapped milk tin in a wreath shape. It looks nice and more natural if it is all bumpy and swirled on top.
Decorate the top with cut up cherries to resemble holly with nuts in between if desired. It looks really pretty. For a completely different look you can decorate it with crushed peppermint candy canes. (leave them a bit chunky).
Put the fudge in the fridge to set and chill until firm. Remove the can from the middle and then carefully use a spatula to remove the fudge ring from the pan. If you are giving it away as a gift, wrap carefully in plastic wrap or cellophane and tie with a pretty bow. Your friends will love you and think you are really smart to have thought up such an idea!

Variation: Use 18 ounces white chocolate chips instead of the chocolate chips and 1 ½ cups pistachio nuts plus ½ cup of dried sweetened cranberries instead of the other nuts and the sultanas. Otherwise do everything else exactly the same. Enjoy!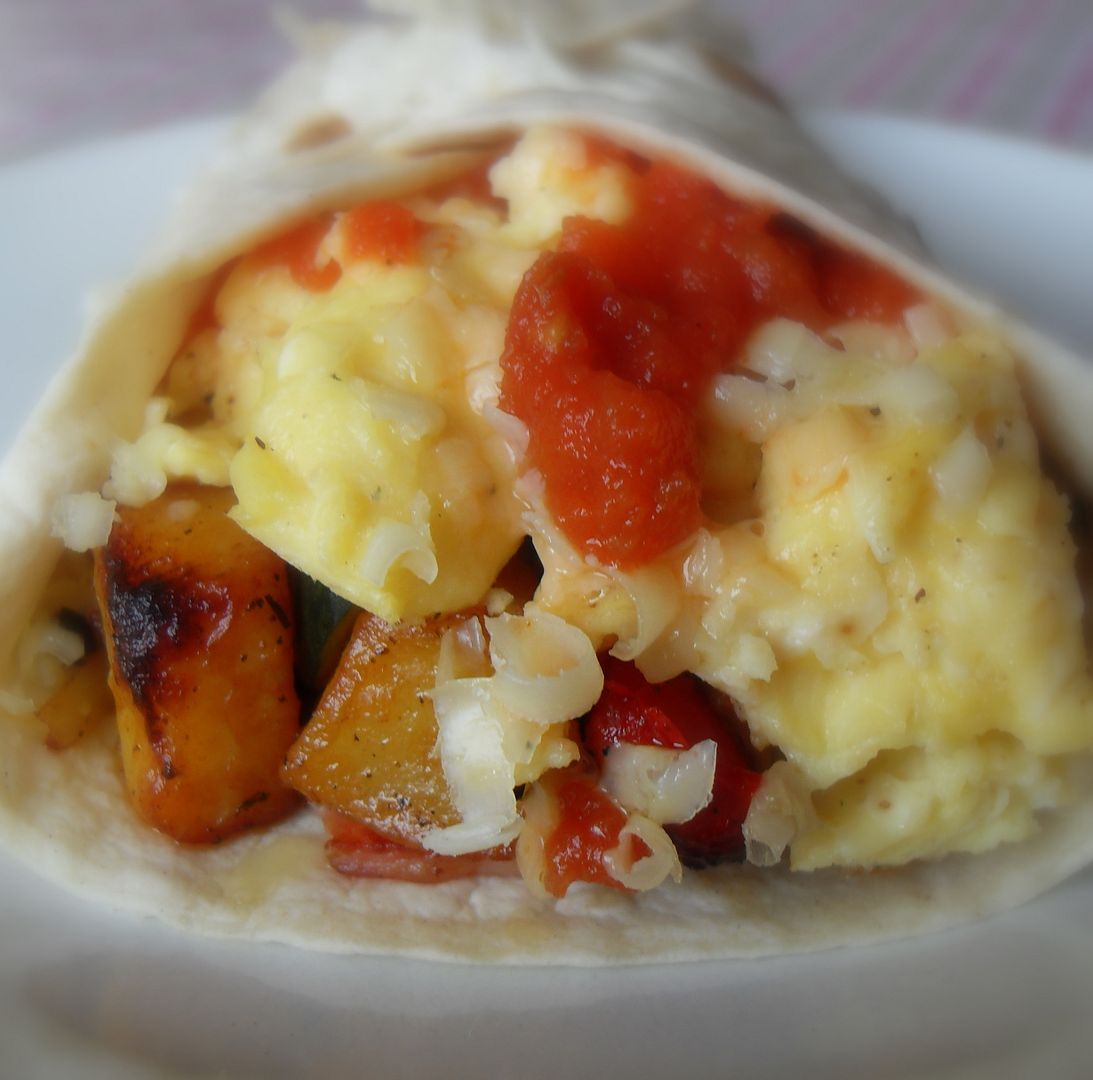 Over in
The English Kitchen
today some tasty Egg and Potato Wraps!
"As you take the normal opportunities of your daily life and create something of beauty and helpfulness, you improve not only the world around you but also the world within you."
~Dieter F. Uchtdorf
PS - I was able to speak to my father yesterday and we had a lovely conversation. His heart rate had gone down to 20 beats a minute on Sunday morning. He was passing out. Thankfully he was not on his own and his friend called an ambulance. I'm going to have to look for a special gift for his friend Madeline because she surely deserves a special thank you!