We
live
in our
own
world.
A
world
that is
too
small
For
you
to
stoop
and enter
Even
on
hands
and knees,
The
adult
subterfuge
And
although
you
probe
and pry
With
analytic
eye,
And
eavesdrop
all our
talk
With an
amused
look,
You
cannot
find the centre
Where
we
dance
, where
we
play,
Where
life
is still asleep
Under
the
closed
flower,
Under
the
smooth
shell
Of
eggs
in the
cupped
nest
That
mock
the
faded
blue
Of your
remoter
heaven.
~R S Thomas
Don't you ever just wish you could be a child again, if only for a moment . . . and be able to recapture all the innocence and joy that was yours before you knew the world was round, and the reality of life punched a hole into your balloon? Every once in a while I catch a little glimpse but it is fleeting at best . . .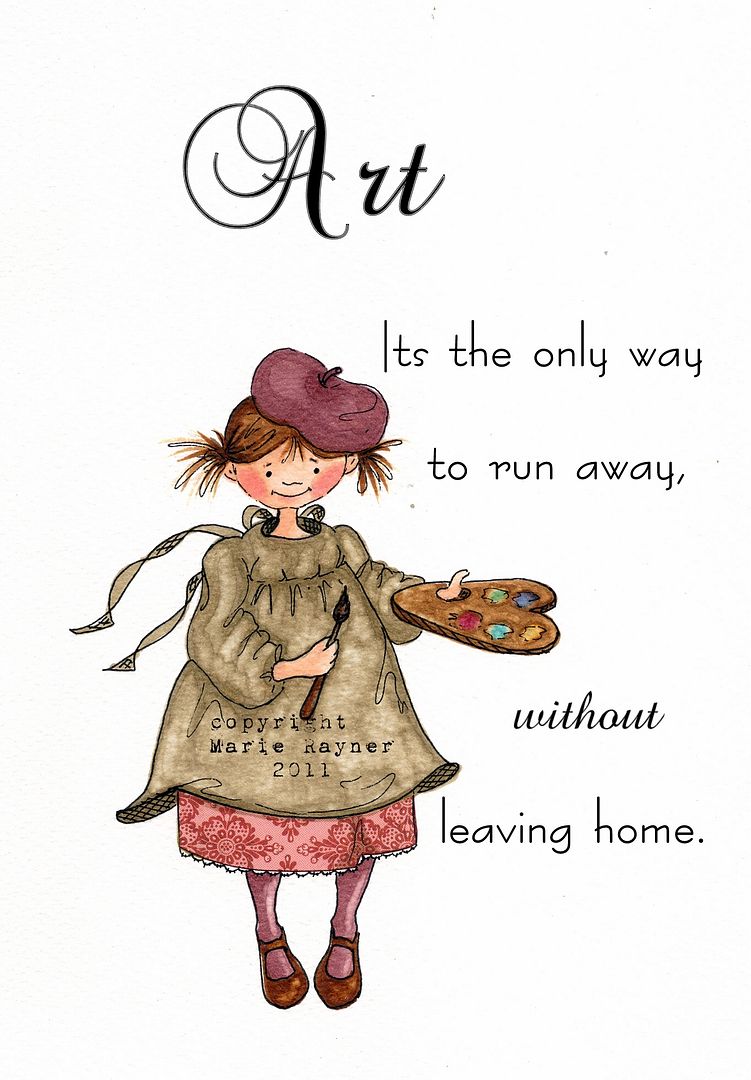 I did a bit of a self portrait the other afternoon. I fell in love with it. I do seem to lose myself in another world when I am painting and creating. It's all quite lovely. I suppose it is then that I escape and run away into childish thoughts and dreams . . .
As usual it is available as a card or a print.
If you could spare a few happy thoughts or prayers for our good friend Sybil (
A Day in the Life
) right now. She's had a hard year filled with great loss, and has just had to have her much beloved pup Dee put down. If you could pop over and give her some positivity that would be lovely, and I know she would appreciate it so very much. It is so heartbreaking when we have to say farewell to our furry family members and we feel their loss as keenly as we would any family member. Sybil is a dear sweet friend and it grieves me that she should have to suffer yet again another blow . . . Sybil, we love you and are carrying you in prayer.
When my kids were growing up I made this tasty supper dish at least once a week for them. They loved it. It's an old recipe given to me by the mother of a friend out in Alberta when we lived there. It's called Goulash, but I always told the kids it was called Monkey in the Middle . . . probably because I always put it into the middle of their plates and surrounded it with rice or noodles and a vegetable on the outside. They couldn't wait to devour it. I'm not sure if that was because it was so delicious or because of the name . . . most likely it was both. This is another recipe from my Big Blue Binder.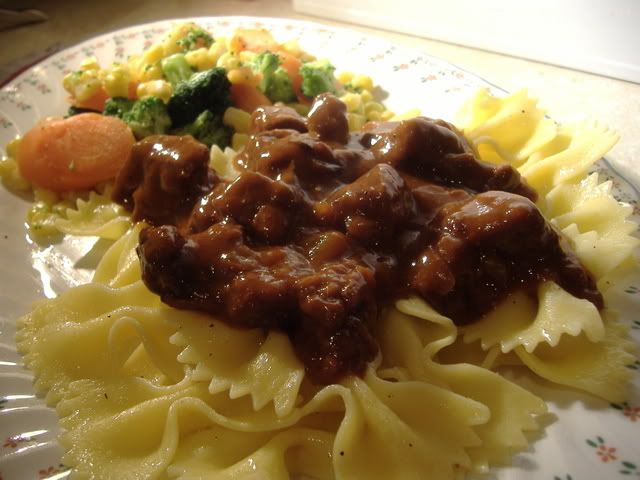 *Mrs McNevin's Goulash*
Serves 4 - 6
Printable Recipe
I have an old blue binder that holds recipes that I have collected from friends and family and magazines throughout the many years. This one is a real treasure and I never make it but what I don't think of Mrs. McNevin. The mother of a friend of ours, she was so kind to me, a young bride living far away from the bosom of my own family. She took me under her wing and treated me just like one of her own. This deliciously spicy stewed meat goes very well with rice or noodles.
2 pounds of stewing beef, trimmed of any fat and cut into cubes
2 TBS cooking oil
1 large onion, peeled and chopped
1 garlic clove, peeled and minced
½ cup tomato catsup
2 TBS Worcestershire Sauce
1 TBS soft light brown sugar, packed
1 tsp salt
2 tsp sweet Hungarian paprika
½ tsp dry mustard powder
¼ cup flour
1 cup water
Pre-heat the oven to 160*C/325*F/ gas mark 3. Season the meat lightly and coat it in the flour.
Heat the cooking oil in a large skillet and add the meat. Brown it very well on all sides. Add the onion and garlic, Cook for a few minutes longer until the vegetables are softened and quite fragrant.
Add the catsup, Worcestershire sauce, sugar, paprika and dry mustard. Stir it all together well. Stir in the water.
Tip it all into a casserole with a lid and then put it into the oven to cook for 2 hours or so, until the meat is very tender and the sauce is thickened. Delicious!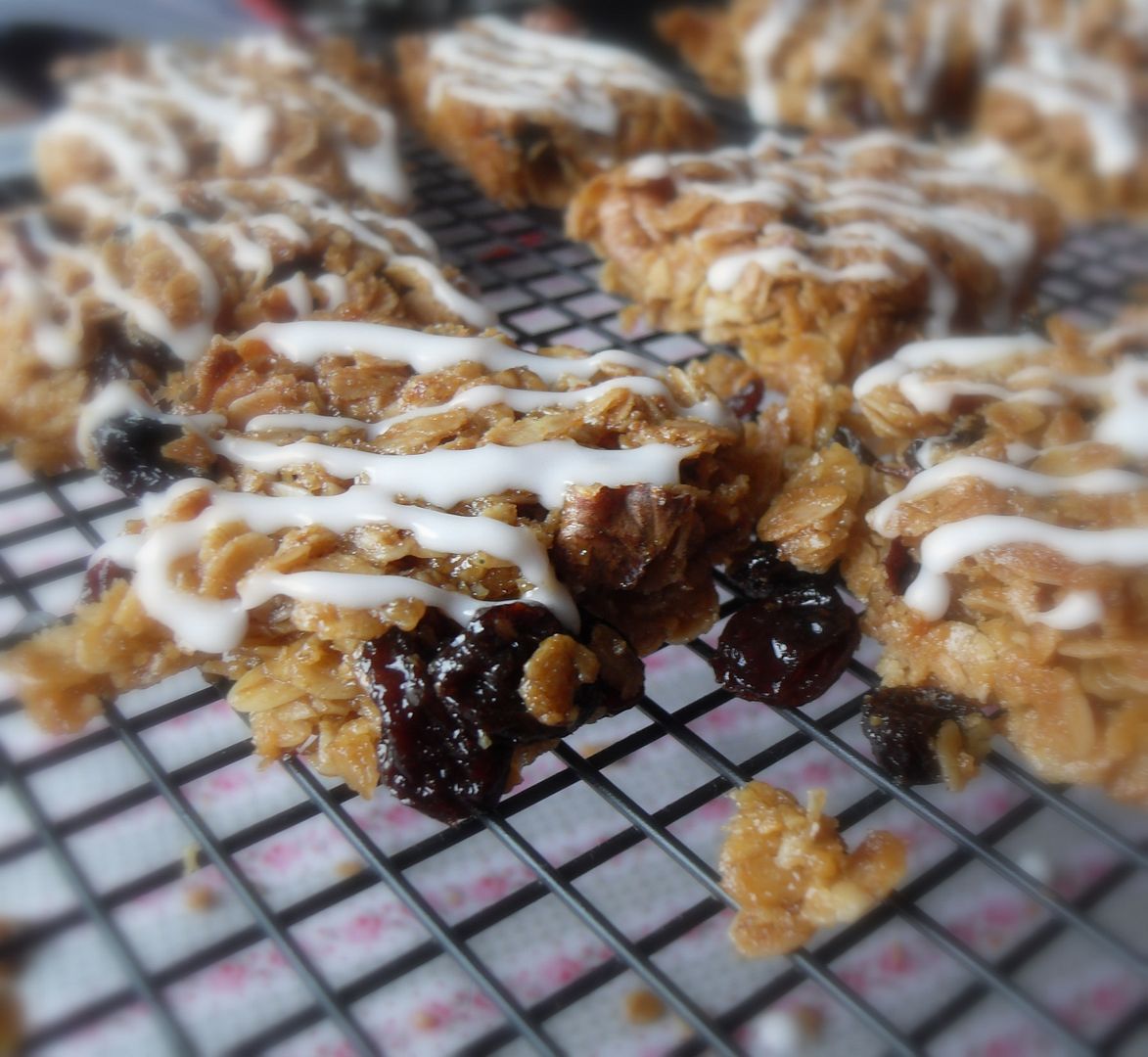 Over in
The English Kitchen
today, you will find some deliciously scrummy Fruit and Nut Flap Jacks!