Two
roads
diverged
in a yellow wood,
And
sorry
I could not
travel
both
And be one
traveler
, long I stood
And
looked
down one as
far
as I could
To
where
it bent in the
undergrowth
;
Then
took
the
other
, as just as fair,
And having
perhaps
the better
claim
,
Because
it was
grassy
and wanted
wear
;
Though as for
that
, the passing there
Had
worn
them really
about
the same,
And
both
that
morning
equally lay
In
leaves
no step had
trodden
black.
Oh, I
kept
the first for
another
day!
Yet
knowing
how way
leads
on to way,
I
doubted
if I should
ever
come back.
I shall be
telling
this with a
sigh
Somewhere
ages and
ages
hence;
Two roads
diverged
in a wood, and I . . .
I
took
the one
less
traveled by,
And
that
has made all the
difference
.
~Robert Frost
Life is like that isn't it. We often come to a point where we can make a decision to go in one direction with our lives . . . or in another. The choices we make can have very long reaching consequences. All the more reason to make righteous choices, and to never make important decisions without first inquiring through prayer the road which we should take. What is that old saying . . . "Decide in haste . . . repent in leisure?"
We had our Ward Christmas Party last night. I went early to help set up the food, but I did not feel well all evening and we ended up coming home early. Again I was unable to sleep most of the night due to coughing. Todd did go to the Chemist yesterday and got me a linctus to take, advised by the Chemist. I am calling the Doctor on Monday. Enough is enough! This has been going on for weeks now and it is wearing me ragged!
On a positive note the four missionaries performed a very entertaining New Zealand Haka for us. (One of the elders is from New Zealand). It was very good. I wish I had brought my camera, so no pictures, but if you wanted to check out what it was similar to, you can see one here:
One might be tempted to ask what does that have to do with Christmas? Well, nothing really, but it was quite entertaining and they did a fabulous job. Even better than these ones in the video. They sure had everyone's attention!
And with that I'll leave you with my recipe for today. If you think Chicken Breasts are boring. Think again. I think chicken breasts when cooked properly (and not overcooked and dry!) they make the perfect canvas upon which to paint a beautiful marriage of colour and flavours! They really take to just about any flavour. I love them. These are fabulous . . . herby and moreishly scrummy with a topping of crisp almonds and cheese, all laid out on top of a bed of lovely vegetables. Simply gorgeous!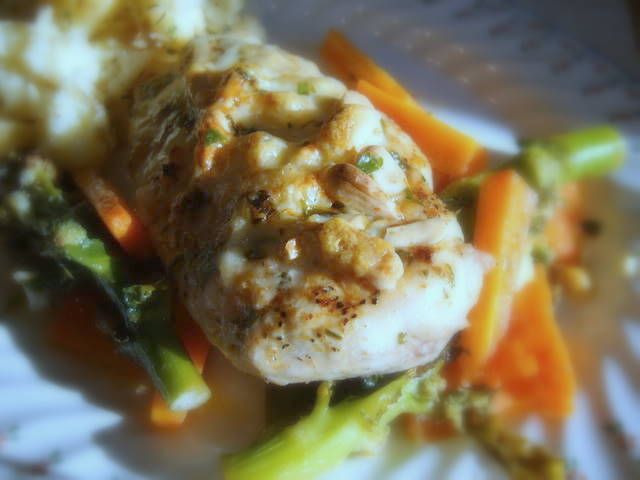 *Grilled Chicken with Herbed Butter, Almonds and Gruyere*
Serves 4
Printable Recipe
I am always saying to Todd I don't use our Electric grill near often enough. This delicious recipe is a wonderfully tasty excuse to drag it out and fire it up!
80g butter, melted (1/3 cup)
1 TBS finely chopped fresh flat leaf parsley
the juice of half a lemon
4 single free range organic boneless, skinless chicken breasts
Spicy chicken seasoning, such as Cookies or Jess Hall's
3 medium carrots, peeled and cut into batons
250g purple sprouting broccoli, washed and trimmed (1 pound)
1/2 cup roasted marcona almonds, slivered
1/2 cup finely grated gruyere cheese
Whisk the butter, parsley and lemon juice together in a bowl and set aside.
Brush your grill lightly with oil or spray with cooking spray and heat. Sprinkle both sides of your chicken breasts with some of the spicy seasoning and put it onto the heated grill to cook.
While the chicken is cooking bring a pot of lightly salted water to the boil and cook your carrots and broccoli until crispy tender. Drain well and keep warm.
Once the chicken is cooked through, and the juices run clear remove it from the grill immediately. In fact having it just a little bit underdone is probably best. Heat the grill of your oven to high.
Place the vegetables into a shallow casserole dish. Lay the chicken pieces on top. Sprinkle the gruyere cheese over top of the chicken and scatter on the toasted almonds. Drizzle with half of the herbed butter and then bang it under a heated oven grill for about five minutes until the cheese is bubbly and starting just to brown. Remove from the oven, drizzle with the remaining herbed butter and serve.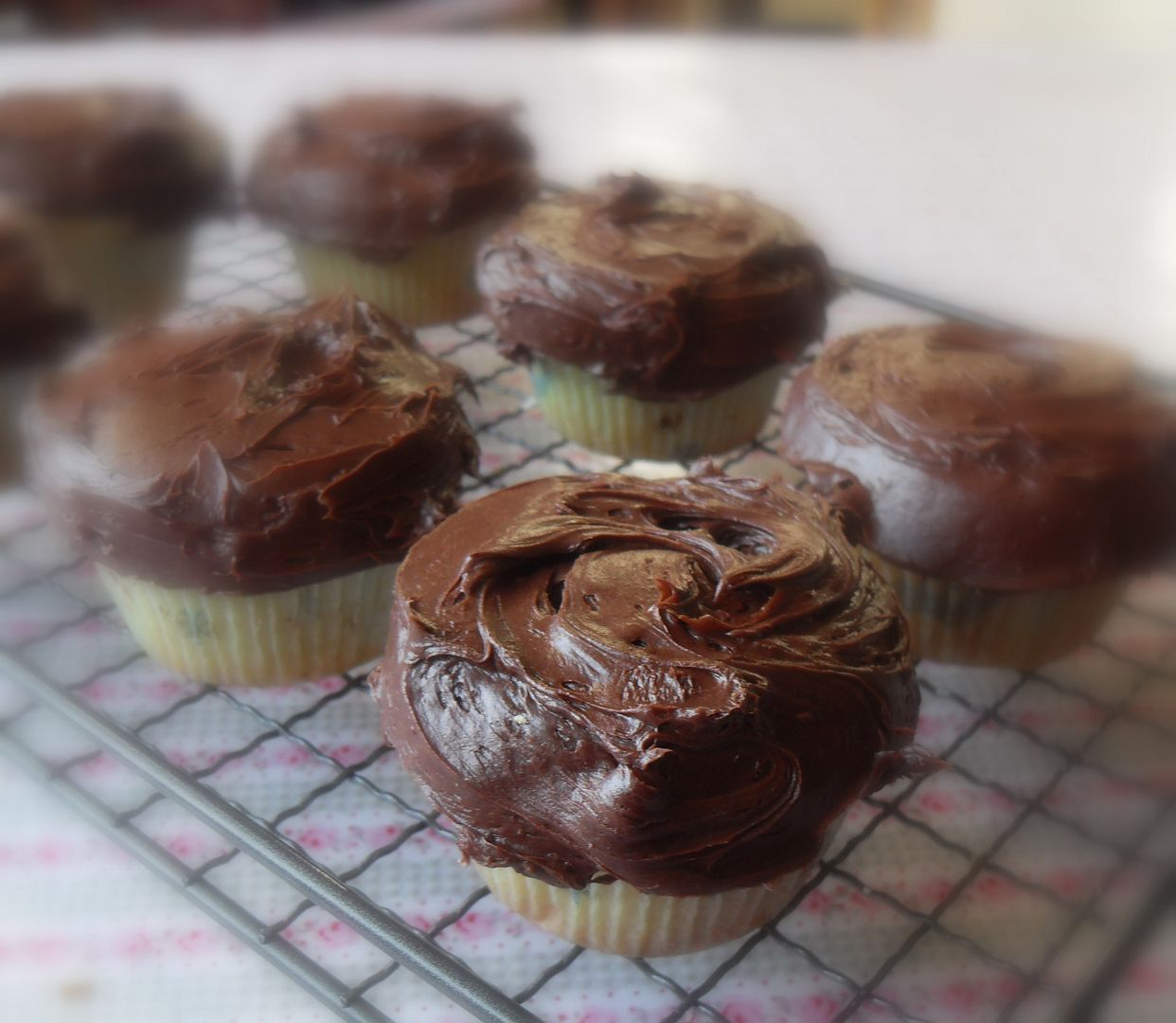 Over in
The English Kitchen
today, some delicious Surprise Cupcakes!
"The happiest people I know are not those who find their golden ticket; they are those who, while in pursuit of worthy goals, discover and treasure the beauty and sweetness of the everyday moments."
~Dieter F. Uchtdorf