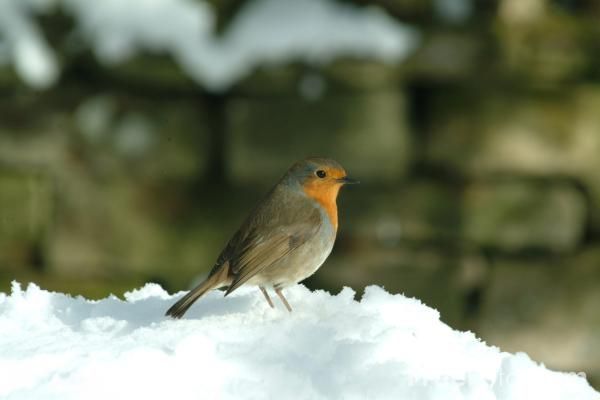 For the second year in a row, Great Britain has had more than it's fair share of snow in the month leading up to Christmas! This is quite unsual for over here. In the ten years I have lived here, this has been unheard of for the first eight! In fact, a Green Christmas is quite the norm for most of the UK . . . and, having said that, despite the snow last December and the white stuff we've had thus far this year . . . we will still probably have a Green Christmas, coz our's is all but gone now, and probably will still be gone . . . come the day as well. Last year it snowed the week before Christmas. The rain then came and washed it all away . . . and then it began to snow again just after Christmas was over . . . sigh . . .
Winter has it's own beauty for those who have to live with it. It's not recommended in travel guides, unless for ski addicts . . . and there are no ski runs, much . . . not that I know of in the UK at any rate. (Feel free to correct me if I'm wrong!) There is other beauty to be sure, like the rolling green covered hills of the South Downs and other treasures . . . but there's precious little snow, even during the coldest months of the year.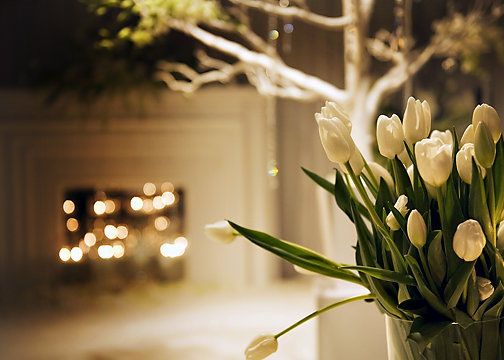 Winter beauty belongs to those who battle blizzards, get dug out of snowdrifts, undergo the misery of frozen pipes, the numb hands on the snow shovel. It is for those who buckle on galoshes, wear two sweaters under snow jackets and watch their breath freeze as they wander out to the garden gate.
Bare branches, lovely with fallen snow or encased in ice that glitters when the sun comes out reluctantly, is their prize. They see meadows with blue shadows across the snow, and hear brooks babbling gaily, softly under a sheath of ice. They know the beauty of a world, dipped in pearl, as they listen for the gentle hoots of owls, melancholy in the still of a black night. They know the delicate prints of pheasant and rabbit and the rare shape of a deer's hoof on new fallen snow.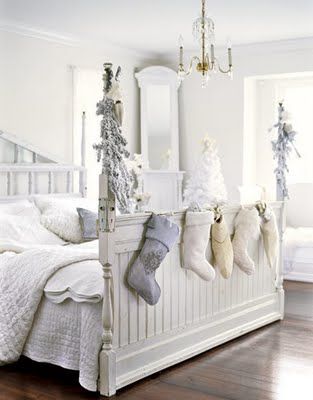 Their reward for living in a winter wonderland is to see the delicate beauty of a winter sunset with pale green and lemon in the sky after the sun begins to sink and to experience the splendor of moonlight on snow. Even on moonless nights, the snow itself gives light . . . delicate and silvery.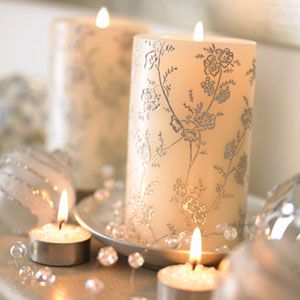 There is a quietness when snow falls; I think nothing is so quiet as a windless fall of snow. There is a smell of snow, that no-one has ever made a perfume of. There is a pattern of firelight on an old oak floor, an image of the fire on the hearth translated into shadow . . . but for now I will content myself with dreams of these things gone past, and take blessing and refuge in my good health, my comfortable home and the love of family . . . and then . . . in the springtime I will wax on rhapsodic about the colours of the myriad of tiny crocus pushing their gold, purple and white heads up through the earth, and know that once again I have been blessed . . . for now, I wait, and dream . . . of snow, white Christmas's and winter wonderlands . . .
Here's an easy breakfast for some of these colder winter mornings. This will warm the cockles of the hearts of those you love . . . Makes a nice light supper as well. (which is when we had it the other night)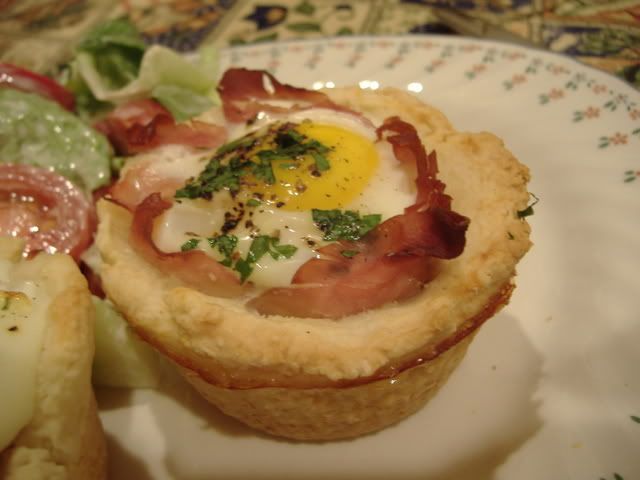 *Ham and Egg Cups*
Serves 6
Printable Recipe
My husband loves these. He thinks they taste like the bacon and egg pies of his youth. They are delicious for sure and very easy to whip up. They make a wonderful breakfast, not to mention a quick comforting supper on those nights when you have precious little time and want something on the table quickly.
1 ½ cups Bisquick baking mix (you can get this in the baking aisle of the grocery store)
¼ cup, plus 2 TBS of cold water
1 tsp instant minced onion
1 package thinly sliced fully cooked ham (about 2½ ouces)
6 eggs
salt and black pepper to taste
Chopped flat leaf parsley
Move oven rack to the lowest position in the oven. Pre-heat oven to 200*C/400*F. Grease six 6-ounce custard cups. Mix baking mix, water and onion until a soft dough forms. Divide between the custard cups and using damp fingers, press the dough in the bottom and up the sides of each cup.
Line each cup with 2 slices of ham. Break an egg carefully into the middle of each cup. Sprinkle with freshly ground black pepper and the parsley flakes.
Bake, uncovered in the pre-heated oven for 15 to 18 minutes or until the crust is golden brown. Remove from oven, cool five minutes, then loosen by running a knife around each and removing from cups to serve. You can also serve them in the cups, but I love to look at the golden brown outsides sitting on my plate. Enjoy!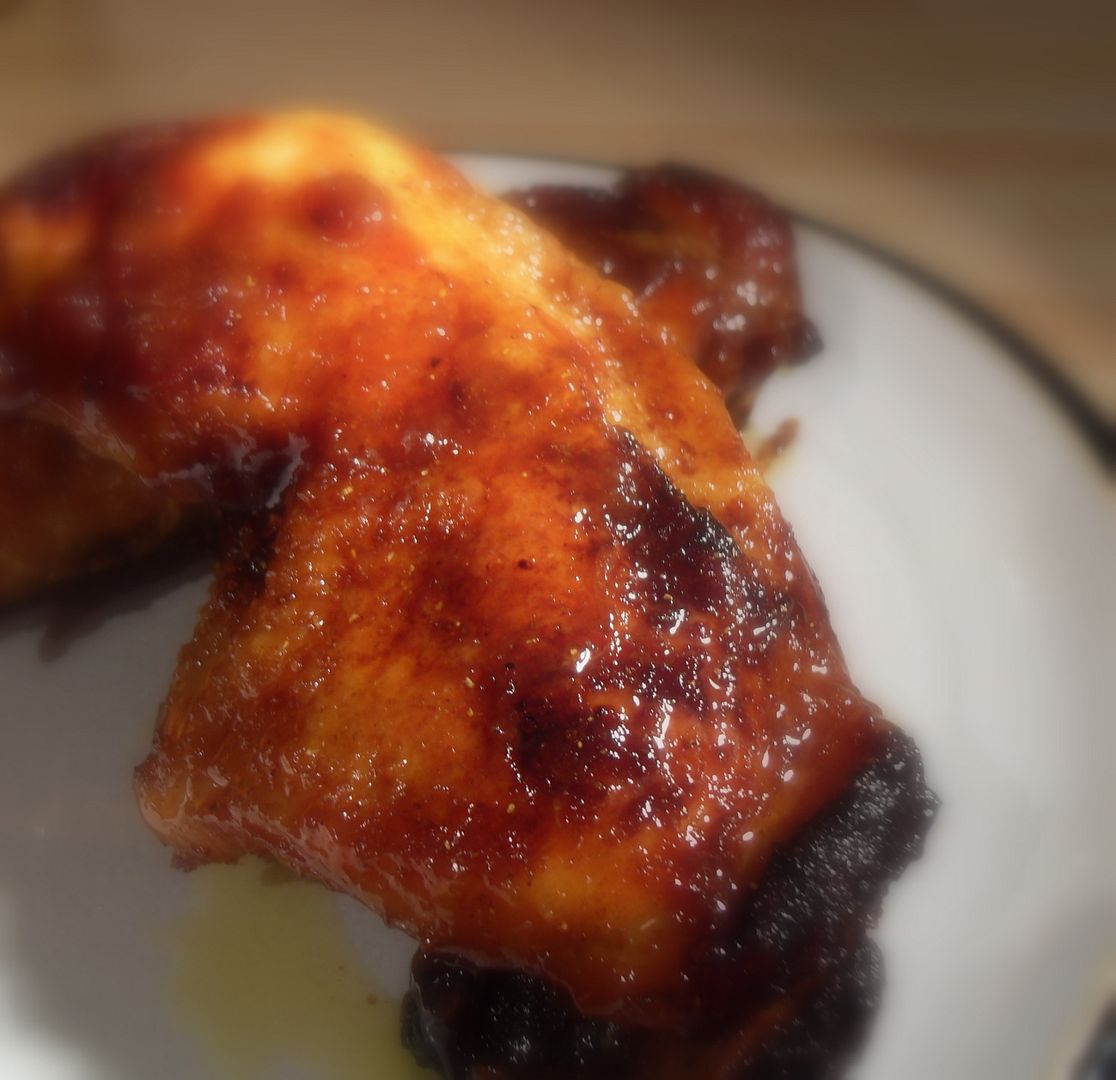 In
The English Kitchen
today, Honey Glazed Chicken. Oh so yummy!