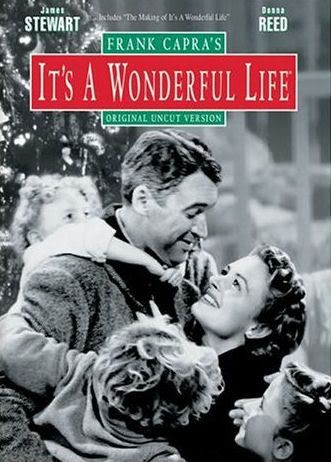 Okay, you're in for it today. Grab your popcorn and pull up a chair. You are now going to get the list of my all time favourite Christmas Movies! Movies that I just can't get through Christmas without seeing and movies I highly recommend. I'm afraid Todd is tortured with seeing these films year after year . . . but he doesn't really mind . . . alot of them are his favourites too!
It's a Wonderful Life
George Bailey has so many problems he is thinking about ending it all . . . and it's Christmas ! As the angels discuss George, we see his life in flashback. As George is about to jump from a bridge, he ends up rescuing his guardian angel, Clarence. Clarence then shows George what his town would have looked like if it hadn't been for all his good deeds over the years. Will Clarence be able to convince George to return to his family and forget about suicide ? It just wouldn't be Christmas without watching this film at least once. I love it from beginning to end and it doesn't matter how many times I have seen it, I never tire of it.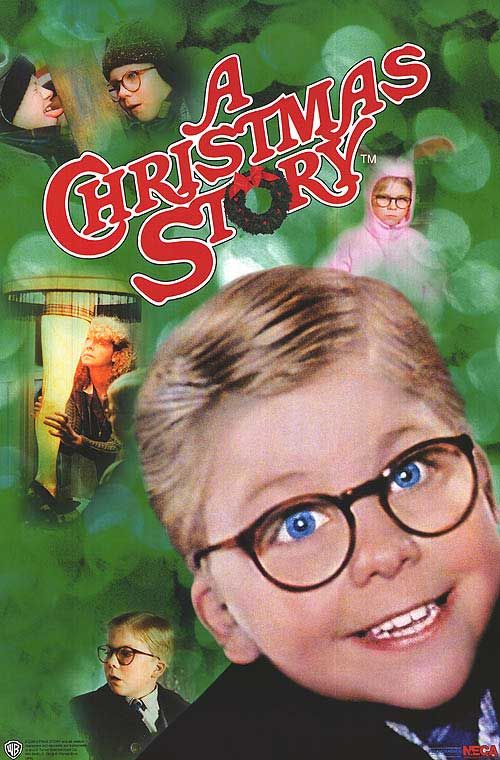 A Christmas Story
This movie remains so fresh with each viewing, it is easy to forget that it is almost twenty years old. Told from Ralphie's viewpoint, these are the Christmas reminiscences of an adult whose pre-teen Christmas wish is a BB-gun that adults discouraged with the phrase "You'll shoot your eye out." In his quest to convince his parents that he is old enough to have a BB-gun, young Ralphie hatches several plots, including writing the best "What I Want for Christmas" essay in his class, also leaving BB-gun ads in conspicuous places, and, as a last resort, asking Santa Claus. (Parents with young sons, beware: you may want to delay purchasing this film until you are ready to deal with a similar request.) I absolutely love this film. Todd had never seen it until I introduced him to it and now it is a firm favourite with him as well. I highly recommend this film. Watch it and you'll be hooked! I double dog dare ya!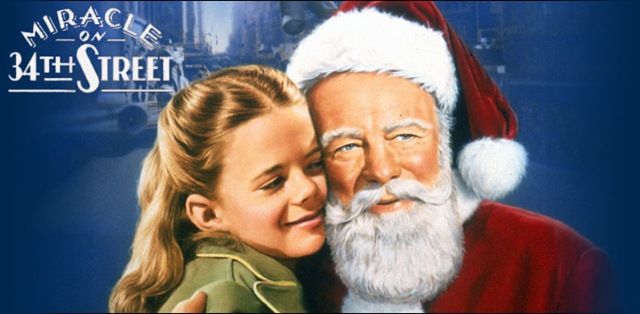 Miracle on 34th Street
~ The original one with Maureen O'Hara and Natalie Wood.
I absolutely love this film. (I know, I know, I say it about them all! But it's true!) Christmas is not Christmas to me without this film. Edmund Gwenn must come close to everybody's ideal of Santa Claus/Father Christmas, the kindly, good humored grandfather. The warmth of the story is the restoration of belief in all things Christmas came to represent,and we soon see that in the presence of Kris Kringle even the most cynical opportunism and expediency is doomed. If you've never seen it, you've never had Christmas at your house!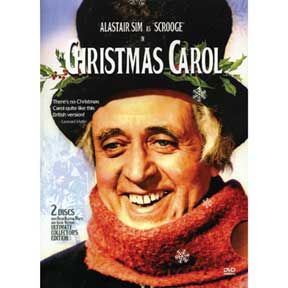 A Christmas Carol
~ the original version with Alistair Sim.
This is the "desert-island" choice of the many versions of "A Christmas Carol", with a magnificent, full-bodied portrayal of Ebenezer Scrooge by Alastair Sim that leaves everyone else in the dust. NO other version seems to quite cut it with me. It HAS to be this original one, in all it's crackly, grainy, black and white goodness . . .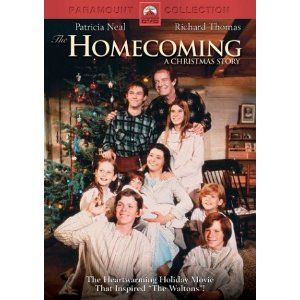 The Homecoming
This was the movie that predicated the popular television series "The Waltons". A homespun tale, the movie focuses on rural life during the Great Depression and the anxiety a family feels one Christmas when their beloved Father is overdue after being forced to travel to the city to find work and earn money for his family's survival. Each of the characters reacts to his departure in different ways. Ultimately, the oldest son, John-Boy, portrayed by Richard Thomas, takes important steps to manhood and toward his ultimate career as a writer. If you've never seen this movie, you owe it to yourself to view a more unvarnished, less "suburban" rendition of life in this beloved family. A scene in which little Elizabeth, who desperately wants a doll for Christmas, receives one . . . with a cracked and broken face . . . from a "charity" Missionary,
only
after having to "perform" scriptures, is so raw that it hurts. "It's dead," the little girl sobs into her brother's comforting arms. This film is anything but dead. There is real life in every panel that reaffirms true family relationships and the Christmas spirit without being heavy-handed.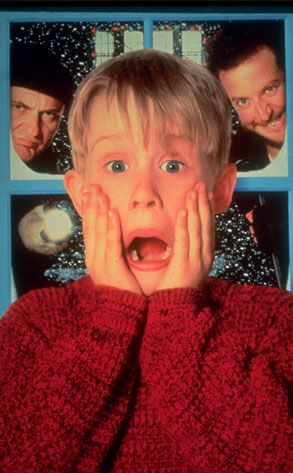 Home Alone
This is a classic christmas movie. The plot, cast, and the acting are all top notch. The story is about young boy named Kevin who gets left behind when his family leaves for paris. While alone, he must fend off two bumbling burglars while at the same time, his family is on a desperate race against time to return home. I fell in love with this film the first time I saw it and I have many happy memories of watching it with my kids. It just wouldn't feel like Christmas for me without watching it at least once during the holidays.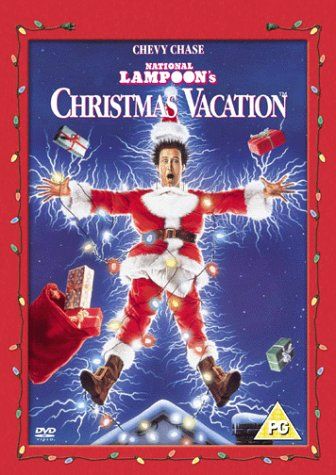 National Lampoons Christmas Vacation
It's Christmas time and the Griswolds are preparing for a family seasonal celebration, but things never run smoothly for Clark, his wife Ellen and their two kids. Clark's continual bad luck is worsened by his obnoxious family guests, but he manages to keep going knowing that his Christmas bonus is due soon. Not everyone's cup of tea, but I really laugh at this one. I love Chevy Chase and I love the Griswolds. Clark Griswold is at his most well-intentioned but dim-witted best in this one. This film invites us into the Griswold home for an old fashioned Christmas celebration the likes of which soon reach catastrophic levels.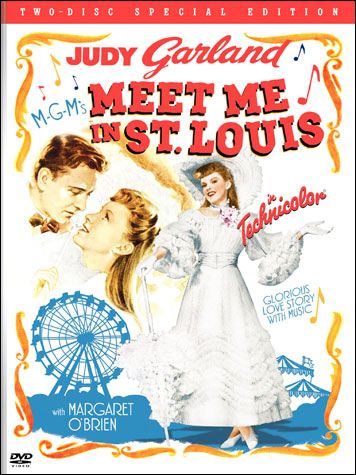 Meet Me In St Louis
One of the finest American musicals, this 1944 film by Vincente Minnelli is an intentionally self-contained story set in 1903, in which a happy St. Louis family is shaken to their roots by the prospect of moving to New York, where the father has a better job pending. Judy Garland heads the cast in what amounts to a splendid, end-of-an-era story that nicely rhymes with the onset of the 20th century. The film is extraordinarily alive, the characters strong, and the musical numbers are a splendid part of the storytelling. I love Margaret O'Brien in this, but then I love her in all her films, and the singing of Have yourself a Merry Little Christmas by Judy Garland is a classic, not to be missed, moment.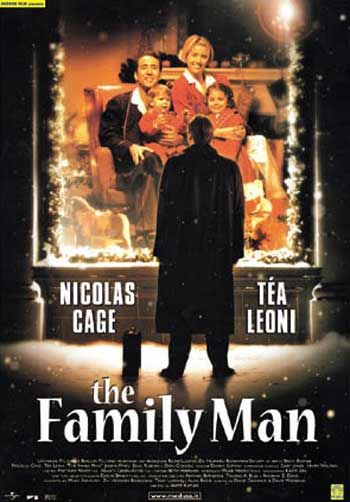 The Family Man
In the tradition of the best films that Hollywood ever had to offer comes this refreshingly honest movie that isn't afraid to say that you don't have to be rich, hip and cynical to be successful and happy with your life. "The Family Man," stars Nicolas Cage as Jack Campbell, a man who took the "road less traveled," and turned his back on love for a career on Wall Street, and thirteen years later still doesn't realize how empty and shallow his life has become. Then something happens; on Christmas Eve, Jack does a good turn to the right person at the right time. His name is Cash , and he just happens to be a guy with . . . well . . . connections. The next thing Jack knows, he's getting a "glimpse" of what his life would have been had he made a different choice all those many years ago. When he wakes up on Christmas morning, he's not in his bed in his penthouse apartment, but in a house in the suburbs, sleeping next to Kate Reynolds, the woman he once loved, but abandoned. Wall Street is history; he's now a crackerjack tire salesman at "Big Ed's," and he and Kate have two kids, Annie and Josh. I won't tell you how it turns out as I don't want to spoil it for anyone. Let's just say this is a fabulous feel good movie, an honest, heart-felt film with an important message about life in today's world.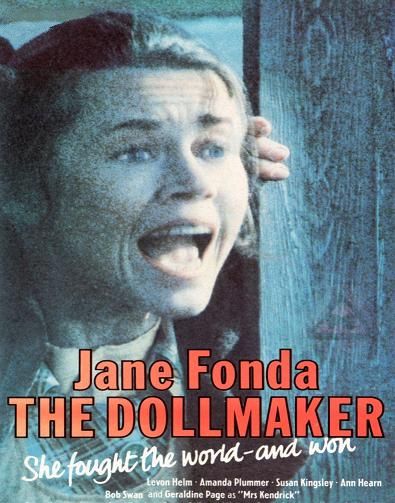 The Dollmaker
This was a made for TV movie that was produced in 1984. Starring Jane Fonda, it is the story of an Appalachian woman and her family that are forced to move from the comfort of their hills to the big city of Detroit to work in the factories during World War 2. In the movie we see the love and the struggles of an Appalachian Kentucky family. The Nevel family may lack in money and materialistic "things" but the family is rich with tradition, family, love and faith in God. From the outside they had little but really they had it all. It is a bittersweet struggle of survival for one woman, to beat all the odds stacked against her and her family and to follow that dream in life . . . "HOME". It proves one CAN go home again if they only have the dream and desire. It might not be a "Christmas" movie in the strictest sense of the word, but I love the way it makes me feel.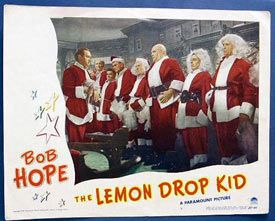 The Lemon Drop Kid
The Lemon Drop Kid is one of the lesser known Christmas movies probably because, in a sense, it doesn't try to be a traditional Christmas movie. Bob Hope plays a con artist who is run out of Florida and winds up in New York City during a very bad cold snap. He is in hock to the mob and desperately needs to raise some cash. He comes up with a fiendish plan, he sets up a home for old ladies and funds it Santa's ringing bells a la the Salvation Army. The problem is that he intends to take all the money and leave the old ladies stranded on December 26th. Of course, being a Christmas movie, that doesn't happen, the kid has a change of heart, and along the way the movie provides Bob Hope in his prime as the ever loveable wise guy. This movie also introduced the wonderful song, "Silver Bells" which is more famous than the movie itself. If you're looking to add a movie for Holiday viewing, or really to watch anytime, this is a delightful addition.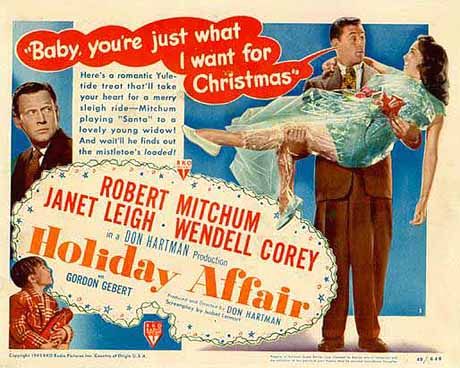 Holiday Affair
I love this Christmas gem from 1949. It has all the ingredients necessary to earn a place in my Christmas movies Hall of Fame: an adorable little boy who wants a train set his widowed mom can't afford; Janet Leigh as the WWII widow struggling to provide for her son; Wendell Corey as the kind and decent man who wants to marry her; and Robert Mitchum, as the drifter on his way to California who changes everything. It has charm without being schmaltzy, humor without being too cutesie, and an ending that has you standing up to cheer. Start stringing the popcorn and plan to watch this every Christmas season.
There you have it . . . my top ten, plus one for good measure. Bet you're surprised! Oh, I know there are alot more than these ten films that I just HAVE to watch every Christmas, but this is a good start.
Yesterday, I was in the mood for some Fish and Chips. This is a bit healthier than most . . . ok, so the fish is deep fried, but the chips are baked in the oven!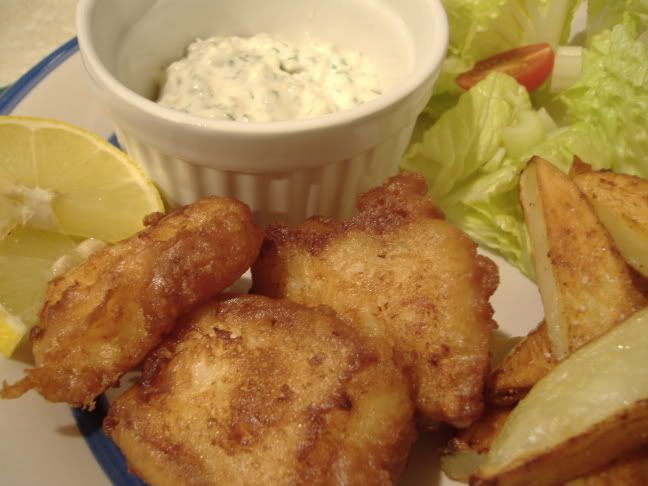 *Beer Battered Cod with Tartar Sauce*
Serves 4
Printable Recipe
This is my homemade version of battered fish. I usually make my own oven chips to go with this. I just take some baking potatoes, washing and cutting them into thick wedges. I toss the wedges with some olive oil and salt and pepper and roast them in a very hot oven for about 30 minutes until they are crispy and browned all over. You can keep them warm while you are frying the fish. You are in for a real treat if you try this!
TARTAR SAUCE:
1 stalk celery, finely chopped
2 TBS finely chopped cornichons
1 TBS prepared horseradish
2 TBS coarsely chopped flat leaf parsley
½ tsp dry mustard
6 TBS good quality mayonnaise
1 tsp lemon juice
Salt and freshly ground black pepper to taste
FISH:
Oil for frying
1 cup flour
1 egg, beaten
1 cup beer (I use the non-alcohol version)
2 pounds of fish fillets (Cod, Haddock or Hake)(cut into 1 ½ by 3 inch pieces)
Mix all the ingredients for the tartar sauce in a bowl until well combined and set aside.
Heat the oven to 200*C/400*F. Cover a cookie sheet with paper towels and top with a wire rack.
Heat about 3" of oil to approximately 180*C/365*F in a medium sized pot.
Meanwhile, mix flour with 1/2 teaspoon salt. Whisk in egg. Slowly add the beer while whisking. Dip fish pieces in the batter and place on plate or the wire rack you will be using to drain the fried fish. I usually double dip in the batter if I have some left over once the batter dries on the awaiting fish.
Place fish pieces, two at a time in the oil. Cook until the fish is done and the crust is lightly golden, about 4 minutes for 3/4-inch thick fillets. Remove fish with tongs and put on rack to drain. Sprinkle salt over the hot fish and put on the baking sheet in the oven to keep warm. Repeat in batches with the remaining fish. Serve with the tartar sauce and homemade chips.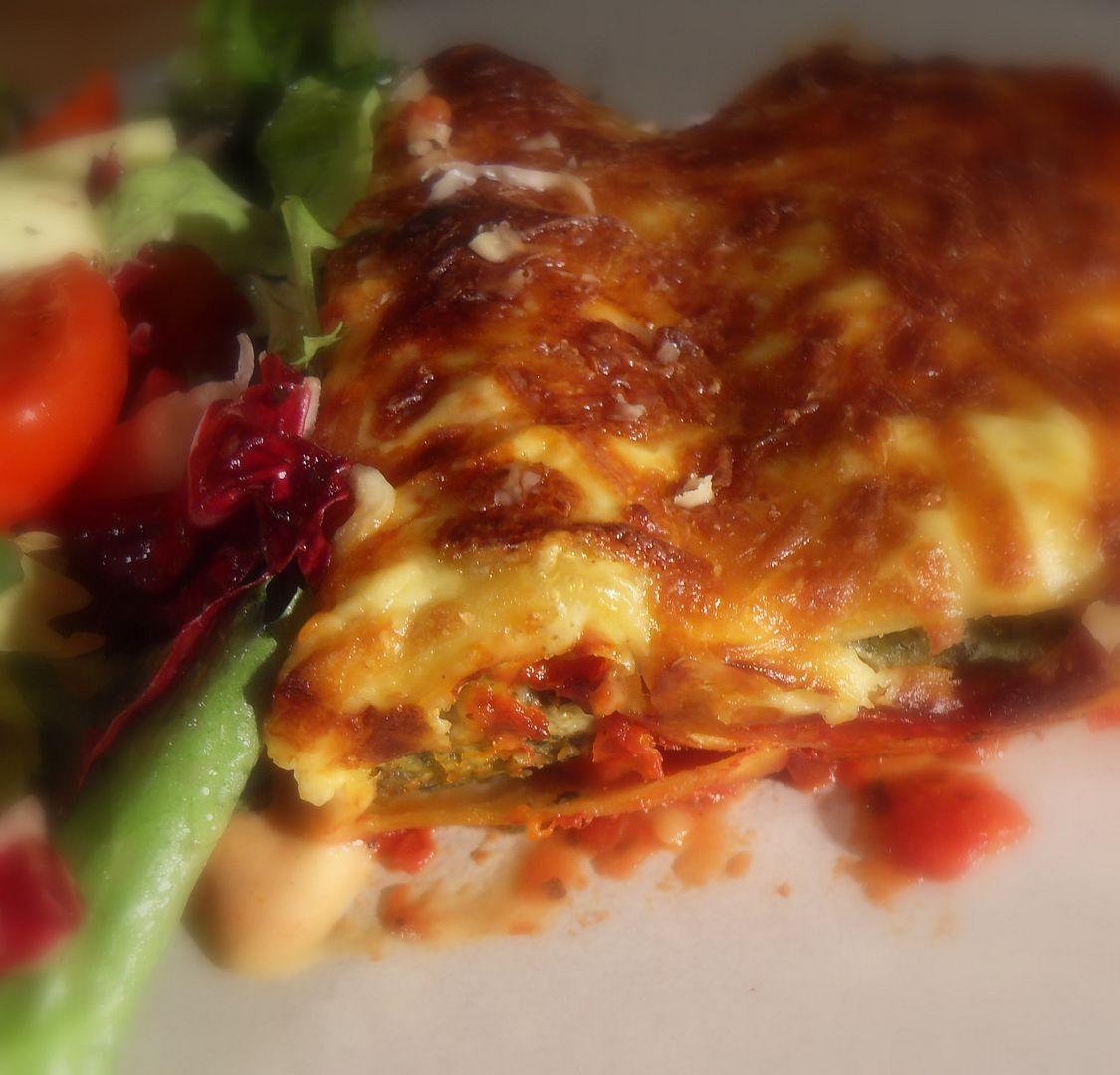 In
The English Kitchen
today, Spinach and Ricotta Cannelloni!