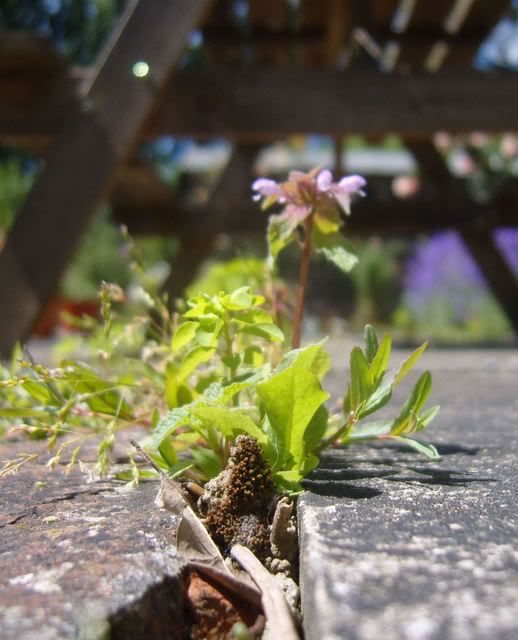 The ninety and nine are with dreams content;
But the hope of a world made new
Is the hundredth man who is grimly bent
On making that dream come true.
~author unknown
I am a person that loves looking for wildflowers. Oh no . . . I don't mean the ones that you see growing in fields that dot the rural countryside. There are plenty of those, and they are very pretty as well, but what I am talking about are the other ones . . . the ones that shoot up in surprising places, almost in spite of themselves, between the cracks and paving stones, on building sites and other barren areas, amongst the stones of stone walls and in between roof tiles. These are the ones I love most of all. For, despite the most dire of circumstances and in the most unwelcoming and inhospitable of situations they have managed to persevere and succeed where other's have not.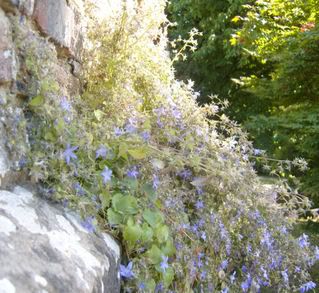 I am reminded of a story I recently read about a church in London during the Second World War. It was very near to the annual autumn Harvest Festival and the altar had been decorated with a huge sheaf of wheat for the Thanksgiving Service. That evening the church was bombed and all that was left in the morning was a heap of rubble. All seemed lost, but, amazingly enough, some months later out of the earth sprang tiny green shoots, and before too long a patch of wheat was growing where once the church had stood.
It is a blessing to look for beauty in dark places and to find it. It strengthens my belief that, despite the darkness and uncertainties of life, there is always a ray of hope, a whisper of love and affection. We only need willing hearts and the strength of vision to look for it.
I made the most wonderful salad for our supper the other night. Along with a baked potato it made the tastiest meal. I like salads for supper once in a while. They make me feel like I am at least trying to eat healthily some of the time!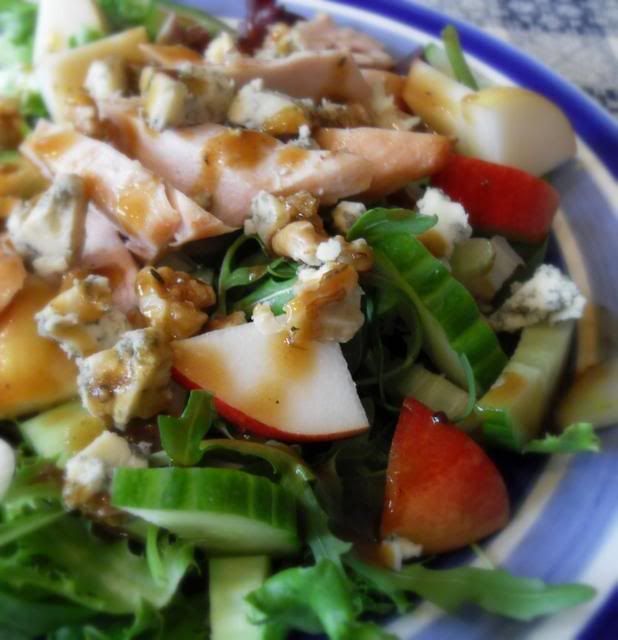 *Chicken, Cheese and Rocket Salad*
Serves 4
I just love the variety of flavours in this salad. You get the punchiness of the rocket, the creamy tanginess of Stilton cheese, the sweet crunch of ripe pears and then of course the lovely nutty flavour of the toasted walnuts. There's plenty of goodness to enjoy here.
5 ounces of a rocket salad leaf mix
2 sticks celery, trimmed and sliced
1/2 English cucumber sliced (peeled or not as you wish)
2 spring onions, trimmed and slices thinly
2 TBS chopped fresh flat leaf parsley
1 ounce of toasted walnut pieces
12 ounces boneless roast chicken, sliced
4 1/2 ounces Stilton cheese, crumbled
2 ripe red pears, cut into cubes
(You can use halved red grapes instead if you wish)
sea salt and freshly ground black pepper
DRESSING:
2 TBS olive oil
1 TBS sherry vinegar
1 tsp dijon mustard
1 TBS chopped mixed fresh herbs
(Parsley, oregano, basil, thyme)
Wash your salad leaves and pat them dry with kitchen paper. Place them into a large salad bowl. Add the celery, cucumber, spring onions, parsley and toasted walnuts. Mix together well.
Arrange the chicken slices over all and then scatter with the cheese and chopped pears. Season to taste with some sea salt and freshly ground black pepper.
Place all the dressing ingredients into a jar with a screw top lid. Shake until well combined and then drizzle over top of the salad and serve.