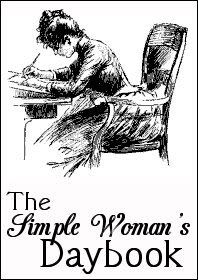 FOR TODAY, April 13th, 2009 ...

Outside My Window...
The sun is up and the birds are singing. I am up late this morning because I had to work late last night. I always have a hard time falling asleep when I work late at night. I guess my mind is still too wired up to want to listen to my body!! It looks like it is going to be a very dull day today., but you never know . . . it could clear and the sun could still shine!
I am thinking...
About the wonderful time we had on Saturday night with our friends at Handel's Messiah. This was the first time I had ever listened to Messiah all the way through. I recognized bits and pieces ofit that I had heard many times. It was so very beautiful. The choir sang beautifully as did the soloists and the orchestra was fabulous. It was all very moving. I sat there with my eyes closed through most of it and I wasn't sleeping I promise!! I was letting the music touch my heart.
I am thankful for...
I am so thankful that holidays, like Easter and Christmas, have so much meaning for me. I am glad that they are not just days off work, or a day to get wasted on. I am so grateful that I had a seeking heart and a teachable heart, and that I have the Gospel in my life. It gives my life meaning and purpose and joy . . . pure unadulterated joy!
From the kitchen...
Not a lot went on in my own kitchen this weekend. I had to work most of the weekend and of course we were away most of Saturday. Some weeks are like that I guess. I plan on making up for it this week!
I am wearing...
I'm almost ashamed to tell you I have on pajamas, but the top and bottom doesn't match!! When Todd did the ironing this week (I know I
AM
a lucky woman!) he didn't managed to iron two matching pieces. I did not have the heart to tell him and so am just wearing a mismatched set! You know what they say . . .
"Don't sweat the petty stuff and never pet the sweaty stuff!"

I am creating...
Yesterday I did this little painting in between church and work. It's called, "Always Walk In The Light." You can see the full piece over
here.
but for now, here is a little teaser just to whet your appetite!

I am going...

I am going to relax as much as I can in-between work hours this week. I am quite tired today, which is not like me. I may even go back to bed when I finish here. I don't have to work until later today so that's good. I recognize the value of having a job in these precarious times and I really do enjoy mine, so it's a double blessing. I need to learn how to relax more when I am not working instead of filling up all my hours with one activity or another!!
I am reading...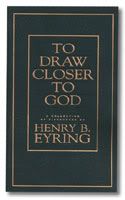 This is one of the books I picked up at the LDS bookstore in Godstone the other day. I just love President Eyring. I was so thrilled when he got chosen to become one of the counselors to our church President. I have always enjoyed his talks. He's long been one of my favourite speakers. When I saw this book I just had to have it. I also got his book, "Because He First Loved Us." I just know these two books will help greatly add to my spirituality and that I will learn a lot from reading them.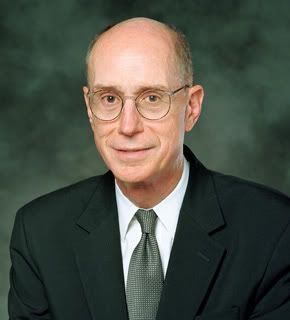 Don't you just love that face? What a kind and loving man he is.
I am hoping...
That possibly later today I will have the opportunity to call my oldest son. He called last night to wish me a Happy Easter when I was at work, and so I missed it. He did send me a lovely photo of my grandson, Gabriel, enjoying his Easter surprise! It was waiting in my e-mail this morning! The joy on his little face brought a real song into my heart. Oh how I miss my grandsons, and my children too of course! It can be very hard to live so far away at times. We are planning a trip back to Canada in the summer of 2010 though so that is something rich to look forward to!!
I am hearing...
The birds singing away, the clock ticking, Jess snoring . . . and my playlist softly playing underneath it all. This is the sound of home. It is comforting and brings me joy. I truly am blessed in unspeakable ways!
Around the house...

I have a couple of orders to get out for my cards and some prints as well. I was so pleased to get them! It makes me feel good to know that people want to own something that I have created and to think also that my cards will be used to bring joy into someone else's life. In the meantime I really need to sort out a better place for my work station. I think Todd is getting rather annoyed that I clutter up the kitchen table with the tools of my passion! (Oh my, but that did sound naughty, but you know what I meant!!)
One of my favorite things...

Is sitting down here to write my words to you each morning. I don't have an really close friends that live nearby and so I don't get to share much of my life with anyone other than Todd. Writing on this journal each morning is kind of like having a conversation with a close friend to me. This is the place I can unburden my heart and share my thoughts. I am so grateful to you all for listening to my words each day. It means the world to me!
A Few Plans For The Rest Of The Week...
I have a week off from the Young Woman's Mutual Activity and Seminary again because of the Easter Holidays and so I have a free evening on Thursday night. We got the film, Twilight to watch! I am really looking forward to seeing it. I have read all of the Twilight books! Todd is not so sure about it . . . modern day Vampires, love stories . . . he's not quite sure it's his cup of tea, but he'll suffer through it anyways, just because he loves me!! (I am thinking he will not find the film so boring anyways, or at least I hope not!)
Here is picture thought I am sharing...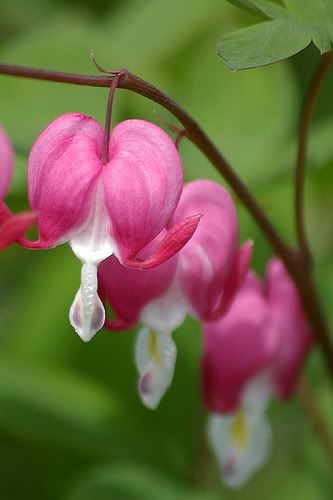 Bleeding Hearts from the garden. Aren't they just so breathtakingly beautiful??? And this is only one of the many flowers we have growing in our garden. How can anyone look at something like this and not see the hand of God??? So intricately beautiful and fantastically complex . . . as all things are on this earth. Everything fits together and builds the most beautiful song . . . the song of life. And to think . . . it's all free! We just have to be willing to look with our eyes and feel with our hearts. It's magic . . . pure magic.
And there you have it, my Simple Woman's Day Book for today. Don't forget to hop on over to the
Simple Woman
to check out the other day book entries! (Or better yet, do a simple day book entry yourself! It's not that hard and I am betting you would enjoy it!)
We didn't really have an Easter Dinner as such this weekend. I had some leftover meat in the freezer that I wanted to use up. When I first took this out I thought it was a chunk of leftover roast pork. Frozen, that's what it looked like, but when it thawed out I realized it was a piece of the Turkey Breast that I had cooked at Christmas. I threw together this delicious casserole and we enjoyed it for our tea before I left for work yesterday. It really was good! I can't wait to eat the leftovers today!!
*Scalloped Turkey (or Chicken)*
serves 4 - 6
Delicious dressing on the bottom and topped with tender slices of leftover turkey. The whole thing is smothered in a tasty sauce and baked in the oven. I simply cooked some vegetables and baby new potatoes to go along and it truly was a meal fit for a king!
3 to 4 cups cooked turkey or chicken
4 ounces butter
1/2 cup flour
salt and black pepper to taste
2 1/4 cups chicken stock
1 cup milk
1 4-ounce tin of sliced mushrooms, drained well
(Or you can slice up some fresh mushrooms like I do, and brown them
off in a bit of butter)
For the dressing:
2 cups toasted bread cubes
2 small onions, peeled and chopped
1/2 cup coarsely chopped celery
1/2 tsp salt
black pepper to taste
1/2 tsp dried sage, crumbled
2 ounces butter
Pre-heat the oven to 180*C/350*F. Lightly butter a 2 quart casserole dish and set it aside.
Melt the 4 ounces of butter in a saucepan. Blend in the flour and cook, stirring for one minute. Slowly stir in the broth and the milk. Cook, stirring constantly until bubbly and thickened. Season to taste with some salt and pepper. Set aside.
Lightly toss the bread cubes, onion, celery, 1/2 tsp salt, crumbled sage and the 1/4 cup of melted butter together in a bowl. Add a grinding of black pepper to taste. Arrange in the prepared casserole dish.
Place the sliced turkey overtop of the dressing in the casserole dish. Top with the sliced mushrooms and then pour the sauce over top, covering it completely.
Place in the heated oven and cook for about 1 hour, until nicely bubbling and well heated through. Serve hot.