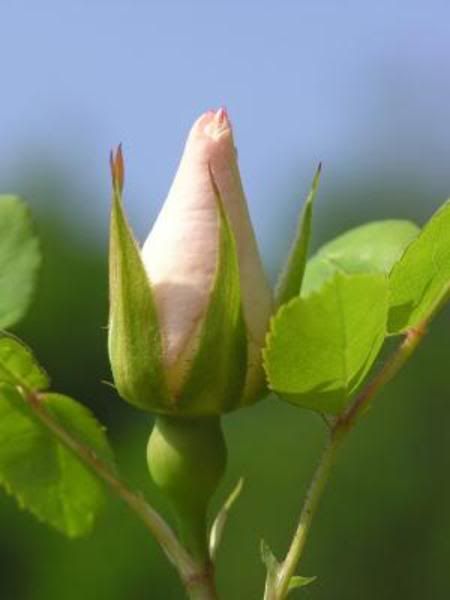 Some days are just diamonds! We had just such a day yesterday afternoon here at Oak Cottage. The son of some friends of ours had been telling me for a while now that he really wanted to come out and cook with me some afternoon. I thought it was a wonderful idea!!
As you know, my own family lives quite far from here, and there are times that I miss them very much. I am used to having a kitchen full of teens and their friends. I am used to cooking for a crowd. I am used to the hustle and bustle that comes from having a rather large family and sometimes I find it to be very quiet around here. I miss the noise . . . I miss the busyness of it all . . . I miss the company.
Mind you, that is not all the time . . . there are lots of times I am glad that we are just we two, and that it's nice and quiet here.
Anyways, because Michael was on his Easter Holidays and I had a free afternoon without anything much to do . . . and because we had invited the missionaries over for supper, I decided that yesterday would be a good afternoon to have Michael over and have him cook with me!
Nothing fancy mind you . . . just plain old family type of food. Things that he wouldn't find too hard to do, and things that the missionaries would enjoy eating. Stuff like Meat Loaf and Scalloped Potatoes. Man Food.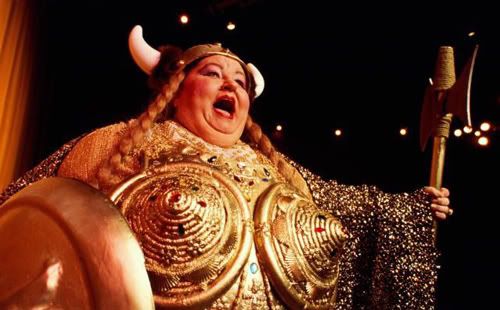 Michael very graciously had brought along a CD of Opera singing for us to listen to while we worked. He's a very musical lad and that was so kind of him. Me, I'm quite tolerant of all sorts of music. Playing the clarinet myself, and having learned to do so when I was a teen, has helped me to be quite appreciate of many different kinds of music . . . some people are not quite as happy about it. Michael and I puttered away in the kitchen, while the fat lady sang . . . Todd busied himself upstairs putting together bookcases. Jess went out and lay in the garden. Everyone was happy.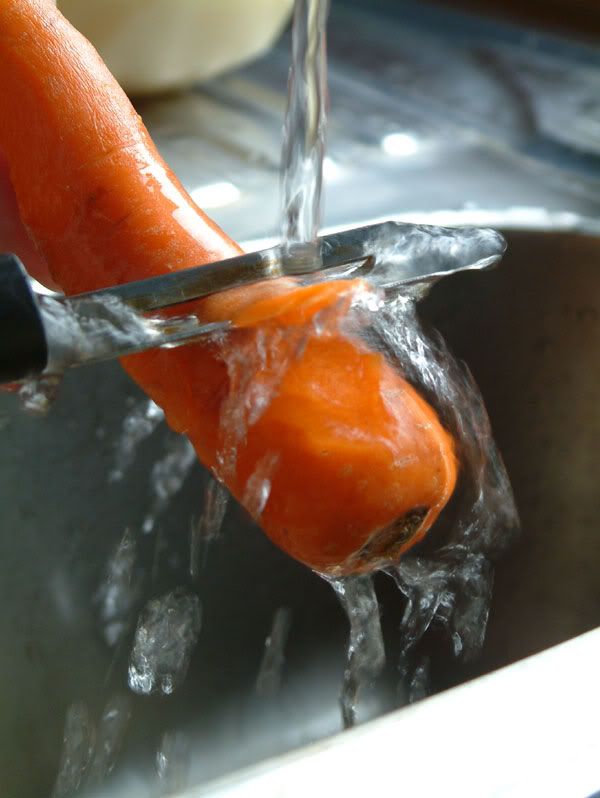 I put Michael to work peeling vegetables for the Parsnip and Carrot mash we were going to have with our meal. We chatted away and before we knew it all of our preparations were done. Now, Michael is an excellent pianist and we have a piano in our back room that is sorely lacking in attention. Michael so very graciously played for me . . . Claire De Lune . . . hymns . . . it was beautiful.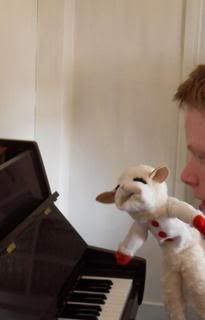 Before I knew it Lamb Chop had entered the picture and was singing along. I expect that after an afternoon of listening to
Pavarotti
and such, he was feeling quite musical himself.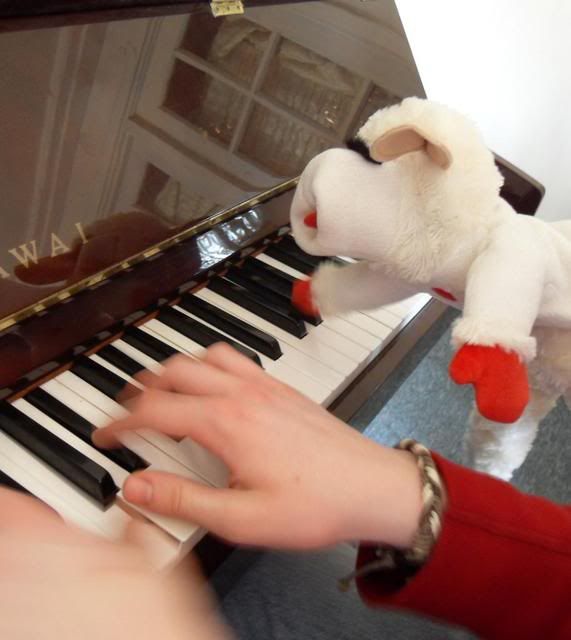 He even joined in by tinkling the ivories with Michael for a duet, or two, or three . . . it was quite fun!!!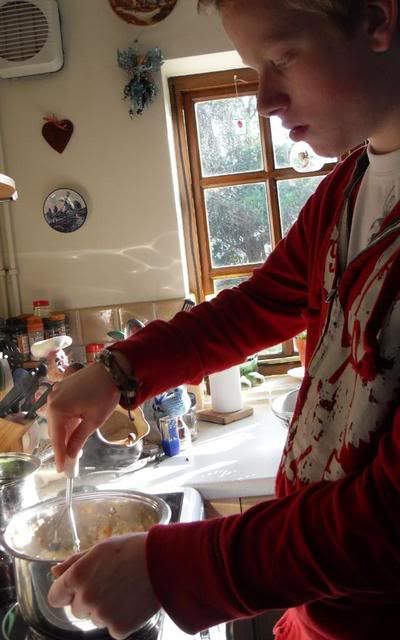 We really did have a wonderful afternoon. Michael was really fun to cook with. He didn't mind peeling oodles of vegetables. He didn't mind grating oodles of cheese. He didn't mind mucking in and getting his hands dirty with meatloaf mixture. He didn't mind listening to my
cheesy
jokes and old lady conversation!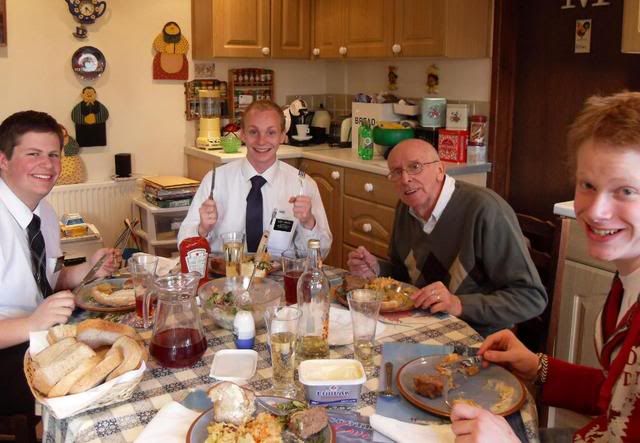 Before we knew it, the missionaries had arrived and we were all sitting down and tucking into our meal. What ensued was a pleasant hour or so of some pretty fun conversation, lots of good food and wonderful companionship! Michael wants to do it again in a couple of weeks time. He likes to cook curries, and so I think I'll let him take the lead on that one. I'll buy the ingredients, and let him do all the work. It sounds like perfect plan to me!
One of the things we made was this delicious Broccoli Salad. I'm sure there are hundreds of versions floating around out there, but this is the one we made. The recipe comes from one of my Amish Cookbooks,
"Cooking From Quilt Country",
by Marcia Adams. I can remember watching her cooking show on the PBS channel back in Canada. I used to really enjoy it and I have all of her Amish Cookbooks. I just love anything Amish, and I love this salad.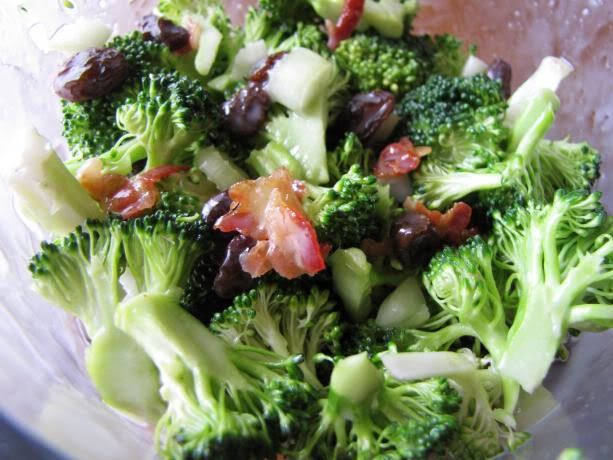 *Broccoli Salad*
Serves 10 to 12
This is colourful, sweet and crunchy. I can't really tolerate raw broccoli, so I have varied the recipe somewhat in that I blanch the broccoli for two minutes first. That really helps me to be able to digest it better. I just love this salad!
2 bunches of broccoli
10 thin slices of bacon
1 large red onion
1/3 cup dark raisins
1 cup mayonnaise
1/4 cup sugar
2 TBS cider vinegar
1/2 tsp black pepper
1/2 cup chopped nuts (you can use toasted sunflower seeds,
but I used toasted chopped walnuts)
Cut the broccoli florets into small than bite sized pieces. Drop them into a pot of boiling salted water. Blanch for no more than two minutes, then drain immediately and run cold water over them to stop them from cooking any further. Drain well and pat dry. Place them into a large bowl and set aside.
Cook the bacon in a small skillet until crisp. Set aside on paper toweling to drain and cool.
Peel the onion and slice lengthwise. Then cut into julienne strips. Add them to the broccoli in the bowl, along with the raisins and bacon.
Place the mayonnaise in a clean and empty jar. Add the cider vinegar, sugar, and pepper. Give it a good shake to combine. Pour this over the vegetables and give them a good stir to coat. Cover and refrigerate for at least 2 hours before serving, giving them a stir from time to time.
When ready to serve, remove from the fridge and stir in the nuts. Delicious!