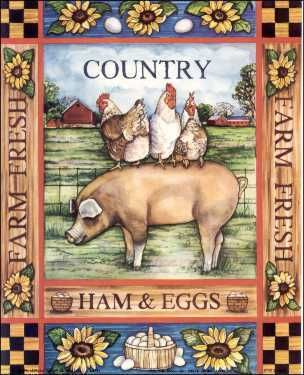 img>
"Nothing great was ever achieved without enthusiasm." ~Ralph Waldo Emerson"Think about your particular assignment at this time in your life. It may be to get an education, it may be to rear children in righteousness, it may be to be a grandmother, it may to care for and relieve the suffering of someone you love, it may be to do a job in the most excellent way possible, it may be to support someone who has a difficult assignment of their own. Our assignments are varied and they change from time to time. Don't take them lightly. Give them your full heart and energy. Do them with enthusiasm. Do whatever you have to do this week with your whole heart and soul. To do less than this will leave you with an empty feeling." ~Marjorie Pay Hinkley
Reading this quote, I am reminded of all the different hats I have had to wear during my lifetime, and all the hats I may yet be required to wear. Life does go in stages doesn't it? One minute you are young and at school, the next you are a young girl working at her first job. Then you become a wife and have a husband and a home to care for. Next comes children and all the joy and work that they bring into our lives. As we reach our middle years, our nests begin to empty somewhat and then, before we know it, they fill up again with grandchildren and . . . our parents who used to take care of us . Now they need taking care of and then, the next thing you know, we, too, are old and needing care . . . and, through it all, we have to remember to take care of ourselves and any other things that life might throw into our paths such as friends, work, church, etc.
This is the balance of life. This is what life is, and it's oh so very beautiful. We have to learn to embrace life at each stage we enter and to enjoy each experience for what they are. They will pass all too quickly, and before we know it, we will be looking back on them and thinking and wishing that perhaps we had done the things we had to do a little better, enjoyed the moments we had a little more, gotten more out of our life's experience than we did.
At this stage in my life I am only now coming to realize this truth, and yes, I do have regrets. I was the best mom that I knew how to be when my children were growing up. Those were such busy years. With five children and all the work that was involved with caring for them and for a home and a husband who had a very important career, I'm afraid that there were times that I was just far too busy to just sit back and enjoy the moments and time that I had to spend with them. Oh how I wish I had enjoyed those moments more than I did at the time, and appreciated them more for what they were.
Life's too short to waste even a moment. Embrace each one for what they are and squeeze all the joy that you can from them, even the bad ones. Learn something that you can take with you into your future, some piece of wisdom to share with another that might help to ease their burdens. Just be the best you that you can be. In doing that, I truly believe we will find joy and peace and comfort.
Got eggs? Then you got breakfast, or lunch or even dinner, not to mention dessert! I have always found it so amazing all the things you can do with eggs. Here's another tasty way I have discovered of enjoying them. You've probably heard of soup being served in a bread bowl, but what about breakfast?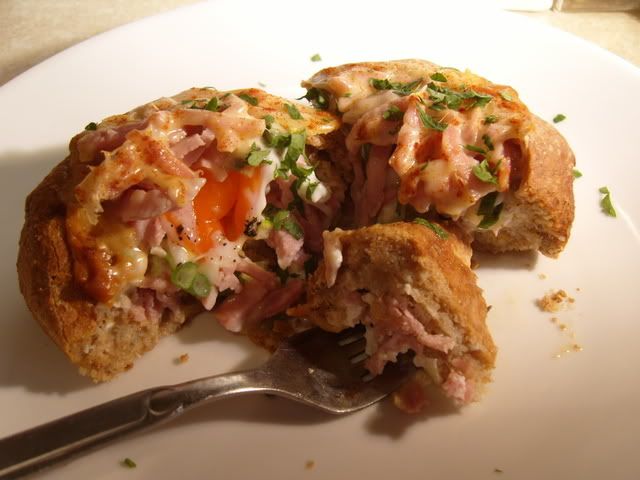 *Ham and Eggs In A Bun*
Serves 4
This is such a wonderful way to serve your ham and eggs. There's very little mess and it's so charming. The kids, both big and small, will love this one!
4 whole wheat rolls
Softened butter
4 large free range eggs
4 slices of ham, slivered
2 spring onions, chopped, both green and white parts
4 slices of Swiss emmenthal cheese
1 tsp sweet paprika
Salt and freshly ground black pepper to taste
Chopped fresh flat leaf parsley
Pre-heat your oven to 180*C/350*F.
Take your buns and cut into them with a sharp knife, hollowing them out and leaving a sturdy outside shell. You don't want it to be flimsy. You want it to be sturdy enough to hold the filling without collapsing. (you can use the crumbs to feed the birds or to make some bread crumbs to keep in the freezer for future uses) Butter all the insides of the bread shells and then place them on a baking tray and toast them lightly in the heated oven. Remove them from the oven and proceed as follows.
Divide the ham up and put half of it into the bottoms of each bread shell. Divide the onions up and put half of them into the bottoms of each bread shell as well. Break an egg into each hole and season each with some salt and cracked black pepper. Top each with a mixture of the remaining ham and onion. Finally place a slice of cheese over the top of each one and dust with paprika. Cover lightly with a sheet of foil, shiny side in and place the baking sheet back in the oven. Bake for about 10 to 15 minutes, depending on how well you want your egg done. Remove the foil and place under the grill for a few seconds until the cheese turns golden brown and bubbly. Remove from the oven and let sit for a few minutes. Scatter with some chopped parsley just before serving. Enjoy!