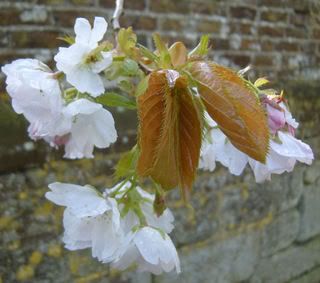 And fairy month of wakening mirth,
from whom our joys ensue
Thou early gladder of the earth
Thrice welcome here, anew
With thee the bud unfolds to leaves
the grass greens on the lea
And flowers their tender boon receives
To bloom and smile with thee.
~John Clare, Spring
We had such a beautiful and sunny day here yesterday, it was almost summer-like. It was quite pleasant to walk around in my shirt sleeves and I could feel the warmth of the sun upon my face. It was most lovely . . .
The Orchards that surround us are in full bloom now and the air is filled with the smell of the promise of a thousand apples and golden pears . . . it is magic to me, how these tender blossoms unfold such promise and turn into fruit . . . some for the eating out of hand and others destined for pies and cakes and jelly's sweet . . . and there are some that say there is no God . . .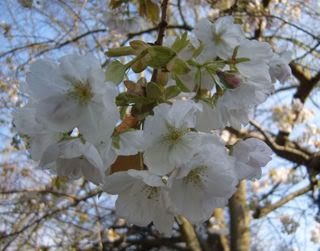 They cannot have dwelt amongst the beauty of an Orchard in the springtime, nor watched the bumbling bumble bee amble from flower to flower, it's body heavy and awkward beneath it's tender wings . . . how can it fly, and yet it does . . . a miracle I suppose . . .
Nor looked at the golden yellow of the dandelion, turning to feathery wings of flight, holding a million promises of future flower that blow through the air like a fairy's wings . . .
When tender buds unfurl and break out into leaf . . . is this not proof of a mystery greater than man should suppose . . . and blossom tender, sweetly fragrant beneath the heat of the warming sun . . . does this happen by chance . . . or is it a part of a greater plan . . .
Everything . . . from the smallest bloom to the largest roaring waterfall, fitting together with beauty and purpose. Not chance, no . . . no . . . not chance . . . it cannot be . . . this perfect mystery, this beautiful song that the earth sings.
I know in my heart it comes from something and someone much greater than me . . . my heart bespeaks of glories great and kingdoms yet to unfold, and stories yet untold . . .
Each petal and tender leaf, but one beautiful note from the musical symphony of spring that comes from the touch of the Master's hand . . .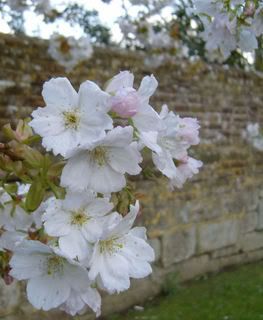 My Todd does love himself an apple pie. I think of all the things I could bake him this would be one of his favourites. I cannot bake one as his mother did, but then pies such as the ones our mother's bake taste all the sweeter in our memories don't they. I don't even try . . . I just bake my own and he enjoys them still . They may not be the pies of his memory, but they are the pies of someone's memory, and we are building new memories all the time . . . I believe there is room for one more piece of apple pie . . .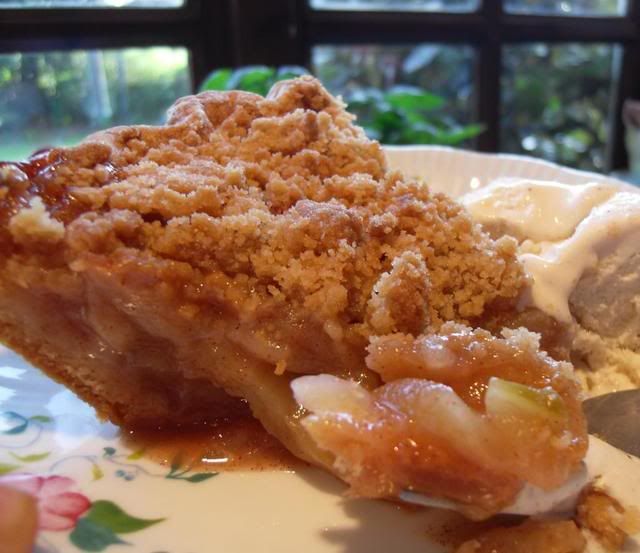 *Apple Crumble Pie*
Makes one 9 inch pie
Picture apples, tender and sweet, tucked in beneath a crumbly and short sweet and spicy blanket, and all nestled into a crisp crusty bed . . . what could be any better?
1 un-baked 9 inch pastry shell
Filling:
2/3 cup sugar
1 tsp cinnamon
1/4 tsp freshly grated nutmeg
2 tsp flour
6 cups tart apples, peeled, cored and sliced
(I used Granny Smith's)
Topping:
1 cup flour
1/2 cup soft light brown sugar, packed
1/2 cup cold butter
1/2 tsp cinnamon
1/2 cup chopped toasted walnuts (optional)
Pre-heat the oven to 200*C/400*F. Line a 9 inch pie tin with pastry, your own or shop bought. Flute the edge and set aside.
Mix the sugar, cinnamon, nutmeg and flour for the filling in a large bowl. Add the apples and toss well together. Pour this into the pie shell.
TO make the topping, place the sugar, flour, cinnamon and butter together in a bowl. Blend together with a pastry blender until the mixture is crumbly. Stir in the chopped nuts if using. Sprinkle this evenly over top of the apples in the pie shell.
Place onto a foil lined baking sheet and slide this into the oven. Bake for 45 to 50 minutes until the apples are soft and bubbling and the topping is golden brown.**
Remove from the oven and allow to cool to room temperature before eating.
Note** If you find the crust is browning too quickly, cover with foil.
PSSST - If you want to see my latest art piece, entitled "Come What May And Love It", hop on over to
Blossom Time Creations
and take a gander. I think this is my all time favourite! (I know, I say that every time!)