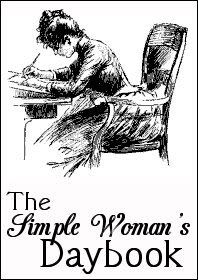 FOR TODAY, June 19th, 2012...

Outside My Window...
It's actually quite sunny. I did not go for that walk yesterday . . . perhaps I will go today. ☺
I am thinking...
Whither shall I go from Thy spirit? Or whither shall I flee from Thy presence? If I ascend up into heaven, Thou art there; if I make my bed in hell, behold, Thou art there. If I take the wings of the morning, and dwell in the uttermost parts of the sea; Even there shall Thy hand lead me, and Thy right hand shall hold me. ~Psalm 139:7-10
I am thankful for...
I
am grateful for my husband and all the ways he supports me. He truly is my whole world.

From the kitchen...
I've
not got a lot in the way of bad things to eat. I've been really trying hard to stay on the straight and narrow path. It's not as much fun that way, but it's definitely a lot better for me!
I am wearing...
Blue M&S nightie.

I am creating...
I have a few irons in the fire.
Still working at
crocheting this afghan. It's
about halfway done. I do a about 5 rows each night. Todd really likes it. He thinks I am so talented. What he doesn't know is, it's very simple to do! My sister taught my mother and I how to crochet when I was about 16! I am ever grateful to her for doing that. My mom never quite caught on to it though. She was always a knitter and I think she just always tried to crochet like she knit.
I did this little water colour yesterday. It's a postcard actually! It has a place on the back for writing and a stamp, etc. The original doesn't have script on it . . . I put the words on via the computer after I scan it. (I'm not that nice a writer!!)
And Todd thought that all I could paint was little girls . . .



I am going...


This
week, I am taking it completely easy. I have no solid plans for anything. The RS has taken over the additonal meeting for me, so I am not doing anything there. I am just resting up before the big trip next week.
I am reading...
The Book of Mormon, inspired by God
I hope you are not surprised. This year in Sunday School we are studying the Book of Mormon. Each year we study a different set of scriptures. One year it might be the old Testament, another the New, then the Doctrine and Covenants. This year it is the Book of Mormon . . . another testament of Jesus Christ. This is
not
a book that was written by a man called Joseph Smith. This is a book that was
translated
from an ancient language by a man named Joseph Smith, through the inspiration and power of God. I believe this to be true. It is comparable to the Bible and is a record of God's dealings with the ancient inhabitants of the Americas and contains, as does the Bible, the fulness of the everlasting gospel. It is a book written by many ancient prophets by the spirit of propecy and revelation. Their words, written on gold plates, were quoted and abridged by a prophet-historian named Mormon. The record gives an account of two great civilizations. One which came from Jerusalem in 600BC and afterwards separated into two nations . . . and another group which came to the Americas much earlier when the Lord confounded the tongues at the Tower of Babel.
My favourite part in this book is when the Lord Jesus Christ appears amongh the Nephite soon after His resurrection. It puts forth the doctrines of the Gospel, outlines the plan of salvation, and tells men what they must do to gain peace in this life and eternal salvation in the life to come.
I would invite all to read it . . . to ponder and study it's words. It is nothing to be afraid of. It is not inspired by Satan. It is a good book, and working along side with the Bible, it will help you to live a better life, and to draw even closer to your Heavenly Father and His son Jesus Christ. It will bring peace to your hearts. It can change lives for the better.
I am hoping...
I am hoping
that I can get everything I need to get done before our trip on the 28th. Not long now!
I am hearing...
Nothing new really. The keys are tapping. The birds are singing. The odd car drives by. The clock is ticking. I can hear an airplane off in the distance. Mitzie it pouting on the sofa . . . willing me to pay attention to her instead of sitting here at the computer. I
ts almost time for her breakfast, so that could also be a part of why she is sitting there on the sofa pouting.
Around the house...
What a fabulous idea!!! A craft station done in an old suitcase!! I just love it. I am so going to try to do this when I get the time! Everything is so totally organized and in it's place. What do you think??? Do you think I could do this?? I would love to try!!
One of my favourite things . . .


I love
Barbie
I have always loved Barbie. I got my first Barbie doll when I was about 6 or 7 years old. I never had a Ken, Midge or Skipper, although I always wanted them. I used to have to steal my brother's GI-Joe doll and pretend he was Ken. He was the right size for it anyways. I also used to steal his jeep to play with because it, too, was the right size. Not quite a Barbie Convertable . . . or pink . . . but one must do what one must do! I have a replica Barbie now. It is the one in the black and white striped swim suit, with the blond ponytail and sunglasses. I would love to have more of them, but . . . well, I never see any that I like, except in pictures. The modern ones just don't do it for me. I like the older looking ones.
Something new about me ...


I
was 15 years old the first time I ever tasted Pizza. They serving Pizza at our highschool Winter Carnival one night and I was serving. I had to wear a drindle skirt and a white blouse. I thought it a very tasty thing, this pizza thing. It started a love affair that I enjoy up to this very day. My cousin owns a pizza restaurant back home. Perhaps I will indulge when I am home in just . . . 8 days!!!
One of my guilty pleasures ...
Cheese Whiz. I know, what a wierd name for a cheese spread!! I do love it though and I am going to buy myself a little jar of it when I am home and a box of Ritz Crackers and eat my fill of it one day for lunch. Oh, sure . . . I will probably gain ten pounds doing so . . . so maybe I won't eat the whole jar of it all by myself, but I will certainly have a nice healthy taste of it . . . and I am going to have oatmeal bread toast for breakfast one morning, spread all over with it too.
Pet Peeves...


Screw on lids on jars. Is it just me, or are they getting more difficult to open as the years go by??? I have such a hard time with them. I have a piece of rubber that I use now. It's a piece of that stuff you put in caravans to keep the dishes in the cupboards from moving around when you are moving the caravan from one spot to the next. It works a treat!!

Here is picture thought I am sharing...
"We sometimes confuse sin with sinner, and we condemn too quickly and with too little compassion. We know from modern revelation that 'the worth of souls is great in the sight of God.' We cannot gauge the worth of another soul any more than we can measure the span of the universe." ~President Dieter F Uchtdorf
We need to stop judging others. We need to love them just as they are. That is the Saviour's way. It is only through sincere love that we can reach into another's soul and make a difference. Love does not judge.
As a closing thought I would like to leave you with this:
"
Somebody cares and always will,
The world forgets but God loves you still.
You cannot go beyond His love
No matter what you're guilty of."
~Helen Steiner Rice


"For thou, Oh Lord, art good and forgiving, abounding in steadfast love to all who call on thee.
"

~Psalm 86:5
And there you have it . . . my day book for this week. Don't forget to hop on over to the Simple Woman

to check out the other day book entries! (Or better yet, do a simple day book entry yourself! It's not that hard and I am betting you would enjoy it!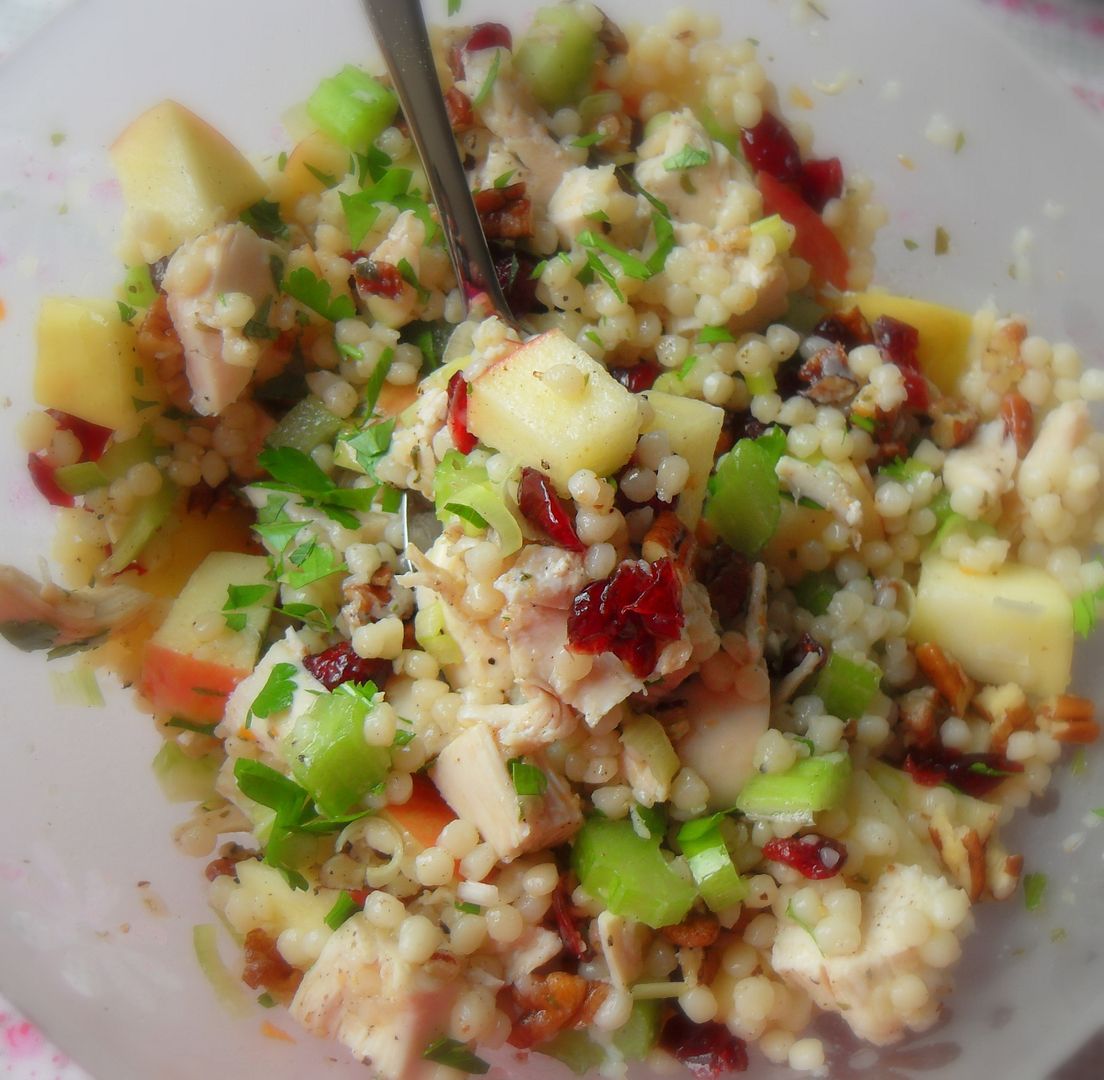 Cooking in The English Kitchen today . . .
A Salad of Chicken, Couscous and Fruit!
Hope you have a great day!