Despite the gloomy weather yesterday, Todd and I took ourselves off into town in the afternoon. We had some money to pay into the bank and a few other chores to attend to . . . and I wanted to play just a little bit.
We met a friend as we were walking to the bank, a friend we had not seen in a while and so we stopped to chat. He was incensed. Apparently just recently his 15 year old had brought a note home from the local high school saying that they were going to be finger printing all of the kids with this new tech finger print thing that would enable them to be able to purchase school lunches without any cash. I could quite rightly see why he was angry. He had called the school and gotten the run around and nobody had been able to answer his questions about it all. He has refused to let his son be fingerprinted and questioned the whole process. I am sure you have seen these fingerprint things around. If you have seen a little square thingie, filled with little boxes . . . that people can use to pay for things, then you have seen what I am talking about. I do not blame him for being angry and for refusing to capitulate! I wouldn't want my innocent 15 year old fingerprinted either! (Neither do I want to be fingerprinted myself!)
After that we went into BHS and had a drink and a bite to eat. I had a muffin and Todd had a doughnut. Now why is that so interesting??? It probably isn't, but I told you anyways! haha After that we went our separate ways for an hour, with the promise to meet up at a certain point at the end of that time. RESULT!! (Todd is an old grump to shop with, window shop with, any kind of shop with! I saw a pair of socks the other day that had Mr Grumpy written on them . . . and I was sorely tempted to purchase them for him, but that may have been a bit cheeky so I didn't . . . but I thought about it.)
You will never guess my luck. The Catherine Kidston shop was having a big sale! I had been in there the other day drooling over everything . . . and so I went in again for another drool, and a lot of things had been really and truly marked down. I could not believe my luck! I got myself a cute little wash bag to take with me on holidays, and a few lovely little gifts that will be perfect as shower prizes. Some really sweet little card notelets, a needle keep in the form of an owl, a set of pencils, some nice stationary and a sweet little retractable measuring tape! All light, and all less than £5 a piece, some quite substantially less . . . and all quite different than anything that anyone from the small town I come from would be able to get their hands on. I also got a change purse for myself and some nice tea towels, I couldn't resist. There was also the sweetest little clothespin bag/holder . . . but I did resist that as I already have a perfectly usuable plastic one I got at Lakeland several years ago . . . but I did look at it with a yearning in my heart. You can't always have everything you want though . . . and so I just looked.
We had a surprise visit from the Missionaries last evening, which was nice. I always like it when they drop by to share a special thought with us and last night was no different. We did so enjoy. They always bring such a special spirit with them and Mitzie just loves having someone new in the house to mither!
I am off to the Doctors this morning for a follow up to all the goings on at the A&E from last Saturday, and to see if further tests are needed etc. Then I have my Step Program right after that. (I hope that I am not late, you know how Dr's offices can be!) Then I am blissfully free for the rest of the day. (Here's hoping!) I hope I am down again weight wise . . . I was down 2 kilos last week. Oh, and Todd informed me yesterday that he's lost a stone again. He has such a problem keeping weight on. He gains and feels really good that he has . . . but then it suddenly disappears again! I only wish I had that problem!!
I am going to have a manicure tomorrow. I have never ever had one in my life, but I thought since I am going to be the Mother of the Bride shortly, it would be nice to get my hands in shape. I am thinking of having acrylic nails . . . nothing drastically long or outrageous!! Just a simple square ended French Manicure look. It will be an early Birthday treat for me.
Oh . . . and while I am on a beauty kick . . . have you seen the latest craze??? It's called HD Eyebrows! A few weeks back Todd and I were on the bus and this young girl came on board and she had the wierdest eyebrows I have ever seen. They looked like butterfly wings over top of her eyes . . . black ones! UGH! Horrible and so outrageously obviously looking out of place on her face! How can anyone think that looks good???? Maybe I am just not "with it" but . . . to me that is not attractive at all! You can find all sorts of videos on YouTube showing you how to do them . . . seriously.
I suppose though . . . that when I was a much younger woman I had things that I did that I thought were attractive as well . . .
It looks to be another truly rainy day today as well . . . we certainly have made up for the dry winter we had. It reminds me of the first year I lived over here when it rained . . . EVERY . . . SINGLE . . . DAY! Seriously. I hope we don't have a run of that again!!!
Mind you . . . our garden is looking particularly lovely at the moment . . . but there are a LOT of slugs, which are annoying to say the least! They are stripping a lot of things faster than we can keep up with them! We can forget about getting any vegetables for the most part . . . they have eaten our peas and our beans . . . and the courgettes and butternut squashes, and they have done it seemingly overnight! They are also enjoying munching on our pansies. grrr . . .
Oh, something else I discovered this week. Air freshener that squirts itself, automatically! I had never seen or heard of it before but our friend Doreen has one. We were visiting her the other night and this thing was on the coffee table and it spit out and I jumped almost as high as the ceiling it startled me so! It smelled very nice though. She has gotten herself a new dog. He is a pug named Charlie. I think he is about 9 years old. He has no teeth, but he is cute and he is company. My mother's Stepmother had a pug, named Timmy. I used to like taking it for walks when we stayed at her place.
Well, I am probably just about putting you all to sleep now, so I will end this drivel . . . I'll leave you with a special thought for the day and be back tomorrow. I shall miss these little chats we have each morning when I am away . . .
"If we constantly focus on the stones in our mortal path, we will almost surely miss the beautiful flower or cool stream provided by a loving Father who outlined our journey."
~Jeffrey R Holland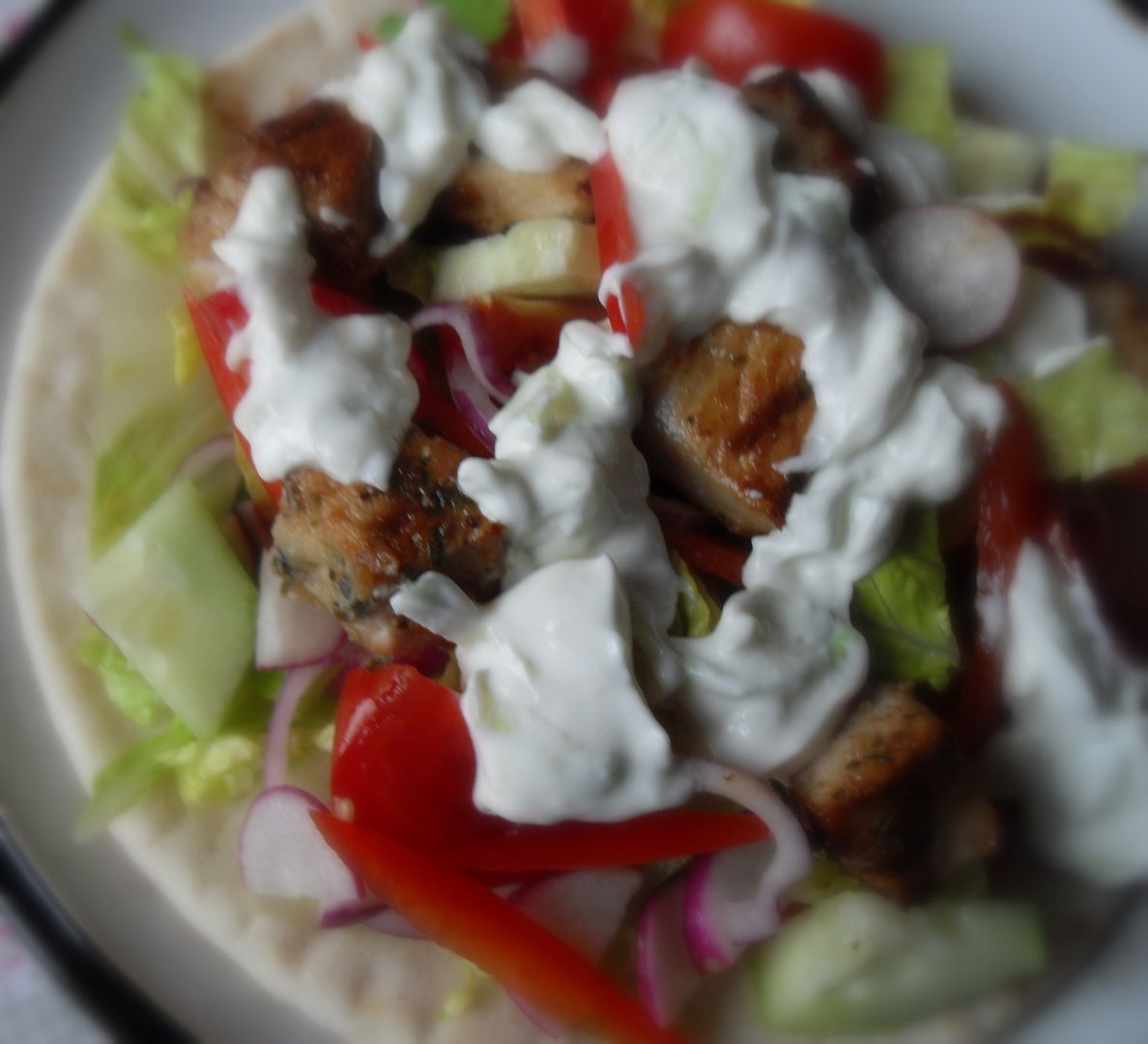 Cooking in The English Kitchen today . . .
Souvlaki In Pita.