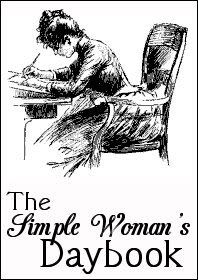 FOR TODAY, October 11th, 2011...

Outside My Window...
It is still very dark, but at least the high winds of yesterday have ceased to blow. We seem to be getting a LOT of wind these days! (Or maybe I am just noticing it more!)
I am thinking...
Our fast & testimony meeting was just beautiful on Sunday morning. We had a lot of visitors there that had come for the Baptism on Saturday and also for other reasons. I did not have an opportunity to get up and give my Testimony. Then last night for Family Home Evening, Todd and I watched some of the conference talks that we didn't watch last weekend due to the late broadcast time of them. I especially loved Elder Tom L Perry's talk, "Perfect Love Casteth Out Fear," so I thought I would share my brief testimony with you here this morning.



If you will respond to the invitation to share your beliefs and feelings about the restored gospel of Jesus Christ, a spirit of love and a spirit of courage will be your constant companion. ~Elder Tom L Perry



The longer I am in the church, the

more

I know in my heart that the Gospel is true and that this is the church I need to belong too. At first it was just a tiny spark, but a spark large enough to know that I wanted . . . no . . .

needed

. . . to be Baptised into this church by the proper authorities. I had been Baptised twice before, but never in the correct way. I wanted so much to follow the Saviour's example and to do as He had done. Since then, this spark has grown to be all encompassing, and I have continued to grow in faith and my testimony has grown along with my faith. I know who I am and why I am here. I know where I am going when I leave here. I know my Saviour and I trust and believe in all that He did for us, all that He does for us, and in all of His promises. I know that He lives and will come again. I believe in living prophets and I am so grateful for their guidance, both in the past and today, in these latter days. I have a Heavenly Father who lives and cares for me as his daughter here on earth and I look forward to returning back into His presence one day. I strive each day to live a life that is worthy of all that the Saviour did for us and that will make my Heavenly Father happy . . . and when I fall (as we all do from time to time) I am ever grateful for my Saviour who helps to pick me up and set me back on the right path. There is a lot more I could say, but I think that's enough for now! I leave this testimony with you in the name of my beloved Saviour, our Reedemer, Jesus Christ.

I am thankful for...
If you have gotten this far, I am thankful that you are still with me!

From the kitchen...
Hmmm . . . a bit of this and a bit of that, but mostly nothing that is temptingly scrummy!

I am wearing...
Nightie, pale blue with little sprigs of darker blue and white flowers on it, a pretty blue bow at the neck with pintucks and edged in lace. I do like pretty things.

I am creating...
I am right in the middle of doing a special piece of work. I thought I had it finished yesterday and would show it to you today . . . but it is asking for something more and so I will finish it today. Being creative is like that at times . . . you think you are finished, and then you realize you are not. I love being creative. It is an important part of who I am and a valuable gift that I truly treasure!

I am going...
I have a hospital appointment tomorrow for an ultra sound on my Ovaries. I don't mind that so much as I mind all the water I have to drink ahead of time and then hold in. My aging bladder doth protest!

I am reading...




A Game of Thrones, a song of fire and ice by George R R Martin
This is the first volume of a brilliant trilogy, written in the style and muse of Tolkien. The first volume of George R R Martin's glorious high fantasy tells the tragic story of treachery, greed and war that threatens the unity of the Seven Kingdoms south of the Wall. Martin unfolds with astonishing skill a tale of truly epic dimensions, thronged with memorable characters, a story of treachery and ambition, love and magic. Set in a fabulous world scarred by battle and catastrophe over 8000 years of recorded history, it tells of the deeds of men and women locked in the deadliest of conflicts and the terrible legacy they will leave their children. In the game of thrones, you win or you die. And in the bitter-cold, unliving lands beyond the Wall, a terrible winter gathers and the others -- the undead, the neverborn, wildlings to whom the threat of the sword is nothing -- make ready to descend on the realms of men. A Game of Thrones begins the most imaginative, ambitious and compelling fantasy epic since The Lord of the Rings. Thronged with memorable characters, it unfolds with astonishing skill, a tale of truly epic dimensions. I am reading it on my kindle and am thoroughly enjoying. It's a can't put down kind of a book!

I am still reading this. It's really good.


I am hoping...
My father goes in for cataract surgery today. I hope that it goes well without any complication. If you could spare a little prayer for him I would appreciate it very much. His name is Tony.

I am hearing...
Early morning sounds . . . the clock on the mantle humming as the wheels inside it turn. The odd car as it goes by. Mitzie snuffling as she snoozes, all curled up behind me on the sofa. The tap tapping of the computer keys as I write.
The
y are morning sounds. The sounds as I hear whilst the house wakes up around me and the day begins.
I know I say the same thing
every week

. . .
my mornings have the comfort of being the same day after day.
I love that about my days.
Around the house...




I have a thing for doorknobs. Especially old glass doorknobs. If I could I would replace all the utilitarian looking doorknobs in this house with glass doorknobs. I love this idea of using old crystal ones for curtain tie backs. I think I just may give this a go . . . first of course . . . I need to find some doorknobs!


I am looking forward to...


Christmas. I know, I said that last week and this week we are yet one week closer! I have all the presents bought for the grandchildren now and must wrap them. I keep forgetting to buy wrapping paper. Duh. I have their cards bought as well. I always buy special cards for my grandchildren. Doesn't everyone?



I am pondering...


I ponder things all the time. I am a ponderer. I have ever been so. I've always had a questioning mind . . . a mind that seeks answers . . . a thinker. That is a good thing I think . . . to ponder things, to seek answers. I am also a listener though. That is also a good thing to be. It's no good pondering and questioning, if you are not also prepared to listen for the answers . . .



One of my favourite things...
I have bought myself a writing in journal and I have begun to write in it. Nothing too spectacular, but just things that I want my children to know, special remembrances etc. I hope that one day they might enjoy it. It has a leather cover which is printed with butterflies. Butterflies have a special significance to me. It was one of my nicknames in school . . . the Butterfly Girl. I used to wear clothes with butterflies on them and butterfly earrings etc. . . Butterflies represent the ever evolving, changing, growing person that I am. They start off as a caterpillar and evolve into a beautiful creature. I like that idea.



A few plans for the rest of the week...


There are the daily reading lessons, my meeting tomorrow night, and that is all. Quiet weeks are nice every now and then.

Here is picture thought I am sharing...


Does this not make you smile??? It surely brings a smile to my face. They both look so happy that I want to be happy for them. I hope that when people see me I am able to bring joy to them in some way as well. It is not enough to merely exist to please oneself. You have to live outside of yourself . . . to give without expectation and to find joy in the giving. The saddest thing I ever heard was when my ex boss said one day that anyone who knew here knew that she never gave without expecting something in return . . . what a sad existence, and narrow world to live in.

As a closing thought I would like to leave you with this:

"People may doubt what you say, but they will always believe what you do."

What an awesome responsability. Ain't it the truth!

And there you have it . . . my day book for this week. Don't forget to hop on over to the Simple Woman

to check out the other day book entries! (Or better yet, do a simple day book entry yourself! It's not that hard and I am betting you would enjoy it!

There was corn on the cob in my veggie box yesterday. I knew I must cook it as soon as possible. It seems kinda late for corn to me, but it wasn't too bad. They don't really have good corn over here, but I always dress it up so that it tastes pretty good anyways.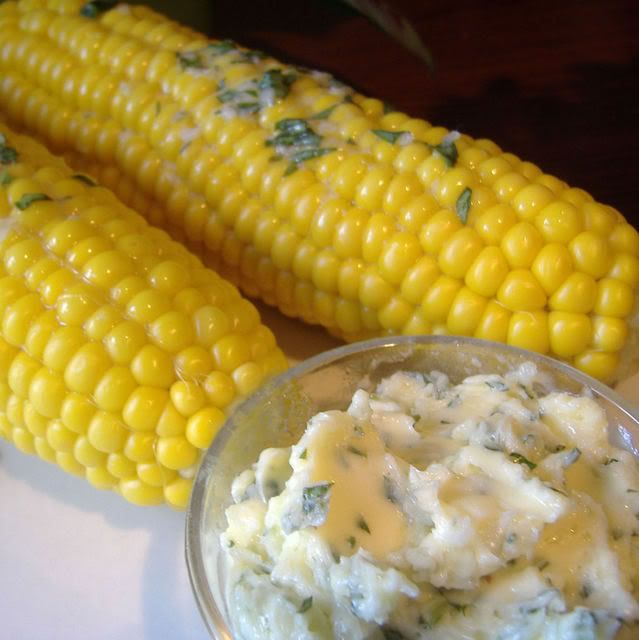 *Perfect Corn on the Cob with Basil Lime Butter*


Serves 8
Printable Recipe

I love sweet corn and fresh picked sweet corn on the cob is the perfect way to eat it. Accompanied with this delicious butter there is no finer meal. The tang of lime along with the peppery spice of the basil go perfectly with the sweet crunch of the corn, not to mention the underlying heat of fresh garlic. This recipe is a real winner in my books!

8 ears of sweet corn
For the Butter:
¼ cup of basil leaves, lightly packed
2 garlic cloves, peeled
½ cup butter
1 TBS fresh lime juice (roughly the juice of one small lime)
1 tsp sea salt
Pinch of sugar

First make the butter. Chop the basil fairly finely and crush the garlic. Cream the butter until quite fluffy and then cream in the basil, garlic, salt, sugar and the lime juice until it is quite smooth. Transfer to a container and refrigerate while you boil the corn.

Bring a large pot of water to a boil, adding a pinch of sugar to the water. Remove the husks, silk and end from each ear of corn. Rinse in cold water and then drop the ears into the boiling water, making sure they are completely covered by the water. (Don't salt the water as it makes the corn tough) Bring the water back to the boil. Immediately cover the kettle and turn out the heat. Let the corn stand for 5 to 10 minutes. Drain well and serve immediately with the chilled Basil butter. Delicious!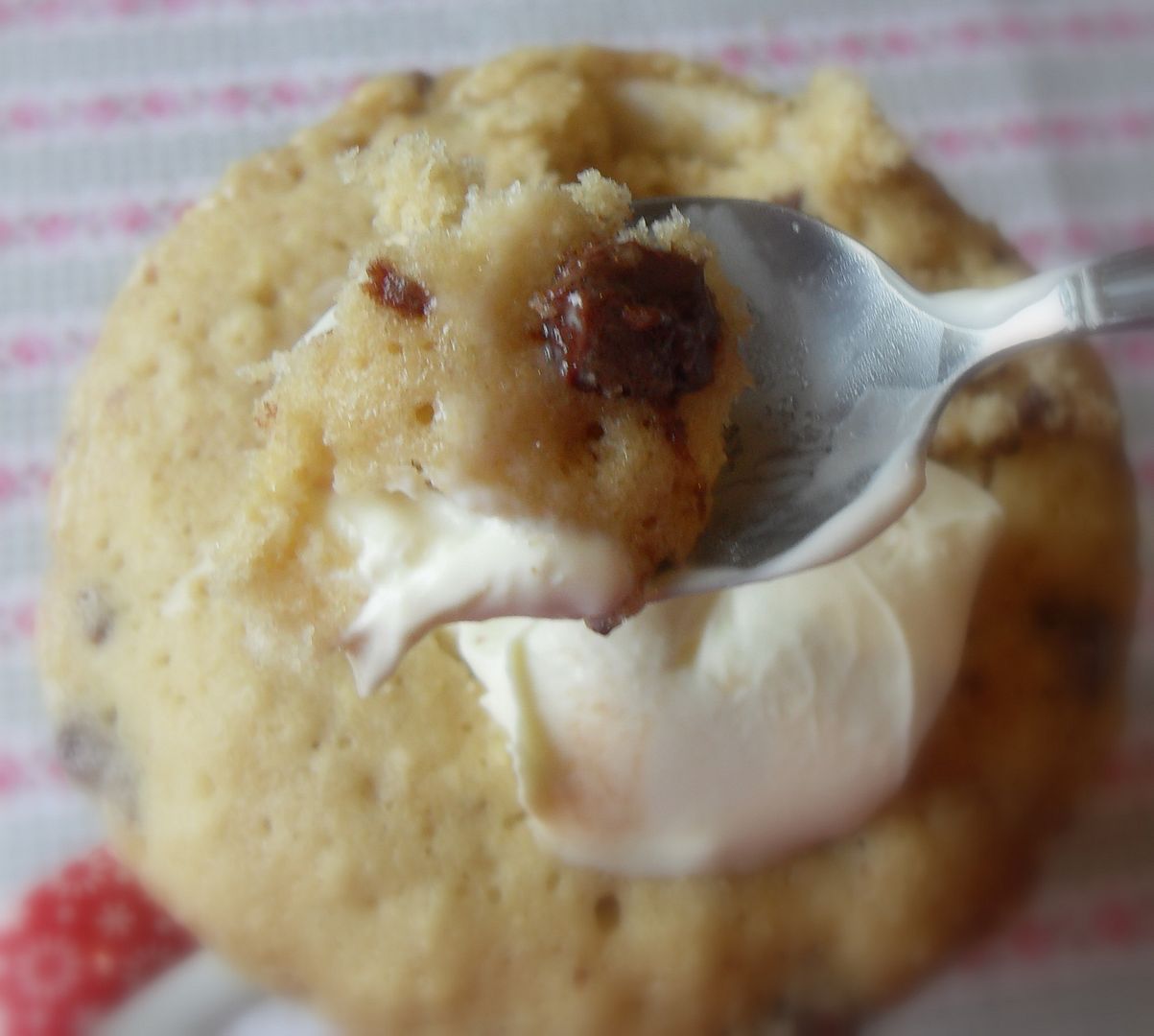 Baking in The English Kitchen today, a delicious Two Minute Chocolate Chip Cake!