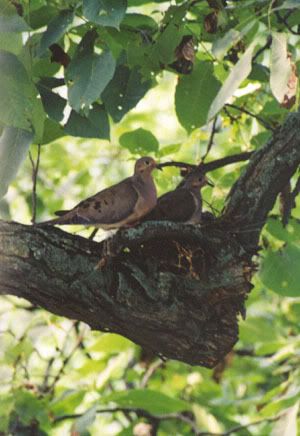 We were sitting here eating our tea last night, nothing special, just some steak pies and chips, when I looked out the kitchen window and could see some mourning doves on the roof of the garden shed. Again, nothing special. We have several pairs of mourning doves that live in the area, and indeed a whole set of white pigeons that live somewhere across the road. The often sit on the rooves of the terraced houses out front of us. I love listening to the mournful cries of the doves in the mornings and the evenings. It is somewhat of a comforting sound to me. They wait in great anticipation several times a day for the bread crumbs and crusts that we put out for them.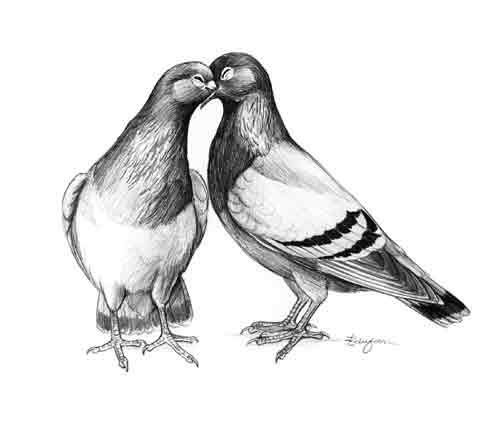 Yesterday though, I was quite surprised, as they appeared to be fighting each other. I was a bit upset by all the activity until Todd told me that it was their mating dance . . . and then, what just a few minutes before had seemed violent and upsetting . . . turned into something of beauty to me. They fastened beaks together and were pulling each other about a bit, and then they would strut across the roofline, with wings apparently around each other. Quite beautiful really, taken in the right context. Billing and Cooing, I think is what Todd called it, and it is a name that perfectly suits, but then again nature is like that, perfectly suited . . .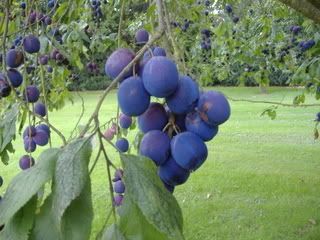 We were very fortunate this past week or so to have been experiencing a beautiful Indian Summer, the finest I have ever experienced over here. It gave us a wonderful chance to finish up some jobs in the garden and I spent a few hours or so one day under the sun, listening to the birds sing and the bees buzz while I picked fruit in wonderful solitude, the fruit hanging from the branches around me like hundreds of big purple and blue easter eggs. The whole time I was picking, I couldn't stop thinking of all the wonderful things I was going to do with them . . . plum crumbles, cakes, muffins . . . chutnies and jams . . . wonderful, sugar plummy thoughts.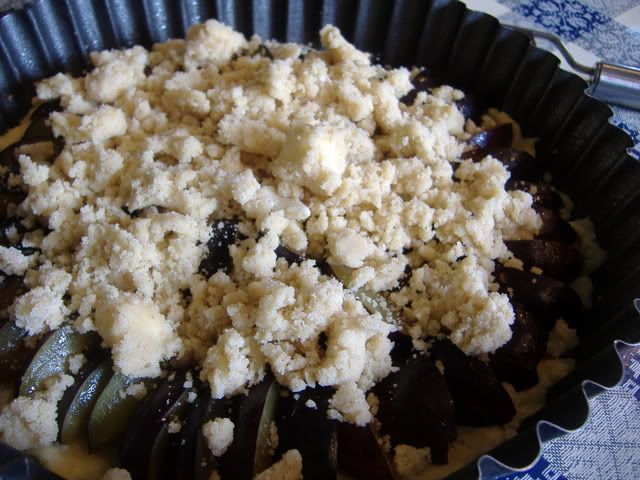 Back to the house, armed with a bag full of plums, I could hardly wait to get stuck in and cook up some lovely plum delights. First up I made some
Spicy Plum Chutney.
The kitchen didn't small half good whilst it was cooking!!! Todd thought he had died and gone to heaven. Next I cut quite a few into slices and froze them on baking sheets. Once they were frozen I packed them into heavy freezer bags. I can just take out as many as I want over the winter months to make crumbles and such.
Finally I baked this lovely German cake that we love. I say cake loosely, because it is really a cross between a cake and a tart. When you are eating it you can never quite decide exactly what it is . . . except to know that it is a lovely and rich early autumn treat. Slices of it, served warm with cold vanilla icecream melting down into it's rich crumbly goodness make me feel like all is right with the world. It can rain buckets tommorrow if it likes . . . for today I am enjoying the sunshine, the plums and this delicious cake, no I mean tart . . . oh what the heck . . . this wonderfully delicious taste of late summer!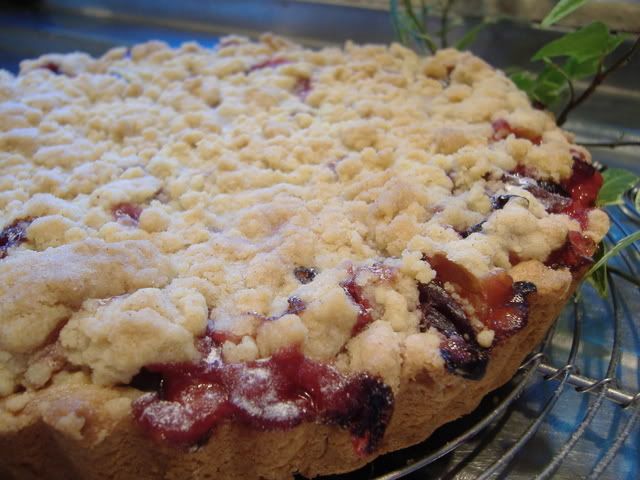 *Cardamom Scented Plum Cake*
Makes 1 ten inch cake
Printable Recipe
I like to use the slightly tart purple Italian plums for this, but really any plum will do. A moist and rich cake with the delicate scents of vanilla and lemon, topped with tart and juicey sliced plums all underneath the cover of a delightly fragrant and spicy stresusal topping. This is definitely what I'd call moreish!
4 ounces butter (1/2 cup)
1/3 cup golden caster sugar
1/2 tsp vanilla
1 large egg
1 TBS sour cream
1 pinch salt
grated zest of one lemon
1 3/4 cups plain flour
1 tsp baking powder
2 cups plums, pitted and sliced into wedges
For the topping:
6 TBS butter
3/4 cup plain flour
1/3 cup caster sugar
1/2 tsp cinnamon
1/2 tsp ground cardomom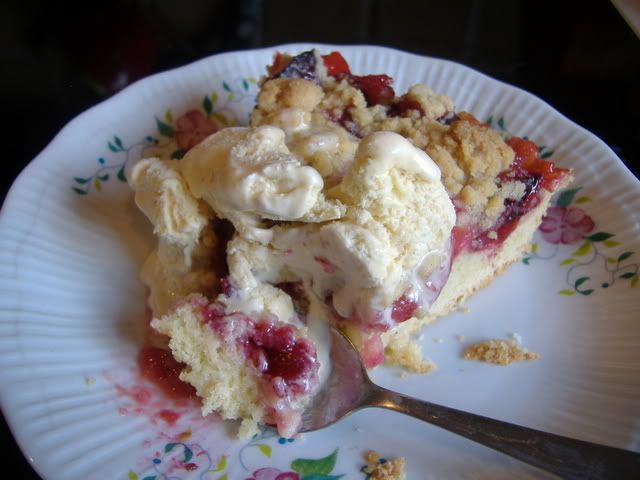 Pre-heat the oven to 180*C/375*F. Lightly butter a 9 to 10 inch cake tin with a removeable bottom and set aside.
Cream together the butter and sugar until light and fluffy. Beat in the egg, lemon zest, vanilla, sour cream and salt. Whisk the flour, baking powder together and then add it to the creamed mixture, mixing it in well. Spread the batter in the prepared pan.
Liberally spread the plums over top of the batter. I like to arrange them in a circular pattern, but that's just me, it's not necessary.
To make the topping whisk together the sugar, flour and spices. Rub in the butter until it is crumbly. Sprinkle it evenly over the plums.
Bake in the pre-heated oven on the middle rack for approximately 45 minutes to an hour, until the topping is nicely browned and the cake tests done. Remove from the oven and let sit for about 15 minutes, cooling on a wire rack, before removing the sides of the pan. Serve warm, cut into wedges with scoops of good quality vanilla ice cream.
Mmmmmm . . . this is heaven in every bite . . . I wonder if it's good for breakfast?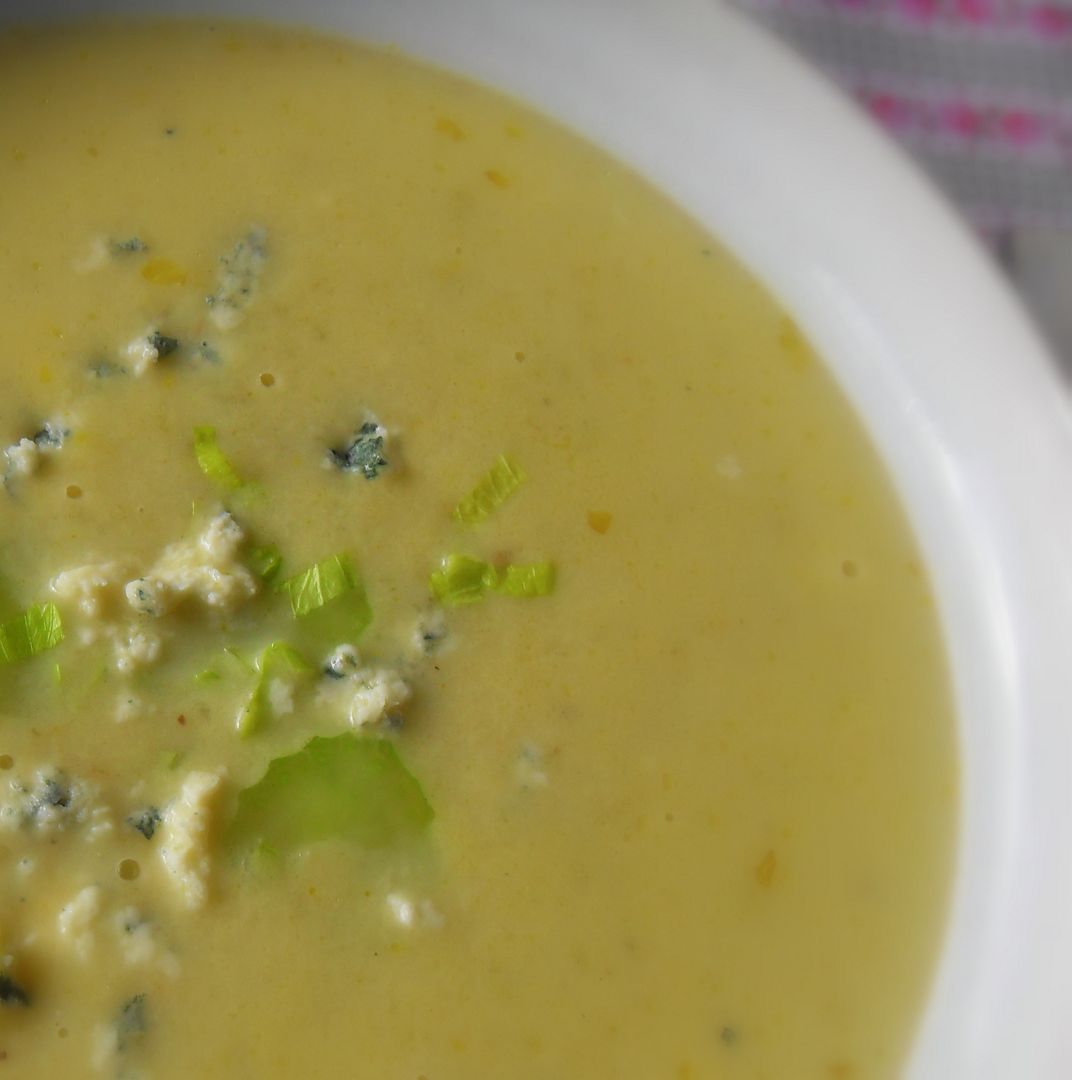 There's an amazing Stilton and Celery Soup cooking in
The English Kitchen
today.