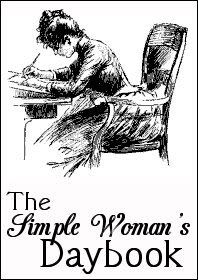 FOR TODAY, July 5th, 2011...

Outside My Window...
It is beautiful and sunny. I think rain is expected today at some point though. It's a lot cooler this morning than it was yesterday. Have had a brilliant couple of days!
I am thinking...
About the wonderful time I had travelling down to Ipswich and visiting Jimmy's Farm. What a fabulous place! We were treated like royalty, Jimmy was so nice, very humble and personable and genuinely interested in us. The PR people were fantastic and looked after our every need. I learned so much about Pigs, had some brill food and best of all got to spend some quality time with Julie! Thanks so much for going along with me on this Julie! You're a star!! (Oh yeh, and I got a NEW cookbook!!)

I am thankful for...
That by taking it easy on my knees for most of Sunday I was able to walk around the farm almost pain free for most of yesterday! We did a ton of walking and it was great! I didn't even need to use my cane! Of course pain relievers worked to help this happen. I normally don't take them because I don't wat to become a pill popper, but yesterday they came in really handy!!

There is a butterfly farm situated on the farm and it was amazing to stand inside and have butterflies flying around in such close contact. So beautiful! (Hot and humid though!)

From the kitchen...
Zip, really, but I have some beautiful pieces of pork to cook later on!

I am wearing...
A blue nightie.

I am creating...
Nothing on the drawing board today, but watch this space! Lots of ideas floating around!

I am going...
I have a pretty slow week planned ahead now. Just my reading student and RS Meetings tomorrow night. There is a Summer Fairy activity planned at our church on Saturday that I want to go to, which should be fun, but other than that I am blissfully unoccuplied!

I am reading...


The Day I Ate Whatever I Wanted, by Elizabeth Berg


Every now and then, right in the middle of an ordinary day, a woman kicks up her heels and commits a small act of liberation. What would you do if you could shed the "shoulds" and do, say—and eat—whatever you really desired? Go AWOL from Weight Watchers and spend an entire day eating every single thing you want? Start a dating service for people over fifty to reclaim the razzle-dazzle in your life—or your marriage? Seek comfort in the face of aging, look for love in the midst of loss, find friendship in the most surprising of places? In these beautiful, funny stories, Elizabeth Berg takes us into the heart of the lives of women who do all these things and more—confronting their true feelings, desires, and joys along the way.

As you know, I love Elizabeth Berg's books and am enjoying this newest one. It is nice to read some short stories for a change. I have been laughing a lot as I read them. I can really related to a lot of them!

I am hoping...
That Julie gets home safe and sound. She left here about 6 this morning for her drive back to Glouscester. I am so grateful that she was able to come up and accompany me on this trip. I don't know what I would have done without her. She was a great blessing to me. It was so wonderful to be able to spend this time together as well. Julie, you're an absolute star!! (Not only was she a great travelling companion and friend, but she showed me how to use my new phone!! I am so techno challenged! She also kept me from misplacing our train tickets! )

I am hearing...
Early morning sounds . . . the clock on the mantle humming as the wheels inside it turn. The odd car as it goes by. Mitzie snuffling here curled up behind me on the sofa. The tap tapping of the computer keys as I write. Birds singing in the garden. All is right with the world.
Around the house...
I still have the craft room to finish sorting out big time. We had to put a lot of stuff in there from the small guestroom on Saturday so that we could accomodate the new bunk beds, so now it is a TOTAL tip!! Hopefully will get in there today and do some re-organization!!

One of my favourite things...
At the moment is Jimmy's Farm. I cannot wait to be able to download my pictures and share them with you. It was really wonderful. The level of animal husbandry that we were shown was amazing. They were very happy pigs. I had been expecting it to smell really bad, but amazingly enough, there was NO smell at all!

Here is picture thought I am sharing...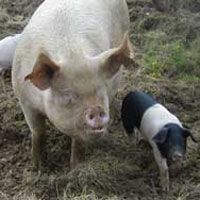 Some very happy pigs! Oh, for sure they are destined for the dinner table at some point, but in the meantime they are doing exactly what pigs are supposed to do . . . rolling in the mud and rooting, running about the fields, eating acorns and being pigs. The little piglets are so sweet and adorable! The grownups are HUGE! Can't wait to show you more!

And just as a closing thought for today . . .

Happiness consists in activity . . . it is a running stream, not a stagnant pool.

Life is truly so much better when you live it. This becomes even more apparent to me as I get older and realize that there is now more life behind me than there is in front of me. Make every moment count!

And there you have it . . . my day book for this week. Don't forget to hop on over to the Simple Woman

to check out the other day book entries! (Or better yet, do a simple day book entry yourself! It's not that hard and I am betting you would enjoy it!

I love blueberry muffins. These ones are perfect. Moist, flavourful and stogged to overflowing with sweet berries!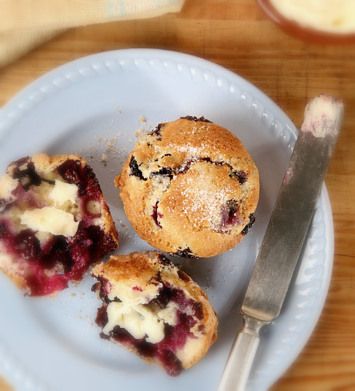 (photo courtesy of Martha Stewart.com)





*Blueberry Muffins*


Makes 6 large or 12 small muffins
Printable Recipe

Moist, delicious and stogged to overflowing with sweet blueberries!

6 TBS butter, at room temperature
3 cups, plus 2 TBS plain flour
3 tsp baking powder
1 tsp salt
1 1/4 cups of sugar, plus more for sprinkling
1 large free range egg, plus 2 large free range egg yolks
1 tsp vanilla extract
1 cup of whole milk
1 3/4 cups fresh blueberries

Preheat the oven to 190*C/375*F/ gas mark 5. Butter your muffin tins, and set aside.

Sift together the flour, baking powder, and salt in a large bowl. Set aside.

Cream the butter and sugar together on medium speed with an electric whisk until fluffy, about 3 minutes. Add egg, egg yolks, and vanilla and mix until well combined. Reduce the speed to low and alternate adding the reserved flour mixture and milk to mixer, beginning and ending with flour. Gently fold in the berries by hand. Divide the batter amongst the prepared muffin tins. Sprinkle the tops generously with some extra sugar. Bake until light golden, about 45 minutes for large muffins, about 30 minutes for small muffins. Cool in the pan for about 15 minutes before removing to a wire rack to cool completely. Delicious!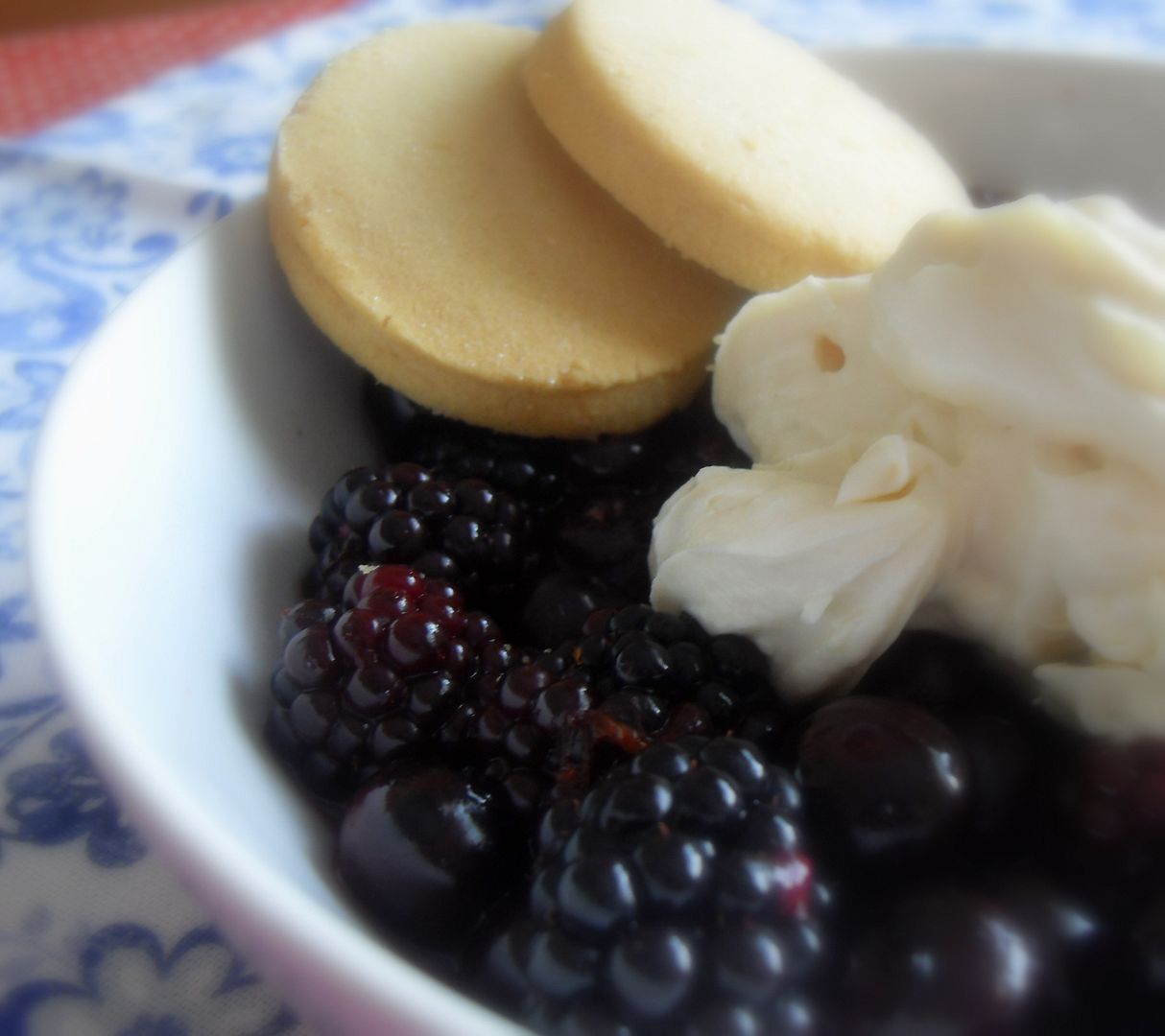 The latest from The English Kitchen, Cheesecake Cream Topped Summer Berries!

See you tomorrow. Have a brilliant today!