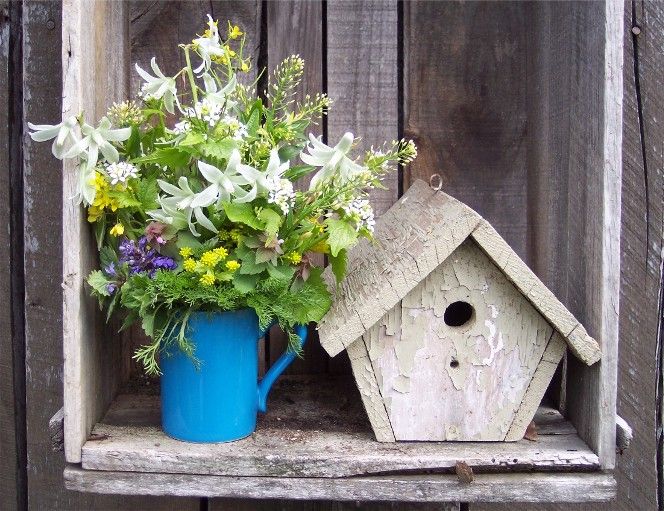 Once a month, a special magazine drops through our letter box. It is called
The Ensign
. It is put out by The Church of Jesus Christ of Latter Day Saints, and we have always subscribed to it. It is filled with wonderfully uplifting articles, and loads of inspiration . . . messages from our church leaders, stories from individual members, etc. We love it and can't wait for it to arrive each month before we each devour it in turn.
It's not only relevant to church members though. I like to think that there are stories and articles in it that
most
people would find interesting, uplifting and inspiring. Of course, you can read it
all online
, if you wanted to . . . but we like to have a hard copy in our hands, and often refer to it during the month. We save each one, and they have become invaluable in helping us to teach lessons, or prepare talks. We refer to them often.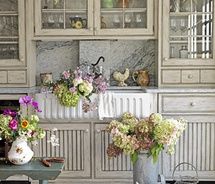 Each issue begins with a special message from one of the members of our church Presidency. This month it was President Dieter F. Uchtdorf, his message being entitled
"Brother, I'm Committed."
I love President Uchtdorf. I have always gotten a lot out of his messages, and this one was no different. I sat down to read it yesterday, as did Todd, and we both came away inspired.
He begins by relating a story of two brothers who want to jump into the waters of a beautiful lake from atop a cliff. As they stand there looking down, their courage begins to fade . . . and they begin to think that maybe next year would be a better time, until finally, one brother has enough momentum to actually jump. He yells "I'm Committed!", as he jumps and it is not long before the other brother follows suit. He then goes on to say that, committment is a little like diving into the water.
*Commitment is a little like diving into the water. Either you are committed or you are not. Either you are moving forward or you are standing still. There's no halfway. We all face moments of decision that change the rest of our lives. As members of the Church, we must ask ourselves, 'Will I dive in, or just stand at the edge? Will I step forward or merely test the temperature of the water with my toes?'"
This article, which you can read in full
here
, reached into both of our hearts yesterday and touched us both in the same way. We are Latter Day Saints, but . . .
do
we do all the things we
should
be doing with the comittment with which we
should
be doing them . . . after asking ourselves this question, and searching our hearts . . . we both realized that we could both be doing a LOT better.
Over this past year and some, we have really struggled with paying our tithing. Since losing my job last year, we have had to manage on a lot less money to live on, and costs keep going up and up. Some months, I admit that we have not paid it. We do catch up later when we can . . . but we
need
to just do it every month, no
matter
what. We can always find a few pounds to treat ourselves at McDonald's every now and then . . . so we
should
be able to committ ourselves to paying a full tithe
on time,
and not have to play catch up at the end of the year.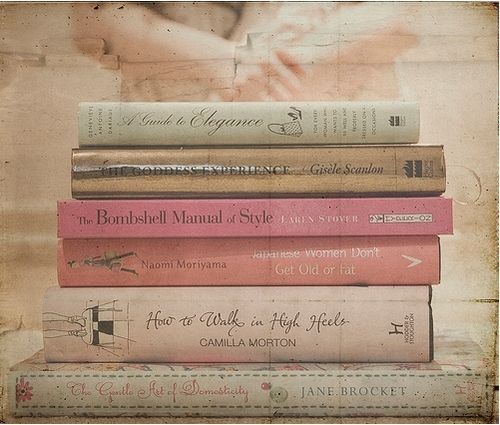 There are other areas we fall down on as well. We have become not so good at family prayer and scripture reading . . . we each do it on our own, but we rarely find the time to do it together. We need to
make
time. We make time to do other things that are not so important . . . we need to push ourselves to
make
time for these things that are
much more
important, not as individuals . . . but as a family. There is a tendancy to tell ourselves that, had we children, we would be more faithful in family prayer and scripture reading together, and I
know
that we would. Does the fact that we don't mean that we don't consider ourselves to be a family???? We
are
a family, even though there are only two of us . . . and we
need
to act like one.
Then, too . . . there is Temple Attendance. We
should
be going more often. The Temple where we live now, is alot further away then it was when we lived down South. The cost of petrol has gone up so much, and our income has gone down a lot. We tell ourselves each month we will go, and then . . . we don't. We
need
to go. The Temple is where we
need
to be, and often. In the past year, Todd has gone once . . . and I have not gone at all. The last time I was at the Temple was in July of last year. I am ashamed of that fact . . . truly. I love going to the Temple, I
really
do. I
need
to go more often.
We each do our Home and Visit Teaching each month . . . but it's not done in the way that it should be done. Todd grumbles each time his partner drags him out . . . and I fit it in at the last minute each month . . . when we both
should
be making it a priority in our lives. We both love it when our Home and Visiting Teachers come . . . so we
should
be having a better attitude towards doing our own. I do love it when I finally go out . . . but I just don't make it the priority it should be in my month.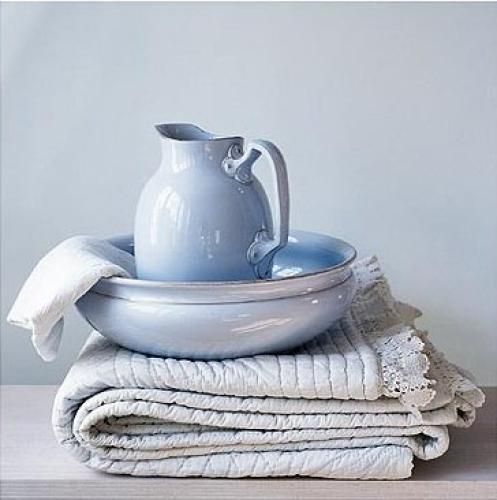 Lately we have been skipping our Sunday School Classes. We go out and sit in the car, and spend an hour with each other talking. To be honest, I was not in Sunday School until just recently, having been in Primary all of last year . . . and Todd was not comfortable going into Sunday School without me, or that's been his excuse really . . . and once I left Primary to serve in Relief Society I have been going along with Todd, and we've both not been going to Sunday School, telling ourselves we don't get anything out of it. The truth is . . . if we
don't
put something in to it, we'll
never
get anything out of it, and sitting in the car is
not
an option.
"Those who are only

"sort of"

committed may expect to only "

sort of

"receive the blessings of testimony, joy and peace. The windows of heaven might only be sort of open to them. . . . There is a difference between intention and action. Those who oly intende to commit may find excuses at every turn. Those who truly commit face their challenges squarely and say to themselves, 'Yes, that would be a very good reason to delay, but I made covenants and so I will do what I have committed to do."
President Uchtdorf . . . consider our arses well and truly kicked!
"Promises are like the full moon. If they are not kept at once, they dimish day by day."
We have both vowed to do better from today, and to scream from the rooftops, with our own examples and lives, that we ARE committed, not just tipping our toes into the water. If we are not committed . . . . then, we are not only letting those around us down, and our Heavenly Father down . . . but we are letting ourselves down most of all.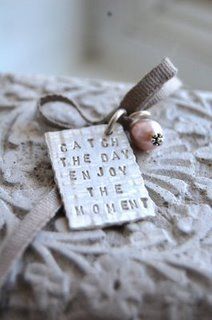 It is supposed to be a fine day today and so we are going to take ourselves off to the Seaside. We're going to bring an elderly friend of ours and my reading pupil with us, so there will be four of us. They don't often get to go anywhere, she because she relys on him as her care giver to take her places, and he, because he can't read the road signs . . . we thought it would be nice to bring them along with us today and I'm really looking foward to it! I'll try to remember to bring my camera!
Here's a delicious light lunch that is not that hard to throw together. I often cook extra bacon if I am cooking bacon for breakfast and then I freeze it, wrapped in cling film, so that I have it to hand when I need a bit. Mind you, it's not really a problem to cook it up fresh for something as tasty as this is either. You can up the flavours by adding some sliced turkey, ham and/or cheese to this as well. T'would become a Club wrap then, I believe!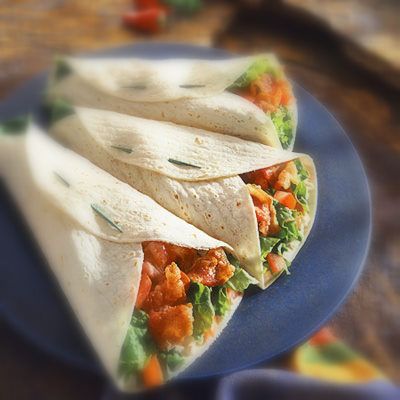 *BLT Wraps*
Serves 4
Printable Recipe
Quick, easy and delicious! They make a nice light lunch.
Dressing:
1/4 cup mayonnaise
1/4 cup of sour cream
2 tsp dry ranch salad dressing mix
1/4 tsp crushed red pepper flakes
To fill:
4 (8 inch) flour tortillas
2 cups of torn lettuce
1 cup of chopped tomatoes
4 slices of streaky bacon, cooked as you like it
(I like mine crisp, Todd likes his limp)
Combine all the dressing ingredients in a small bowl. Set aside.
Warm the tortillas according to the package directions. Lay each out and spread each one with 2 TBS of the dressing. Top each with 1/2 cup of lettuce, 1/4 cup of tomatoes and 1 slice of bacon. Fold over and secure closed with a toothpick. Serve.
Note: You can make this a club wrap by adding some sliced cooked turkey or ham, and some sliced cheddar cheese. (Cut each into match sticks.)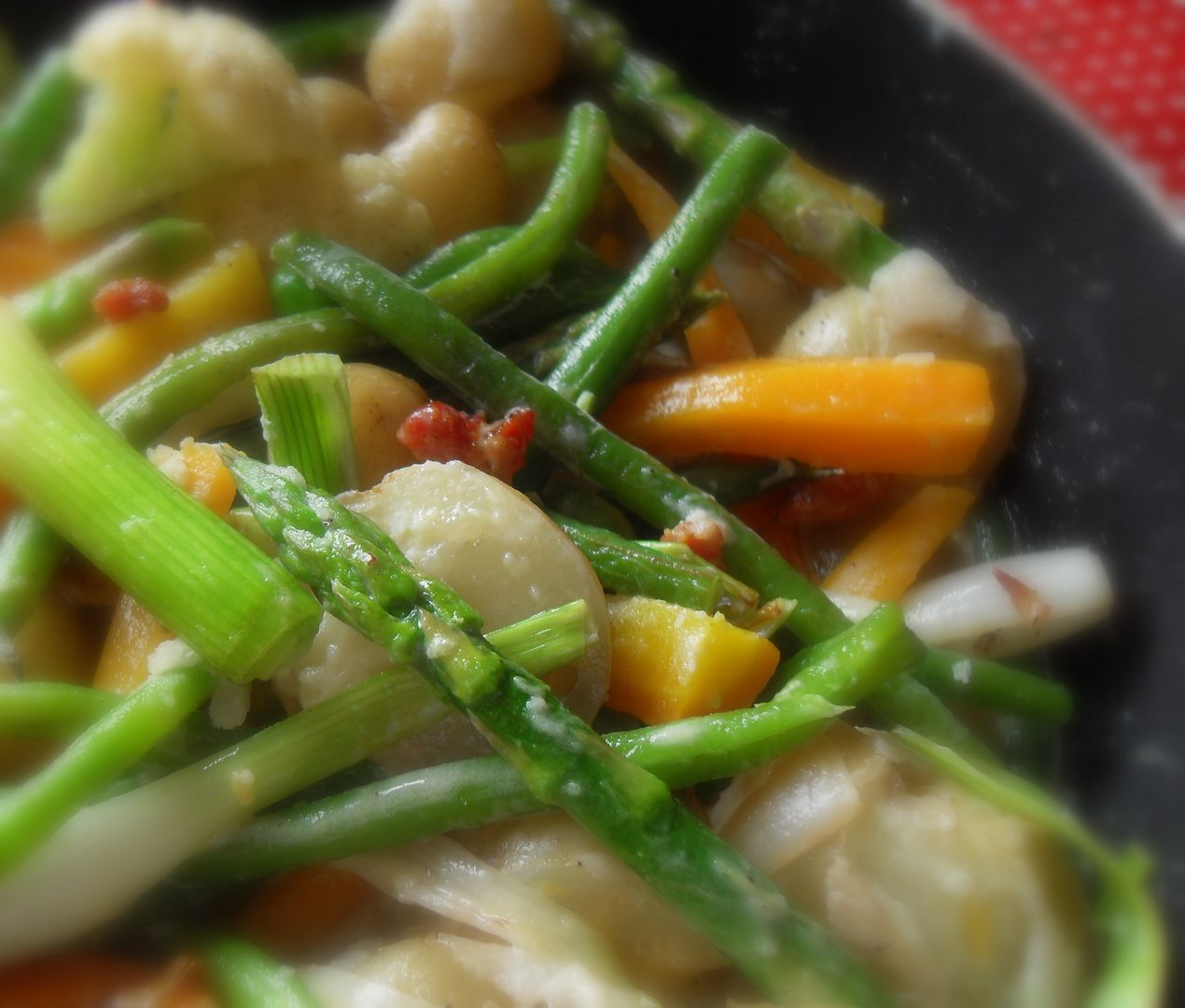 Cooking in
The English Kitchen
today, a delicious Hodge Podge . . . a dinner of new vegetables.