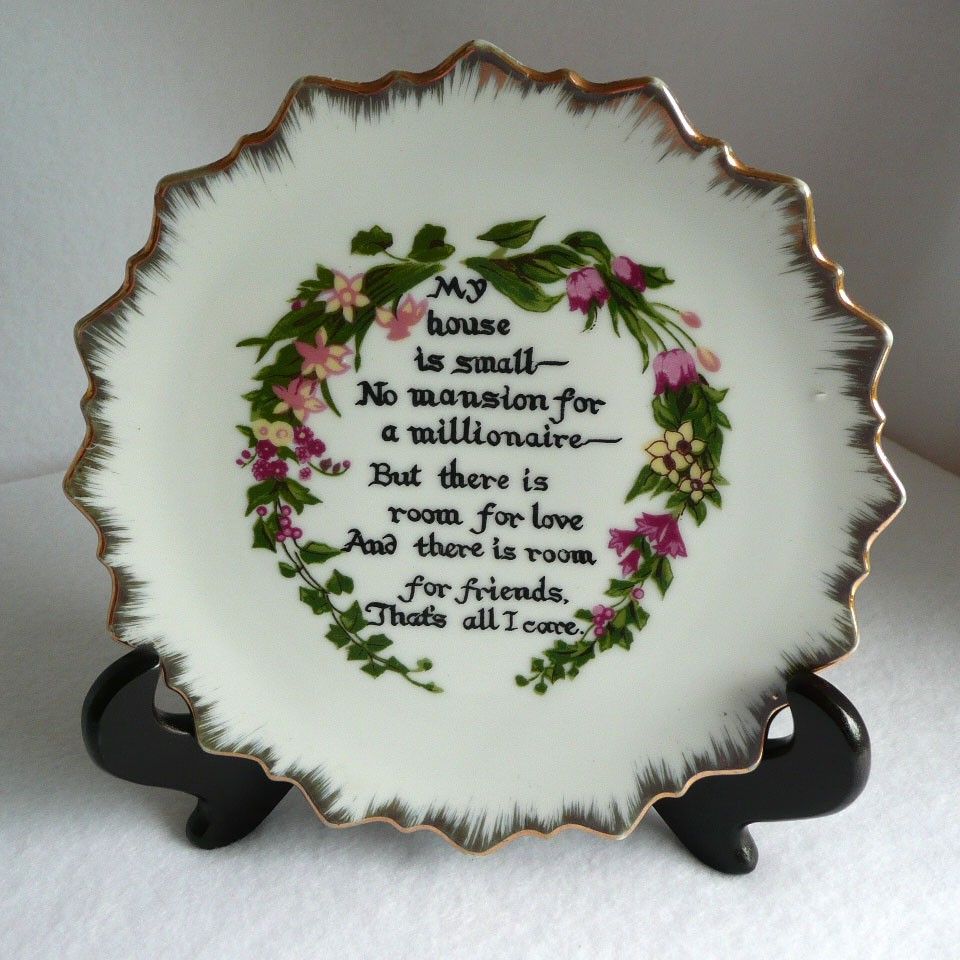 My house is small,
No mansion for a millionare,
But there is room for love,
And there is room for friends . . .
That's all I care.
I have these words on a small and pretty plate for show . . . a sweet reminder to me that, whether it be a castle or a humble cottage . . . a home is meant to be shared.
I do love sharing my home. There is no sweeter sight to me than that of opening the front door and seeing the smiling face of a friend. My heart sings at the very thought, and I can think of no better way to spend a few hours than in the company of a dear, much loved friend!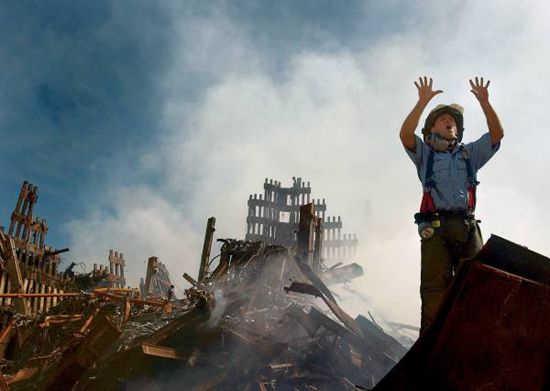 Who does not remember where they were and what they were doing the day the Twin Towers fell . . . you did not have to be an American to know or to feel that our lives changed forever on that day. Today I will bow my head in a silent prayer of remembrance.
I think that it is heartbreaking that the Muslims want to build a mosc on that site, and that the people involved cannot see that it is in poor taste and insulting to the spirit of humanity the world over to want to do so. God must shed a tear at such ignorance. I am sure He also sheds a tear at the thought of someone burning stacks of Koran's. As my father always said . . . "Two wrongs don't make a right." I can't understand why someone with the power to do so doesn't step in and end the madness . . .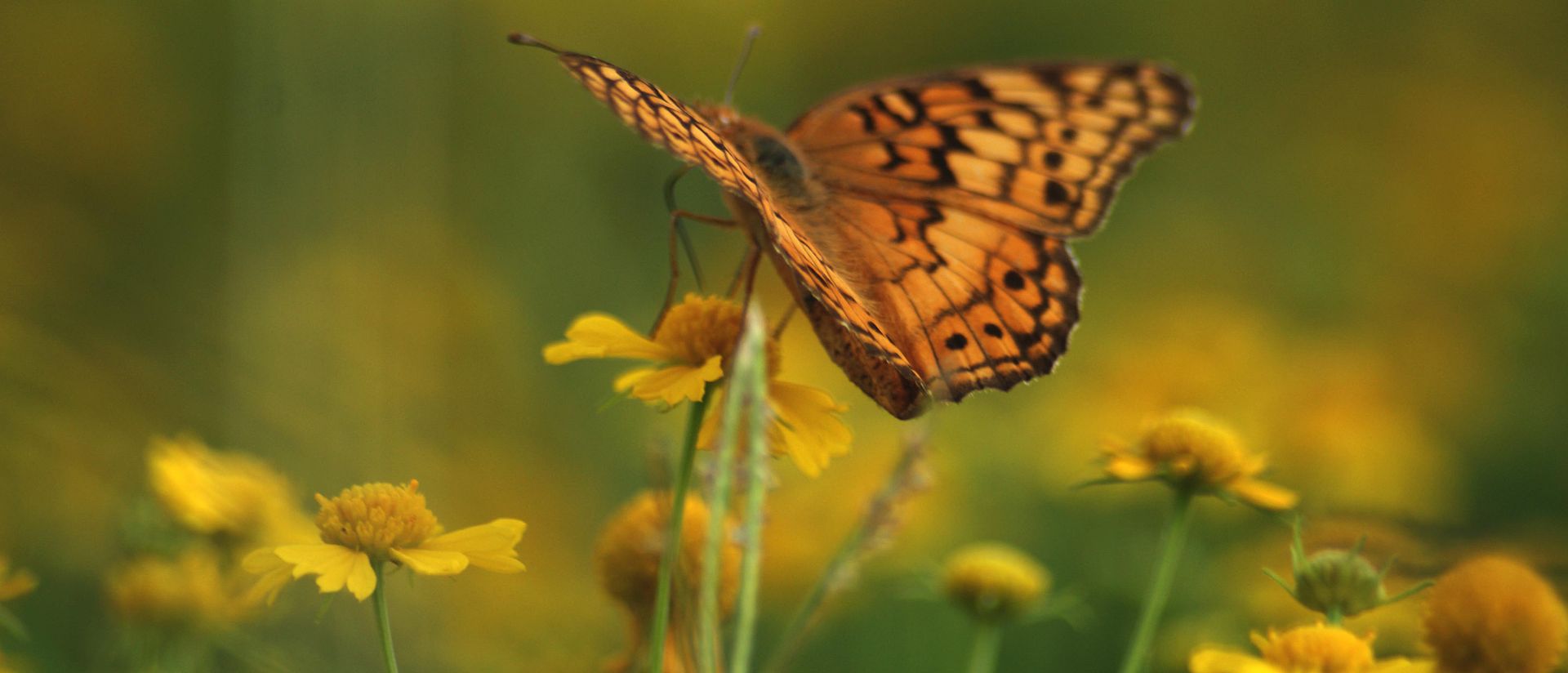 Be happy in the moment, that's enough. Each moment is all we need, no more.
~Mother Teresa
How did one woman become so wise? I love the words of the late Mother Teresa. I am often inspired by them to want to
do
and to
be
better. The World would be a much kinder and gentler place if we all tried to live by her example. I cannot think of a life more Christlike than hers was . . . She saw and relieved much suffering in her world . . . in both small and meaningful ways . . . one kind and loving deed at a time. That is how change begins you know . . . in small and meaning full ways, one kind deed at a time, one person at a time . . . with love for others being the motivation.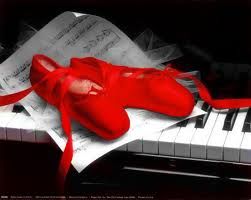 We may feel that,as one person alone, we cannot make a difference . . . but never forget
"To the World you may be one person . . . but to one person you may be the World."
~Heather Cortez
Just my thoughts today on this early Saturday morning . . . as jumbled as they may seem. I hope that you have found some inspiration here, and of course as always, love.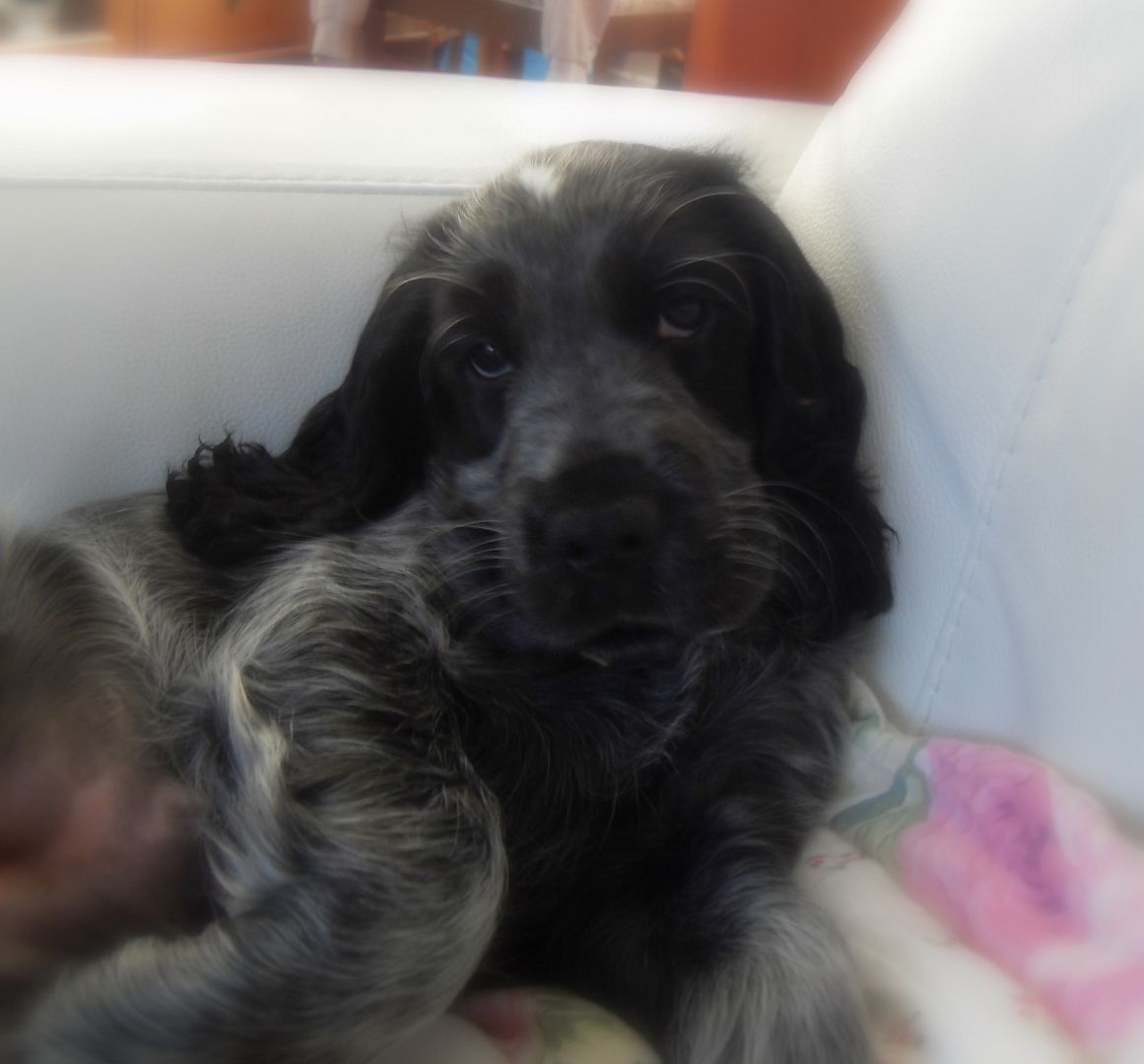 How is this for coy and heart meltingly sweet? I know! I may be a bit biased, but my heart just melts!
I cooked Todd some sausages and mash last night, with a slightly different twist. All the same he enjoyed as usual. He is not hard to please. I know . . . I
am
a lucky woman.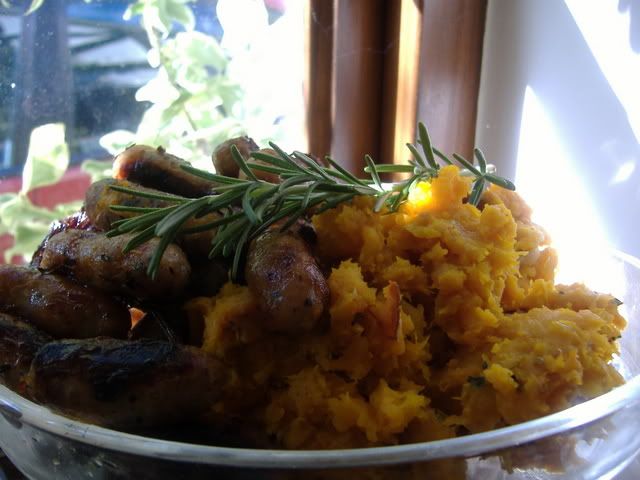 *Roasted Sausages with Butternut Mash*
Serves 4
Printable Recipe
Sausage and mash is one of Todd's favourite meals. This is a delicious version, which is a bit different than the usual. Roasting the squash along with the sausages helps to bring out a depth of hidden flavours in both ingredients. Both are cooked on one tray so there's less washing up!
1 large family pack of good quality Pork Sausages
(I like to use a well flavoured one like Cumberland)
1 large butternut squash
2 TBS olive oil
4 fat cloves of garlic, peeled and mashed a bit
several springs of fresh rosemary and thyme
sea salt and freshly ground black pepper
Preheat the oven to 200*C/400*F/ gas mark 6. Spread the sausages out onto a large oven tray with sides. Set aside.
Using a sharp knife cut the squash in half. Using a spoon, scoop out the seeds and discard. (of if you are like me rinse them off, allow them to dry and then put them in an envelope to plant out next spring for a fresh crop of lovely butternut squashes all your own. They grow like weeds) Peel with a sharp vegetable peeler and then cut into 1 inch chunks. Place the squash onto the baking tray along with the sausages. Add the prepared garlic cloves and toss it all together with the olive oil. Pat everything out so that it is in a single layer. Scatter the rosemary and thyme springs over top. Cover tightly with foil.
Bake in the heated oven for about twenty five minutes. Remove the foil and increase the oven temperature to 250*C/approx 450*F. Give everything a good stir and then bang it back into the oven to cook for a further 10 minutes, until the squash is tender and beginning to colour.
Remove the cooked squash, garlic and any pan juices with a slotted spoon to a bowl, discarding the stems to the herbs. Return the sausages to the oven for a further five minutes or so, until they are nicely browned the way you like them. In the meantime, mash the squash with a potato masher until smooth. Season to taste and set aside, keeping it warm.
When the sausages are browned enough to your taste remove them from the oven. Serve them hot with the mash and lashings of oven gravy if you are so inclined. We like to have a steamed green vegetable with this. The purple sprouting broccoli is coming back into season right about now and would go perfectly.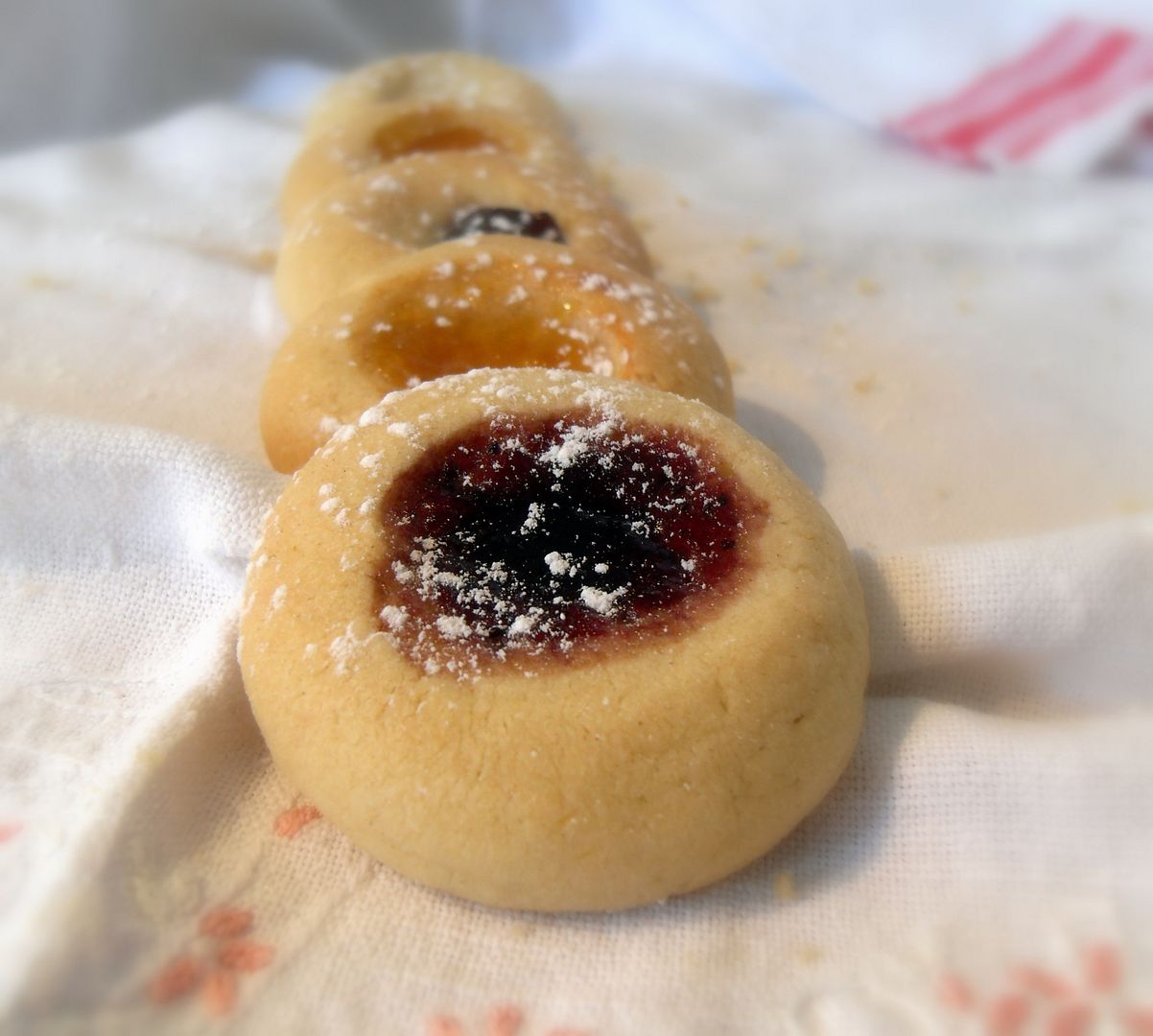 Baking in
The English Kitchen
today it's Jammy Thumbprints!