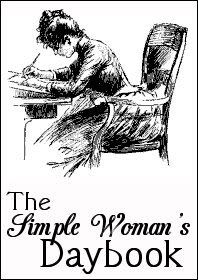 FOR TODAY, November 23rd, 2009 ...

Outside My Window...
It is dark and very, very windy. It's also raining. It looked on the weather forecast last evening like we have strong winds and rain with us for another week. Cumbria has been devastated by all the wind and the rain of the past week. It's so very heartbreaking to see the places that I have visited and loved so much on the news . . . my heart and prayers go out to the people there. They are telling people not to travel there and for the people there to stay indoors. It's all so very sad.
I am thinking...
About the lovely Primary Presentation we had in Sacrament meeting yesterday at church. For those of you who don't know, Primary is the name we give to our children's Sunday School Organization. Once a year all the children and their leaders put on a special presentation after the Sacrament has been passed in our Sunday family meeting. It's always so wonderful to watch. The children share all the songs that they have learned throughout the year, special talks and activities that have to do with whatever the theme has been for the past year. This year's theme was My Eternal Family. For this past year the children have been taught their role in Eternal Families and how they can strengthen the families they have now and how they can prepare to be faithful fathers and mothers in the future. It was lovely, absolutely lovely. We only have a small group of children in our Primary, as we are only a small congregation. There are only six or seven children, but they did a fabulous job and none of the adult workers did anything at all except supervise the presentation. Everything was presented by the children. All the talks, all the songs . . . everything. I was most impressed. It was the best Presentation I have ever seen.
I am thankful for...
My church and all of it's teachings, especially those about families. Sometimes I feel really bad, because I do not have an eternal family . . . well, Todd and I are joined together eternally, but none of my children are sealed to us forever . . . and as a mom that does make me sad. We have been able to have two of his sons sealed to us eternally, so that's pretty special. I feel a bit sad when I see all the other families together and I think about the family I had . . . the family I have . . . and how split up it is, and how they don't really look up to me as their mother. I have one child only that really cares about me in that way . . . the rest can't be bothered. I sit there and think to myself, I must have been a really horrible mother that none of them really have anything much to do with me. I tried to be the best mom possible for them. I chose to stay home with them so that they would always know where I was and so that I could always be there for them. I loved, and love them totally and unconditionally. They were my whole life. It is funny how you can be really good at something for like ever . . . and then make one mistake, or slip up once . . . and that is what you will be remembered for . . . and judged for. It's so sad.
From the kitchen...
There's cookies and leftover pumpkin crunch. I'm not sure how much I'll be cooking around here this week, with a full load of people up at the big house for this Thanksgiving holiday and all. I shall be very busy at work . . . things will be a bit full on crazy!!!
I am wearing...
Pink jammies and my blue slippers. I think pink is one of my favourite colours, as I seem to have a lot of things that are pink and know what??? Purple is slowly slipping into my wardrobe as well. It reminds me of that poem about wearing purple when you get old! Yikes!! Am I getting old???

I am creating...
I was busy sewing Gingerbread Man Ploppers yesterday afternoon. I have them all sewn together and just have to put the finishing touches on them now. I made several snowmen as well. They are really cute when they are finished. You fill the bottoms of their feet with rice so that they just kind of plop into place. Cute, Cute, Cute!!! I can't wait to finish them so that I can show you!
I am going...

I have a very busy few week ahead! There will be lots of people staying up at the Big House this week for the holiday. All the family will be there, plus friends. I am not sure of total numbers yet, but I know it will be a lot for the actual dinner itself on Thursday. I have a ton of food to cook just for that day alone . . . I can't tell you exactly what I will be cooking as they wouldn't like me to do that, but there will be three appetizers, one first course, a main (turkey of course) along with 7 side dishes, and three desserts. I shall have my hands full!! My very first Thanksgiving up there I burnt the turkey. I know!!! What
am
I like!!! Todd had to hurry down to the local shops and try to find two turkey's to replace it at the last minute! Fortunately he was able to. Dinner was a little late that year to say the least!
I am reading...
The Chosen One
by Carol Lynch Williams.
Thirteen-year-old Kyra has grown up in an isolated polygamous community without questioning her father's three wives and her twenty brothers and sisters. Or at least without questioning them much—if you don't count her secret visits to the Mobile Library on Wheels to read forbidden books, or her meetings with the boy she hopes to choose for herself instead of having a man chosen for her. But when the Prophet decrees that Kyra must marry her 60-year-old uncle—who already has six wives—Kyra must make a desperate choice in the face of violence and her own fears of losing her family.


I am totally fascinated by polygamist communities. (I know that must seem wierd because I am a Latter Day Saint and we really are adamant in proclaiming to the World that we do NOT practice Polygamy at all. I know that there are a lot of people out there that believe that we do and it is a hard fact from our past that we all work very hard to live down. Lots of people out there think that we still do and I have heard many jokes from people that purpote this same idea. It's just not true folks. Mormons do not have multiple wives and the church does not condone or tolerate that at all. Polygamists are not Mormons!) I still find it fascinating even though I would never accept living like that, and I feel sorry for the women and children that do have to live like that. I say have to . . . because I don't think they have been given the choice not to, and I don't think they really know that there is another way, and that their lives are guided by fear, ignorance and deceit. I also find the Amish very fascinating as well, but in a completely different way.
I am hoping...
That I make it through the coming week with all my faculties! haha
I am hearing...
I am hearing nothing but the ticking of the clock, the humming of the refrigerator, the clicking of my keys and Jess's gentle snores from over in the corner. It is so very quiet in here. Outisde the wind is raging but in here there is peace. There is a great peace in the silence, and comfort. I feel all cosy and warm and safe.
Around the house...
I have one more package to post for Christmas, to my mom and a few for some good friends, and then I have all my cards to do. I don't think I'll be getting much done in that way this week, but at least I have a plan!!
One of my favorite things...
Is reading all of your lovely comments. They really do mean the world to me and I read each and every one. Sometimes one or another of you will ask a question. I try to e-mail the person back if I can, and if I can't I leave a comment myself. Just so you know. If you have asked me a question and haven't had an answer, go back and read the comment thread. Oftimes you will find my answer there!
A Few Plans For The Rest Of The Week...
I don't even want to think about it!!!
Here is picture thought I am sharing...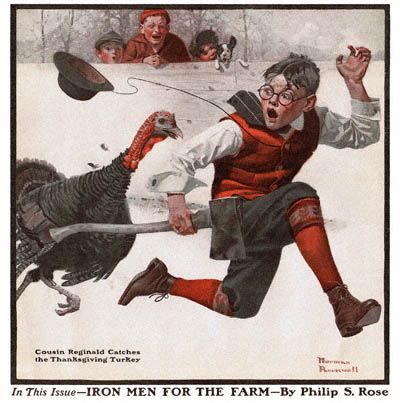 I know alot of you are familiar with the famous Norman Rockwell painting of Thanksgiving with the whole family sitting around the table in great anticipation of eating the turkey that the family patriarch is just placing down in front of them. It is my favourite one of all. I found this one though and thought it rather humorous and perhaps one that we don't get to see all that often, so I thought I would share it with you today. I love the art of Norman Rockwell. What a great talent he was!!
And there you have it, my Simple Woman's Day Book for today. Don't forget to hop on over to the
Simple Woman
to check out the other day book entries! (Or better yet, do a simple day book entry yourself! It's not that hard and I am betting you would enjoy it!)
We've been eating a lot of soup and comfort foods lately. Probably because of the cooler temperatures and the nasty weather. This is a delicious soup I recently made that went down a real treat!! I do love soups made with pulses. They are quite filling and nutritious, and in this case, quite delicious!!!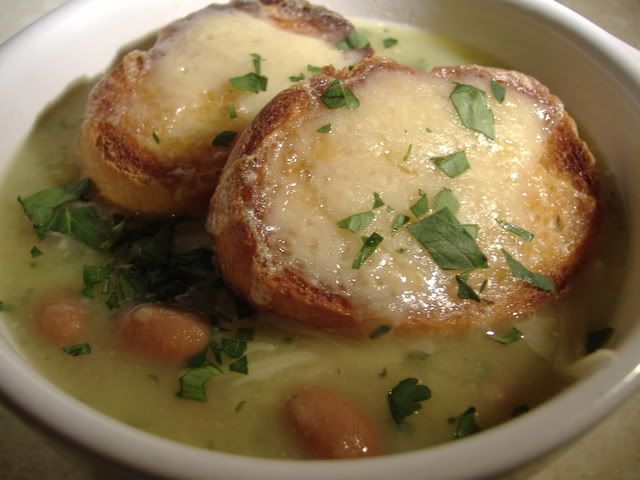 *Leek and Bean Soup*
Serves 4
Printable Recipe
This soup is a complete meal in a bowl. It's really rich and flavourful with leeks and potatoes, and the addition of beans and toasty little cheese croutons floating on top. Lip smacking good and very quick to get on the table as well!!!
1 TBS olive oil
2 cloves of garlic, peeled and crushed
2 large leeks, washed, trimmed and chopped
2 medium to large potatoes, peeled and diced into a small dice
3 cups vegetable stock
4 TBS of finely chopped fresh flat leaf parsley
410g tin of borlotti beans, drained and rinsed
1 small french baguette, sliced into 8 slices
3 ounces sharp cheddar cheese, grated
Heat the olive oil in a large saucepan. Once it is hot, add the garlic and the leeks and cook them over medium heat for 4 to 5 minutes, stirring often, until they are soft but not coloured.
Add the potato and the vegetable stock. Stir, then bring to the boil. Reduce the heat and simmer, covered, for 20 minutes, until the vegetables are quite tender. Remove from the heat and puree with a stick blender, or in the electric blender or food processor. (Use care and only puree a small quantity at a time if you are using either of these. The heat of the soup can make the lid blow off. I always put a tea towel over top if I am using the blender or food processor)
Return to the pan (if using the blender or processor) and add the beans, along with half the parsley. Gently allow to hear through.
In the meantime, set the grill to high. Place the slices of bread onto a grill rack and toast them on both sides. Remove from the oven and place them on a baking tray. Sprinkle each slice on one side with the cheese, using only about a TBS of the cheese on each. Place back under the grill, and grill until the cheese is just melted. Stir the rest of the cheddar into the hot soup, stirring it until it is melted.
Ladle the soup into four heated bowls and float two cheesey croutons on top of each. Sprinkle with the remaining parsley to serve. Delicious!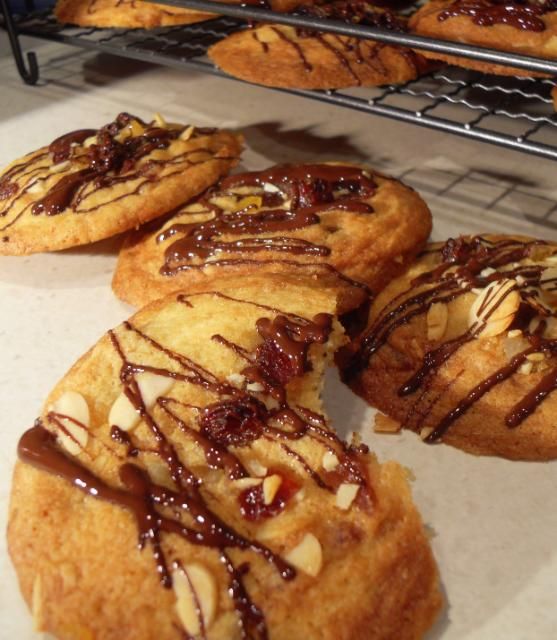 I'm baking cookies over on
The English Kitchen
today! Tasty Florentine Biscuits! Yummo!!