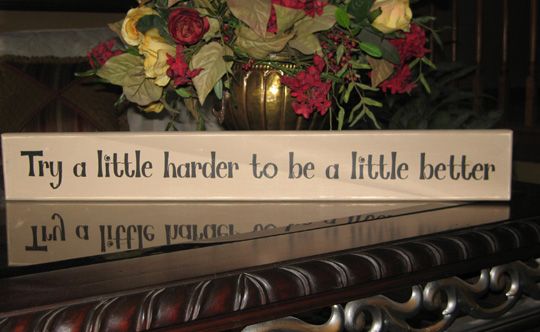 "Train your minds and your hands that you may be equipped to serve well in the society of which you are a part. Cultivate the art of being kind, of being thoughtful, of being helpful. Refine within you the quality of mercy which comes as part of the divine attributes you have inherited."
~Gordon B Hinckley
I just love these words by our late Church President. They help to remind me of why I am here. We are not here on the earth by accident. We are here to learn and to grow and to become more like our Heavenly Father. What better way can we do this by serving others and doing what little we can to help to make the world a better place. I truly believe that in doing so, we become a better people, that in the simple act of giving our life away . . . we begin to truly live it, that service to others gives our lives purpose and meaning . . . and joy.
Not a lot of words to share this morning, but I hope that they have struck a chord somewhere with someone, as they have with me. I slept in, which is very rare and so I don't have a lot of time to spend, so this morning, my words are short but hopefully sweet!
This is a recipe that I had posted a while back on my old journal on AOL. This is one of my sister's favourite recipes of mine. I have not made it in a while, but I think I shall have to dust off my cake tin and bake one today. Everytime I bake one, I think of my friend Leona, from whom I got the recipe years ago. What a dear friend she was and still is. We have shared many good times and recipes with each other throughout the years. It also makes me think of my sister and the wonderful hours we have spent together. Isn't a recipe wonderful when it helps to generate beautiful thoughts of such special people and your times spent together? These dear memories help to make the things you cook taste all the better I think.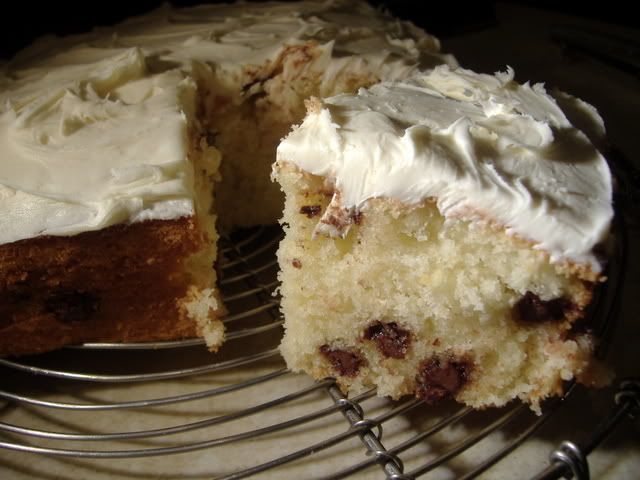 *Chocolate Chip Cake*
Makes one 8 inch square cake
Printable Recipe
This is a tasty amd moist white cake, just stogged full of delicious milk chocolate chips. If you are feeling really indulgent you can replace the chocolate chips with the same amount of good quality milk chocolate cut into bits. My favourite it Green and blacks. The icing does call for raw egg yolk, so if you are making this cake for the elderly or the very young, I would replace it with a plain vanilla buttercream icing.
for the Cake:
1/2 cup butter, softened
3/4 cup sugar
2 cups flour
3 tsp baking powder
1 tsp vanilla
3 egg whites, beaten stiff along with 1/4 cup sugar
3/4 cup milk
3 ounces milk chocolate chips (Or an equivalent amount of good quality milk chocolate,
such as Green and Black's, chopped into small bits) (Remove 1 TBS of the flour before mixing it with the
baking powder and stir this into the chocolate chips so that they don't sink when baking)
for the Icing:
1/2 cup butter, softened
1 1/2 cup icing sugar
3 egg yolks
1 tsp vanilla
Pre-heat the oven to 180*C/350*F. Grease an 8 inch square pan and then line it with parchment paper. Grease again and then set it aside.
Cream the butter and sugar together until light and fluffy. Whisk together the dry ingredients. Add them to the creamed mixture, alternately, beginning and ending with the dry. Carefully fold in the beaten egg whites. Fold in the chocolate chips, along with any flour residue. Spread the batter into the prepared pan and then bake for 30 to 35 minutes, or until the centre springs back when lightly touched and a toothpick inserted in the centre comes out clean. Be careful not to overbake it. Let sit in the pan for about 10 minutes before removing it completely to a wire rack to cool before icing.
To make the icing, cream the butter until light. Beat in the remaining ingredients, beating until light and fluffy. Spread on top of the cooled cake.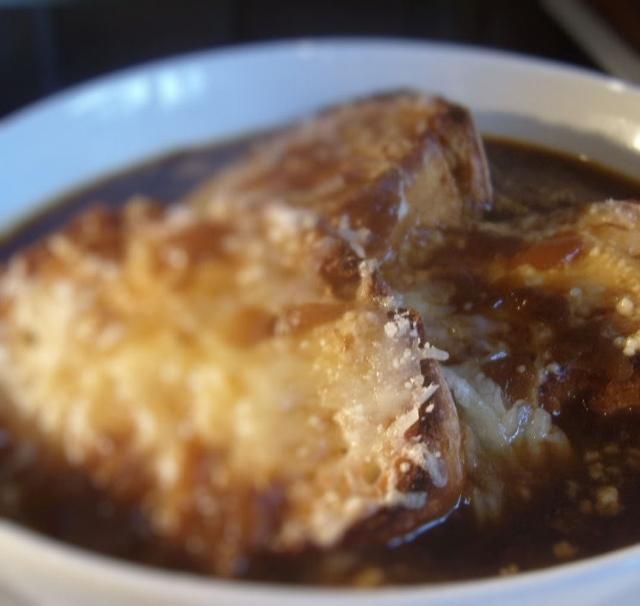 I've got a delicious French Onion Soup on offer over on T
he English Kitchen
this morning.
PS - just as an offside, Laurie from Sault Ste Marie asked yesterday why I was cooking a Thanksgiving dinner at work as people in the UK don't traditionally celebrate Thanksgiving. You are correct Laurie, Thanksgiving is not a British celebration, but because I work for an American family over here, I get to celebrate it with them, or errr . . . cook it for them at any rate! (One of the parts of my job that I really enjoy I hasten to add!!!)