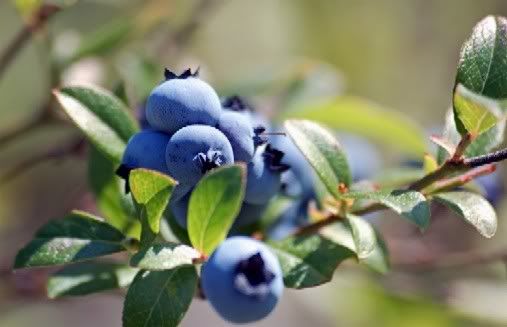 What's soft in the middle,scrumdiddlyumptious, chock full of blueberries and covered all over with a deliciously scrummy brown sugar and nut streusal? Why, it's Blueberry Crumb Cake, this weeks Tuesday's With Dorie challenge as chosen by
Sihan of Befuddlement
! Yes, welcome
Tuesdays With Dorie
, that delicious baking group that bakes together once a week, one delicious recipe from that delightful baking book, "Baking, from my home to yours," by the equally as delicious
Dorie Greenspan
! This week's recipe, Blueberry Crumb Cake, can be found on pages 192 t0 193.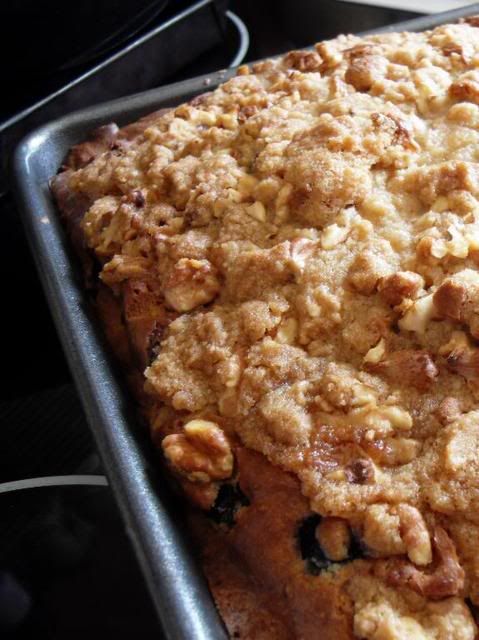 Oh Sihan, I have been wanting to try this recipe for a long time and I was absolutely thrilled when you picked it for the recipe this week!! I have a long standing love affair with blueberries . . . crumbles, pies, jams, cakes . . . in any way shape or form, I am there!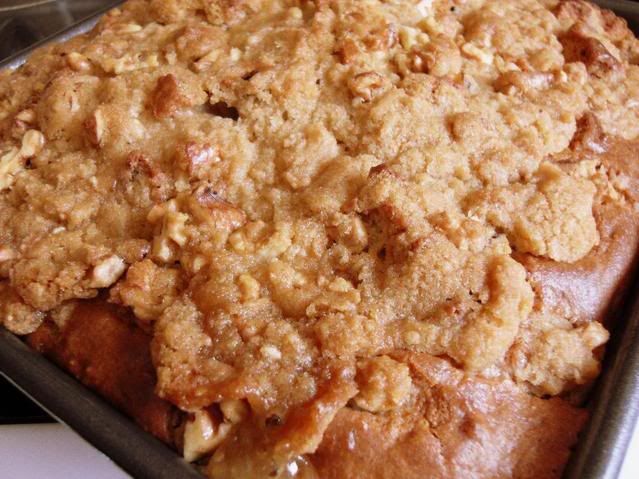 When I was a kid, I hated the idea of blueberries. I think it's because my parents always forced us into slave labour in the late summer, picking what seemed like gallons and gallons of them to put into the freezer for the winter ahead. The rural countryside of Nova Scotia is filled to the brim with wild blueberries, and we would fill up our freezer every year with at least half a dozen gallon sized ice cream buckets of them. This was back breaking labour, for wild blueberries do not grow on chest high bushes, they grow low to the ground in the scrub and the brush, and you have to squat and pick for hours and hours to fill up an ice cream bucket!!! Not only that, but you have to keep your ear open for bears in the brush while you are doing it, coz blueberries in late summer are like, one of their favouritest meals! Anyhoo . . . all of this didn't keep me from chowing down on one of my mother's blueberry pies when I was a kid, nor her pancakes, muffins, cakes . . . well . . . you get the picture! I was like that old grasshopper in Aesop's fable. I wanted all of the pleasure without experiencing any of the pain!! (I've changed, I promise!)
This cake is just wonderful, with a beautifully moist texture. It is filled to the brim with delicious, tart blueberries and the topping is to die for. I could just stand at the counter and pick it off in bits, all sweet and crunchy and buttery in the mouth . . . but I don't . . . coz that would be greedy indeed . . . ok, ok . . . so I am responsible for the bald patch in the corner, but I really couldn't help myself, it's just sooo good!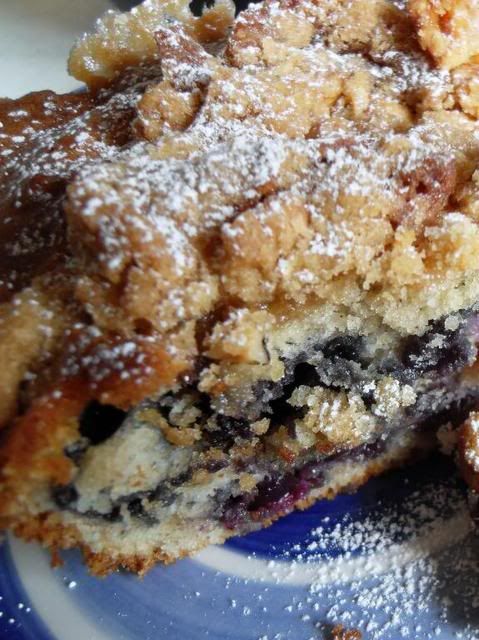 Easy to stir together, easy to bake and easy to eat. This cake wins on all three counts! It's enough to make Fat's Domino break into song . . . 'nuff said. Don't take my word for it. Hop on over to
Sihan's page
and grab the recipe for yourself. You'll see what I mean! I speak the truth.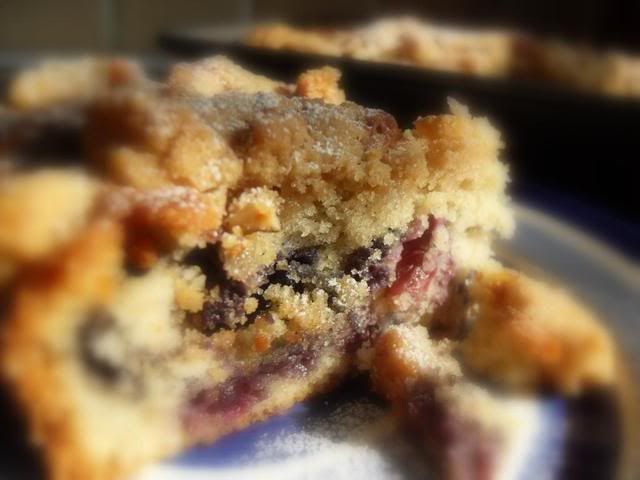 If you want to see what everyone else did with this recipe take a gander at the
Tuesdays With Dorie blog roll
. You won't be sorry. There are some really creative people in this group, not to mention great photographers! Don't hold me responsible for any weight gained though . . . you may want to be running on the spot while you look just to combat that possibility!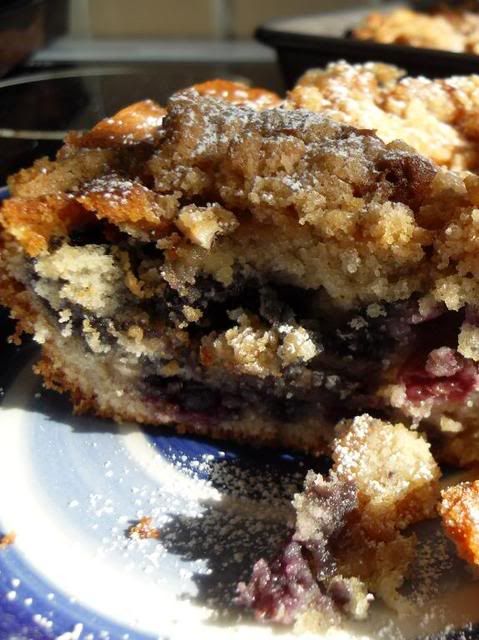 Next week's recipe is the
Coconut Butter Thins
on page 145, as chosen by Jayne of
The Barefoot Kitchen Witch
. . . hmmm . . . butter and thin in one sentence . . . this sounds intriguing!