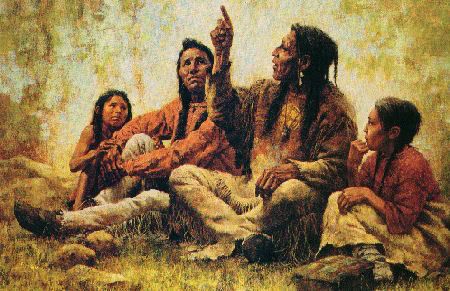 Once upon a time, an old Cherokee Indian was teaching his grandson about life.
"A struggle is going on inside me," he said to the young boy. "It is a tough one and it's between two strong wolves. One is evil . . . he is envy, greed, guilt, resentment, self pity, lies and false pride. The other is goodness . . . he is joy, serenity, compassion, humility, benevolence, and truth."
"The same fight is going on inside you as well and inside every other person." He added.
The grandson looked up at his grandfather with frightened eyes and asked, "But tell me Grandfather, which one will win?"
His Grandfather replied . . . "The one you feed."
May we all feed the good wolf from day to day and allow the bad wolf to starve. That is my prayer for each one of us.
As I look out at our garden this morning I can see the results of the strong wind and all the rain we had yesterday. The grass is full of branches, having been blown off of our trees, and I have noticed that the water dish from our bird feeder is laying across the lawn and broken in two. As I lay in bed and listened to the wind blowing against our windows last night I was a bit worried that I would wake up in Oz this morning!! My goodness but it was terribly strong. The worst I have heard yet! I would imagine that there are a lot of branches down all over the Estate this morning. I have to work quite late tonight, so don't be worried if I am late showing up here tomorrow morning. This happens from time to time. I shall just be sleeping in. You never know who may show up instead though . . . I see we had a special visitor yesterday. I'm glad that you didn't mind my guest cook for the day!
I cooked Todd a delicious chicken dinner last night. Earlier this week I had gotten a lovely little vegetable box from Waitrose for a very good price. For only a couple of pounds I got some tasty little new potatoes, green beans, chanteney carrots and broccoli, just enough for two people. I steamed each of those and then I cooked some Chicken Breasts to go along with them. Dinner was ready in no time at all!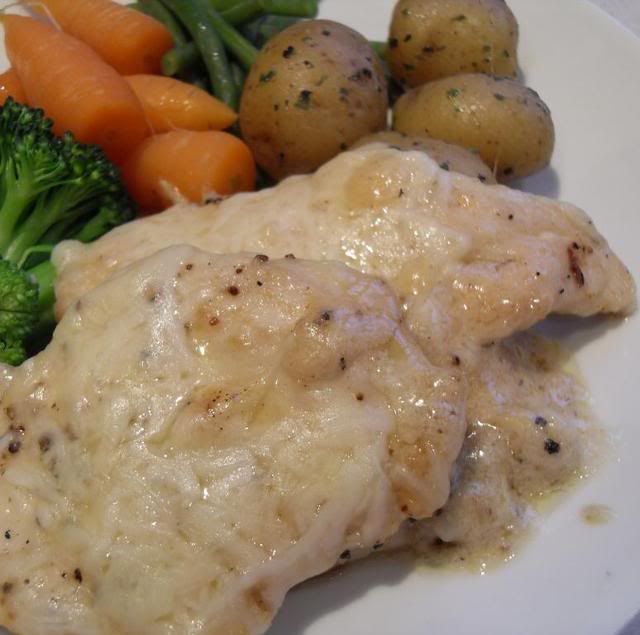 *Cheesy Sauced Chicken Breasts*
Serves 4
This is a very tasty way to stretch two chicken breasts to feed four people. Warm and comforting, it never fails to please. It's also very quick to throw together.
2 boneless, skinless Chicken Breasts
3 TBS plain flour
salt, pepper and garlic powder
2 TBS olive oil
4 ounces of Italian Cheese blend
(One that has provolone, parmesan, mozzarella, etc. in it)
1/2 cup (4 fluid ounces) milk
Take each chicken breast and slice through them horizontally to give you two flat pieces from each, totaling 4 pieces altogether. Place them one at a time into a small baggie and pound to flatten them a bit and make them an equal size. Season each piece with some salt, pepper and garlic salt. Dredge with flour, shaking off any excess.
Heat the olive oil in a large skillet. Once it is hot add the pieces of chicken and brown them on first one side and then the other. This should only take a few minutes per side. Once they are browned, sprinkle and divide the cheese over top of each one in equal amounts. Turn out the pan and add the milk. It will bubble up. Cover with a lid and let it to sit on the residual heat of the burner for several minutes, until the cheese has melted and a rich cheesy sauce has formed. Divide amongst four heated plates and serve immediately. Delicious!