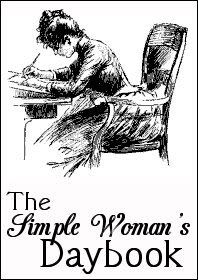 FOR TODAY, March 9th, 2009 ...

Outside My Window...
It's still quite dark as I am up a bit earlier this week. No sound but the wind blowing and it feels quite cold. Is this March coming in like a Lion? Dare I hope?? My mother always said that if March came in like a Lion it would go out like a Lamb. I can remember when I was at school, when I was very young, we used to do colouring pictures of Lambs every March. We'd colour them in and stick cotton wool all over them for their fleece.
I am thinking...
"Lo, children are an heritage of the Lord; and the fruit of the womb is his reward. As arrows are in the hand of a mighty man; so are children of the youth. Happy is the man that has his quiver full of them." ~Psalm 127:3-5
I love the book of Psalms. There is so much wisdom on it's pages. Can you imagine how different our world would be today if every parent, and indeed society, looked upon it's children as one of their most precious assets. Every day I am reading about how this child has been abused or that child . . . children disappearing, children being abandoned, thrown away like garbage. It breaks the heart. Can you imagine how much the world would change if every single mother and father treated their children as if they were precious jewels, as gifts from above . . . if they led them by the power of their own example in love and kindness and brought them up with true affection in the wisdom of the Lord? I think I just described heaven?
I am thankful for...
Goodly parents that loved me and that did their very best for me. I may not have had the most expensive toys and clothes, but I knew that I was loved. I was never hungry and I was always warm and cared for. No, they were not perfect parents. I was not a perfect parent. But there was always plenty of love to go around, and as an adult I have learnt to forgive them for their short comings as I hope one day my children will be able to forgive me.
From the kitchen...
mmm . . . there's banana muffins cooling on the counter top and I have big plans for later on. I made a lovely pot of celery soup yesterday for our lunch, that I served along with some drop scones. Sometimes on a cold day nothing will do for it but soup, and this soup warmed us right down to our bones. It was wonderful. You can find the recipe
here.
I am wearing...
Black and white jammies!
I am creating...
I have ever so many plans. I would like to make a doll just like the little girl I am always painting in my pictures. I listed a bunch of new prints in my Etsy shop yesterday. Is that being optimistic? I don't know. When I was in Utah recently I got to meet the artist
Jean Keaton.
She is the artist that does all those lovely pictures of the Saviour with children. I have long admired her work, and lo and behold, isn't she Lura's niece! It was so lovely to meet her, spend some time with her, and see some of her work in person. I know that my little pictures don't even come close to what she does with her magic fingers. She truly is a great talent.
I am going...

If you are a man, close your eyes now!! I have the dreaded appointment today with the nurse for the dreaded pap smear. That is the one thing I hate most in the world. It is one of life's necessary evils though. My grandmother died of cervical cancer, or at least that's where her cancer started. It's quite curable if you catch it early enough. In Canada you are entitled to a smear every year. Over here I think they only do them every two years. Having said that though, I've been living here 8 1/2 years and I have only had two tests. Long overdue I'd say. Then this afternoon I have an appointment with my chiropodist. I had to cancel the one last week as I was recovering from having worked all night so I am getting it done today. I love the way my feet feel after I've been to him . . . just like a million bucks!
I am reading...
I am still reading
"The 19th Wife. "
You are going to get tired of this book before too long!! It's quite thick, but boy oh boy is it interesting. It fluctuates between actual historical accounts from the past and a modern fictional account. It's really quite interesting.
I am hoping...
That each one of you will be blessed in some way today. That out of all the hours that you shall pass, doing whatever it is you are doing . . . that at the end of the day when you get into bed, you will be able to reflect on your passed hours and find some little gem, some little treasure, some little gift from the day, that you will be able to look to the heavens and say . . . thank you.
I am hearing...
The sun is that little bit above the horizon now and I can hear the morning chorus just beginning. A few twitters here and there, and soon it will build to a wonderful song and beautiful noise. There is a song thrush that loves to sit on the peak of the roof next door and sing his little heart out. He does it both in the dawning and then again at dusk. What a wonderful song he sings! He has quite a few different tunes he sings and he goes through each one of them in turn. What a delightful sound it is to listen to!
Around the house...

We have ordered several more bookcases. One would have thought that six would be enough, but we ended up ordering another three this past weekend. They aren't really expensive ones, but at least they will do what they need to do. Our library has a gabled roof so we are only able to get short ones, with only 3 shelves. If we could use regular tall book cases we would not need nearly so many! Nine bookcases sounds really bad doesn't it!
We still need to paint the kitchen. I told the Estate manager what colour we wanted quite some time ago. I expect he has forgotten so we may have to remind him. It would be nice to get this kitchen finally finished completely.
One of my favorite things...

is reading my scriptures. It doesn't matter how many times I open them, I always discover something new, some fresh wisdom to meet me wherever it is that I am at in my spiritual journey. It seems that no matter how many times I can read the same passage, each time is like the first time, and I learn something new. When I am in need of comfort or inspiration, I often just let them fall open where they will and, amazingly enough, just what I need to read is right there in front of me! I look at the scriptures as being one huge love story, from a loving Heavenly Father to His children . . . a road map for life from beginning to end. Everything you need to know about living and dying and beyond is written on it's pages.
A Few Plans For The Rest Of The Week...
I have work naturally, and then I have a Seminary lesson to prepare for Thursday night and also the Young Women's mutual activity on Thursday evening. Our YW presidency has changed. We have a new president and I am now first counselor. Actually I am the only counselor as we have so few girls that we only need the one. It will be interesting to see how much things change with a new President. I shall really miss Karen. She was a great gal and I loved working with her. Change is good though and I am sure I will adapt quite well, or at least I hope that I will!
Here is picture thought I am sharing...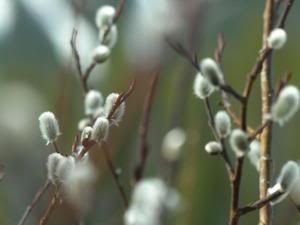 Yes, it's pussy willows!! That great harbinger of springtime! As a girl, I loved to go gathering pussy willows. We would bring them into the house and and put them in a vase and watch the magic as they would expand and then grow into a long tail, catkins . . . I thought them quite amazing. I still do.
According to an old Polish legend, many spring times ago, a mother cat was crying at the bank of the river in which her kittens were drowning. The willows at the river's edge longed to help her, so they swept their long graceful branches into the waters to rescue the tiny kittens who had fallen into the river while chasing butterflies. The kittens gripped on tightly to their branches and were safely brought to shore. Each springtime since, goes the legend, the willow branches sprout tiny fur-like buds at their tips where the tiny kittens once clung.
And there you have it, my Simple Woman's Day Book for today. Don't forget to hop on over to the
Simple Woman
to check out the other day book entries! (Or better yet, do a simple day book entry yourself! )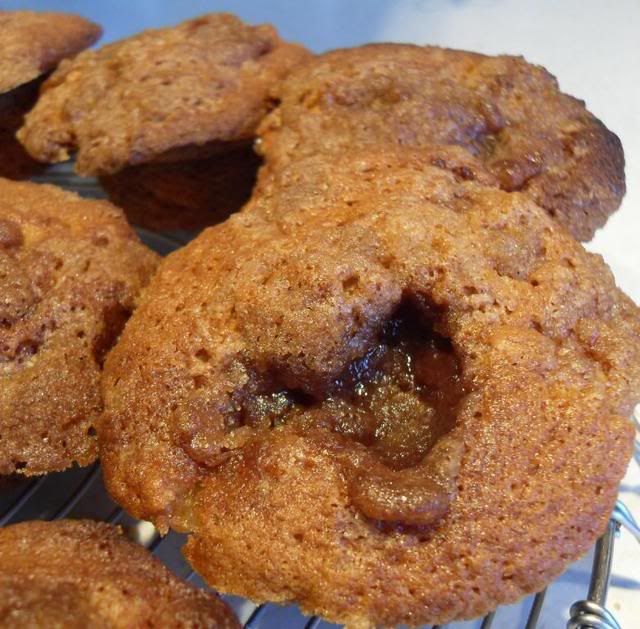 After talking about Banana Muffins earlier I can't leave without showing you them and sharing the recipe with you. They are not much to look at, but my oh my . . . they are incredibly yummy. For some reason my crumbs all sunk down into the middle yesterday and left them looking quite craggy . . . but oh so scrummy!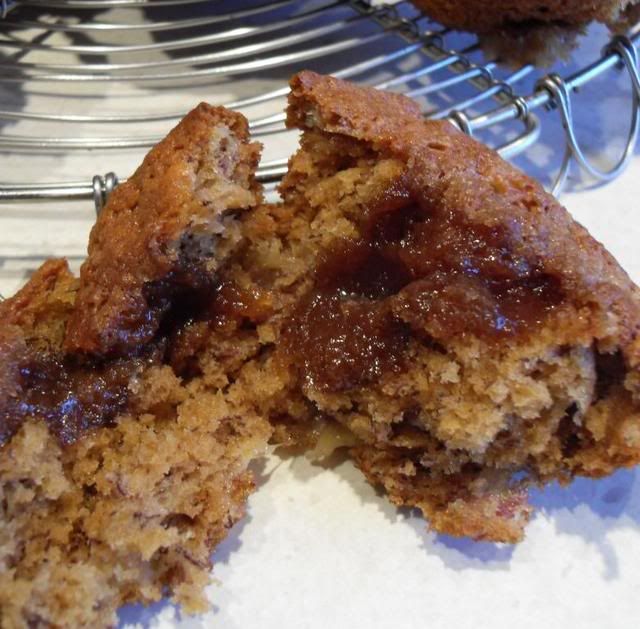 *Banana Streusel Muffins*
Makes one dozen
These delicious muffins are low in fat in comparison to a lot of other muffins and are delightfully moist and flavourful. I love the streusel topping. Sometimes it sits on top and other times it sinks down into the middles. Either way they are dangerously moreish!
1 1/2 cups flour
1 tsp baking powder
1 tsp baking soda
1/2 tsp salt
3 large ripe bananas, mashed
3/4 cup sugar
1 large egg, lightly beaten
1/3 cup of unsalted butter, melted
Streusel Topping:
1/3 cup brown sugar, packed
1 TBS flour
1/2 tsp of cinnamon
1 TBS cold butter
Pre-heat the oven to 190*C/375*F. Lightly grease a 12 hole muffin pan, or line with paper liners. Set aside.
Mix the streusel ingredients together until crumbly. Set aside.
Whisk the flour, baking powder, baking soda and salt together in a large bowl. Stir together the butter, sugar, egg and banana in large beaker. Add the wet ingredients to the dry ingredients all at once and mix together just until the dry ingredients are evenly moistened. Spoon the batter into the muffin cups, filling them 2/3 full. Sprinkle the streusel topping evenly over each.
Bake for 20 minutes, or until they test done and a toothpick inserted inside one comes out clean or they spring back when lightly touched on top.
Cool in the pan for ten minutes before removing. Serve warm for a moist and delicious taste treat!