"Have you leant upon a gate, without a
need for words,
To take in Nature's wonder and to listen
to the birds?
Yes, leaning on a gate is a thing we ought
to do.
It helps us to unwind and such moments
are so few."
~author unknown
I have always been a great gate leaner. Some people might think of me as a great time waster, as they come upon me just standing there leaning on the gate . . . staring off into space, my mind a million miles away. But nothing could be further from the truth. I am not wasting time, I am thinking, and while I think, I am enjoying all of the many blessings that my Heavenly Father has seen fit to grace me with . . .
the feel of a warm breeze across my brow, the smell of roses blooming in the bushes that lay against the walls of my home, the beautiful song of a robin in the hedge, the gentle buzzing of a bumbling bumble bee as it flits from flower to flower . . . simple pleasures and joy, free for the taking, costing nothing but our time . . .
How sad it would be if we could not take the time to stand still and just drink in all these wonders. It is just as important to feed your heart, as it is to feed your body and mind, and little joys and pleasures such as these, well . . . they truly feed the heart in the most wonderful of ways.
Today I wish you a Saturday filled to overflowing with moments such as these, and the time to stand and lean upon a gate to drink them in . . .

Several weeks back, one of you wrote to me asking about a design for a women's church activity they were planning based upon a Scripture that talks about us being God's special treasure. I have lost their e-mail address, so if that person is you, could you please contact me again? I am sorry it has taken me so long, but with trips to America and work, well . . . you know how it goes. I would not ever want anyone to think I could not be bothered! Some days there are just not enough hours to do all the things I want to get done! If I ever become Prime Minister, I am going to make sure there are at least 2 or 3 more hours in each day!
Ohh, I made this delicious dinner for Todd yesterday afternoon when I was home on my break. On the days I have to work evenings (I know that sounds wierd) I always make Todd his dinner when I am home on my halftime break. He never seems to mind and it works out perfectly for me, because if I didn't I wouldn't get a meal at all! Not only was this quick and quite easy, it was totally scrumptious! (Not to mention low in fat and calories)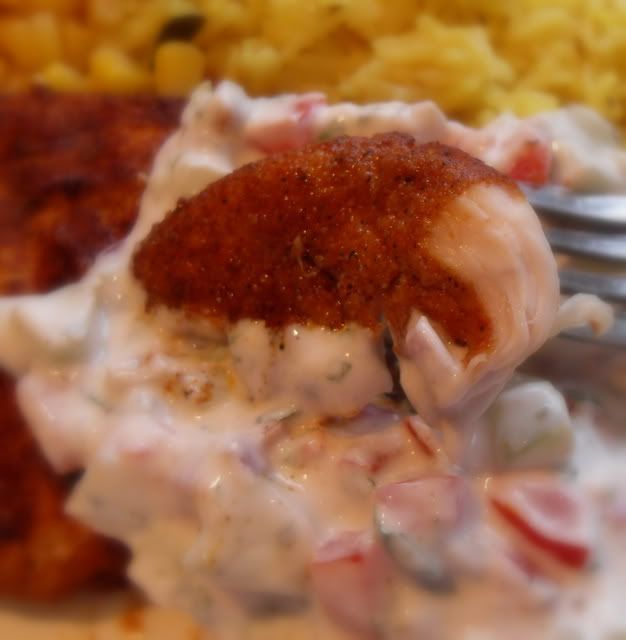 *Tandoori Chicken with Tomato and Cucumber Raita*
Serves 4
I have come to love Indian food since moving over here to the UK. Although technically, this isn't quite the same as chicken cooked in a Tandoori oven, it does give that same delicious flavour. The Raita is the perfect accompaniment, so do make it! Just be sure not to grill your chicken for too long so it doesn't dry out. I broke out my George Foreman Grill for this one! It was done lickety split!
For the chicken:
1 tsp paprika
1 tsp ground coriander
1/2 tsp chili powder
1/4 tsp cumin
salt and freshly ground black pepper to taste
a pinch of freshly ground nutmeg
4 boneless, skinless chicken breasts
1 TBS canola oil
For the Raita:
1 cup low fat plain yoghurt
1/2 cup finely chopped peeled and seeded cucumber
1/2 cup chopped seeded tomato
1/4 cup minced red onion
2 TBS chopped fresh mint
1 tsp ground cumin
1/2 tsp salt
First make the raita. Combine all the ingredients in a small bowl, mixing together well. Set aside.
Heat your grill to medium high.
Combine the salt, pepper, nutmeg, cumin, chili powder, coriander and paprika in a large heavy zip lock baggie. Trim your chicken breasts of any fat and then place them between two sheets of cling film and then lightly pound them (without tearing them) until they are the same thickness throughout, about 1/4 of an inch thick. Brush some of the oil over each one. Place them all into the baggie with the spices, shaking and turning to coat them.
Spray your grill rack with some cooking spray. Add the chicken and grill until just cooked through and no longer pink in the middle. On my George Foreman grill this took about 4 minutes time in total. If you are using a conventional grill, this would take some 3 to 4 minutes per side.
Serve warm with some of the Raita on the side. Delicious!