These are a few of my favourite things. Maybe you like the same things too?
I love watching figure skating, but it is not something which I get to see very often over here in the UK. I love the singles and I love the pairs dancing. I am totally mesmerised watching these talented people perform. I always wanted to take figure skating when I was a girl, but of course my parents didn't have the money for things like that. I used to love skating however and used to go anytime I could go and had the time. The last time I went skating at all it must have been at least 20 years ago and I had not been then in about 20 years. The field next to the old farm house we were living in had frozen and the kids had been enjoying skating on it, so I decided one day while they were at school that I was going to give it a go. I borrowed my daughters skates and set off. By the time I got to the field my ankles were so sore and tired that I couldn't stand and support myself. I had to crawl back to the house. haha That was it as far as skating went for me! I now consider it a spectator sport only!
Potato Chips and I am not totally picky about what kind although I do have my favourites. In fact I love potato chips so much that I dare not have them in the house for fear I will eat them all. Well, fact is Todd hates them, so I would eat them all. The potato is my favourite vegetable. Slice it thinly and then deep fry it until it is crisp and I am in love. Hate, hate the fact that they are so bad for you. I have tried the baked ones and whilst they are okay, they cannot hold a candle to the real thing. Back home I loved the All Dressed and the Dill Pickle, but I haven't had one of either of those in years. Over here they have wierd flavours, but I enjoy them all expect for Prawn ones. YUCK! Hate those.
I love reading the scriptures. All of them. My favourite books are Psalms and Proverbs. They read like poetry to me. The language and imagery are just beautiful and there is so much wisdom there. I have some music discs of the scriptures that you can sing along to and I love to do that while I am puttering about the house and on my own. It is a great way to memorise scriptures actually, to put the words to music.
Pretty candy tins. This is the latest one I have gotten. Isn't it gorgeous. I am going to turn it into a fairy sewing kit. I just love it. And it is just as beautiful on the sides as it is on the top.
All of the animals are raised. Look at those mice hiding in the Brambles . . . the badgers, the bunnies, squirrels, deer, etc. It is quite simply beautiful. I need to get another one so I can keep one myself and sell the other.
The world at twilight . . . it is a magical time. The light around you is fading and street lamps are coming on . . . as a child I always got sick in the car, unless we were driving at night. I love the glow of the setting sun on the horizon . . . the warmth emanating from house windows . . . its just pure magic to me. Oh, and don't get me started on fireflies. Love those too . . .
The National Trust with their Historic Homes and Gardens. I could spend hours and hours wandering through the grounds and gardens, not to mention the homes. The National Trust does a wonderful job of restoring and maintaining these beautiful historic places. I am hoping to be able to get a 4 adult membership before Lura and John come over which will come in handy while they are here so we can take them to some of these beautiful venues in our area and then again if Eileen and Tim come over, or even when some of our lovely friends here in the UK want to go with us. There are so many to see and each one is as fascinating and beautiful as the last. We will see how much it costs, a lot depends on that. The membership is worth it as usually these places can cost up to £10 a person to go in. It doesn't take long for your membership to pay for itself.
I adore these little rubber German Dolls. When I was a child, one year for Christmas, my sister and I each got a whole set of these all dressed in a variety of costumes of the world. I wish I still had them. You could never remove the clothes, but they were fascinating to me all the same. Each one only stood about2 1/2 to 3 inches tall at the most. The Germans make beautiful dolls. When we were in Germany the last time there was a beautiful doll shop not far down the road from the accomodation we were staying in. I spent a lot of time oggling the dolls whenever we were out and about.
But then, I just love dolls full stop.
I like older men. Its not fair but I think men get better looking as they get older with very few exceptions . . . look at Sam Elliot for instance . . . that voice . . . amazing. Martin Shaw . . . Colin Firth . . . Brendan Coyle . . . . Sean Bean . . .
I better stop while I can still breathe.
Carl Larsson, La Fenetre Aux Fleurs
I love the art of the late Swedish artist Carl Larsson. He presents such a wonderful window into historic scandavian life . . . the architecture, style, etc. I love his view of his world. The colours. The feel. All appears gentle and pastorial.
Pie. Sweet. Savory. In between. Sweet and Savory. If it is in a crust I love it. Well except for maybe Star Gazy pie where you have fish heads peeking up at you. I don't think I would like that very much. I would have a hard time to tell you my favourite kind of pie. They all have their attributes. The cold wiggle and sweet/tart flavour of an ice cold slice of Lemon Meringue can't be beat . . . . but then again, neither can a slice of sweet and warm apple pie with ice cream . . . the nuttiness of a pecan pie . . . a slice of pumpkin with whipped cream on top . . . ohhh . . . wild blueberry, and don't get me started on cherry.
I guess I just love pie!
And those are my favourite things for this week. What are some of yours?
A thought to carry with you . . .
.
° * 。 • ˚ ˚ ˛ ˚ ˛ •
•。★★ 。* 。
° 。 ° ˛˚˛ * _Π_____*。*˚
˚ ˛ •˛•˚ */______/~\。˚ ˚ ˛
˚ ˛ •˛• ˚ | 田田 |門 ★
*.˛.° ˛°. .
˛*
Music washes away from the soul
the dust of everyday life.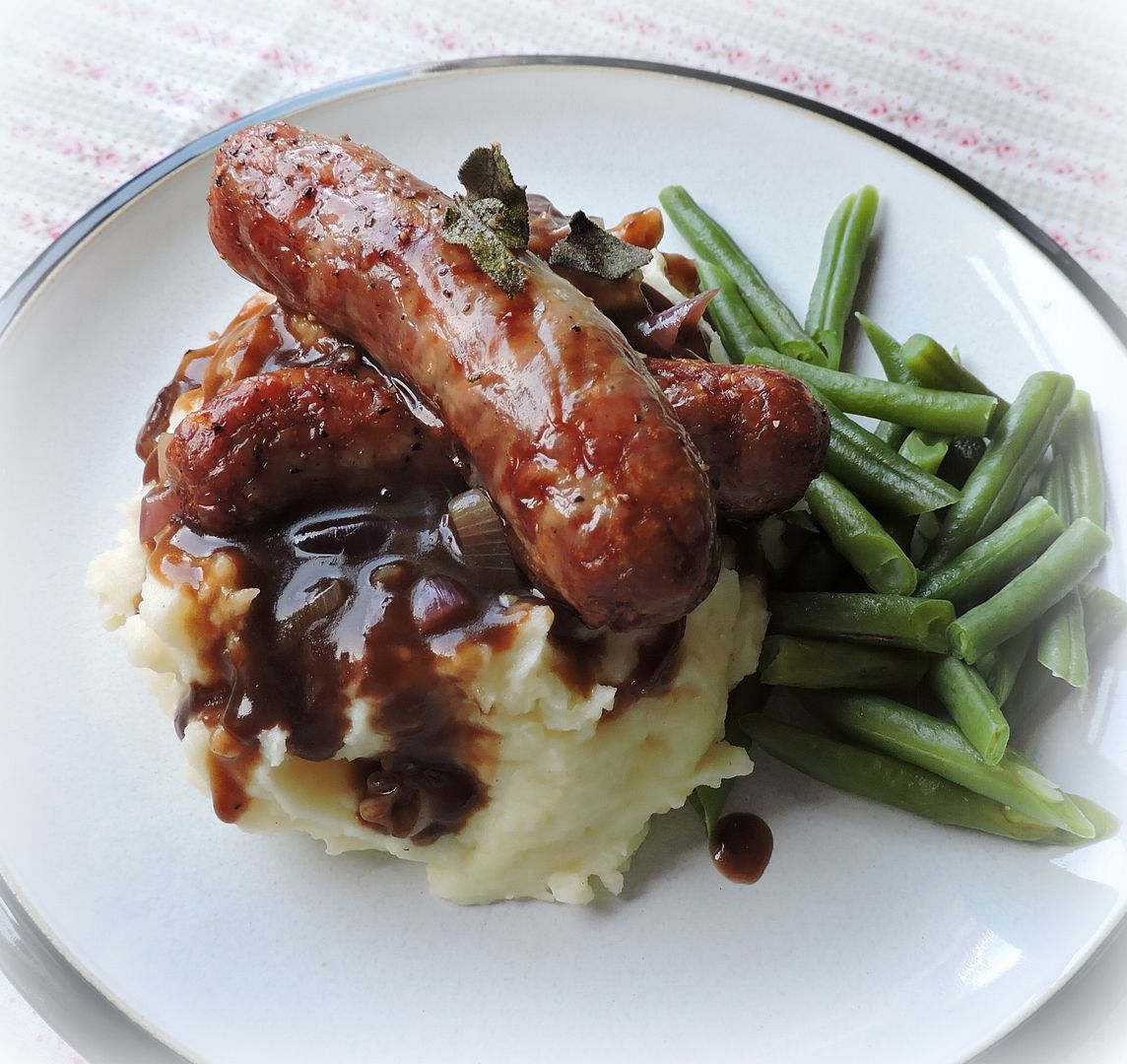 In The English Kitchen today . . .
Sage Roasted Bangers with Mash and Onion Gravy
.
Have a wonderful Thursday. I will have my nose to the grindstone again today, but no worries I am enjoying every minute. Don't forget!
═══════════ ღೋƸ̵̡Ӝ̵̨̄Ʒღೋ ═══════════ ⊰✿░G░O░D⊰✿⊰L░O░V░E░S⊰✿⊰░Y░O░U░⊰✿
═══════════ ღೋƸ̵̡Ӝ̵̨̄Ʒღೋ ═══════════
And I do too!