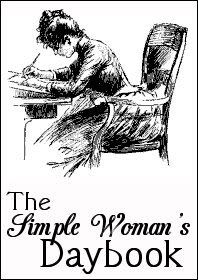 FOR TODAY, January 29th, 2013...

Outside My Window...
The sky is still quite dark and it's very quiet. We had terribly strong winds last night. I am wondering what the garden will look like when the sun comes up. I wonder if the roof on our shed has blown away again. It has a habit of doing that when it is really windy! Thankfully we've always been able to find it in our neighbors yard!
I am thinking...
We take for granted the miraculous dance of creation, but the truly enlightened continuously see it as if for the first time.~Wes "Scoop" Nisker
I love the world I am living in. It is a beautiful miraculous place. I do not know how anyone can look at the world and not see that it was created and designed by a higher power. It did not come about by accident.
I am thankful for...
From the kitchen...
I need to bake a cake. I am craving cake. Naughty me.
I am wearing...
A

pink flower sprigged nightie. It's trimmed with lace at the

neckline and sleeves. I do so love pretty night things.

I am creating...
We have both made good use out of our wheat bags this winter. You can never have too many wheat bags and this pin has a fabulous tutorial on how to make your own Lavender scented ones! Bonus!
Isn't this heart pocket totally adorable? The perfect place to hold all of your Valentines! I may make one of these! Not that I get a lot of Valentines, but I might make myself some Valentines, you never know!
Loving this idea of how to make a button stamp using an old thread spool! Isn't Pinterest just the most fabulous place to find wonderful ideas such as this! I love it!
I just love this bookcase which has been made into a doll's house. It is not fabulous??? People are so inventive! I see something like this and I think to myself . . . WHY didn't I think of that!
I am going...
We have not made a lot of plans for this week. I have my RS Presidency Meeting on Wednesday evening but that is basically it. NOT A LOT! I have some projects I need to finish before I go away and I need to think about what I am going to take with me. It won't be long now.
The Snow Child
, by Eowyn Ivey. I am totally in love with this book.
A little girl plays in the snow with a childless couple, but is she real? The Russian fairy story of Snegurochka has been embroidered by writers from Alexander Ostrovsky to Raymond Briggs. It is the story of a snow man or woman who comes to life, and draws her creators into a magical world. Then she melts. In some versions, the power of love destroys her. In others she gets too close to a campfire and disappears. In this debut novel, The Snow Child, Eowyn Ivey sets the tale in the wilderness of Alaska, where the elderly couple of Jack and Mabel have relocated, after the birth of a stillborn child.
One evening after a playful snowball fight, Jack carves a girl out of snow. In the morning, the couple catches sight of a tiny child running among the pines. She is dressed in the snow girl's red hat and gloves. When she presses her nose to the window, her face is a mirror of the one Jack carved out of snow. The couple has created a daughter.
But is she real? She won't be pinned down, and always runs away into the landscape. Her tracks are covered by morning. Nobody else believes she exists, and none of their neighbors can see her. Mabel's friend Esther is skeptical. Winters are long in Alaska, she says. "You start seeing things you're afraid of … or things you've always wished for."
This is a magical tale and I am really enjoying reading it. The imagery of Alaska is fantastic and you find yourself wondering all the way through is she real? I highly recommend.
Georgiana, Duchess of Devonshire
by Amanda Foreman. This, too, is on my Kindle. It's a historical autobiography. I did see the film with Kiera Knightly a few years back, which was quite good. Georgiana Cavendish, the Duchess of Devonshire was what you might call the first "IT" girl and lived over 200 years ago. She was born into the Spencer family at the family seat of Althorp, which means she was an ancestor of Princess Diana. There were a lot of parallels in their lives which I find absolutely fascinating. It's a long book, but I am looking forward to reading it.
Doesn't everyone read more than one book at a time? I could never read just one at a time. I need to have two or three on the go.
I am hearing...
Ordinary morning sounds. My play list, Mitzie snoring . . . the clock ticking. My fingers clicking on the keys. Nothing changes . . .
Around the house...
I love this idea of framing a panel of Wallpaper. I think I may try this out in my craft room. It would surely add a touch of interest I think! I am loving it!
I love, Love, LOVE this kitchen. I love the airiness of it and the brightness. It's fresh and open and just delightful. I keep looking at it and trying to figure out a way that I could make mine more this way. Of course mine is very small . . . but there must be a way I could make it look as fresh and open as this does!
Oh how I long for a front veranda with just such a swing to relax in on hot summer days. Todd would say . . . first you need to have the hot summer days, but I say . . . first you have to have the dream.
One of my favourite things . . .
Vintage print fabrics. I am not sure why I love them so, but I do. I would love to have an assortment of them . . . but knowing me, I would not be able to use them . . . why I don't know. I love to have these things and to be able to touch them . . . like my old buttons, but I can't bring myself to use them. It's just plain wrong. I think I need help. I think I have a tendency to hoard.
Something new about me ...
I hated ground beef when I was a child. I absolutely hated it with a passion;It made me want to gag whenever I had to eat it. My mother would make me sit at the table for hours trying to force me to eat it. I have even thrown up forcing myself to eat it. I am not sure if it is a texture thing or what. My father used to marvel at how I could eat a plate of macaroni and meat with tomatoes, and the meat would be left on the plate. I could scoop it out of all the holes in the macaroni and discard it. I was quite good at that. Doing this probably helped me to develop patience. I am at a point where I can eat it now, but I still am not very fond of eating it mixed up with other things. It is the texture of it, I think . . . and if I encounter even the smallest piece of gristle in it . . . that's it. I am done. I can't eat any more of it.
One of my guilty pleasures ...
They say a picture says a thousand words . . . need I say more?? Potato Chips and Chocolate . . . thou art my nemesis!
Litter bugs. I always want to chase after them and tell them I think they dropped something . . . in a very polite way of course. I never do though because I think that the type of person that drops their garbage on the street is also the type of person that wouldn't think twice about hurling verbal abuse at you! And so, I bite my tongue, pick it up and put it in the first garbage bin I come across.
Here is picture thought I am sharing...
"Savor the smiles and laughter of your children . . . there is nothing more important."~G.W.F.
I hope that I gave my children a happy childhood. I like to think that I did anyways. They seem to be well adjusted and content adults. I did my best and even though I messed up from time to time, I like to think that my best more than made up for the times I messed up.
As a closing thought I would like to leave you with this:
There are only two ways to live your life. One is as though nothing is a miracle. The other is as though everything is a miracle.~Albert Einstein

And there you have it . . . my day book for this week. Don't forget to hop on over to the Simple Woman

to check out the other day book entries! (Or better yet, do a simple day book entry yourself! It's not that hard and I am betting you would enjoy it!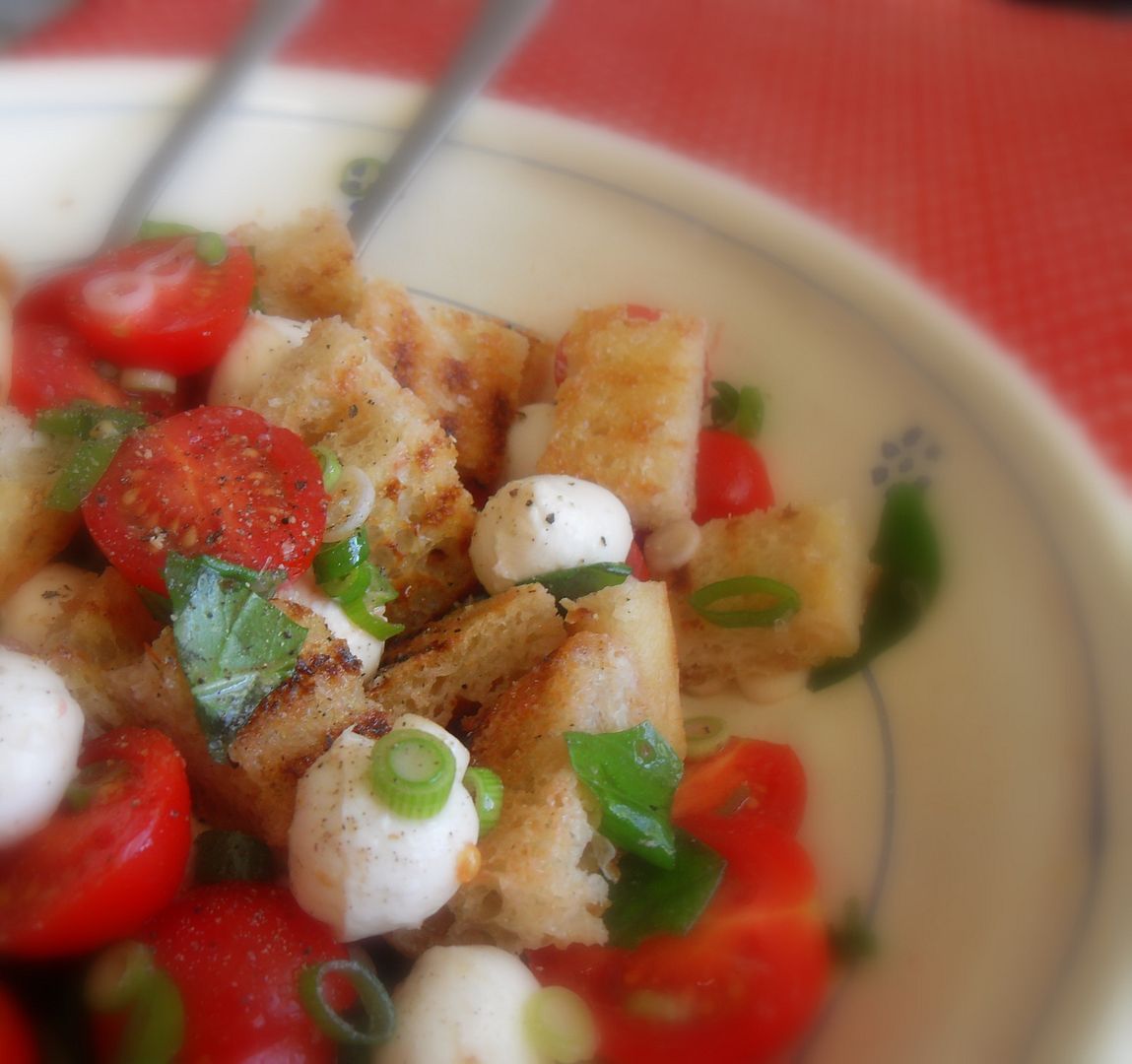 Cooking in The English Kitchen today . . .
Grilled Bread Salad with Basil and Cherry Tomatoes.
A delicious way to use up stale bread!
Happy Day all!