In the little window stands a tinseled Christmas tree, Gay with candles, red and gold, a lovely thing to see.Lighting up the grim surroundings for the passerbyWith a glow that warms the spirit and delights the eye.To the ugly street there comes the hint of holy things,A flash of glory in the gloom, a rush of angel's wings.The heart is touched by something that is strange and mystical, And faith returns, the faith of childhood, new and wonderful.This is what we need today, so shine out little tree!Give us back what we have lost; faith, hope . . . simplicity.~Patience Strong
Do they even do Tinsel anymore?? I have not seen it in years. I remember when I was a child it was slightly crinkled . . . all the way down the length of it and we loved to put it on our Christmas tree. We also liked to chew it . . . must be a family trait because we also loved to chew on the solder on my father's work bench from where he'd been soldering his electrical stuff. When my children were growing up Tinsel was made of plastic . . . I expect the old one was lead and they felt it too dangerous . . . but I have not seen it anywhere in years. I expect Tinsel Garlands have replaced it.
It seems to me that each Christmas time there is some tragedy to behold . . . Tsunami's, Hurricanes . . . starvation, War . . . school shootings and the like. This year is no different. Each time something like this happens our faith can be shaken to the very core . . . and you see people questioning why? Why? Why???
There is no answer . . . no reply that can be given. Bad things happen to good people all the time, and it's never fair . . . never. These things are always with us, fair or not. We need to be able to cling to the good that comes from tragedy. A tragedy is an opportunity to serve our fellow beings . . . an opportunity to step up the plate and say . . . here am I, send me. Do with me what you will. Let my light shine in the darkness. It is a time when we can truly exercise our faith . . . and our hope . . . a time when we can fall on bended knee, and hand it all over. His yolk is easy and His burden light.
"Even if you cannot always see that silver lining on your clouds, God can, for He is the very source of the light you seek. He does love you, and He knows your fears. He hears your prayers. He is your Heavenly Father, and surely He matches with His own the tears His children shed." ~Jeffrey R Holland
We may never understand or know why these things happen, but we can have faith that when they do, some light will come of it, if we have the hearts to look for it. Like a phoenix rising from the ashes, our faith can be made stronger in these times and like a little tree shining from a darkened window, it can light up those around us . . . those who suffer, who weep, who mourn . . . who hunger, who despair . . . our faith and example can help them to see the light. This life, it is not all we have, but merely a glint on the line of a majestic eternity, which stretches far beyond that which we can see with our mortal eyes.
"With malice toward none; with charity for all; with firmness in the right, as God gives us to see the right, let us strive on to finish the work we are in; to bind up the nation's wounds; to care for him who shall have borne the battle, and for his widow, and his orphan — to do all which may achieve and cherish a just and lasting peace among ourselves, and with all nations." ~Abraham Lincoln
Without the bitter we could never taste the sweet. Love is the answer . . . and God is love. He does not create doom and gloom . . . or tragedy. Life happens . . . His power is the power to lift us above the muck and the mire of this world, and to set our hind feet in higher places . . . and the power to turn darkness into light.
I made some special cookie dough yesterday which is chilling in the refrigerator as I write. I can't wait to bake them later today. I'll probably take them round to the neighbors later on once they are cooled off. A bit of Holiday cheer for them. We had some Carolers stop by the door last night, just children going through the neighborhood singing a song for each door that opened to them. It was nice. We gave them each a Candy Cane.
My first Christmas on my own after having reigned as the Christmas Queen for all those years with my family was a very lonely one indeed. I was actually more than a little reviled by most of the members of my family . . . people who didn't really understand all that had happened in the weeks preceding . . . my younger sister had supported me as best she could throughout the whole ordeal, and I am ever grateful for that and her love that she gave during that difficult time. One day I got a package in the post . . . just before Christmas and inside it was a lovely white flannel nightgown, pretty with lace on the yolk and covered buttons down the front, a ruffled hem. Just at a time when I was not feeling very pretty at all . . . her gift came out of the darkness and lit my soul. Now each Christmas I wear it as a reminder of a Sister's unconditional love. It warms my heart and my soul. When I have it on, I feel like I am being hugged. It was a simple thing for her to do . . . but it meant the world to me.
And thirteen years later . . . it still fits. ☺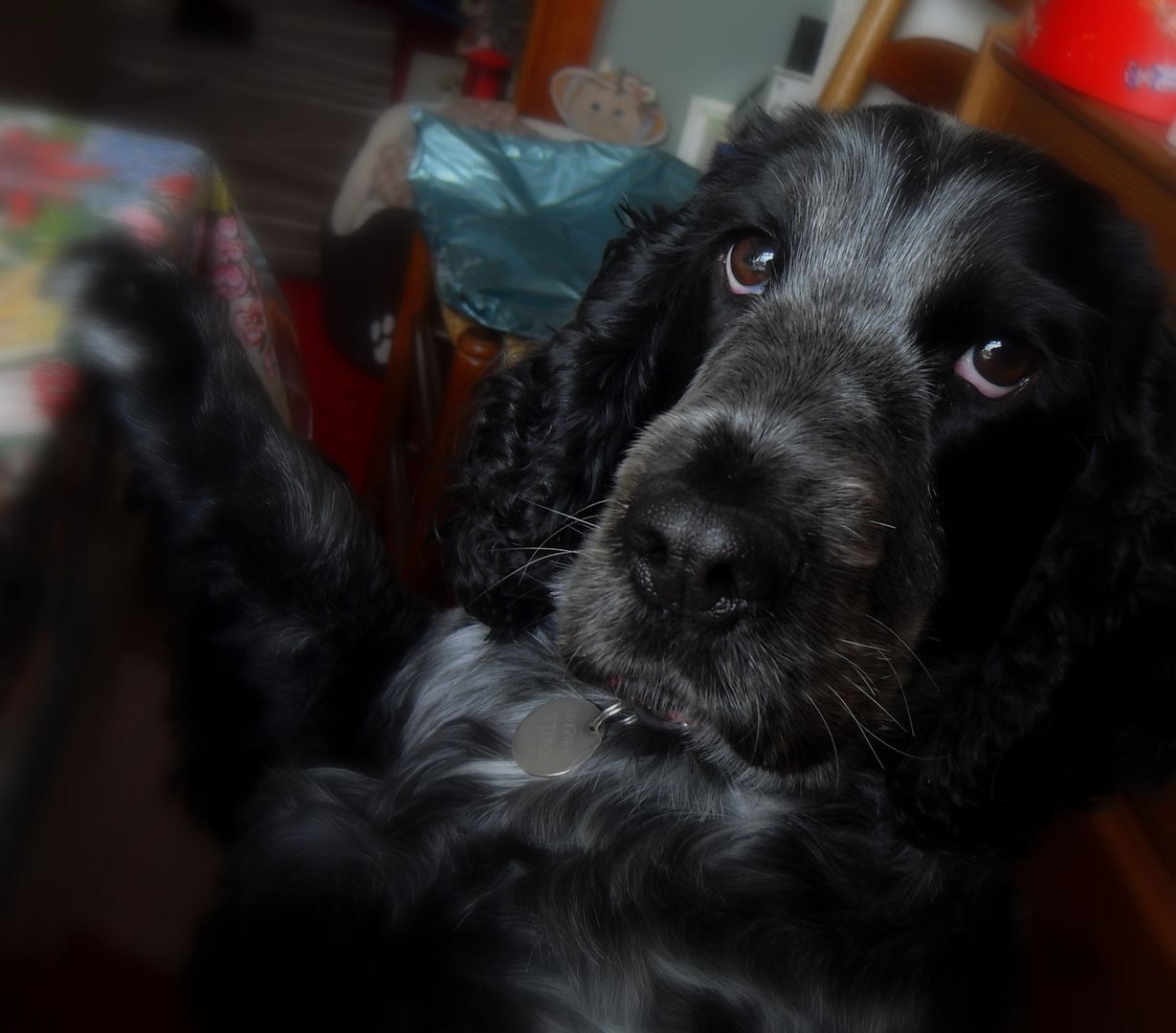 Mitzie discovered yesterday that if you knock a bauble off the Christmas tree it is fun to chase it around the carpet . . . Mitzie also discovered that if you knock a bauble off the Christmas tree and chase it around the carpet . . . you get in trouble. One can not really blame her . . . it's her first Christmas tree, and she is bound to be curious.
I ended up cooking two suppers yesterday. The first one I cooked was one called Lazy Chicken, and it required the use of Minute Rice. We don't have minute rice over here or even anything that can be substituted. I just used normal rice . . . which is probably better for you anyways. But after 3 hours in the oven the rice was still not cooked. Even though I had added lots of extra liquid to the recipe, I could tell it was never going to cook and so I quickly peeled some potatoes, slammed some fish in the oven and cooked some carrots. The chicken got removed from the casserole and rinsed off and I will use it to make a chicken salad or something today. Lesson learned.
Some days are learning curves.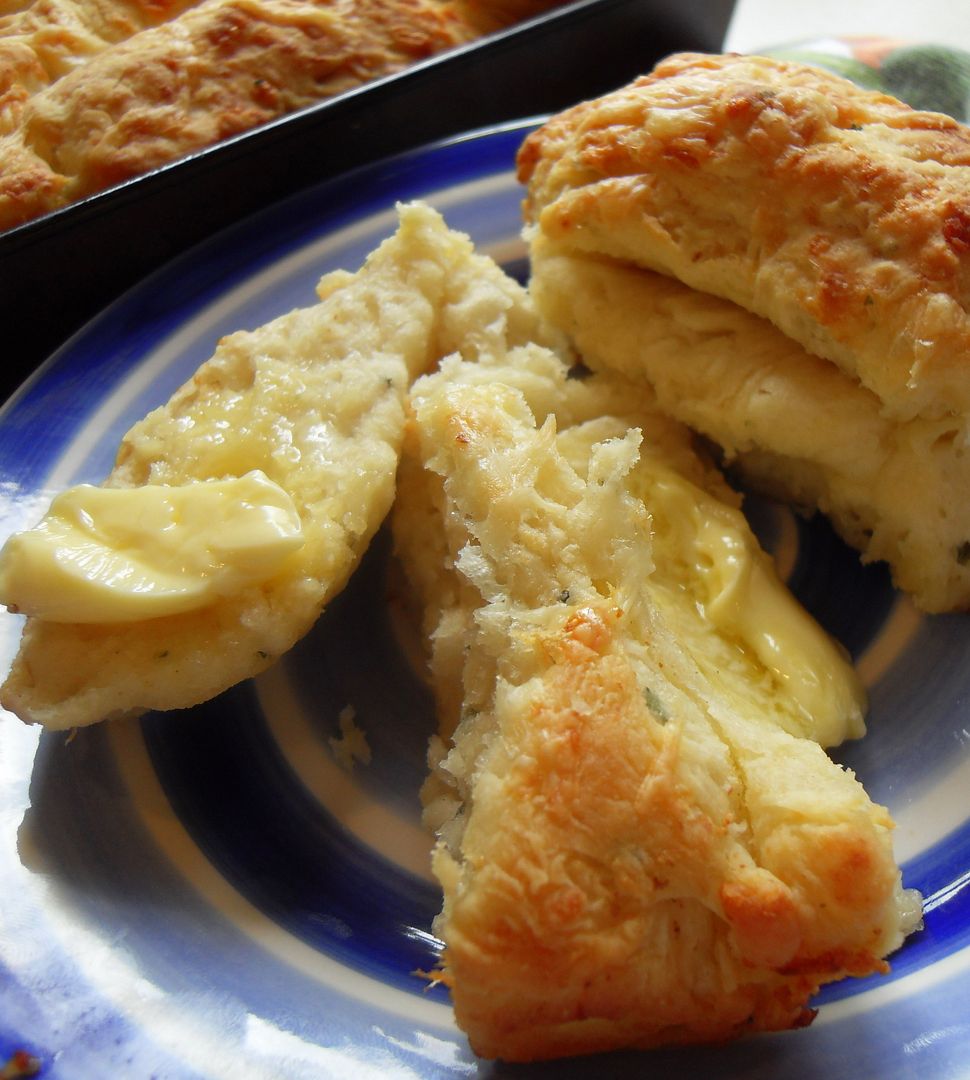 In The English Kitchen today . . .
Cheddar Pan Biscuits.
Only 5 more sleeps!