Christmas came down to our house yesterday afternoon . . . not pirouetting in on silver toed slippers . . . but on the branches of a 6 foot artificial tree that we got at Morrisons for half price. We set out to get a real tree, but were so very disappointed to find that they had none left.
The lot and area which had been filled just a few days before with beautiful evergreens, smelling of pine and winter . . . had all disappeared. It had been work enough to get Scrooge that far. I knew there would be no getting him to another tree lot, and so when we went into the shop and I saw the artificial trees marked down, I pounced on them and said to Todd . . . let's buy this now. There were only two left and I feared that by the time I had gotten my groceries there would be none left at all . . . and so we did.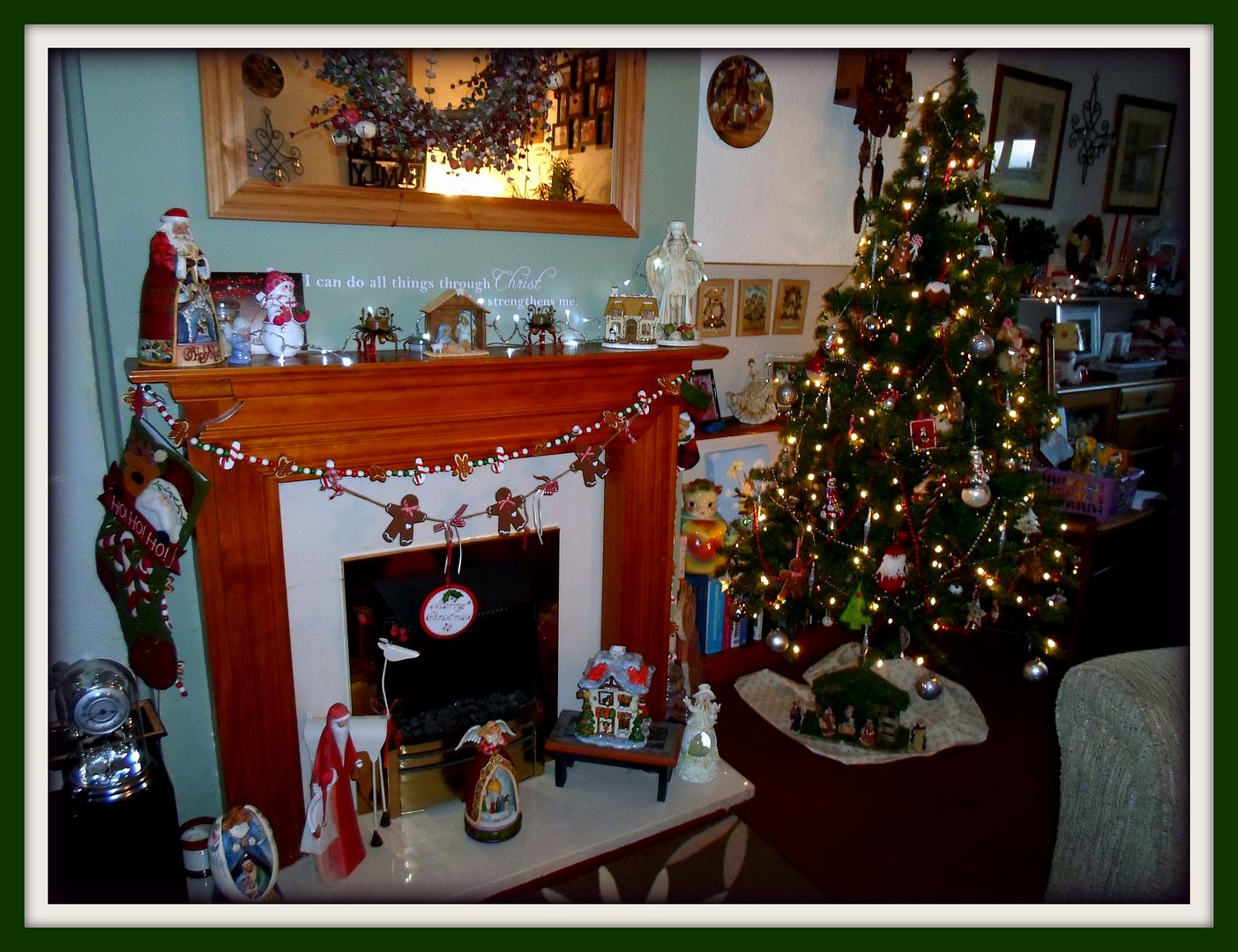 When we got it home, Todd set to work putting it together. It's a lovely one, all the lights are included and are on the branches. We have come a long way . . . no more frustrating episodes of having to untangle the lights. The only frustrating part for Todd was finding the plug from the top part and then finding out where to plug it in on the bottom part!!
After that boxes of ornaments came down from the loft. I could not find them all, but I did find enough that we were able to decorate it up in a fashion. I don't know where the rest are . . . which makes me somewhat saddened as I had all sorts of Gingerbread men that I had collected through the years, but one can't cry over spilled milk and I suspect that in the hurry that was us leaving Brenchley . . . they somehow got left behind.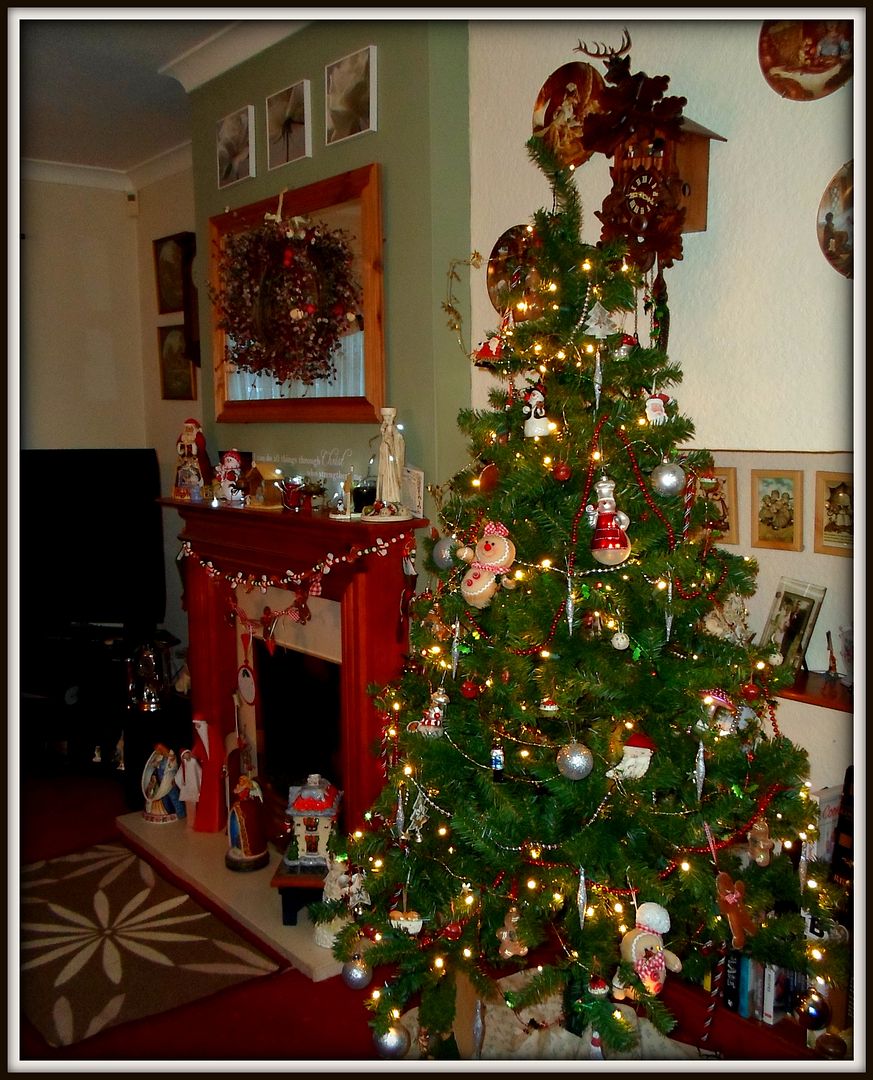 There was enough and that's what counts. And it does look very, very festive.
Last night I wanted to watch the film, The Santa Claus. I was so sure that I had the film in our DVD tower . . . but alas, twas not there. I can only think that someone on one of their purges thought to themselves (no names mentioned) . . . hmmm . . . we never watch this one . . . and then took it off into town and traded it in for some old cowboy film, which there are plenty of and
I
should know . . . because I scrutinized all our dvd's several times yesterday afternoon looking for The Santa Claus.
I even checked on Amazon . . . and sure enough, there was the record on there where I had bought it only last October . . . and not just The Santa Claus either, but a compilation of all three. Never cry over spilled milk. Again.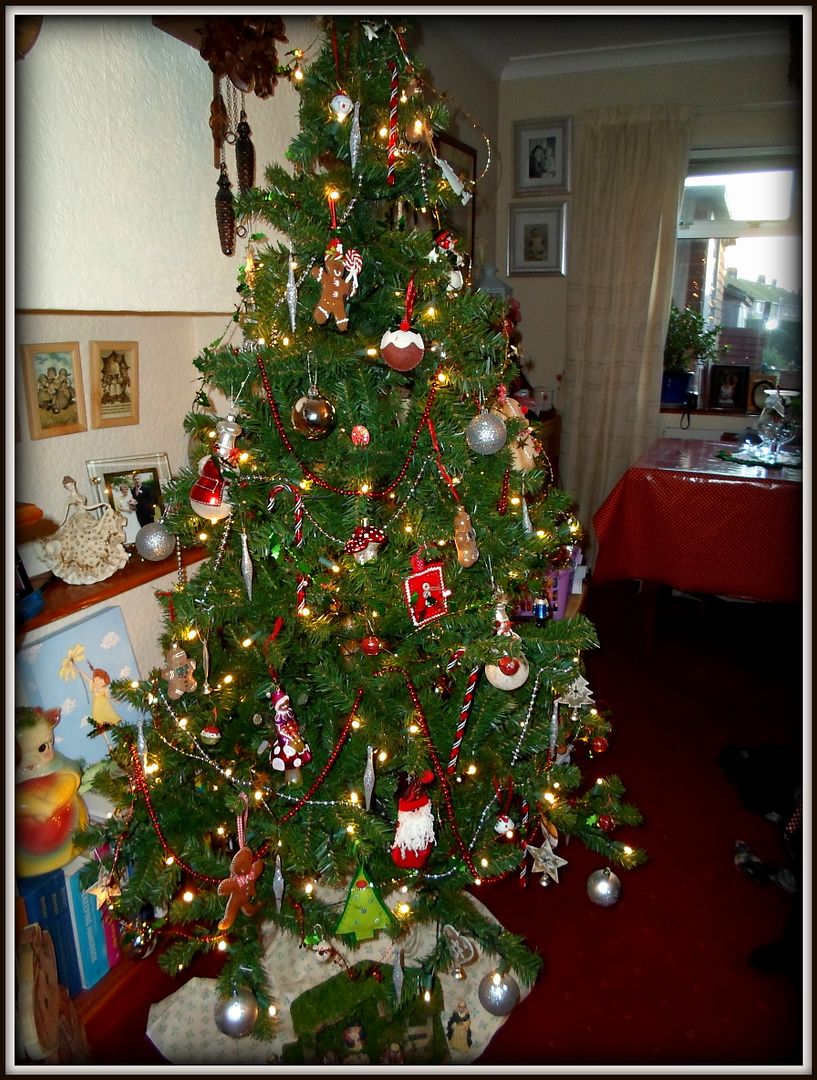 But doesn't she look lovely standing there. I wish I could show you how beautiful she really is, all done up in her beauty . . . but I am not an expert photographer and know not how to do all those fancy tricks which show off the lights and decorations in perfect splendor.
Mitzie is wondering where her bed went of course . . . but I don't think she will be too bothered as this is where we usually find her anyways . . .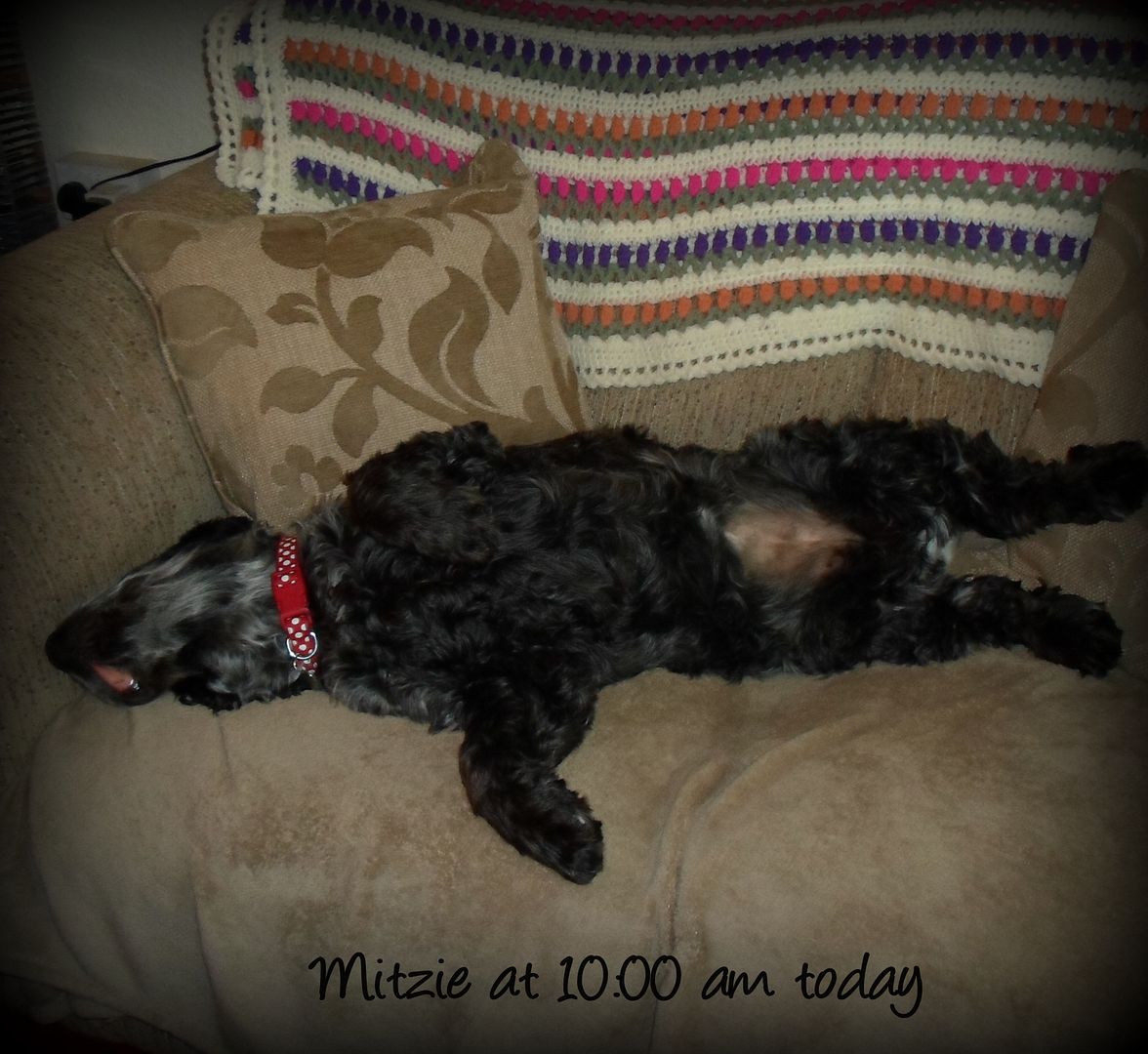 The dog trainer did tell us that she would make the sofa hers if we let her . . .
and she has . . .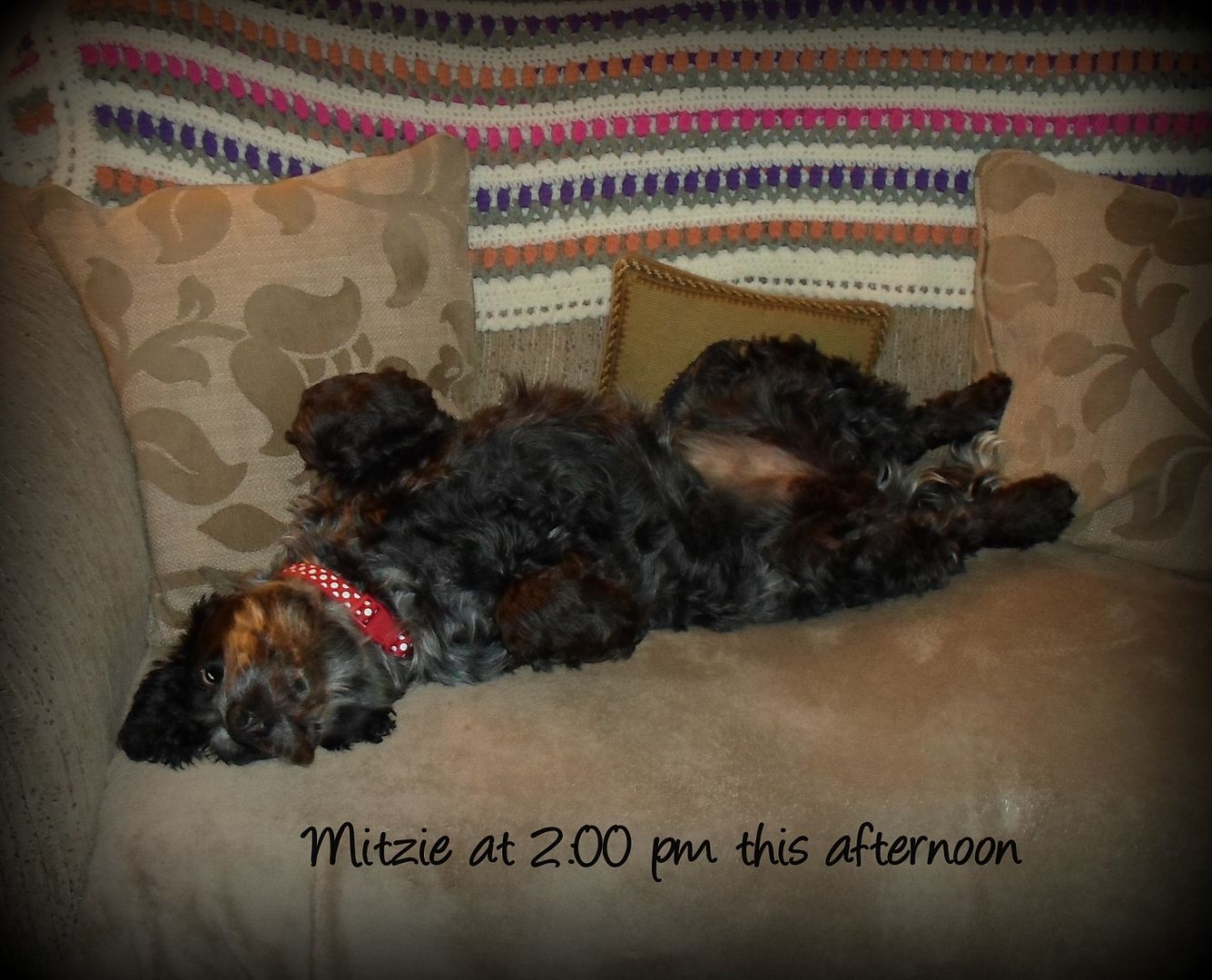 We don't mind really. She's a part of the family and has as much right to be on board the sofa as any of us do.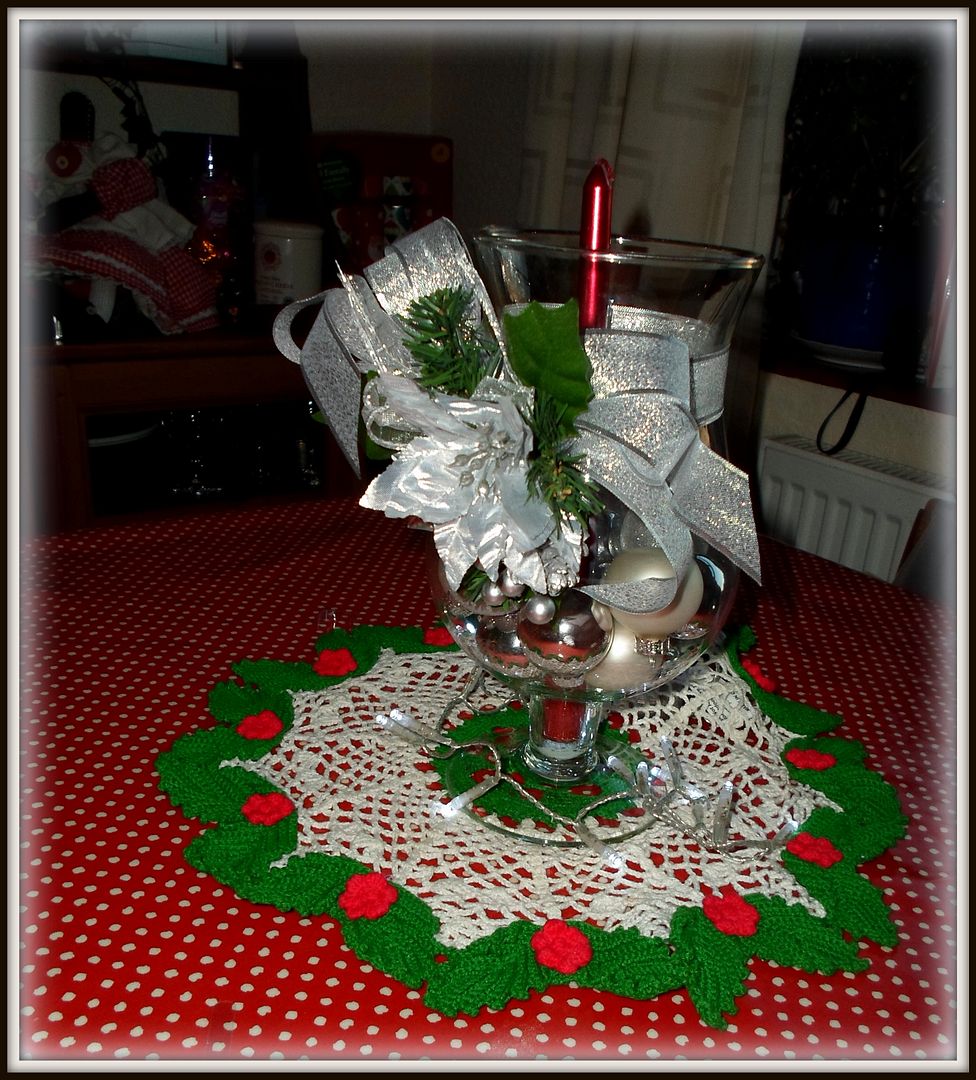 I dug out my white and red polka dotted table cloth and the table is now adorned for Christmas as well . . . the Christmas doily having been a gift from my sister many years ago. I bring it out every Christmas . . . I do love it so. That is my usual centre piece I make each year. It is simply a vase with a taper in the middle, filled up with Christmas Baubles and decorated with a ribbon and a Christmas thingie, with flower and greenery on it. It's amazing what you can do with just a few bits and bobs.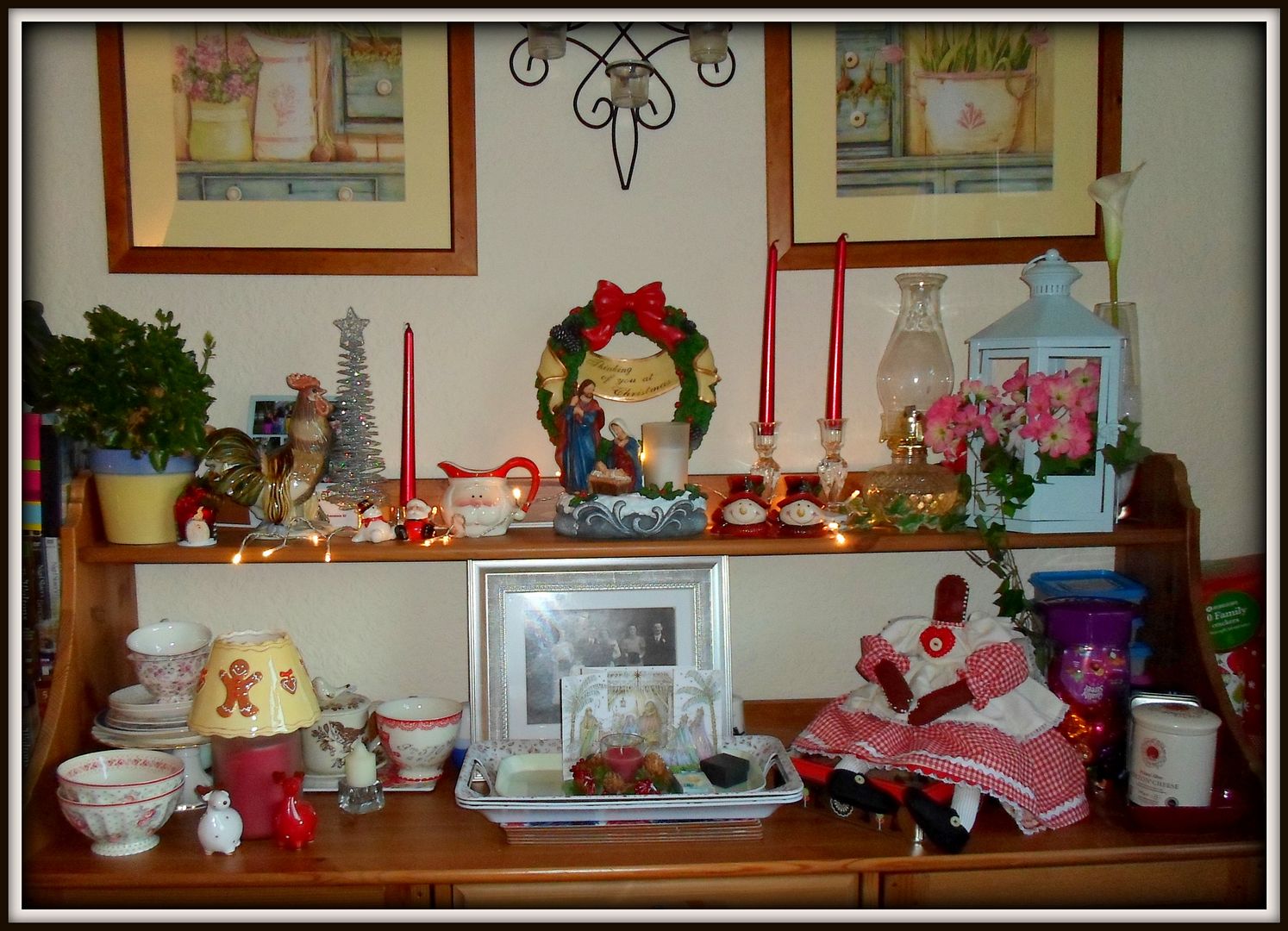 The sideboard is sort of done as well . . . with all of my everyday stuff put away and in it's place, Christmas Salt and pepper shakers, etc. I bought down my Gingerbread doll and she looks quite happy sitting there I think. She's been for sale for so long now . . . I doubt that anyone wants her. I do though and so she can live with me, that's ok.
And today I may even do some baking for the holidays . . . we'll just have to see what happens.
I talked to my mom again yesterday afternoon. Still no news on when she will be having her operation. We've been pricing tickets and sorting out that area of things. I had thought I might be able to have a wireless modem put in so I could stay online while I was there, but alas . . . my son tells me there is no such thing and you have to do a year contract to have another connection. My budget does not run to that, so I'm afraid I will be off line for the duration, unless I can find my way into town and stop at Tim Hortons to hook up, via my ipad. No face time for me, alas . . .
She is in good spirits however and that is what counts, and looking very much forward to me arriving. I wish I could be there now. She said the first thing we will have to do is to check out charity shops for a pair of winter boots for me. Not sure how I feel about that . . . but I'll do whatever. I am not looking forward to the Winter aspect of it all! It's been a long time since I have done Winter to that degree. I'm afraid I have become somewhat of a Winter Wimp! We shall manage I am sure. The important thing is that I am there.
Well I have twaddled on long enough so I will leave you now with a something to ponder for the day . . .
"Christmas can be celebrated in the school room with pine trees, tinsel and reindeers, but there must be no mention of the man whose birthday is being celebrated. One wonders how a teacher would answer if a student asked why it was called Christmas." ~Ronald Regan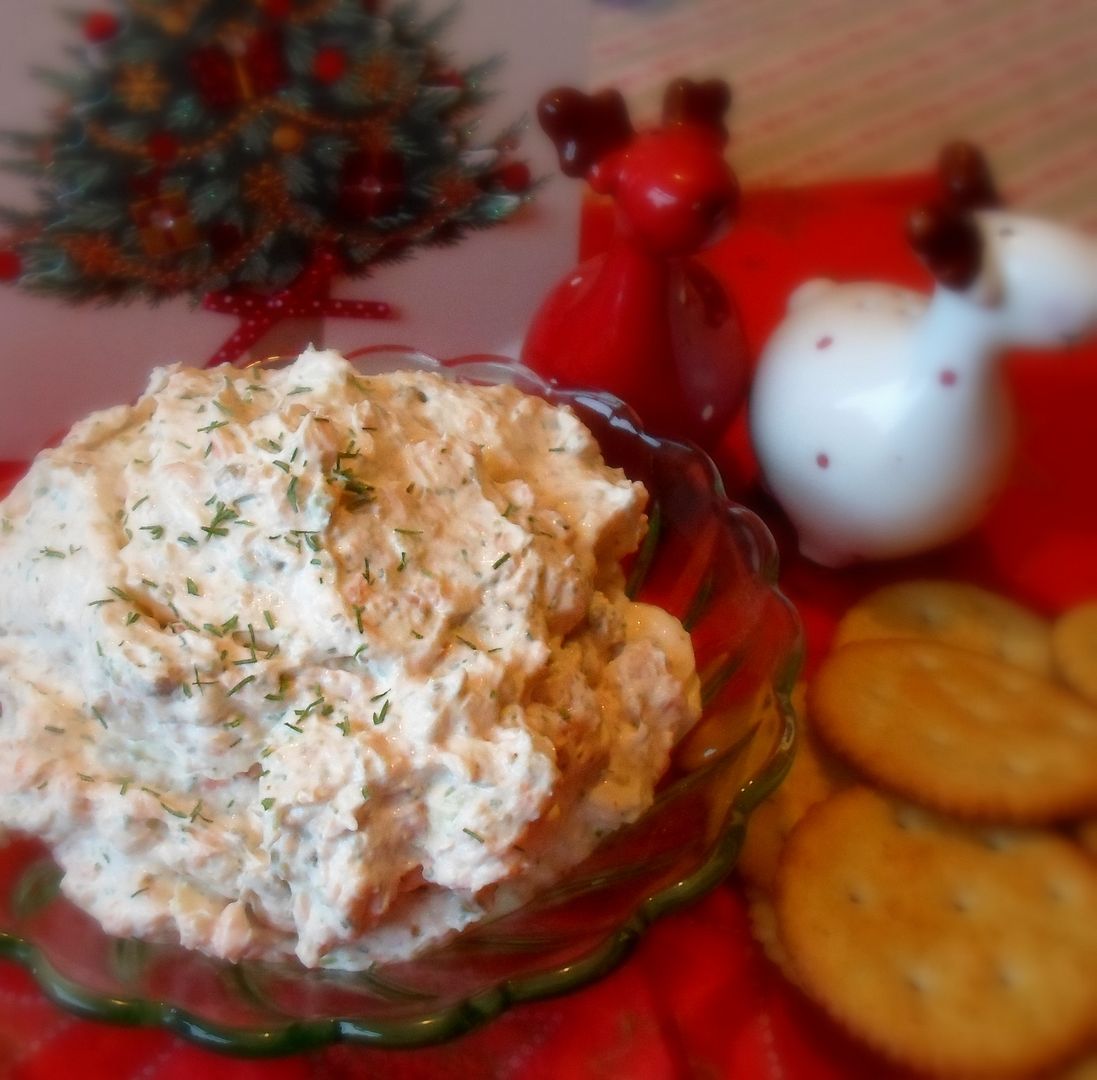 Cooking in The English Kitchen today . . .
Smoked Salmon Spread,
just in time for the holidays.