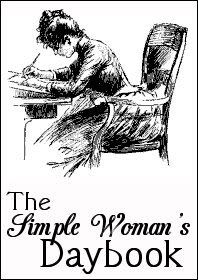 FOR TODAY, April 12th, 2011...

Outside My Window...
It is perfectly light outside . . . the birds are gaily chattering and singing away. Whether it will be a sunny day today or a rainy today remains to be seen. Whatever it ends up being, I shall make the most of it, regardless! Happiness is like jam . . . you can't spread a little without getting some on yourself!
I am thinking...
I got a surprise phone all from my friend Elly in Canada yesterday afternoon and it was so good to hear her voice. She lives in Nova Scotia. She's been having a bit of an annus horribilus herself this year. First her dear husband Jim passed away, which was very sad and unexpected. We always spend a day with them when we go home to Nova Scotia and had spent a lovely one with them in July. He was perfectly well then, or seemed to be. She has faced all sorts of challenges since then, as anyone would. It was nice to catch up with her and her goings on and to boost each other up. She injured her leg just recently and is facing many of the same pain issues and mobility problems as I am at the moment, plus she is facing having to find a new place to live and move herself with it all. If you could remember Elly in your prayers that would be lovely. She is another dear friend and such a sweet lady. It is so hard when you care about people and yet are so far away. There are so many things I would like to be able to do for my friends, but the distance makes that impossible. Prayer is about all I can manage, and so I do . . . pray, that is!

I am thankful for...
I am thankful for the tender mercies of my Heavenly Father. Oh how we need them each day. I am ever grateful for His presence in my life and in my heart. I am grateful that Lura continues to improve. It could so easily have been the other way. You can keep up with any updates on her condition or leave a message for her here. Your prayers for her are still needed and so very appreciated!

From the kitchen...
Not a lot really. Some leftover gingerbread and date fingers. The missionaries are coming for their supper tonight. I got a slipper joint of gammon that I am going to cook, and a vegetable gratin. I'll probably do some red cabbage and carrots to go along with it and perhaps my mother's Baking Powder Biscuits, which are fabulous. Not sure what I'll do for dessert. It bears some thinking about!

I am wearing...
Black and white jim jams! No layering now. The temperatures are a lot warmer and so there is no need to bundle up!

I am creating...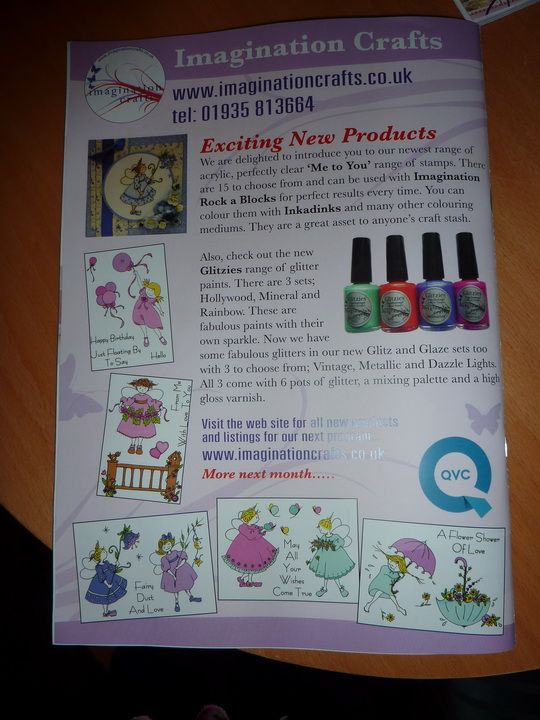 I was so excited to get a text from Sheilagh the other day telling my stamps were featured in a full page advertising spread in Craft Stamper Magazine! Then she scanned it for me and sent it to me so that I could see it without having to buy the magazine. I don't really do stamping so buying the magazine would have been a bit of a waste for me! (I know that's weird isn't it. I design stamps, but am not a stamper!) I am busy finishing off the second set of stamps now. If you would like to see the ones that are already available you can check them out here.


I am going...


We have an appointment puppy clinic at the Vet for Mitzie tomorrow morning and I have to be at physio therapy at the same time. Thankfully the two places are not all that far away from each other so Todd will simply drop me off first and then go to the Vet and come back for me after. Then we have her appointment on Saturday for her grooming. I love it when she has been groomed. She always smells so nice and feels so silky. I am sure she feels better afterwards as well. She is starting to look a bit like a shaggy yeti at the moment, but a cute one nonetheless!



I am reading...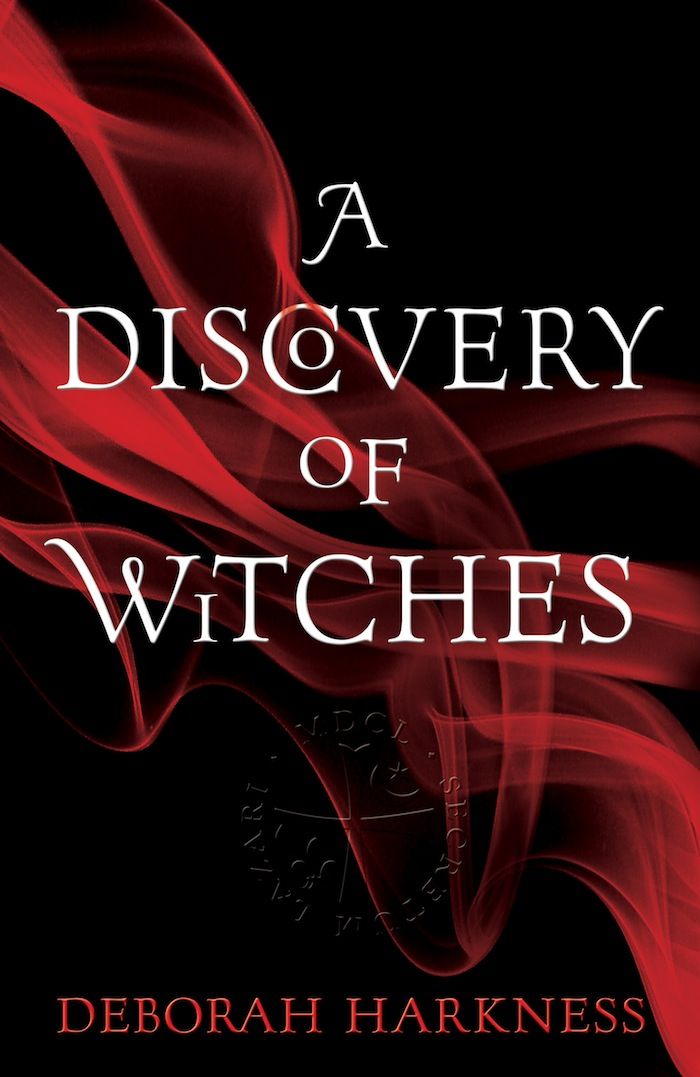 A Discovery of Witches, by Deborah Harkness


I have started a new book and it's a real cracker!!



"It beings with absence and desire. It begins with blood and fear. It beings with a discovery of witches."



When historian Diana Bishop opens a bewitched alchemical manuscript in Oxford's Bodleian Library it represents an unwelcome intrusion of magic into her carefully ordinary life. Though descended from a long line of witches, she is determined to remain untouched by her family's legacy. She banishes the manuscript to the stacks, but Diana finds it impossible to hold the world of magic at bay any longer.

For witches are not the only otherworldly creatures living alongside humans. There are also creative, destructive daemons and long-lived vampires who become interested in the witch's discovery. They believe that the manuscript contains important clues about the past and the future, and want to know how Diana Bishop has been able to get her hands on the elusive volume.

Chief among the creatures who gather around Diana is vampire Matthew Clairmont, a geneticist with a passion for Darwin. Together, Diana and Matthew embark on a journey to understand the manuscript's secrets. But the relationship that develops between the ages-old vampire and the spellbound witch threatens to unravel the fragile peace that has long existed between creatures and humans . . . and will certainly transform Diana's world as well.

I've only just begun this and it is a really thick book, but it is also a "can't put it down" book. I am really enjoying it thus far!

I am hoping...
That it won't be long before Lura begins to really feel like she is making great strides in her healing. I cannot imagine how it must feel to be in so much pain constantly, to have that many broken ribs and all the other injuries that are associated with a car accident of that magnitude and I hope that I never find out first hand. I know that when I have had the stomach flu in the past and felt very, very ill, I have wanted to die and I can only imagine how much worse this is. Oh we are such weak and fickle creatures aren't we. Having the stomach flu pales in comparison, but when we are experiencing it it feels so awful . . .

I am hearing...
Early morning sounds . . . the house cracking and snapping as it comes alive. The birds are chirping loudly in the back garden. The tip tapping of the computer keys, Mitzie gently snuffling here next to me on the sofa. Early morning traffic. I love the early morning. It is my favourite time of the day.
Around the house...
Not a lot. We are working on the very last room of our clear out/spring clean. The library. This one will take quite a while to finish as there is so much in there that needs clearing out. Hard work, but it will be worth it when we are done. Next will be the sheds outside.

A Few Plans For The Rest Of The Week...
Not a lot really, other than what I have just spoken about. Things are quiet at the moment.
Here is picture thought I am sharing...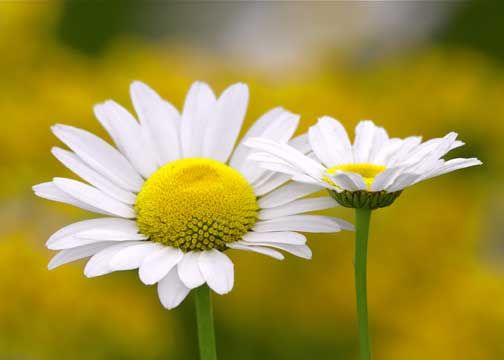 This is what's blooming in my garden at the moment, scattered all across the grass and in little hidden crevices and valleys. I just love daisies. As a girl we used to make chains of them. It seems such a selfish thing to do now when I think of it . . . sacrificing all those pretty little blooms for such a flight of fancy. Wearing a crown of daisies always made me feel like a princess . . . I suppose every woman deserves to feel like a princess once in a while!

And just as a closing thought for today . . .

"Every day is a part of eternity, so start planning for it now."
~unknown

I think these are some very wise words, right up there with this being the first day of the rest of your life and all that!

And there you have it . . . my day book for this week. Don't forget to hop on over to the Simple Woman

to check out the other day book entries! (Or better yet, do a simple day book entry yourself! It's not that hard and I am betting you would enjoy it!

Here is a fabulous recipe that would make a wonderful Brunch Dish for Easter. Don't let the sound of the ingredients put you off. They may sound like a bit of an odd combination, but they come off as incredibly tasty! Trust me on this one!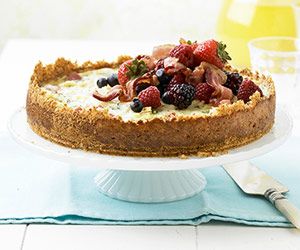 *Bread Pudding Quiche with Berries and Bacon*
Serves 8
Printable Recipe
It might sound a bit wierd, but these ingredients go together incredibly and result in something quite wonderfully delicious! It would make a fabulous Easter Brunch dish.
7 to 8 slices of cinnamon swirl bread, cut into 1/2 inch cubes
(about 5 cups of bread cubes)
1/3 cup of butter, melted
1 1/2 cups of milk
1 1/2 cups of finely grated Gruyere cheese
2 tsp flour
salt and black pepper
3/4 cup of cooked ham
1/2 cup of chopped spring onions
2 cups of assorted fresh berries
4 slices of smoked streaky bacon, cooked until crisp and then broken into large pieces
Preheat the oven to 180*C/350*F/ gas mark 4. Spread the bread cubes iin a single layer on a large baking sheet. Bake for 10 to 15 minutes, until dry. Set aside 1 cup of the cubes and then put the remaining cubes into the bowl of a food processor. Increase the oven temperature to 190*C/375*F/ gas mark 5.
Cover and process the bread until you have fine crumbs. With the food processor running, pour in the melted butter until thorougly combined. The mixture should end up crumbly. Press this mixture onto the bottom and 1 1/2 inches up the sides of an ungreased 9 inch springform pan. Bake in the oven for 4 to 5 minutes, or until lightly browned. Reduce the oven temperature to 160*C/325*F/ gas mark 3.
Whisk the eggs and milk together in a bowl. In a separate bowl, toss together the cheese, flour, and 1/4 tsp each of salt and pepper. Add this to the egg mixture. Fold in the reserved bread cubes, the ham and spring onions. Pour this mixture into the prepared crust. Bake for 50 to 60 minutes or until a knife inserted near the centre comes out clean. (Check after 30 minutes, and if you think it is browning too quickly, tent with foil.) Remove from the oven and cool on a wire rack for 15 minutes. Run a sharp knife carefully around the sides and then remove the sides of the pan. Place the quiche on a serving dish. Top with assorted berries and the bacon pieces. Serve immediately. Delicious!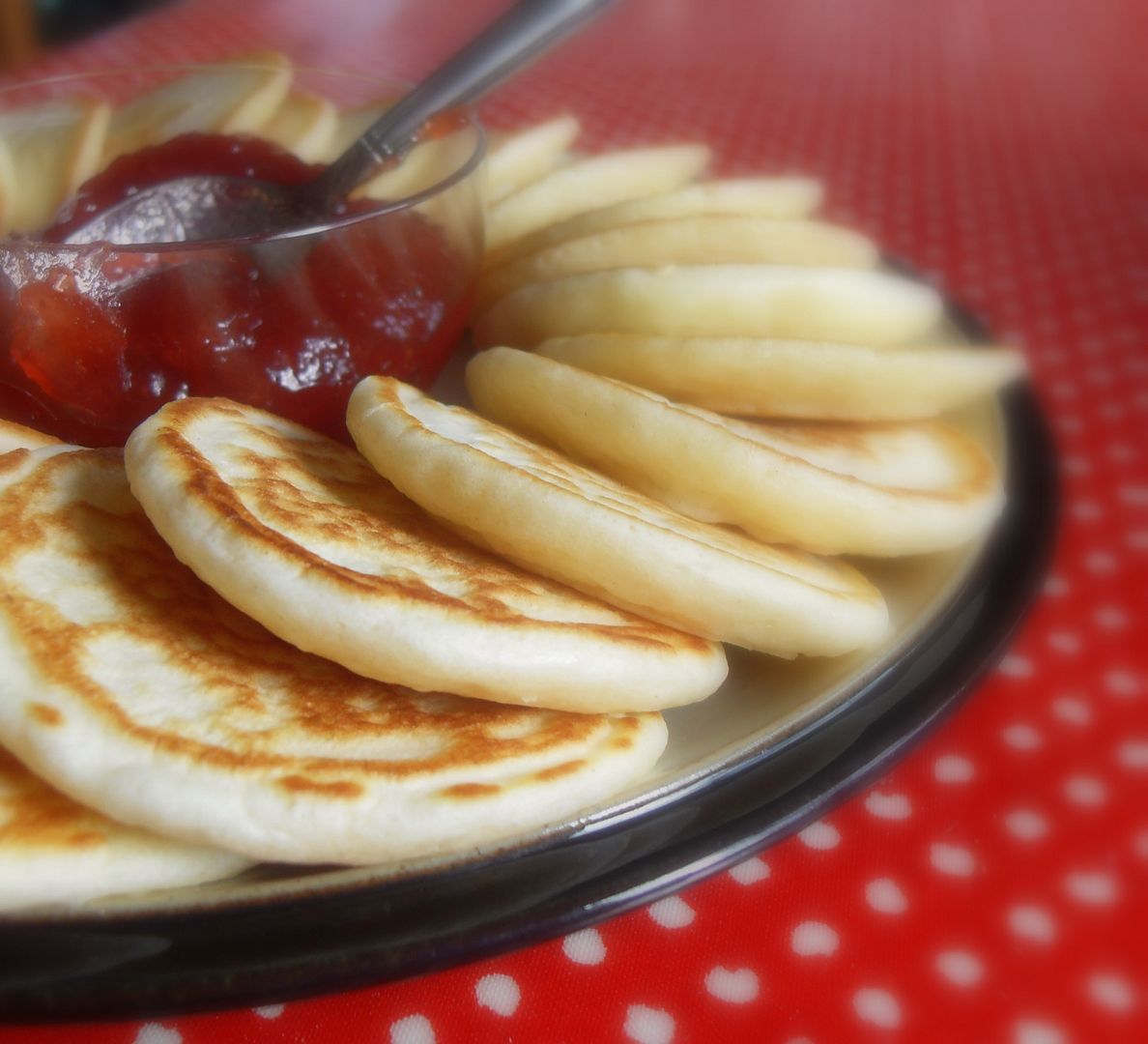 And over in
The English Kitchen
today, delicious little Pikelets!